Trump's Plan for Middle East Peace Is to Do the Opposite of Everything Obama Did
Crazy as it may sound, Trump's haphazard approach to the Israeli-Palestinian conflict may succeed where Obama's by-the-book route failed. Nine ways in which their tactics and strategies differ
U.S. President Trump, left, with former President Obama at the inauguration in Washington in January. Visceral as opposed to rational approaches to the peace process.
Credit: Carlos Barria / Reuters
Here's one thing Barack Obama and Donald Trump have in common. Both of them believed early in their presidency that they would be the U.S. president to bring peace to Middle East. In his United Nations General Assembly address in September 2010, Obama felt confident enough to say that "when we come back here next year, we can have an agreement that will lead to a new member of the United Nations – an independent, sovereign state of Palestine, living in peace with Israel."
We all know how that ended. But Trump of course is not deterred. In an interview with The Wall Street Journal on the day after his election victory, he called Israel-Palestinian peace "the ultimate deal," and said that "as a deal maker, I'd like to do the deal that can't be made. And do it for humanity's sake."
But here's where all similarities end. The two presidents may have shared the same goal, but so far, Trump is going about achieving it in exactly the opposite way that Obama did. And as crazy as it may sound, on this issue at least, Trump's haphazard approach may actually have more chance of success than Obama's. After decades of fruitless engagement, all the American by-the-book diplomacy in the region has failed to yield results. Trump's unique style of diplomacy will at least make a change.
That's not to say, of course, that there's anywhere near a good chance of an Israel-Palestine peace treaty being reached. The issues on the ground remain as intractable as ever and ultimately it will be the two sides who have to bridge their wide differences – no outsider, not even the president of the United States can do it for them. And besides, Trump is very likely to be totally sucked in soon by the political turmoil at home and have no time for any foreign policy whatsoever. But in the meantime, before yet another president calls time on the peace process, it's worthwhile to consider how this new and unorthodox approach may actually be better.
Trump sees it as a glittering prize
Obama wanted an Israeli-Palestinian agreement for the best reasons in the world, he wanted an end to hatred and bloodshed and to bring peace, prosperity and justice to all sides in the region. He dealt with the process rationally, reaching the conclusion toward the end of his administration that the U.S. couldn't want a deal more than the Israelis and the Palestinians. He allowed John Kerry to continue his quixotic quest, but didn't invest much effort in it any further.
Trump's approach to the conflict, like to many other thorny issues that he is only now beginning to grasp, is visceral. He hasn't weighed the pros and cons and won't think through his chances of success. He wants the glittering prize, to prove that the master deal maker can deliver the "ultimate deal" that has eluded everyone else. It will probably blow up in his face – but he could also be the one to go the extra mile.
Trump is visiting Israel early
Many of Obama's foreign policy team admit today that it was a mistake to wait for the fifth year of his presidency to visit Israel. Especially since his landmark trip abroad, early in his first term, was an overture to the Arab world, in Cairo. It may have been little more than a gesture that would have made no change in the administration's policies and Obama's rocky relationship with Benjamin Netanyahu – but the belated arrival reinforced the false impression that Obama was somehow anti-Israel. Putting Jerusalem on the itinerary of his first foreign trip will give Trump major credit with Israelis, including those who are still rather suspicious of his true intentions.
Trump courts the Sunnis
Obama had a detailed plan of re-ordering the balance of power in the region. It relied on the Shia Islamic Republic of Iran transforming itself into a more moderate player, even a partner. Obama's policy yielded the deal limiting Iran's nuclear program, but it trashed his administration's credibility throughout the region. The Sunni nations' leaders saw Obama as the man who abandoned Egyptian President Hosni Mubarak, and their people saw him as the man who stood by while the Assad regime, together with its Iranian helpers, butchered hundreds of thousands of Syrian civilians.
There was no way they were going to trust a man busy making deals with Iran and back a controversial peace process with Israel. Let alone with Netanyahu. Trump, on the other hand, has packed his administration with anti-Iran hawks and is going out of his way to court the Sunnis: The first stop on his tour next week, before Israel, is Saudi Arabia. A Trump deal, if it ever transpires, will have wide regional backing.
Trump sends relatives, lawyers and generals
Obama allowed his Secretaries of State Hillary Clinton and John Kerry, seasoned political veterans, to take the lead in the diplomatic process, together with their teams of professional experienced diplomats. And just like all the many other professionals who spent countless years shuttling between Jerusalem, Ramallah and the Arab capitals, they came up empty. Instead, Trump appointed his son-in-law Jared Kushner and one of his long-time personal lawyers, Jason Greenblatt, as his special plenipotentiaries to the region. Another of his lawyers, David Friedman, is the new U.S. ambassador to Israel. Meanwhile, the most senior administration officials to visit Israel so far and prepare the way for Trump have been two Marine generals: Defense Secretary James Mattis and Chairman of Joint Chiefs of Staff Joseph Dunford. So far Secretary of State Rex Tillerson and his depleted diplomatic corps haven't had a chance to look in.
But who needs professional diplomats in the Middle East? Trump hasn't even visited yet and he's already gone native. This is the way it's done here – Netanyahu sends his personal attorney Isaac Molho on delicate diplomatic missions. The Saudi king just appointed his son as their country's new ambassador to Washington. And of course we all love a tough old general. That's the way to talk to us in the orient.
Trump won't play by the rules
Despite all his frustration with Netanyahu, Obama never broke the unwritten rules of the U.S.-Israel relationship. He didn't threaten Israel that it would lose America's financial, diplomatic or military support, and signed the largest aid deal ever with Jerusalem just before he left office. Just like every president in the last three-and-a-half decades. He also vetoed every UN Security Council resolution criticizing Israel, except the last one of his administration. Previous presidents did so much earlier in their term. Trump has no rule book. He may still move the U.S. Embassy to Jerusalem, he may abandon the two-state solution, and – in a fit of anger over Israeli intransigence – he may just threaten to withhold aid. The last president who seriously pressured Israel to make concessions was Jimmy Carter, who, for all his many faults, delivered the peace deal with Egypt. Maybe Trump will break the rules again?
Trump will have the support of nearly all the Congress
Whatever Obama was going to do with respect to the diplomatic process in the region, it was guaranteed that there would be major opposition in Congress, with the entire Republican Party opposing and a fair number of Democrats as well. The prospect of a congressional insurrection has always deterred presidents from being more daring. The Democrats may hate Trump but he can rely on their overwhelming support to pressure Israel to make concessions and a large number of Republicans will as well. If his notoriously short attention span ever allows him to reach a major junction on the road to peace, at least he can rely on the support of Congress.
Trump talks to everyone
"We don't expect the Americans to agree with us, but we've tried for years to get a meeting with Kerry or his people and they simply ignore us," a senior Israeli settler leader lamented last year. The Obama administration's refusal to engage with the settlers was so complete that during his 2013 visit, to make a speech before 2,000 Israeli students, the only university whose students weren't invited was Ariel, located in the West Bank.
Trump has no such problem. His ambassador, Friedman, is practically a settler himself, with a building in Beit El dedicated to him. Will engaging with settlers, one of the main obstacles to an Israel-Palestinian agreement, help bring peace? It can't do any harm and it certainly would do some good for foreign politicians and diplomats to widen their range of Israeli interlocutors – from Breaking the Silence to the Yesha Council. And to do so on the Palestinian side as well of course.
Trump is happy to consider anything
For two decades, there has been only one game in town: the classic two-state solution – some form of what was defined in 2000 in the Clinton Parameters. The occupant of the Oval Office has changed three times and it's still diplomatic orthodoxy. Obama never challenged it, instead his Secretary of State Kerry constantly spoke of the urgency of fulfilling the two-state-solution vision before it's too late. Obama and Kerry are both now writing their memoirs and the international community still sticks to the 2SS. Everyone except Trump, who memorably said at his February meeting with Netanyahu: "I'm looking at two states and one state. I'm happy with the one they like the best." Who knows? After toying with other ideas, Trump may settle with the old, tried and so-far-at-least failed formula, but at least he's open-minded.
Trump loves grand spectacles
The only thing anyone remembers from Obama's 2013 visit to Israel is how he removed his jacket, forcing Netanyahu to do the same, as they strolled across the tarmac at Ben-Gurion International Airport. The moment he was supposed to engage with the Israeli public was his speech to students at Jerusalem's international congress center. But the optics and sound-effects were all wrong: The dark stage seemed to swallow him up and no matter how inspirational his message of peace and hope may have looked on the teleprompter – it failed to deliver any memorable sound bites.
Trump will be here for only 24 hours but he's going all out to create a lasting impression. There will be the first visit of a serving U.S. president to the Western Wall, which is certain to create a thousand headlines and tweets on "Trump's Wall." And then, of course, there's the backdrop he chose for his signature speech: From the cliffs of Masada it really doesn't matter what he'll say. We won't forget it. At the end of the day, once Air Force One takes off into the sunset, it will probably change nothing for us remaining behind, but this is a region where grand gestures sometimes work better than quiet and patient behind-the-scenes diplomacy.
Click the alert icon to follow topics:
ICYMI
Ken Burns' Brilliant 'The U.S. and the Holocaust' Has Only One Problem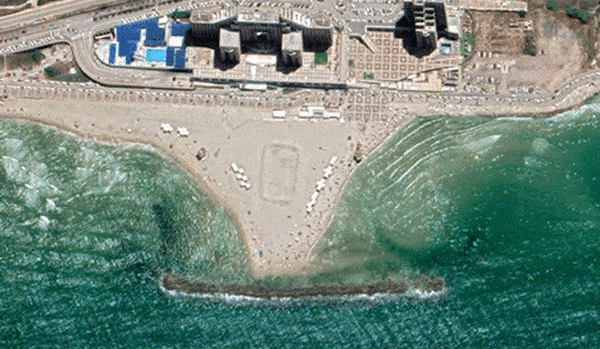 Facing Rapid Rise in Sea Levels, Israel Could Lose Large Parts of Its Coastline by 2050
As Israel Reins in Its Cyberarms Industry, an Ex-intel Officer Is Building a New Empire
How the Queen's Death Changes British Jewry's Most Distinctive Prayer
Chile Community Leaders 'Horrified' by Treatment of Israeli Envoy
Over 120 Countries, but Never Israel: Queen Elizabeth II's Unofficial Boycott