Analysis |
Abbas the Politician Spoils It for Abbas the Statesman
In his speech to Fatah delegates, the Palestinian president implied that his people should abandon armed struggle and focus on attainable goals. Yet his power doesn't stem from this stance but from his control of funds and jobs.
Palestinian President Mahmoud Abbas during the seventh Fatah conference in Ramallah, November 30, 2016.
Credit: Majdi Mohammed, AP
The Mahmoud Abbas that Fatah delegates discussed among themselves (or when talking to journalists) at the seventh Fatah conference this week is a wily and clever politician. He managed to oust opponents from his party while pushing others to the margins, as well as allowing resolutions made by his own Central Committee to fizzle out – such as the cessation of security cooperation with Israel.
Abbas, who delivered a two-and-a-half hour speech before 1,400 delegates on Wednesday, emerged as a skillful statesman, self-confident and crystal clear, telling his people two things: Forget about armed struggle as a way of achieving your goals; and focus on realistic, attainable goals.
He didn't put quite like that or say it so directly, since these two statements are outside the realm of political correctness permitted by the national ethos of struggle. But these positions could be discerned through what he did and didn't say.
The first two days of open sessions at the conference sent a clear message that the way things are is the way they will continue to be.
Abbas, 81, the movement's chairman, was reelected. Fatah still strives for an independent Palestinian state alongside Israel, within the June 4, 1967 borders, with East Jerusalem as its capital. The path to achieving this is the diplomatic-political one, including strengthening state institutions; joining the United Nations as a full-fledged member and joining hundreds of other international organizations; and retaining the option of turning to the International Criminal Court in The Hague.
The Abbas being discussed by non-Fatah Palestinians (as well as critical Fatah members) is the president who turned his movement into a single ruling party with a reservoir of jobs, through which he controls the people. Abbas, they claim, is the person who paralyzed the Palestinian parliament, and whose followers and loyalists are found in all the institutions of the Palestinian Authority, including the judiciary. The security forces under his command offer further proof that he must not be criticized through arrests, interrogations and intimidation.
But in his lengthy speech, delivered from the podium with the loving look of a father figure or teacher, he maneuvered between his prepared speech and simple, direct talk, peppering his words with jokes, suggestions and unnecessary snipes directed at women and some of those present.
He praised the first intifada (which is etched in Palestinian memory as an unarmed popular struggle by the masses against the occupation) and the principles it coined (a Palestinian state alongside Israel; evacuation of the settlements). He didn't mention the second intifada or the lone-wolf rebellion of the past year – a clear way of stating his opposition to both. He related to the disasters currently being inflicted on the Arab peoples by the "non-Arab and non-Spring" developments. "Settlements? They'll be evacuated just as Yamit [in Sinai] and the Gaza Strip ones were."
He said several times that East Jerusalem is the capital of the Palestinian state, and that it would remain open to every person and every religious practice ("Without a muezzin law and checkpoints on Fridays"). He also repeated that "we've recognized Israel and still do, but if they don't recognize us [as a state], we can revoke our recognition." He twice refused to recognize Israel as a "Jewish state." This demand was not put before Egypt or Jordan, he said, comparing a "Jewish state" to an "ISIS state."
Abbas said the Oslo Accords (his face indicated he knew how that term is detested by many) didn't mention the right of return, but that thanks to them 600,000 diaspora Palestinians had returned (so he says). He mentioned the Arab Peace Initiative from 2002, which Israel has rejected, noting one of its proposals – the adoption of UN Resolution 194 regarding Palestinian refugees (offering them return or compensation). He talked about the need to talk to Israel, then and now. "I'm the greatest traitor," he said in jest, reminding everyone that he was the first to send a senior Fatah official, Issam Sartawi, to conduct talks with Israel in the 1970s when this was still considered taboo (though he neglected to mention that Sartawi was murdered because of it, in 1983).
Here he was speaking as a politician, as the chairman who wants his close associates to remain in their posts. One of the contenders for reelection to the Fatah Central Committee is Mohammed al-Madani, who heads the committee that liaises with Israeli society. He is the subject of many derisive, angry barbs. Even those who support meetings with Israelis were shocked when Madani led a delegation to pay a condolence visit to the family of the head of the IDF Civil Administration, Brig. Gen. Munir Ammar, who died in a plane crash in March. And a few weeks ago, staff at the Mahmoud Darwish Museum in Ramallah refused to welcome a group of Israelis who came to the museum accompanied by Madani, staying in their office.
Social media sites were full of sniping against him – and it didn't even help when Avigdor Lieberman labeled him a subversive whose entry permit into Israel had been revoked. Without mentioning his name, Abbas said Madani was working on a path that he, Abbas, had laid out. "Don't attack him as a convenient scapegoat; let's see you stand up to me," Abbas actually alluded.
People outside the movement explain that Abbas' political power is based on his control of Fatah and Palestinian Authority funds, and through his direct or indirect control of public sector jobs. He ordered the cessation of hundreds of salaries of PA employees in the Gaza Strip: these were Fatah officials "suspected" of supporting Abbas' rival, Mohammed Dahlan. Ever since Hamas assumed control of the security forces in Gaza in 2007, these employees still received their salaries from Ramallah – provided they didn't show up at their places of work in government offices, courts and police stations.
It was one of Abbas' worst decisions, deepening the rift between the West Bank and Gaza. An associate of Abbas' told Haaretz it was actually Dahlan who came up with the idea, wrongly assuming it would hasten the collapse of Hamas in Gaza.
It has recently emerged that, on the day a senior judge in the West Bank was appointed to his lofty position, he had to sign a letter of resignation addressed to Abbas. This might be the case with other judges. Thus, the president could accept his resignation at any time of his choosing, which is what later transpired. This way, the head of the executive branch ensures the obedience of members of the judiciary.
The constitutional court also ruled that the president has the authority to remove the immunity of members of the Legislative Council. This could have a chilling effect on new members, who may well avoid angering the person who controls their fate.
"This is the conference of jobs," was the sarcastic verdict of a veteran Fatah member who had been marginalized. Agreeing with the chairman can guarantee a job. People who are associated with jobholders favored by Abbas have a better chance of obtaining a job. People holding senior jobs, or slightly less senior jobs (such as former and present district governors; members of the security forces) are the delegates in this conference. They will be voting for representatives to the 80-member Revolutionary Council (considered to be Fatah's parliament) and its 20-odd member Central Committee, or will be competing themselves. An organizing committee selected these delegates according to quotas given to different social groups in the West Bank and Gaza, as well as to people overseas.
Fatah officials claimed that Abbas wasn't personally involved in the selection process, so, for example, he wasn't the one who nominated his two sons, Tarek and Yasser. But the marginalized veteran Fatah member added that the problem wasn't the senior positions of some family members – this was always the case in Fatah – but the blurring of the vision by inserting personal interests. Some Abbas critics discovered that the committee had not appointed delegates that would have voted for them. Whether done by direct instruction from above or as an interpretation of the commander's spirit matters less.
"We're not an ideological movement," Abbas said in his speech. Unlike other Palestinian organizations that are bound by supra ideologies (religious or leftist), Fatah is a movement that requires agreement on only one issue: the liberation of Palestine. It consists of religious and secular members, traditional and atheist, Muslims and Christians (and experience shows that it's also open to Jews). It has right and left-wing members, as well as socialist and neoliberal ones. It has people striving for one state with the right of return, while others accept Abbas' position regarding striving for what is realistic. This is why Fatah is still seen as a movement that represents the entire Palestinian people.
In Yasser Arafat's day, discussions and debates were held between people holding different positions. It was part of the system and the process of persuasion in order to achieve a consensus. Fatah members say this is absent now. They, for example, don't understand the source of the major battle that's erupted between Abbas and Dahlan, which is damaging the movement. Dahlan said recently that the dispute was political, but Fatah members who spoke with Haaretz were skeptical about that. They said they don't understand the reason for the dispute, which must be personal – possibly involving personal interests, mutual recriminations and accusations of corruption, noting that "Abbas did with Dahlan what Netanyahu did with Iran – fabricating a major danger for personal and political gain."
In the refugee camps, people say Dahlan is investing money there in order to ease people's lives – a Fatah goal that used to top its list, but which Abbas the chairman has forgotten. Dahlan himself says that Abbas wants to destroy Fatah.
Abbas didn't mention Dahlan by name in his speech, but indicated that the opposite was true: that "those who stray from the path" could destroy the movement, since they are working on behalf of other Arab states. "The conference has one goal," a delegate told Haaretz: "To legitimize the removal of Dahlan and his associates."
Dahlan has already announced that he will hold a conference of the "true" Fatah movement later this month.
What is currently silenced is a debate on devising a new strategy and ways to combat the occupation and Israel. On Wednesday, Abbas drew a picture that was convenient for him, saying that, despite the obstacles, the diplomatic track is open and promising, and is the only route to follow (with some lip service paid to popular resistance).
Many Fatah members complain that they are losing public support and that Israel's policies create irreversible situations that will lead to a big blowup, without a leadership and Fatah being able to take them in desirable directions. Abbas isn't really familiar with the reality of the occupation, only through press reports and his advisers, they say. He doesn't realize how desperate the situation is, requiring radical change.
In the absence of broad public support, Abbas enlisted the aid of foreign delegations. With guests from 28 countries, including UN representatives, he was given legitimization when they all promised continued support for unarmed struggle in the pursuit of establishing a state alongside Israel.
Despite being fully aware of the undemocratic nature of his rule, these states continue to support him due to his clear positions, which maintain quiet in face of the occupation. However, a veteran Palestine Liberation Organization activist who is not a Fatah member says Abbas' nondemocratic methods give his principled position as a statesman a bad name. The Palestinian public identifies his opposition to armed struggle and support for the two-state solution with corruption, nepotism and tyranny.
Click the alert icon to follow topics:
ICYMI
Ken Burns' Brilliant 'The U.S. and the Holocaust' Has Only One Problem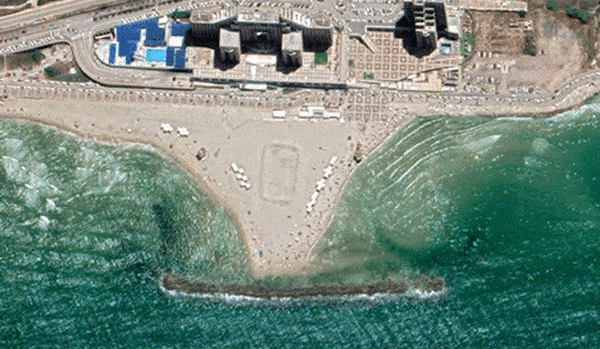 Facing Rapid Rise in Sea Levels, Israel Could Lose Large Parts of Its Coastline by 2050
As Israel Reins in Its Cyberarms Industry, an Ex-intel Officer Is Building a New Empire
How the Queen's Death Changes British Jewry's Most Distinctive Prayer
Chile Community Leaders 'Horrified' by Treatment of Israeli Envoy
Over 120 Countries, but Never Israel: Queen Elizabeth II's Unofficial Boycott