Obama and Merkel Should Hang Their Heads in Shame as Syrian Tragedy Enters Sixth Year
While Western leaders are not criminally responsible for the deaths of 470,000 Syrians, it has happened on their watch and to a large degree through their inaction.
Putin shakes hand with Syria's Assad in the Kremlin in Moscow, Russia, October 21, 2015.
Credit: AP
In June 2009, writer Elie Wiesel visited the site of the Buchenwald concentration camp in Germany, along with Chancellor Angela Merkel and President Barack Obama. Sixty-four years earlier, he had been liberated there by the American Army, only a few weeks after his father was murdered. Buchenwald was, according to Holocaust historian Raul Hilberg, the first place where survivors erected a sign saying "Never Again."
In his speech in Buchenwald, Wiesel said that at the time of liberation, "Paradoxically, I was so hopeful then. Many of us were, although we had the right to give up on humanity, to give up on culture, to give up on education, to give up on the possibility of living one's life with dignity in a world that has no place for dignity. We rejected that possibility and we said, no, we must continue believing in a future, because the world has learned. But again, the world hasn't. Had the world learned, there would have been no Cambodia and no Rwanda and no Darfur and no Bosnia."
If Wiesel had been making that speech today, he would have had to add to that list also Syria, and it would be Obama and Merkel hanging their heads in shame. And while they are not criminally responsible for the deaths of 470,000 Syrians so far murdered by the Assad regime, his helpers from Iran and Hezbollah and the Russian fighter jets bombing from high – and to a much lesser extent, by the killers of the Islamic State – it has happened on their watch and to a large degree through their inaction.
Over the past five years of the Syrian tragedy (we are not to call it a "genocide" yet, as it apparently doesn't meet a list of empirical rules), "Never Again" has been proven yet again as a hollow slogan. In the macabre league of 20th-century genocides the Syrian war may not yet be in the top-ten, it still lacks the millions of deaths of the Holocaust, the Armenian genocide, the Ukrainian famines and the Stalinist and Maoist purges. But what it lacks in numbers, it more than makes up in the world's indifference.
There never has been a better-witnessed massive outbreak of violence and killing than the Syrian war. And all in near to real-time. Despite the Western media's lack of access to the killing fields throughout most of the conflict, it has been amply documented in all its devastating detail on camera-phones of fighters, local journalists, often of those of the victims before they died, and immediately uploaded in Youtube clips on to the web. In some cases, this was the work of slick, professional propagandists, but usually the documentation has been done by ordinary civilians, compelled to bear witness.
Technology hadn't reached this point in the war zones of the previous decades, in Rwanda, Chechnya and the DRC. Aside from the reports of a handful of brave journalists and with the exception of the few privileged to read intelligence reports, the nature of the bloodshed seeped out slowly and began to be understood only when it was too late. All you have to do now, from any computer or mobile device around the world, is to type a few letters into the search box and you can get today's Syrian carnage on the screen in front of you. Just hours ago they were alive, now they are dead in live color.
I met this week on the border between Turkey and Syria some of these young men and women who call themselves "media activists," for want of a better term. They were preparing to go back to their homes in bombed-out villages and neighborhoods in the cut-off rebel pocket around Azaz and the nearly-besieged city of Aleppo. I tried to ask them why they were going back to risk their lives.
They aren't fighters, at least not as we understand the concept – wielding smartphones instead of Kalashnikovs. To them the answer is so clear it can't even be put into words. Sending out to the world another picture of civilians caught, tortured and shot by the Assad regime's goons, another clip of children being picked out of the rubble of a building obliterated in a Russian airstrike, is no less important than fighting for their homes. It is part of fighting for their homes.
One of the media activists I met had only an hour previously been present at the birth of his son in a small hospital on the Turkish side. Now he was planning how to return to Aleppo. The next time he rushes out to film a bomb site, he could be depriving that son from ever getting to know his father. And for what? The scenes they have captured have failed to move the world or its leaders. They are simply preparing the scene for the next generation of politicians who will come after Obama and Merkel to make lofty speeches on "never again" and then make excuses why nothing can be done to prevent the next mass-killing somewhere else in the world, a decade or two down the road.
They all have good excuses. Obama has said in interviews that he has yet to be shown a credible plan through which an American intervention could improve the situation. Merkel, who to her credit has rather recklessly opened up Germany to hundreds of thousands of refugees, is focused on ensuring stability in Europe and not making the Russians too angry. As John Kerry bluntly harangued a group of Syrian human-rights activists last week, "do you want us to go to war with Russia?"
Israel of course, just across the border from Syria, has also done very little, besides offering medical assistance to wounded Syrians on the Golan. The government here has its own very good reasons to isolate Israel from the ongoing war.
Millions of Syrians, those lucky enough to still be alive, are going hungry but there will never be a shortage of good excuses not to intervene on their behalf.
Elie Wiesel wanted to believe that his liberation at the hands of the soldiers of the United States Third Army proved that America, and perhaps the wider world as well, would never again allow a genocide to take place. But he knows well enough that the U.S. only joined the war two and a half years after it began, after being directly attacked in Pearl Harbor. And that the objective had been defeating militarily the German-Japanese axis, not liberating millions of Jews and other European and Asian civilians from extermination.
Let's stop telling ourselves stories. The Holocaust may be the most intensively researched and heavily commemorated human tragedy in history – it even has its own international memorial day set by the UN – but its enduring memory has not been and will not in the future be any guarantee against repeat performances. We say never again, but the reality is again and again and again.
Click the alert icon to follow topics:
ICYMI
Ken Burns' Brilliant 'The U.S. and the Holocaust' Has Only One Problem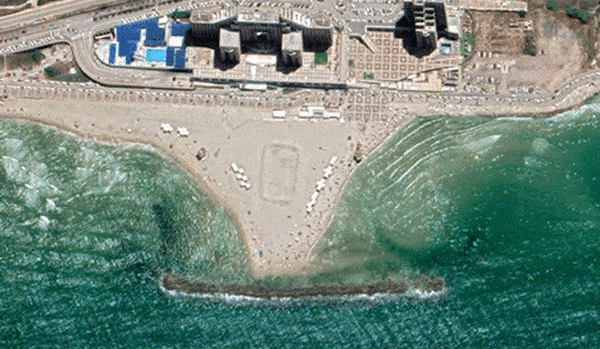 Facing Rapid Rise in Sea Levels, Israel Could Lose Large Parts of Its Coastline by 2050
As Israel Reins in Its Cyberarms Industry, an Ex-intel Officer Is Building a New Empire
How the Queen's Death Changes British Jewry's Most Distinctive Prayer
Chile Community Leaders 'Horrified' by Treatment of Israeli Envoy
Over 120 Countries, but Never Israel: Queen Elizabeth II's Unofficial Boycott