Gaza Is Final Obstacle in Israel-Turkey Reconciliation, but Egypt Is Caught Up in the Mix
Will reconciliation between Egypt and Turkey precede that between Turkey and Israel, or will the process work in the reverse direction, in a way that is liable to anger Egypt?
Turkey's President Recep Tayyip Erdogan with Hamas leader Khaled Mashal in Istanbul. December 19, 2015. 
Credit: AP
In the Turkish Foreign Ministry building in Ankara, Can Dizdar has been waiting several months for the moment his president, Recep Tayyip Erdogan, announces the end of Turkey's dispute with Israel.
Dizdar, the Foreign Ministry's director general for the Middle East and North Africa and a veteran diplomat, has been tapped to serve as Turkey's ambassador in Israel. A Turkish source, a former senior official in the Turkish government who visited Israel last month, described the designated ambassador as "an exceptional man in his abilities and diplomatically talented."
Feridun Sinirlioglu, who briefly was the interim foreign minister and is now the deputy foreign minister, selected him with deliberateness. Sinirlioglu himself was an ambassador to Israel.
As in Israel, there are liable to be last-minute changes, however. The very choice of a designated ambassador, combined with unending reports from Turkey about renewing relations in a very short time and Erdogan's comments that Turkey "needs a country like Israel," make it look like a warm wind will be blowing from Ankara to Jerusalem this chilly winter, perhaps by February.
The last obstacle standing before a renewal of relations is lifting the siege on Gaza. After Netanyahu apologized for the killing of nine Turkish citizens during the raid on the Mavi Marmara in May 2010, and agreed to pay over $20 million in compensation to the victims' families – while Turkey for its part agreed to drop its demand to try senior Israeli officers it claimed were responsible for the raid – all that remains is to formulate the way in which lifting the siege will be presented. Apparently, the formulation will allow Israel to say it did not cave in to Turkish pressure, and for Turkey to present the lifting of the siege as a victory.
But the imbroglio is a bit more complicated.
The problem is that Egypt – whose relations with Turkey blew up in July 2013 when Abdel-Fattah al-Sissi overthrew President Mohammed Morsi, a Muslim Brotherhood man, and took power for himself – has become caught up in the formula. Erdogan, who sees himself as protector of the Muslim Brotherhood, began, as he is wont to do when he blows a fuse, to curse Sissi, calling the power seizure a military coup and Sissi a dictator.
Sissi, who like Erdogan does not display excessive forgiveness toward his rivals at home or abroad, canceled one of the important trade agreements between Turkey and Egypt signed during the Morsi era, encouraged Egyptian citizens to boycott Turkey and avoided using Turkish Air. Turkey, and Erdogan in particular, turned within two years into enemies of the state that must be fought.
Tectonic shake-ups
Sissi also had a powerful ally who saw eye-to-eye with him regarding Turkey's standing – King Abdullah of Saudi Arabia, who for years turned a cold shoulder to Erdogan, particularly because of Turkey's close relations with Iran, Saudi Arabia's rival, and no less because of Erdogan's almost intimate closeness to Bashar al-Assad before the cutoff in relations caused by the Syrian civil war.
However, some tectonic shake-ups have transpired in the region in the meantime. Abdullah died a year ago and was replaced by Salman, who started cobbling together his own regional coalition on the advice of his son, Mohammed – who is likely to be his successor, perhaps even before Salman dies – and to take bold steps. The war in Yemen against the Houthi rebels is just one of them. Building a Sunni Muslim coalition "to fight terror" – i.e., Iran – is another step.
In the past, one could expect that Egypt would be the one to initiate such moves, while Saudi Arabia would suffice as the bankrolling prompter. However, Egypt is too bothered with its own difficult problems, while Saudi Arabia has become an active player who has the power to pressure and bend the hands of Egypt and its Persian Gulf neighbors.
Salman's Saudi Arabia didn't get excited by the bad relations between Egypt and Turkey, and didn't rush to adopt Sissi's aggressive policy against the Muslim Brotherhood. Although Saudi Arabia deems the Brotherhood a terror organization, Salman decided that the fight against Iran is more important than the internal disputes, and if there is a need to assemble a Sunni coalition, both the Brotherhood and Hamas, and certainly Turkey, are important partners.
Saudi Arabia needs at least correct if not friendly relations to prevail among "its" coalition members. It doesn't always work. For example, although Saudi Arabia decided itself to restore relations with Qatar after long months of a diplomatic break, it failed to reconcile Egypt and Qatar. The break here also occurred when Qatar preferred supporting the Muslim Brotherhood, and its television station Al Jazeera described Sissi's government as a military regime. The network continues to describe the regime change as a coup.
But Saudi Arabia isn't giving up. It started with a reconciliation initiative between Egypt and Turkey, leveraging its influence in both countries. Egypt, which has received over $15 billion in grants from Saudi Arabia and stands to gain investments worth $30 billion, cannot refuse Saudi Arabia, which is keeping its head above water. Turkey, which is embroiled in a political conflict with Iran because of its policy toward Assad, and whose relations with Arab countries never suffered from mutual love, has found itself isolated and without influence.
Window of opportunity
Opening the Saudi door turned into a window of opportunity that Erdogan would want to take advantage of. According to reports in Turkey and Egypt, Turkey agreed to recognize Sissi's regime in exchange for him rescinding or lightening the death sentences meted out to Muslim Brotherhood leaders and activists. Egypt publicly denies that there is a Saudi reconciliation initiative between Egypt and Turkey. In Turkey, they actually deny the Egyptian denial and even reveal that the head of the Middle East department, who is the designated ambassador to Israel, is involved deeply in promoting the reconciliation.
It is not entirely clear if the Egyptian regime intends at all to carry out these judgments, especially after the storm that the execution of Shi'ite cleric Nimr al-Nimr in Saudi Arabia stirred, but now these rulings have political and diplomatic significance.
Like in the story of lifting the closure of Gaza, Egypt also has to find a formula that will allow Sissi to be seen as the winner while giving Turkey what it wants. Such wording has yet to be found, but signs of courting between Egypt and Turkey are not lacking. Turkey invited Egypt to the Organization of Islamic Cooperation's summit in April, and Egypt accepted, although it is not yet clear what level of representation Egypt will send. Egyptian Foreign Ministry Sameh Shoukry declared at the beginning of the month that Turkish-Egyptian relations should be restored because the region needs these relations, almost matching what Erdogan said about Israel.
The future of the closure on Gaza also hangs on this web of fissures. Egypt not only sought clarifications from Israel about the reconciliation talks between Turkey and Israel, as Haaretz's Barak Ravid reported. It also made it clear that it is not obliged to open the Rafah crossing between the Gaza Strip and Egyptian Sinai even if Turkey and Israel reconcile. But according to a senior Turkish source, "Egypt does not want to remain the only country that has a closure on Gaza while Israel and Turkey celebrate at its expense."
In practice, Gaza is turning into a hostage of the trilateral relations between Turkey, Israel and Egypt, and it is unclear what will lead to what. Will reconciliation between Egypt and Turkey precede that between Turkey and Israel, or will the process work in the reverse direction, in a way that is liable to anger Egypt?
Israel promised Egypt not to do anything that could harm Egypt's standing and interests. In other words, there will not be a unilateral lifting of the closure. However, without a promise to lift the closure, Turkey won't buy a plane ticket for Ambassador Dizdar. It is the traffic jam that blocks the intersection, which perhaps Saudi Arabia will succeed in opening up.
Click the alert icon to follow topics:
ICYMI
Ken Burns' Brilliant 'The U.S. and the Holocaust' Has Only One Problem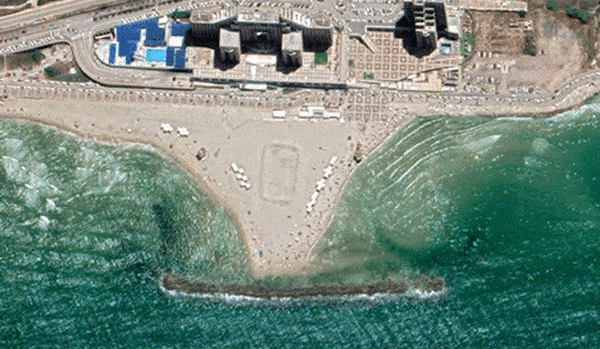 Facing Rapid Rise in Sea Levels, Israel Could Lose Large Parts of Its Coastline by 2050
As Israel Reins in Its Cyberarms Industry, an Ex-intel Officer Is Building a New Empire
How the Queen's Death Changes British Jewry's Most Distinctive Prayer
Chile Community Leaders 'Horrified' by Treatment of Israeli Envoy
Over 120 Countries, but Never Israel: Queen Elizabeth II's Unofficial Boycott