New HBO Series on QAnon Offers More Qs Than Answers
'Q: Into the Storm' is at its best when it avoids diving into rabbit holes, while 'The Last Cruise' barely skims the surface of the world's first global COVID-19 crisis
"Cattle-horn man" with a "Q sent me" placard at a rally in Washington earlier this year. He makes a cameo appearance in "Q: Into the Storm."
Credit: Dario Lopez-MIlls/AP
HBO's new six-part documentary "Q: Into the Storm" is every bit as scattershot and crazy as the QAnon phenomenon it explores. You can tell it's going to be a wild, discombobulating ride when the line "It's possible he could be Q, but I doubt it as he's so busy working on the pig farm" isn't even the weirdest sentence uttered in it.
If you don't know about Q and the QAnon movement that grew around the mysterious figure who released nearly 5,000 messages ("Q-drops") between October 2017 and earlier this year, then you've either never opened a web browser or newspaper, or you're a Republican senator/former president feigning ignorance about one of the most alarming trends of recent years.
For a while last year, journalists were having to form a line to write about Q and his/her collection of conspiracy theories. "QAnon told its followers to question everything. It was part interactive game, part religion, part political movement," explains the series' director-producer-chief cook-and-bottle washer, Cullen Hoback, in this exhaustive – and, frankly, exhausting – look at the cult whose nadir was reached with the Capitol Hill insurrection of January 6. (It's impossible not to smile, though, when the most-photographed member of that ignoble event, "Cattle-horn man," makes a cameo appearance in "Into the Storm.")
For anyone with two brain cells to rub together, the ideas that spawned QAnon were laughable: a bunch of nonsense rumors that revolved around the deep state and a cabal of Satanic pedophiles raping and torturing babies, then drinking their blood in order to rejuvenate themselves. The only way this differed from the age-old blood libel against Jews was the location: the basement of a Washington pizza parlor. Oh, and Tom Hanks was somehow involved this time, too.
Q's drops would be delivered with a series of pithy slogans that suggested a failed career as a sports coach: "Where we go one, we go all" (taken from Ridley Scott's 1996 movie flop "White Squall," a would-be "Dead Poet's Society" set aboard a sailboat); "Calm before the storm"; "Trust the play"; "Dark to LIGHT"; "Future proves past"; "Right on cue, it's Q." (One of those may not be true.)
Released on the 4chan and 8chan image boards – amoral, censorship-free websites where "www" may as well have stood for "Wild Wild West" – Q soon developed a devoted audience, the QArmy, which was only too happy to swallow the guff as long as it chimed with their sense of what sounded true.
Perhaps the wildest of those notions was that President Donald Trump had the faintest clue what he was doing and was actually leading the "resistance" against those baby-slaying Satanists who were in fact calling the shots in D.C.
Perfect storm
Watching "Q: Into the Storm," it's clear that Q's success was due to a perfect storm happening at a time when people are encouraged to place feelings ahead of facts and their refusal to believe in coincidence; the exponential, unchecked growth of social media and algorithms pushing people to QAnon content; and baby boomers with far too much time on their hands.
Indeed, the more you learn about the growth of the QAnon cult, the less you come to believe in the idea of a shorter work week: It turns out that "more free time" plus "access to the dark recesses of the internet and cable TV" is a very dangerous equation.
Then there are the "QTubers" spreading the gospel according to Q, earning a pretty penny along the way. Or the disciples who swear they've been "red-pilled," meaning they've seen the light thanks to Q and are seeing conspiracies everywhere – aided by a dumb president only too happy to amplify them. And don't forget the evangelicals eager to believe in "the great awakening," which is perhaps only a couple of rungs below "the great tribulation" in the "Say what?" stakes.
Thanks to the frenetic pace of modern craziness, "Q: Into the Storm" is arriving at a time when the QAnon phenomenon is already receding in the rearview mirror, hastened there by Trump's defeat last November.
In fact, this series may as well have aired on the History channel given the fact that QAnon has already been superseded by the Sabmyk Network – a rapidly expanding disinformation network that's already attracted over a million subscribers this year via the Telegram messaging app.
It spews the same type of nonsense as Q, but the big difference is that activists say they already know who is behind Sabmyk: a 45-year-old German art dealer with a track record for spouting nonsense. Apologies for the tautology there of "art dealer" and "spouting nonsense."
The unmasking of Sebastian Bieniek (if he is indeed behind Sabmyk) does highlight a vital element in the success of Q: the "Anon" part that created an air of mystique and the belief that Q was someone with "Q-level" security clearance in the U.S. government and the ear of the president. (It is still unknown who had his brain.)
Was Q really Steve Bannon, Trump's former strategist and real-life incarnation of Pepe the Frog? Stephen Miller, perhaps the only man in the world who does look like he might frequent pizza parlor basements? Or Gen. Michael Flynn, Trump's disgraced former security adviser who was happy to be linked to the QAnon cult, even filming himself and his family reciting a "Where we go one, we go all" creed. (Spoiler alert: The boat in "White Squall" sinks.)
The identity of Q is the key question Hoback attempts to answer in his documentary, which explains why it's six hours long instead of the two it should have been. Honestly, you'll probably enjoy the show just as much if you just tune in for episodes one and six, which introduce and wrap up the QAnon phenom.
What would you miss in episodes two through five? An awful lot of rabbit holes that Hoback can't stop diving into – there's a good reason Jefferson Airplane's "White Rabbit" is a recurring theme here. These rabbit holes include Cicada 3301 (don't even ask) and "secure tripcodes" (see previous parentheses).
More damaging, what starts as an examination of QAnon digresses into a look at the 4chan and 8chan image boards where Q posted, and the three Americans based out in the Philippines who are behind those scurrilous sites: Father-and-son team Jim and Ron Watkins, and 4chan creator Fredrick Brennan.
All are big characters, even if Brennan looks like a hobbit being played by Patton Oswalt, and are willing to give Hoback seemingly unfettered access to their operation. So, we get Ron Watkins extolling the virtues of a Japanese place called Soapland, which he describes as "Disneyland with soap" – which would indeed be true if Minnie Mouse swapped body rubs and lubricant for hugs and waves. Then there's Jim "king of porn" Watkins, giving us a guided tour of his pig farm outside of Manila (somehow, his statement that "25 percent of 8chan is paid for by pigs" isn't half as surprising as it should be).
Finally, there's Brennan, who we really should hate given his creation of one of the most heinous online sites – a place where child pornography sits alongside Nazi screeds, and hate-filled posters encourage mass shooters as they livestream attacks on mosques and synagogues.
As I say, there's a lot we should hate about Fred. But as the series unfolds, he actually becomes its most likeable character after he falls out with the Watkinses and attempts to turn the tables on them – not so easy when a genetic disorder means you're wheelchair-bound and have a fluffy little dog permanently sitting on you.
I won't reveal who is eventually fingered as Q, but I'm not sure it really matters now anyway. (The show also suggests there were two Qs, but soon forgets the "original" Q.) Dating all the way back to "The Wizard of Oz," the big reveal of who's behind the curtain has never been as important as their actions. For instance, can you remember the name of the "Anon" who wrote a New York Times op-ed about life in the White House under Trump? Kudos if you said Miles Taylor, and bless if you still believe it was Jared Kushner.
"Q: Into the Storm" has its moments, for sure, but it has way more longueurs as Hoback veers further and further away from what's really interesting here: Why QAnon went from the very margins of society to having two adherents in the current House of Representatives in the blink of an eye.
Perhaps the answer to that problem lies in something Brennan says early on: "Q is whatever you want it to be."
'The Last Cruise'
I thought about those now-defunct 8chan boards last week when I read the news that Seth Rogen has been cast to play a character inspired by Steven Spielberg's favorite uncle, in the director's upcoming and as-yet untitled film about his time growing up in Phoenix, Arizona, in the 1950s.
Imagine the antisemitic conspiracy theories 8chan would have conjured up about the world's most famous director making a film about his childhood, aided and abetted by the world's most famously Jewish actor. Actually, I dread to think, and haven't bothered signing up to the Sabmyk Network to find out.
Still, at least it will take their minds off their "plandemic" conspiracies for a while. I, however, was plunged back into the world of COVID-19 with another new HBO documentary, "The Last Cruise," about the nightmarish experiences of the passengers and crew aboard the Diamond Princess after it departed the Japanese port of Yokohama on January 20, 2020.
The cruise liner soon became a giant floating petri dish and perfect breeding ground for the coronavirus, after it emerged that one of the passengers had tested positive for COVID-19 and everyone would have to quarantine onboard for at least 14 days at the end of the cruise.
Hannah Olson's 40-minute documentary relies heavily on footage shot by crewmates and passengers during that quarantine period, but somehow manages to suck all of the drama out of the situation.
What we get instead are unremarkable interviews with about a dozen people on board, but no real sense of danger – which is odd given that the Diamond Princess was in many ways "ground zero" for the global spread of the virus beyond China's borders.
Maybe part of the problem is that the demographic that tends to go on cruises is a pretty staid, unshockable group, and no one here has a big enough personality to grab your attention. Consequently, these stories are every bit as compelling as you might expect middle-aged and elderly couples being stuck in a cabin for two weeks might be. Seriously, the closest we get to drama is when a hamburger arrives without a burger between the buns.
What's more interesting is how the cruise liner serves as a metaphor for society, with the well-to-do being cared for on top while the working classes scurry around below deck in cramped conditions, endangering their own health. You are struck with apprehension everytime you hear someone coughing in those confined quarters.
But Olson doesn't delve deeply enough into these key workers' lives, making "The Last Cruise" a missed opportunity that barely skims the surface.
Finally, though I don't normally cover short films, I'll draw your attention to a new British one that's premiering on Vimeo on April 6. It's called "Miss." and features a great twist that I can't tell you about here, otherwise there would be little point in watching the 10-minute film.
Directed by Yael Roth, it's set in north London and is drawn from a real-life antisemitic event that is so shocking, you'll barely believe your eyes as you watch the end credits. The actual storyline is perhaps a little underpowered, but stick around for those credits and a truly shocking reveal.
"Q: Into the Storm" is on Hot8 on Thursdays at 10 P.M. and Hot VOD; "The Last Cruise" is on Yes VOD, Sting TV and Cellcom TV from Wednesday, and "Miss." is available on Vimeo from April 6.
Click the alert icon to follow topics:
ICYMI
Ken Burns' Brilliant 'The U.S. and the Holocaust' Has Only One Problem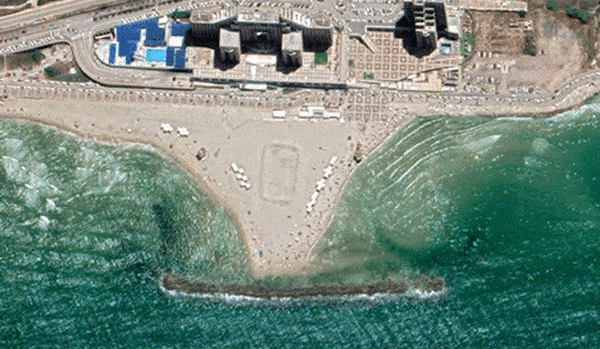 Facing Rapid Rise in Sea Levels, Israel Could Lose Large Parts of Its Coastline by 2050
As Israel Reins in Its Cyberarms Industry, an Ex-intel Officer Is Building a New Empire
How the Queen's Death Changes British Jewry's Most Distinctive Prayer
Chile Community Leaders 'Horrified' by Treatment of Israeli Envoy
Over 120 Countries, but Never Israel: Queen Elizabeth II's Unofficial Boycott