Watch 'Allen v. Farrow' and You May Wish Woody Allen's Career Ended in 1990
HBO's 'Allen v. Farrow' is a damning documentary examining the abuse allegations against Woody Allen – who could only have fared worse here if he'd asked Ted Cruz to speak in his defense
Woody Allen pictured on his way to court during the vicious custody battle with Mia Farrow.
Credit: Mario Cabrera / ASSOCIATED PRESS
There are pros and cons to becoming a member of the "27 Club." The biggest con, obviously, is that you have to die ridiculously young and leave the world wondering about all that untapped talent.
The biggest pro, conversely, is that your iconic status is enshrined forever: You've lived fast, died young and left a good-looking corpse. Congrats, there will be no "Fat Elvis" phase for you; the worst fate to befall you will be a tawdry biopic by someone like Oliver Stone.
Sorry to sound heartless, but there are plenty of other musicians who'd have benefited from joining the "27 Club" as well. Michael Jackson is the most obvious example. If he'd died while attempting an actual moon walk in 1985 – the year he was first dubbed "Wacko Jacko" – those Neverland accusations would never have happened.
Then there's a former personal hero of mine, Morrissey. If only a double-decker bus had indeed crashed into Moz after the Smiths released "The Queen is Dead" in 1986, we wouldn't now know him as a racist moron.
Things get messier in the film world, where most directors don't hit their stride until after the age of 27. Steven Spielberg was already 28 when "Jaws" was released in 1975 and Martin Scorsese 33 when "Taxi Driver" stunned the world the year after. If Michael Bay had died at that tender age, the only thing we'd remember him for today are a bunch of Donny Osmond music videos. Where's a giant meteorite when you really need it?
That's why something like the "54 Club" would perhaps be fairer for the film industry, where it takes much longer to establish yourself – even if you're a white, middle-class male. And I would respectfully suggest that Woody Allen would have benefited greatly from becoming the club's inaugural member in 1990.
Crimes and Misdemeanors
Allen was one of my heroes growing up. He was the second filmmaker (after Hitchcock) whose films I watched religiously, and there was a spell in the 1980s when his movies were like seasonal gifts: "Zelig," "Broadway Danny Rose," "The Purple Rose of Cairo," "Hannah and Her Sisters," "Radio Days."
Allied to that was the pleasure of discovering Allen's comedy sets from his nightclub days in the '60s. One of my most-worn possessions from the '80s is a compilation tape (millennials, ask your grandparents) of Allen's greatest comedy routines. To this day, I still think "The Moose" is the single funniest story ever told ("You know the Solomons").
But then came 1989's all-too-aptly titled "Crimes and Misdemeanors," and his life has been a tale of woe ever since – even if Allen has still somehow managed to make a movie each year thanks to his financial enablers in Hollywood and, latterly, Europe.
For nigh-on three decades, it's been impossible to laugh at an Allen line like "You don't have to be Jewish to be traumatized, but it helps," due to those sexual abuse allegations against him by his adopted daughter Dylan Farrow. They first surfaced in the summer of 1992 – but only really stuck after, first, she'd published a damning open letter in The New York Times in 2014, detailing the abuse she'd suffered at his hands as a young girl, and then, fatally, when she wrote a powerful op-ed some four years later titled "Why has the #MeToo revolution spared Woody Allen?"
Though no criminal case was ever brought against the now-85-year-old Allen, and he has consistently denied ever being "sexually inappropriate or abusive" with his daughter, there's no doubt that he's been found guilty in the court of public opinion and his sentence has been banishment from polite society. It took a while, but when those allegations resurfaced in 2014 and late 2017, he finally went from being everyone's favorite nebbish to loathed paskudnyak (disgusting person) – someone even Harvey Weinstein might think twice about working with if he weren't rotting in a prison cell.
So, it really would have been best for all concerned if Allen had died after the release of "Crimes and Misdemeanors" – you know, before he actually committed any of them. Because even if he didn't do the heinous things Dylan Farrow accused him of (more anon), his relationship with Mia Farrow's adopted young daughter Soon-Yi surely at least falls into the "misdemeanors" category in most people's eyes.
Forgive the impudence, but I also know how the man who didn't want to achieve immortality through his work but by not dying should have passed away: Shot while wearing a moose costume in the woods, then stuffed and mounted in the New York City Golf Club (and the joke's on them because they don't allow Jews).
In 1990, he would have been mourned as a great, albeit eccentric, artist; someone who had shunned the limelight and preferred instead to pour himself into his work. A man who had turned his – and, by extension, our – personal neuroses into comedy gold.
In 1990, New York would have erected a statue in his honor, and the only question would have been whether to place it in Midwood, where he was raised, or in Sutton Place Park, looking up at the Queensboro Bridge he did so much to immortalize in "Manhattan."
But 31 years on, Allen is still very much with us, preparing to direct his 51st movie thanks to European funding. So instead we have "Allen v. Farrow," a disturbing four-part HBO documentary that gives Dylan Farrow something she has long deserved: Her biggest platform yet to air her accusations against him, in the hope that people will finally believe her and stop questioning her and her mother Mia's motives.
Mia Farrow herself perfectly sums up the problem when she says: "I get why people can't believe it, because who would believe that of Woody Allen, you know? I couldn't believe it. Everybody admired Woody so much, loved him – and I did too."
Persona non grata?
What the Farrows were also battling, of course, was our love of Woody Allen the persona rather than the actual person: the impish stand-up comedian in that black-and-white footage from the '60s; Woody and his indelible, loveable-loser movie characters – from Virgil Starkwell in "Take the Money and Run" and Miles Monroe in "Sleeper" to Alvy Singer in "Annie Hall" and Cliff Stern in "Crimes and Misdemeanors" – each of them more nihilistic and neurotic than the last. They were the very embodiment of confused, maudlin males who somehow still got the girl.
Claire Dederer, one of the (invariably female) writers called on to sum up Allen's cinematic appeal in the documentary, probably speaks for many when she observes: "I felt that he represented me, which is a very weird way for a little girl to feel about a middle-aged filmmaker. He has a way of inhabiting something very human that's extremely relatable."
The series, almost too slickly assembled by directors Kirby Dick and Amy Ziering for the subject matter, has been made without the involvement of the accused or anyone from what we might term "Team Allen" – which inevitably makes this a one-sided affair.
Allen's responses to the allegations are lifted from the audiobook of his recent autobiography, "Apropos of Nothing" – and the only way he could have possibly come across worse than relying on these flimsy explanations is if he'd asked Sen. Ted Cruz to offer a few words on his behalf.
Incidentally, anyone seeking proof of how the filmmaker has been marginalized in recent years just needs to see how that memoir was almost universally ignored when it was released last year – something that would have been unimaginable back in the '80s when Allen was at his artistic peak.
"Allen v. Farrow" is a tough, bleak watch (think "Kramer vs. Kramer" without the laughs), and it's impossible to emerge from it without a sense of anger over the lack of criminal accountability – even if in one instance it was made with Dylan Farrow's best interests at heart. If her allegations are indeed accurate (and I don't think this series will make you question her version of events, which include Mia's videotaped interviews with the then-7-year-old immediately after the alleged incident in August 1992), there are several prominent people in New York who should be thoroughly ashamed of their actions – and not just Allen.
Strip away the show's fatuous comparisons between Allen's films and his private life – after all, if every male in the movie industry was judged on what they believe the correct age to be for the partner of a 60-year-old man, they'd all be shunned – and you're left with a tragic story whose aftermath one side describes as "rumors and innuendos," and the other as "misinformation and obfuscation." No prizes for guessing which side said what.
The media also played a prominent role here, firmly establishing Allen's spin that this was all cruel manipulation by Mia Farrow – a narrative that still existed up until that watershed moment in early 2018 when high-profile actresses finally said they were no longer willing to work with Allen.
The series loses momentum when it allows itself to get sucked into topics like the "genius" get-out-of-jail card, in which various experts suggest it's nigh-on impossible to prosecute celebrities. (I would suggest that Donald Trump, for one, is about to find out this is no longer true.) It also considers a subject that really merits its own standalone documentary, parental alienation syndrome, and the discredited idea that "scorned women" (why is it only women who are described thusly?) make false abuse allegations when they face losing their children in custody battles.
The series is at its best when it stays firmly focused on Dylan Farrow, and there are numerous powerful moments of her in adulthood – either with her own husband and daughter, her mom or, most memorably, when she belatedly meets the man who ultimately decided Woody Allen's fate back in 1993.
As for the filmmaker himself, one of the most damning indictments against him comes from Peter Marks, the New York Times' then-culture reporter who covered the brutal custody battle between Allen and Mia Farrow in 1993. "I absolutely worshipped Woody Allen before this trial," he says, before echoing the thoughts of many by adding: "But I can never watch another Woody Allen film after this – and it still wrenches me to say that."
"Allen v. Farrow" is on Yes Docu and Hot8 on Mondays at 10 P.M., when it will also be available on Cellcom tv, Yes VOD, Hot VOD and Sting TV. It airs Sundays on HBO in the United States.
Click the alert icon to follow topics:
ICYMI
Ken Burns' Brilliant 'The U.S. and the Holocaust' Has Only One Problem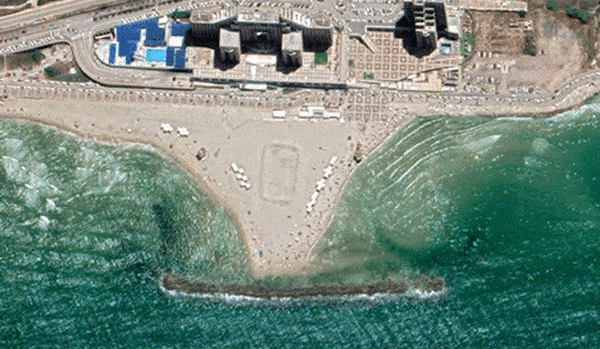 Facing Rapid Rise in Sea Levels, Israel Could Lose Large Parts of Its Coastline by 2050
As Israel Reins in Its Cyberarms Industry, an Ex-intel Officer Is Building a New Empire
How the Queen's Death Changes British Jewry's Most Distinctive Prayer
Chile Community Leaders 'Horrified' by Treatment of Israeli Envoy
Over 120 Countries, but Never Israel: Queen Elizabeth II's Unofficial Boycott