'"Fauda" Is Really Bad – I Turned Them Down Three Times'
Since starring in 'Paradise Now' 15 years ago, Ali Suliman has become one of the most successful Arab Israeli actors of his generation. 'I've been optimistic most of my life but now, regrettably, I can't see a light at the end of the tunnel,' he says about life in Israel
Ali Suliman.
Credit: Gil Eliahu
Twenty years ago, Ali Suliman left his family and 11 brothers behind in Nazareth and moved to Tel Aviv in order to study acting – only to find he was a marked man.
It was at the start of the second intifada, and Suliman needed to polish his Hebrew, find an apartment and try to stand on his own two feet. Landlords rejected him time after time, and the streets were also something of a battlefield.
"I was stopped and searched almost every day," he recalls. "I lived in the Shapira neighborhood [in south Tel Aviv]. It was a bit scary, with lots of drugs all around. One day I went out without my ID card and some policemen stopped me. They took me to the police station and started threatening me: it was the greatest trauma of my life. From there they took me to another station in Jaffa, leaving me handcuffed from noon till the middle of the night. In the end, my brother brought my ID card and I was released."
Suliman, probably one of the most successful Arab Israeli actors in the world along with Hiam Abbass, survived that period and finished his studies at the Yoram Loewenstein Acting Studio. He soon realized that Israeli repertoire theater was not exactly rushing to embrace him. He dreamed of big Shakespearean roles, like he'd trained for at school, but could only find work as a janitor at the Arab Hebrew Theatre in Jaffa. Eventually, he started acting in children's shows at the theater, later graduating to actual plays.
His big breakthrough came with a starring role in Hany Abu-Assad's 2005 film "Paradise Now," which won a Golden Globe award and became the first Palestinian movie to be nominated in the best foreign language film category at the Oscars. Suliman played one of two young Palestinian friends heading to Tel Aviv for a suicide bombing.
Did you have any misgivings about taking on such a role at a time when relations between Jews and Arabs were so fraught here?
"At that time, cinema didn't interest me at all; the theater was my life. When I got the script, it seemed really interesting. But I said to myself: 'We live here, and if I take this role my career is over. It's that simple.' I told Hany I couldn't take it, but he insisted. He said it would be a big hit. I was persuaded and went for it."
Didn't you have a problem playing a character who's going to Tel Aviv in order to blow himself up?
"During the production I started to connect to the movie on every level. Some of the film was shot in Nablus during the second intifada. There were assassinations of [Hamas co-founder] Ahmed Yassin and other leaders; there were curfews lasting one or two weeks, and you saw the Israeli army in the streets. That was the scandalous reality.
"All of a sudden, you hear of people losing someone close to them or of others with several brothers in Israeli jails. You rub shoulders with people whose biggest dream is to go to a beach. You hear these stories and see how the army assassinates Palestinian freedom fighters. This drew me into the film, since that was its story: Two young men who decided to carry out a suicide attack – which is obviously horrific and terrible. We're a people who love life, and I found this in Nablus. You see the non-life they have in the West Bank.
"Now you have the separation barrier, which blocks the atmosphere, and you see how they manage and survive, [despite] the difficulties in traveling from town to town, from village to village. There's no work. Despite this, you see their joy, their desire to live. I think the ideology calling on them to go die is unjustified, but the situation of living in a cage your whole life can turn you into a monster. I remember entering Nablus as one person and emerging as someone different."
Turning down 'The Spy'
"Paradise Now" was an international success and Suliman soon found himself fielding job offers from Hollywood. He insisted on staying in Israel, but over the years has appeared in U.S. TV shows like Showtime's "Homeland," Hulu's "The Looming Tower" and Amazon's "Tom Clancy's Jack Ryan." He also featured in movies by the likes of Peter Berg (2007's "The Kingdom") and Ridley Scott (2008's "Body of Lies").
In Israel, Suliman agreed to play mainly in the movies of Eran Riklis, including "Lemon Tree," "Zaytoun" and "Dancing Arabs" (released in America as "A Borrowed Identity"). In recent years, though, his face has been absent from local screens.
He recently broke his dry spell by appearing in "Juda," an Israeli vampire series created by Zion Baruch (both seasons are available on Hot VOD). He plays a muscular werewolf in Paris who comes into conflict with a group of Jewish vampires. His character, Raid, also allows us to witness the struggles of a Muslim immigrant with an Arabic accent in the City of Lights.
Why did it take so long for you to return to Israeli screens?
"In the last five years, I just gave up. I don't even have an agent in Israel. The fact is, they give you the role of a terrorist – nothing else. You won't see an Arab lawyer or doctor here. Ninety percent of Israeli hospitals have senior Arab doctors, but you never see this on-screen. It doesn't sit well with brainwashing: In order to hate, you have to portray the Arab as a monster. And when you see him as a monster, it helps Bibi [Prime Minister Benjamin Netanyahu] brainwash millions of people. Our situation here is deteriorating."
You're starring in "Juda" alongside Shadi Mar'i, who was also cast in "Fauda." I know you had offers to appear in that show and refused them. Why?
"They made me three offers and I refused them all. I still do. I think it's a very bad series. Not just because of the way Arabs are represented, but because it glorifies the unit of soldiers posing as Arabs [the Israel Defense Forces' Duvdevan unit]. This is the unit doing all the politicians' dirty work, doing terrible things in the West Bank. I've heard some really grim stories. Suddenly, [in the show] you see the human side of this unit. You can't look at both sides equally. When someone else writes your narrative, it comes out distorted. It's also not done well from an acting perspective. It's really bad."
You also refused a part in Netflix's "The Spy," about Israeli secret agent Eli Cohen. To what extent are you turning down roles in America?
"I refuse more than I accept, because I'm not willing to take any role – even when there's lots of money involved. My profession is liminal, somewhere between art and business. In the United States, everything is business. I'm offered some roles that are historically or politically delicate, and I can't take them. I have a responsibility to history; I have to be true to myself.
"Ultimately, it's not just a movie: you want someone to see your perspective. It's like if I made a movie about a combat unit in the IDF – it's not my world. I see them as destroyers and killers, I can't see anything else there."
You see growing numbers of Hollywood movies being written and directed by people from minority groups, with key roles for Black, Asian and Latino actors. It's still hard to find Arabs there, though. Is Hollywood more racist toward Arabs?
"Hollywood has gone through a revolution in recent years, but its history is full of racism against Arabs. There's a book that describes how, throughout its history, it depicted Arabs as the bad guys, the monsters. Generations grew up with this image. If they hear 'Arab' or 'Muslim,' they automatically think of something dangerous. But thanks to Mr. Trump and the reactions to him, they've finally unearthed a treasure with Muslim creative talent and Oscar winners.
"Audiences have had their fill of clichéd stories and are looking outside the box. This is good – it's our time now. I think we have to show 'the Other' and clean up all the dirt that was associated with Arabs and Muslims for all those years. The fact is that as soon as they're given an opportunity, Muslim actors get Oscars. It happened with ['Moonlight' star] Mahershala Ali and ['Bohemian Rhapsody' star] Rami Malek, as well as with the TV series "Ramy," which won a lot of awards. It's a real source of pride."
In the current season of "Juda," your son encounters racism in Paris due to his Arab roots. The message you preach to him is to "keep fighting." What do you feel about that scene? You're raising children in Israel and they'll encounter racism as well.
"It's one of the things I encounter every day. As much as you want to show your children the beauty of a place, you have a problem since the place imposes itself on you, showing how ugly it is. We live in a reality that doesn't make our lives easy, so you have to be a survivor. And in order to be one, you have to fight.
"For me, fighting means working hard and achieving your goals. After teaching your children to be the best in the world, they'll have to be strong enough to contend even when you're no longer there. I know it will be much harder for them to find work because they're Arab, but they have to be prepared for that. Otherwise they won't survive."
'Fascism is spreading'
Suliman, 42, is married with three children. In 1948, part of his family was expelled from the Saffuriya area (now Tzippori) to Lebanon, while others moved to Nazareth, where he was born and raised.
He caught the acting bug at a young age. We're holding the interview on Zoom, with him at his home in Nazareth, which has become a heavily infected city during the second wave of the coronavirus.
He says he hasn't left the house much since the pandemic erupted last March, sticking rigorously to the guidelines other than a visit to the Venice Film Festival in September. He was there for the premiere of his latest movie, "200 Meters," in which he plays a Palestinian father trying to reach the other side of the West Bank separation barrier in order to visit his sick son in an Israeli hospital.
What does he think about the state of Arab society during the second wave? "I'm not angry at the Arab public, as during the first wave it was all green [low infection rates]. We were disciplined then. This corrupt government has placed us in total lockdown. I've been in one since March, except for my Venice visit. Then the government opened things as usual, then they imposed a partial lockdown, driving everyone crazy. Now the Arab part of the country is all red since no one believes our leaders. Who can we believe in? Bibi, who gave the authority to a professor, and then doesn't listen to him? How do you want the Arab public to believe someone who's so corrupt?"
You're describing a harsh reality in this interview. Do you see any shred of optimism?
"Most of my life I was an optimist but, regrettably, I can't see anything optimistic now. I can't see a light at the end of the tunnel. Things are deteriorating, gaps are widening and hate is overwhelming everything. Fascism is spreading throughout the country. There's brainwashing against the Other; it's inconceivable. I look around and ask: What are we doing in this Knesset? After all, there will never be equality here. As long as there's an occupier and an occupied, I'll never be equal."
So you think it's better to give up, with no Arab representation in the Knesset?
"I prefer not to have representatives merely for the sake of beautifying a democracy that doesn't actually exist. It's a matter of a hierarchy built on race and discrimination. Our very presence in the Knesset is one huge failure. They always have to prove that they're loyal citizens. And I say that if we eat shit, we can't come with complaints to anyone.
"I suggest they leave the Knesset and ask for autonomy. We deserve it as a minority. We should not be part of this nation. It's absurd to me to look for equality from those who control you and step on your neck. It's simply absurd."
Click the alert icon to follow topics:
ICYMI
Ken Burns' Brilliant 'The U.S. and the Holocaust' Has Only One Problem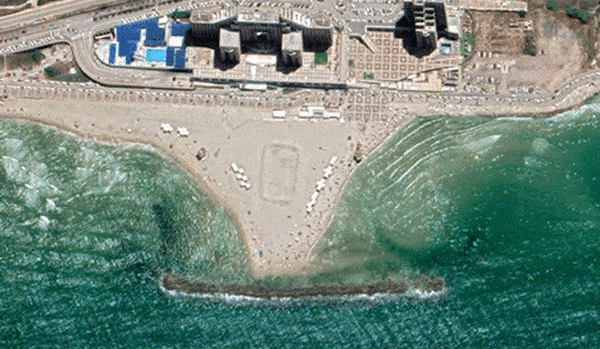 Facing Rapid Rise in Sea Levels, Israel Could Lose Large Parts of Its Coastline by 2050
Lapid to Haaretz: 'I Have Learned to Respect the Left'
The Mossad's Fateful 48 Hours Before the Yom Kippur War
As Israel Reins in Its Cyberarms Industry, an Ex-intel Officer Is Building a New Empire
How the Queen's Death Changes British Jewry's Most Distinctive Prayer