Candid Camera: How Zoom Reveals Far More About Us Than We Ever Bargained For
Or, how I learned to Zoom like a pro – including how often your kids should crash work meetings, why 'Fiddler on the Roof' should be next to the Koran on your bookshelf, and what to do with questionable artwork. Plus, a few words on HBO's 'Room 104'
A trial being conducted via Zoom in Texas, May 18, 2020. With Zoom, you are the jurist and jury, judging your colleagues' homes and what they say about them. Just remember that they're doing the same.
Credit: /AP
I can think of only three positive things the coronavirus has given us: the opportunity to redefine what "essential worker" means (not you, Donald); to confirm for us that the people we regarded as idiots before COVID-19 are indeed idiots (I'm guessing you successfully predicted which of your neighbors wouldn't wear a mask); and, best of all, offering us the chance to snoop around our colleagues' homes without getting arrested.
Honestly, Zoom meetings have provided some of my favorite viewing moments of 2020.
The conventional wisdom is that we're only staring at ourselves onscreen during our meetings with colleagues – but we all know otherwise. What we're really doing is dissecting the décor and clutter of our workmates' homes, all the while hoping we're not revealing quite as much about our own. Tip number one: Always make sure your prescription drugs are well out of shot.
I can guarantee that feng shui experts are currently reinventing themselves as "Zoom roomers," eager to hand out expensive advice on which background will make you look "boardroom" material and which makes you look "rubber room" material (it's a thin line, for sure). And I'm sure Marie Kondo would have plenty to say about your Zoom aesthetic.
There are so many potential Zoom pitfalls. For instance, put too many family photos in the shot and it looks like you've spent the past four months hanging out with your kids rather than doing any actual work. Then again, if you don't include any, you'll look like a sociopath who'll likely next be seen in a chilling three-part documentary on Netflix.
As for what to do with your bookshelves, people are probably already writing books about that. But some tips for free: Make sure your shelves are full, but not Amazon warehouse full (though this might explain that bottle of urine on your colleague's desk); orderly but not arranged in some bizarre system like by color (colleagues will think you're 5); make sure there are prominently placed books to reflect all the major religions – the Bible, Koran, "Fiddler On the Roof," a Tom Cruise biography – and always have a selection visible from Oprah's Book Club. Also, try to make it look like some of these have actually been cracked open.
A few more important things. First, if you have young kids, make sure they "accidentally" pester you at least twice during every meeting; your boss needs to know you're doing two jobs but only getting paid for one of them.
Second, if you're living with elderly parents, the same "two jobs" rule applies. Have them walk in occasionally, spouting absolute nonsense like "Person. Woman. Man. Camera, TV" – that should do the trick and earn you lots of sympathy from co-workers.
And third, if you have a cleaner, make sure they never enter the shot. Everyone needs to think you're actually doing three jobs but only getting paid for one.
'Weekend at Bernie's' vibe
In the early days of lockdown, countless folks blithely sent messages to colleagues via the Zoom chat option, sharing opinions like "Wow, brave of Karen to use an interior designer from the Amish community" – not realizing it could be read by everyone, including Karen.
That's why the main reason everyone mutes themselves in meetings now is to stop the deafening sound of WhatsApp messages arriving where workers are denigrating colleagues' choices ("I don't think Chris has changed out of that T-shirt since Purim") or spreading crazy conspiracy theories ("I swear there's some 'Weekend at Bernie's' sh*t going on with Bob from accounts – I think he's dead and his kids are now operating him and cashing the checks").
A pal of mine has a weekly meeting with about 400 colleagues, and when I asked him how an important gathering went recently, this was his response: "The boss' house was good value – looked like a bedsit, but there was this incongruous Dyson fan to one side that had patently cost more than his entire decorating budget." Yes, bosses, be warned: now it's our turn to judge you.
Zoom has also made us reappraise our own living spaces. Before COVID-19 came along, I loved my apartment. Now, all I can see are its flaws – which are seemingly magnified by whatever camera position I choose for a meeting.
As far as I'm concerned, the small stain on the kitchen ceiling is now the dominant feature in my apartment and, much like those masturbating monkeys in nature documentaries, will draw attention no matter how much I try to conceal it. I am willing to concede, however, that my decision to hire a masturbating monkey to distract fellow workers was taking things a step too far.
We've also all become expert set dressers, positioning objects "just so" in order to create that perfect look – no doubt leading to apologies like "Sorry if the reflection is hurting anyone's eyes, it's just that the sun catches the awards at this time of day. No, Bobo, stop that! Bad monkey!"
Zoom has also forced us to reevaluate things that for years were part of the furniture. For example, during a video call I had with a relative recently, she suddenly asked, "Oh, you still have a Woody Allen poster hanging up?" referring to a "Manhattan" promo in the background.
"Sure," I responded, trying – and failing – to hide the immediate defensiveness in my voice. "I mean, anything prior to 'Mighty Aphrodite' is OK, no? Besides, this one really reminds of seeing a triple bill of 'Play It Again, Sam,' 'Manhattan' and 'Zelig' at the Scala back in the day."
"Your call," she said. "But isn't 'Manhattan' the one where he plays a two-time divorcé dating a high school student?" She paused for Pinteresque effect. "And this is where you sit when you have your work meetings, right?"
As soon as the call was over, I studied the "Manhattan" poster anew. As well as images of Allen and Diane Keaton, there's also a small shot of Woody with a young Mariel Hemingway. In it, she's supping a milkshake and looking all of 18. It gets worse: she was actually 17.
How the hell had I never noticed this? Heck, why not go the whole hog and put a giant poster of "Lolita" in the living room? (At least that would distract from the ceiling stain and onanistic primates, I guess.) Funnily enough, when I told a friend about this, he confessed to facing the same problem with his "Annie Hall" poster, always making sure it stays out of shot during meetings.
Needless to say, the offending "Manhattan" poster has now been removed and I'm waiting to see what's in the center of my Venn diagram of the pope and Ruth Bader Ginsburg's favorite films before deciding what to replace it with.
In our grave new world, while the future of movie theaters remains uncertain and streaming sites threaten to drown the consumer with choice, one thing is abundantly clear: Zoom is going to play an ever-larger part in office workers' viewing habits.
Indeed, there's a chance that youngsters entering the job market now may never sit in an actual meeting room – forever deprived of the opportunity to eat stale pastries left over from the previous meeting. Instead, they'll attend video meetings while surreptitiously playing games on their phones, making them that rare person who gets something positive out of a meeting: a new high score. Bye-bye boomer, hello Zoomer.
'Room 104'
There's no way on God's not-so-green Earth I'd be writing about the fourth season of a show in normal times. There's always something newer, brighter and shinier out there – except for now, when HBO's "Room 104" turns out to be the most newsworthy show airing unless you want to write about a Netflix series called "Cursed Warrior Nun Umbrella Academy" or something.
I'd not seen the earlier seasons of "Room 104," and while season four didn't exactly make me want to devour all 36 previous episodes, it does have a "WTF!?" quality that made me Google "What are the best episodes of 'Room 104'?"
You really never know what each individual episode in this anthology is going to offer, except that it will have some tenuous connection to that motel room of the title.
I watched 10 of the 12 episodes in season four back-to-back, and in truth could only remember about half of them the next morning (if Donald Trump really wants to do a cognitive test, this is a far better one).
Naturally, the ones I remembered were those I really enjoyed, each of which shared two traits: they were character-driven and only a little bit bonkers. The ones I didn't enjoy shared one trait: they were all irredeemably nutso.
When talking about such a disparate range of stories – and some of the most outlandish storylines feature a giant hamster, magical scissors and possessed foam – it's easier to identify the themes that define the series. These include addiction, memory and, especially, friendship (my favorite episode revolved around a couple of lapsed childhood friends and a computer game).
"Room 104" feels like a place where its creators, the Duplass brothers, go to play. And you can sense the fun Mark Duplass – who's increasingly moved into the mainstream in recent years with acting gigs in the likes of "The Morning Show" and "Bombshell" – has in the first episode, which he wrote, directed and stars in. That episode's a good test of whether you'll like the show, because it's got all the ingredients that make "Room 104" tick: quirkiness, heart, downright weirdness and songs about matricide (OK, so maybe that last one was unique to this particular episode).
I can't say "Room 104" is essential viewing – even the episodes I really liked had a throwaway quality to them, 20-minute sketches that went in one eye and out the other. But when those sketches land emotionally, it's definitely worth checking out for the curious of mind.
"Room 104" airs on Hot HBO at 10 P.M. on Sundays. It's also available now on Hot VOD, Next TV, Cellcom tv, Yes VOD and Sting TV.
Click the alert icon to follow topics:
ICYMI
Ken Burns' Brilliant 'The U.S. and the Holocaust' Has Only One Problem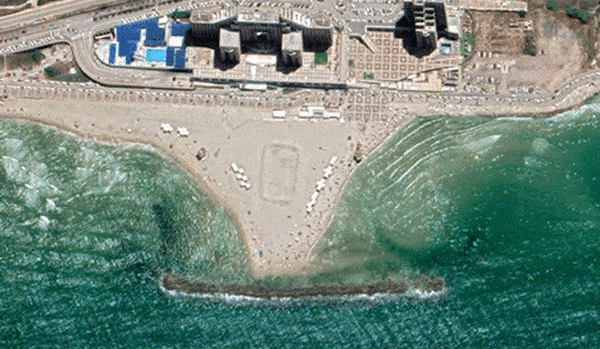 Facing Rapid Rise in Sea Levels, Israel Could Lose Large Parts of Its Coastline by 2050
As Israel Reins in Its Cyberarms Industry, an Ex-intel Officer Is Building a New Empire
How the Queen's Death Changes British Jewry's Most Distinctive Prayer
Chile Community Leaders 'Horrified' by Treatment of Israeli Envoy
Over 120 Countries, but Never Israel: Queen Elizabeth II's Unofficial Boycott