The Israeli Version of Netflix: 'There Are a Lot of "Faudas" Out There'
Streaming service Izzy wants to let those outside Israel watch films, documentaries and TV shows that showcase Israeli talent. Co-founder Josh Hoffman explains how a Birthright trip led to his new venture
Izzy co-founder Josh Hoffman. 'We don't believe in self-victimization but in celebrating Israeli culture.'
Credit: Meged Gozani
At a time when Netflix is the object of every media entrepreneur's dream, with more than 180 million subscribers worldwide, and new streaming services are popping up at a rate that would make viruses jealous, it was inevitable that the first Israeli streaming service would emerge. This one is not from the local broadcasters, but something new and independent that's determined to change the rules of the game.
In February, just before the coronavirus upended everything, Josh Hoffman set up Izzy – a platform that aims to broadcast Israeli-based content to the rest of the world. However, it's blocked to viewers inside of Israel.
"We aren't interested in the local market because there are enough players here, and our approach is not to compete with them but to work together with them," Hoffman explains, citing local stations Keshet and Reshet, and public broadcaster Kan.
Izzy (helloisrael.tv) only debuted online in May and is still finding its feet. Hoffman, who is responsible for the site's marketing, has been meeting with a long list of players in the local market in recent weeks, in an effort to forge cooperative ventures. Israel's television and film companies still appear wary of the new platform, though.
The vision it offers is enticing, impressive and clearly beneficial: to broadcast worldwide movies and shows created in Israel. However, the money on offer to the creative talent is very low, and releasing work there could potentially undermine other distribution deals. As a result, artists are still deliberating whether Izzy is worth it and waiting to see how it develops.
The 'new Zionism'
For Hoffman, 31, who immigrated from the United States about seven years ago, Izzy isn't just a business initiative. As befits an immigrant in love with Israel who's also a marketing guy, he isn't ashamed to use grand terms when speaking of his new company. As far as he's concerned, this streaming platform is nothing less than the "new Zionism."
He explains that "for years, Jews and Israelis were playing the victim ticket: people pitied us – the Holocaust and all that. However, we don't believe in self-victimization but in celebrating Israeli culture – the society, food, fashion, music. We believe that when the content is celebratory, people will come along and say, 'That's interesting.' We want to change the conversation from self-victimization to celebration, and believe that when people see Israeli content that's festive, they get excited. That's what we want to do."
The site, of course, is still in its infancy. Hoffman says Izzy has some 80 films and shows, and that the staff posts a few more every Thursday. There are full-length feature films, documentaries and short films, but they're quite esoteric in nature. You won't find popular films or series there yet. Hoffman says the site currently has close to 7,000 subscribers – not bad for a little over a month, though of course there's no way to confirm those numbers.
What's surprising, intriguing and gratifying about Izzy is that its executives aren't only looking to offer existing content. They're also keen to follow in Netflix's path and produce original content that will be unique to the platform.
When will that happen? How much money will they have to invest in such content? Will this statement of intent draw foreign investment to a local industry desperate for new funding? For now, there are no answers to such questions.
Life-changing trip
Hoffman was born and raised in Los Angeles, in a family he describes as secular-Reform. Jewish holidays were acknowledged at home, but not much more than that. At 18, when he went to study journalism in San Diego, he became even more distant from Judaism.
"I wasn't proud to be a Jew, I didn't have Jewish friends and I fought with my family about how I wasn't a Jew. I decided that Judaism had nothing to do with me," he recounts.
At 23, he returned to Los Angeles, launched a digital marketing company and decided to go on a 10-day Birthright tour to Israel – but not for Zionist reasons.
"I only went because it was a free trip and I registered with two good friends," he admits. "If it had been to Zanzibar, I would have gone there too." At some point during the trip, though, he decided he wasn't going home.
"I fell in love with Israel. I felt connected to Israeli culture and I decided I wanted to stay," he relays. "Suddenly, I was proud to be a Jew because I saw a Jewish society I didn't know existed. Cool and interesting people – I was hooked. And because my business was web-based, I continued to work with most of my clients from afar."
He was earning good money, he says, but craved something else. "I realized that it was important for me to contribute – that I didn't want to just go to work, but to do something that would influence my world, which right now is Israel."
The concept for Izzy began to form. "I realized that television as we know it is dead. In Israel, it might take a little more time, but in the United States that model of paying $100 a month and getting a thousand channels but watching only seven has died."
At the same time, Hoffman recognized that there was a big demand overseas for Israeli content. "There are a lot of Zionist Jews in the United States, Australia, Canada and elsewhere. And also Christians," he says, referring to evangelicals in North and South America who are supporters of Israel. They and Diaspora Jewry are the service's primary target audience.
Hoffman founded the company in February with several other young people, all of them immigrants. The model is "Netflix-plus." They plan, he says, to produce performances, conferences and other events, film them and upload them to the site. They are planning to film master classes ("For example, learn to cook with Eyal Shani," he says, referring to the chef who created the Miznon chain of restaurants).
The list of planned productions he sent after the interview includes a nightly talk show, two comedy series, a few shows on the Israeli wedding industry, on leading chefs and restaurants, and more. The aspirations are high; now all that remains is to see whether the funds will be available to realize them.
"We want to do as much original content as we can, that's where the magic is – for the audience, for us and the industry," Hoffman says. "There's a lot of talent here, new and old, in the movie field, and I want us to get to a place where it doesn't matter whether you love Israel or not, you'll want to watch a certain program on Izzy because it will be [like] 'Fauda' or 'Shtisel.' There are so many wonderful stories here that could make great entertainment," he says.
It's no coincidence that "Fauda" and "Shtisel" are on Netflix and not on Izzy. You'll never be able to compete with the sums they pay.
"That's true, but there are a lot of 'Faudas' out there. There are plenty of people who could produce such a series. For every Israeli that gets the opportunity to go with Netflix and Apple TV, there are a hundred others who don't – and not because they have no talent. We want them. And by the way, the success of Israeli content on Netflix works in our favor, because it builds up the value of Israeli content."
You're charging $5 a month for a subscription. Where will you get the money for all these planned productions?
"We're raising money, we have a business model that promises money from subscriptions."
One thing Izzy won't be showing is controversial subjects. "We aren't interested in politics, religion or gender [issues]," Hoffman says. "We're here to do business, and our goal is to put the Israeli entertainment industry on the global map. We don't want our audience to come and say: I agree with Bibi [Prime Minister Benjamin Netanyahu] or with the settlements. We want them to say, 'That was interesting.'"
If your target audience is American Jewry and evangelical Christians, there's a political line that speaks directly to them.
"There's a difference between showing and preaching. We want to show it, and you decide what to think for yourself. We have no agenda, just like Netflix and YouTube have no agenda."
There are plenty of Israeli films that strongly criticize the state and the army. Will you show them?
"What's great about streaming is that you get instant feedback. You can upload something, see how many people watch it, and then decide. Israel isn't perfect, and we want to show it the way it is. We want to offer a product that our audience will want to watch.
"Netflix is also like that: They put up a series, and if the audience likes it, they do a second season. And if not, then not. Most of our content will be inspirational, celebratory, good stories. So even if there's a documentary that's less positive, there will be a hundred other more interesting things. We know that people in the world care about these things – food, music, fashion, sports, travel, history – so let's focus on them. The media nowadays has to entertain."
Shattering stereotypes
The website lists 10 Israeli production companies who will be providing it with contact. However, a check by Haaretz reveals that at least two of them have not agreed to do so. "We're in negotiations with them now about additional content," Hoffman clarifies, responding to their response. Moreover, some local creators are refusing to release their films to Izzy because of its payment policy, which is based on a low payment per stream: 10 cents for each of the first 5,000 streams, and a slightly higher fee for views beyond that.
"It's hard to know, they're only starting up," says Hedva Goldschmidt, who heads the Go2Films distribution company that has a couple of films on Izzy. "They have a nice vision, but it has to be backed by actions and payments to artists. These are people who come from the world of marketing and not cinema, and I'm trying to make it clear to them that artists have to make money, not just the distributor or the platform – and that it's important to offer a window to presentations at festivals, which will invest in them later.
"The world today needs quality, high-level content," Goldschmidt adds. "It certainly needs a 'Jewish and Israeli Netflix' that will give a nudge to Netflix and the amount of violence there, and offer a platform to subtle, important and inspiring movies. The objective is to give the world a statement that shatters stereotypes, that showcases Israel in a different way, beyond the conflict. Anyone with a similar vision who provide money to artists and Israeli works – I hope he succeeds."
Click the alert icon to follow topics:
ICYMI
Ken Burns' Brilliant 'The U.S. and the Holocaust' Has Only One Problem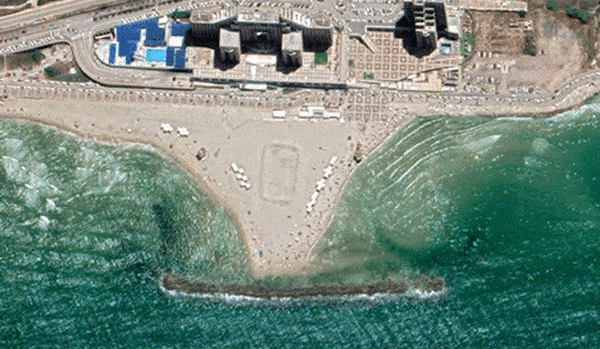 Facing Rapid Rise in Sea Levels, Israel Could Lose Large Parts of Its Coastline by 2050
Lapid to Haaretz: 'I Have Learned to Respect the Left'
The Mossad's Fateful 48 Hours Before the Yom Kippur War
As Israel Reins in Its Cyberarms Industry, an Ex-intel Officer Is Building a New Empire
How the Queen's Death Changes British Jewry's Most Distinctive Prayer