Netflix's 'Da 5 Bloods' Reminds Us That Black Lives Have Always Mattered to Spike Lee
Netflix's powerful new film is a war story with a twist, while 'Spelling the Dream' is an uplifting look at why Indian American kids rule the Spelling Bee
Spike Lee on set with the leading cast members of "Da 5 Bloods." The director had just turned 16 when the final U.S. troops withdrew from Vietnam in 1973.
Credit: DAVID LEE / NETFLIX
In the first episode of the new Apple TV+ series "Dear…" in which members of the public tell celebrities how and why they changed their lives, one man writes to filmmaker Spike Lee: "I'd never seen black life reflected in any film so clearly before you came along." It's a perfect summation of why Lee's movies mattered when he burst onto the scene in the mid-1980s, and why they are arguably even more important today.
Lee himself explains at the end of the episode precisely what he hopes an audience will take from one of his movies: "That people discuss it, and it makes them think." Well, it is definitely mission accomplished with his latest film, the Vietnam War drama-with-a-twist "Da 5 Bloods" (available to stream on Netflix from Friday).
The first thing to note is that, for me, Lee has made far better movies – "Do the Right Thing," "4 Little Girls," "25th Hour" and "BlacKkKlansman," for instance – but there's a howl of anguish in "Da 5 Bloods" that reverberates in your head for days afterward.
Its message couldn't be timelier: that the United States is built on the labor and blood of Black America, including those soldiers who were sent to fight their country's wars even while being seen as an enemy in their native land.
It's another passionate, vital piece of cinema from Lee – a sprawling drama that features fine performances (particularly from Delroy Lindo and Clarke Peters) and is only let down by some clunky, predictable moments (three of which actually had me pleading with the screen not to play out as they did).
Lee has retained such a youthful exuberance that it's hard to believe he was 16 when the last U.S. troops withdrew from what was then South Vietnam in March 1973. He may not have had his boots on the ground, like "Platoon" director Oliver Stone, but that doesn't make this film any less personal.
This is actually a Vietnam War movie like no other: The action is set largely in the present day, with the war only surfacing in occasional flashbacks, although it is a constant source of tension whenever American visitors bump up against Vietnamese citizens in present-day settings. Oh, and all of its protagonists are black: no Jon Voights, no Charlie Sheens, no Tom Cruises, no Michael J. Foxes, no Sylvester Stallones and absolutely no John Waynes or Mel Gibsons. As I say, a Vietnam War movie like no other.
"Da 5 Bloods" begins in perhaps the only place such a film could start: with footage of Muhammad Ali explaining why he refused to be drafted into the U.S. Army in the 1960s, including his memorable line about why he would not fight the Vietnamese: "They never called me '******,' they never lynched me, they didn't put no dogs on me."
Lee follows that with speeches by the likes of Malcolm X and black activists Angela Davis and Bobby Seale, all delivering a searing indictment of "the American War," as it was known in Vietnam. It's a spellbinding start.
The titular five bloods are members of the 1st Infantry Division, who served in Vietnam in the late '60s and early '70s. They have returned to Southeast Asia in search of a crate of gold they themselves buried in the depths of the Vietnamese jungle and which, following a recent mudslide, they now believe they can locate.
Let me just correct my math: four of those bloods have returned from the United States in search of the bullion, but their squad leader, Stormin' Norman (Chadwick Boseman, oozing charisma like some kind of Marvel superhero), never actually left Vietnam. He was killed in action back in 1971 and was buried near the gold by his comrades. Now they want to pay homage to Norm, and retrieve his remains and the booty. Just call it "Good Mourning, Vietnam."
The returning vets are Eddie (Norm Lewis), the ostentatious one with a successful car dealership back home; Otis (Peters), the sensitive one with a loving family back home; Melvin (Isiah Whitlock Jr.), the boozy one with nary a back story; and Paul (Lindo), the profoundly damaged one with more issues than a comic book collector.
So, no prizes for guessing which member of the entourage sports a "MAGA" red baseball cap and voted for you-know-who back in November 2016. And of course, this being a Spike Lee vehicle, it's no surprise to see the now-famous footage of a black supporter at a Trump rally or "45" himself being mocked – indeed captioned – as "President Fake Bone Spurs." Also, no prizes for guessing which of these characters is going to go full "Colonel Kurtz" by the end of the movie.
It's moments like the audacious use of the Trump rally footage and the insertion of real people into fictional proceedings – like when we see a photograph of U.S. soldier Milton Olive while one of the protagonists is mid-anecdote about him, detailing how Olive threw himself upon a grenade to save his fellow soldiers and become "the first brother to be awarded the Medal of Honor in Nam" – that elevate "Da 5 Bloods" well above your standard Vietnam War flick.
Then again, there may be quite a large number of people coming to this Vietnam War movie who have never seen another one in their lives: While those of us over the age of, say, 35 probably deserve a Purple Heart for the number we've sat through over the years, they have been rather thin on the ground in recent decades. Trust Spike Lee to make one now, yet still have it resonate with the public mood.
The director was particularly inspired by two movies: Francis Ford Coppola's definitive 1979 Vietnam War pic, "Apocalypse Now," and John Huston's 1948 classic, "The Treasure of the Sierra Madre." Lee pays homage to the former with a stunning shot of a helicopter moving toward the camera as a giant orange sun looms large; has his vets going ominously downriver – and, of course, has Wagner's "Ride of the Valkyries" booming out on the soundtrack. Yet despite these clear nods to Coppola, it's actually Huston's film that ultimately drives the "5 Bloods" storyline forward with its tale of how greed trumps trust.
And while Lee may like to position himself as a non-establishment figure, his movies always bear the hallmarks of classic Hollywood filmmaking. Here that includes the smart use of different film ratios to identify different eras. There's also a brilliant creative decision to use the same actors as their younger selves in the actual war scenes and not digitally de-age them. It's Lee saying: these old guys never really left this place; it defined their entire lives.
"Da 5 Bloods" may ultimately fall short of Coppola's masterpiece, but it's still a vitally important addition to the Vietnam War canon. Over 20 percent of U.S. Army fatalities in the early years of the war were black soldiers serving in combat units, almost double their percentage in the overall population, but you'd never guess that from all of the previous Nam films. Heck, Hollywood preferred to make movies about white deejays in Nam than bloods shedding blood. (The number of black fatalities eventually fell to just under 15 percent after black leaders back home successfully protested the policy.)
As with "BlackKklansman," Lee finishes with a powerful piece of real-life footage, although it's easy to imagine him choosing something more recent if he were still in the edit suite now. Yet even without George Floyd being visibly in the frame, it's impossible not to connect him to "Da 5 Bloods" and America's heart of darkness.
Casting a spell
If you're looking for a film that offers a little more hope for the future of America than you might find in Lee's film or the current headlines, I can thoroughly recommend another Netflix documentary, "Spelling the Dream."
This engaging movie documentary explores a remarkable feat: how Indian-American kids have won the Scripps National Spelling Bee 12 years in a row and comprised 26 of its last 31 winners – despite the community making up only 1 percent of the total U.S. population.
The film follows a handful of youngsters from the community as they pursue their wordy dreams in 2017, leading all the way to the national finals in Washington.
As talking heads like CNN analyst Fareed Zakaria and CNN medical correspondent Dr. Sanjay Gupta (and others not employed by CNN) explain, Indian emigration to the United States was different to other cases of mass migration. These were generally skilled professionals such as doctors and engineers who moved in the mid-1960s, not fleeing persecution but pursuing possibilities. And they weren't amassing in the neighborhoods of New York or Los Angeles: they went Armpit, U.S.A. – to remote communities that needed their skills and where no one else would go.
"Spelling the Dream" is also strong on dispelling the myth that the phenomenon is somehow genetic or the result of (Bengal) tiger parenting. It really doesn't need spelling out that hard work and endeavor lie at the root of these kids' successes – or as the most charismatic of them, 7-year-old Akash, explains: It's "90 percent hard work; 10 percent … other."
It is also clear that success breeds success for any particular minority community: In the same way Jewish kids became chess champions and carved out a niche for themselves in spaces where they were able to excel, the same has happened to this more recent group of immigrants – turning the Spelling Bee into the Olympic Games or Super Bowl for young Indian Americans.
These kids come across as thoroughly likeable nerds who wade through the dictionary's 475,000 words for F-U-N, while their parents look encouragingly on in their nice middle-class homes. Star of the show Akash even tells us at one point how, in addition to the three languages he's already fluent in, he's now learning three more – including Hebrew. America, if one of these kids is your future president, tomorrow is already looking brighter.
The film is also surprisingly funny, thanks largely to comedian Hari Kondabolu. The pick of his comments comes as he highlights some racist comments – bear with me – on a message board about the Spelling Bee final, including one that bemoans the participation of "kids of Indian descent." Except the person spells it "decent." Ah, if only they'd used a decent spellchecker – you know, someone like Akash.
Postscript: If you heard a strange sound this week, it was probably the collective sigh of relief by liberal white critics that "Da 5 Bloods" was in fact rather good and they wouldn't have to slam the world's most prominent black filmmaker at a time when awareness about the black experience has never been greater. (The film currently enjoys a 91 percent approval rating on Rotten Tomatoes.)
Of course, that in itself points to a wider problem: that most media outlets are still woefully unreflective of the community at large (and Haaretz is no exception to that phenomenon). Indeed, based on newspaper profile pics, I'm guessing that the only thing whiter than an annual gathering of TV or film critics in Los Angeles or London is a KKK meeting. We need more people of color commissioning, producing, directing and helping make movies and TV shows, and we need more people of color writing about them.
Click the alert icon to follow topics:
ICYMI
Ken Burns' Brilliant 'The U.S. and the Holocaust' Has Only One Problem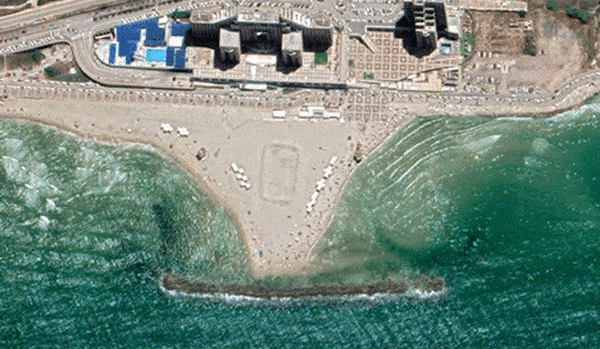 Facing Rapid Rise in Sea Levels, Israel Could Lose Large Parts of Its Coastline by 2050
As Israel Reins in Its Cyberarms Industry, an Ex-intel Officer Is Building a New Empire
How the Queen's Death Changes British Jewry's Most Distinctive Prayer
Chile Community Leaders 'Horrified' by Treatment of Israeli Envoy
Over 120 Countries, but Never Israel: Queen Elizabeth II's Unofficial Boycott