You'll Love 'Altered Carbon' – but First You Got to Hate It
With 'Altered Carbon,' Netflix gets it right... eventually
Joel Kinnaman in 'Altered Carbon.'
Credit: Netflix
What can I tell you about "Altered Carbon," the new sci-fi extravaganza from Netflix? First up, that I haven't been so wrong about anything since I predicted a bright Hollywood future for that kid in "The Sixth Sense."
I partly blame the title itself, which is so bad I automatically assumed it was the name of Kim Kardashian and Kanye West's new baby. It's right up there with "Bunheads" as world's worst TV title (that's the 2012 show about a ballet school, by the way, not a euphemism for the Kardashian clan).
Then there are the first two episodes (of the 10-part series), which took me aback for all the wrong reasons. I literally spent two hours tsking at the derivative nature of this futuristic show, growing increasingly pissed that its episodes were using the titles of some of my favorite film noirs ("Out of the Past," "In a Lonely Place") and desecrating their memory with faux-Chandler dialogue and shameless "Blade Runner" rip-offs.
In fact, I was already sharpening my pencil to deliver a harsh riposte (vacillating between "Bland Runner" and "Blade Pedestrian" as my insult of choice) when a miracle happened "Altered Carbon" suddenly hit its groove and transformed itself from must-flee to must-see TV.
I honestly cannot remember the last time I saw a show that blindsided me so much, turning me from hater into lover in an instant. Part of the initial problem was the unrelatable central protagonist; part of the problem was the convoluted storyline; part of the problem was that painful appropriation of film noir; and part of the problem was the sheer deluge of information (we'll get to the show's other deluge later). But then, in episode three things fell magically into place and I was transfixed.
If you're not familiar with the source material, welcome to the book club: It's a trilogy of novels by British author Richard K. Morgan, mixing film noir with cyberpunk. The latter is one of those ridiculous-sounding genres that basically means "It's all over the shop" but which Merrriam-Webster defines as "science fiction dealing with future urban societies dominated by computer technology."
Attempting to summarize "Altered Carbon" in a few paragraphs is like trying to say which host you hate the most on "Fox & Friends" – it's just impossible to narrow it down. I could bombard you with terminology like "Sleeves," "Digital Human Freight," "Meths," "spinning up" and "Envoys," but you'll just have to wade through all of that in the opening two episodes, take extensive notes, ask someone to test you on it, and then proceed onto the good stuff. (My own personal nadir came when a character asks, "Have you ever heard of full spectrum DHK remote storage back-up?" I'm sorry, but if I want to be dumbfounded by technology, I'll just ask my kids to explain social media to me.)
So here's what you need to know. In the 25th century, the super-rich and the proles literally live on separate levels: the wealthy above the clouds in Aerium; the masses at street level, where life has not progressed much in four centuries (that prediction certainly rings true). The biggest scientific advance is that your memory can be stored on a "stack" implanted inside of you at age 1 and transferred into another body (a "sleeve") when you're dying, allowing you to in effect achieve immortality. And if you're one of the super-super-rich, you can even have an army of clones and "upgrade" yourself every 48 hours, meaning you may stay forever young.
Getting it right
The plot revolves around Takeshi Kovacs (Joel Kinnaman), a one-time freedom fighter whose stack is rebooted 250 years later by the rich-as-Crassus Laurens Bancroft (James Purefoy) to solve a murder – his own. I can already feel your eyes glazing over, so all I'll say is that what finally brings "Altered Carbon" to life is not the murder in the heavens but the characters on the ground – police detective Kristin Ortega (Martha Higareda) and her partner Abboud (Waleed Zuaiter); a former army medic (Ato Essandoh) mourning his daughter; and Poe (Chris Conner), the AI proprietor of the Raven hotel, where Kovacs stays, and the source of much of the show's wit.
If you love the show from the outset, mazal tov. But if, like me, you chafe at its exposition-heavy beginnings and clunky early dialogue ( "Technology advances, but humans don't"), I'd recommend you keep watching until at least episode four, which is when Kovacs' back story emerges more fully and the show finally hits the right level of wisecracks and smart storytelling (I particularly loved the Hispanic grandma being temporarily "re-sleeved" in the body of a criminal lowlife for a Dia de los Muertos celebration, and a "Blade Runner" reference in which Kovacs walks around with a girls' pink schoolbag that says "Hello unicorn"). Kudos to creator Laeta Kalogridis and Netflix for getting it right, eventually.
But if you're not tempted to watch, here's a cheat sheet of what awaits us in the future, according to "Altered Carbon":
1. Global warming won't be a problem in the 25th century, but webbed feet will be, judging by the never-ending rainfall. Although the show's reported budget was some $6-7 million per episode, half of that probably went on rain machines (and most of the rest on neon signage).
2. Showers are big in the future, figuratively and literally. Seriously, you could get a football team into most of the personal showers on display here, which might explain why the characters can't stop using them. "Psycho" is the only drama in which shower scenes loom larger.
3. Mankind has not been superseded by AI, which comes as a pleasant surprise to those of us expecting Alexa and Siri to rise up and make us their human slaves sometime in the next six months.
4. Geeky males are still finding desk work operating computers and virtual reality devices. And yes, they are still single, nerdy and looklike they play bass in a Weezer tribute band.
5. The 21st century campaign to "free the nipple" has worked too well. They are everywhere in the 25th century – and I'm not only referring to Joel Kinnaman's.
6. Human combat has not progressed much. People are still punching each other in the face or doing that faux-martial-arts thing from "The Matrix." On the plus side, there's a cool "retractable-bullet" gun that gives you more bang for your buck.
7. Who knew that Catholicism would become the big religion of the 25th century (outside of Italy and Spain)? I guess the movie "Spotlight" didn't make as big an impression as I thought it would. Maybe it's the retro vibe, with the churches unchanged in 500 years.
8. The poor are still poor and the rich are still nauseatingly rich, floating above the masses. Just call them flotsam and Jetsons.
ICYMI
Ken Burns' Brilliant 'The U.S. and the Holocaust' Has Only One Problem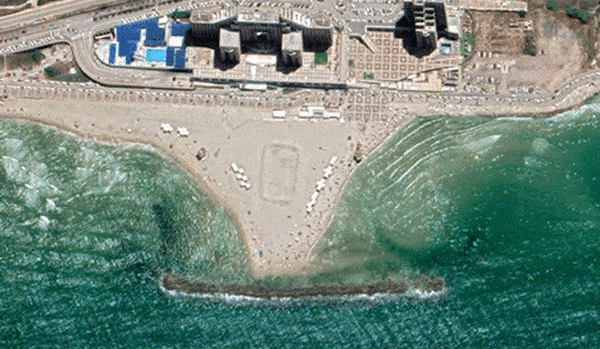 Facing Rapid Rise in Sea Levels, Israel Could Lose Large Parts of Its Coastline by 2050
As Israel Reins in Its Cyberarms Industry, an Ex-intel Officer Is Building a New Empire
How the Queen's Death Changes British Jewry's Most Distinctive Prayer
Chile Community Leaders 'Horrified' by Treatment of Israeli Envoy
Over 120 Countries, but Never Israel: Queen Elizabeth II's Unofficial Boycott