Netflix's 'GLOW' Has All the Right Moves
'GLOW,' the new Netflix reprise of the 1980s female wrestling comedy series, is full of zingers, engaging characters and surprisingly enjoyable fight scenes
A scene from Netflix's 'GLOW.'
Credit: Erica Parise / Netflix
I finally filed for divorce from Hollywood movies in 2016. In truth, we'd been growing apart for quite a while, and our recent encounters only served to remind me of better days. Because, like so many of its studio executives, film is only interested in 18- to 30-year-olds these days – not Gen Xers like me. Luckily, I'm now in a long-term relationship with a far more understanding partner: television.
Its latest gift is "GLOW" (now showing on Netflix – television with buffering), a 10-part female wrestling comedy-drama starring Alison Brie ("Mad Men," "Community") and Betty Gilpin ("Nurse Jackie").
Each of the 30-minute episodes had me gripped like a Hulk Hogan hold (or courtroom appearance), and it's definitely the most I've laughed this year outside of a Stephen Colbert monologue, Seth Meyers' "Closer Look" segment or a Samantha Bee diatribe.
"GLOW" is based on the ridiculously cartoonish U.S. female wrestling series "G.L.O.W.: Glorious Ladies of Wrestling" (They tussle! They sing! They rap!), which aired for 100 shows between 1986 and 1990. But it's actually inspired by the heartwarming 2012 documentary about the show.
For fullest enjoyment of "GLOW" the series, I'd strongly recommend that you first watch that docu, "GLOW: The Story of the Gorgeous Girls of Wrestling," which interviews many of the original wrestlers 25 years after their heyday – women with stage names like Matilda the Hun, Mountain Fiji, Babe the Farmer's Daughter, Big Bad Mama, Americana, Colonel Ninotchka and, ahem, Jailbait. (You should be able to find it after a spot of googling.)
As trainer Ric Drasin explains in the documentary, the two big draws in wrestling were always "midgets and ladies" (so a clash between dwarf women was presumably the Holy Grail), hence the birth of "G.L.O.W." in the mid-1980s. But it's a quote by wrestler Tina Ferrari about the original troupe of women wrestlers that really serves as the blueprint for the new show: "What makes us alike is that we're different from most girls."
That quote could also sum up Netflix prison drama "Orange is the New Black," whose creator, Jenji Kohan, is one of the executive producers here and whose DNA can be felt throughout. The other two women at the helm are Liz Flahive and Carly Mensch, who between them manage to strike a lovely balance between sorority comedy and touching drama about a group of misfits (what other kind of group is there on television?) learning the ropes in a very strange world.
Back to the '80s
"GLOW" is careful not to hew too closely to the real behind-the-scenes events, but it's easy to see who some of the characters are based on. The original 1980s program was filmed in Las Vegas and featured a group of some 36 female wrestlers, who were divided into "Good Girls" and "Bad Girls," and then lived together in a hotel owned by Israeli businessman Meshulam Riklis (the Riviera, on the Strip, which was demolished in 2015). Their director/taskmaster was a hard-nosed Italian-American veteran called Matt Cimber – a man from the tough-love school, judging by his comments to young female wrestlers like "Your ass looks like a bunch of mashed potatoes."
What's retained here is the mid-1980s setting – cue voluptuous hairstyles (and that's just the men) and a soundtrack featuring the likes of Journey (because what says the 1980s better than Steve Perry's falsetto?), Tears for Fears and Roxette. The genesis of the original series is also the same – an L.A. casting call of actors and models for a low-budget, women-only wrestling show.
"GLOW" has one of the best opening scenes I've seen in quite some while, as struggling actor Ruth Wilder (Alison Brie) auditions for a film role. I won't spoil it for you, save to say it features a great, oh-so-'80s reference to a certain "Police Academy" star.
Brie's performance is a thing of unflattering beauty: Her character is the butt of many a barb, subjected to numerous body slams, given the ugliest outfits since Mrs. Doubtfire's, and her hair permanently looks like she's been caught in the rain. She's also dubbed "Strindberg" and constantly derided by the director, Sam Sylvia (comedian Marc Maron), because she's one of the few classically trained actors involved.
The humor often revolves around Maron's shlock-horror filmmaker, a coke fiend who is reluctantly putting the show together (judging by what we see in one of his movies, "Blood Disco," he's Sam Raimi without the talent), and his laconic interactions with the women. But the drama comes from Ruth's dealings with best friend Debbie (Gilpin), specifically what happens when something huge comes between them.
Despite Maron's strong comic presence, this remains a female ensemble comedy that boasts a deliberately diverse cast (far more than the original 1980s cast, for sure). When Sam tells black actor Cherry Bang (Sydelle Noel) that her résumé "gets a little thin after 1979," she snaps back, "Movies get a little white after 1979." And when she overzealously oversees a training session, someone bitches, "Who died and made her the black Nurse Ratched?" The only thing that doesn't jibe here is the joke about an Indian actor being asked to play an Arab terrorist, which feels a little out of sync with the time.
In a show full of zingers, engaging characters and surprisingly enjoyable fight scenes (I say "surprising" as someone who was dragged along to see wrestling shows as a kid, and am still trying to get the images of overweight men in leotards out of my head), perhaps the smartest move was in making this a 30-minute show (some episodes run a little longer). This avoids what Variety magazine's television critic, Maureen Ryan, has defined as "streaming drift" – the padding out of storylines on Netflix, Amazon Prime and Hulu shows in ways that would never happen on cable or network television ("Your honor, I would now like to present 'Daredevil' as Exhibit A").
"GLOW" is more WTF! than WWF, but while it never takes itself too seriously, it still manages to capture the tensions and rewards of a group of unconventional young women living and working together. I was reminded of the line in Margaret Atwood's "The Handmaid's Tale," in which Offred notes that while fraternize means to behave like a brother, there is no corresponding word that means "to behave like a sister." If sororize never catches on, I suggest that from now on we go with "glowize."
And forget what Tyler Durden says: the first rule of this particular fight club is that you talk to as many people as possible about it, and urge them to watch.
"GLOW" is now available on Netflix in Israel and worldwide.
ICYMI
Ken Burns' Brilliant 'The U.S. and the Holocaust' Has Only One Problem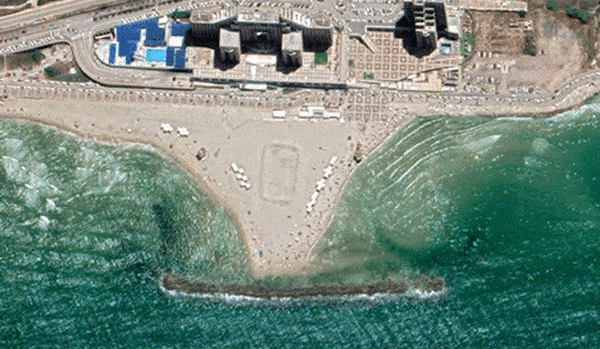 Facing Rapid Rise in Sea Levels, Israel Could Lose Large Parts of Its Coastline by 2050
Lapid to Haaretz: 'I Have Learned to Respect the Left'
The Mossad's Fateful 48 Hours Before the Yom Kippur War
As Israel Reins in Its Cyberarms Industry, an Ex-intel Officer Is Building a New Empire
How the Queen's Death Changes British Jewry's Most Distinctive Prayer