TV, TV, on the Wall, Are We the Most Moral of Them All?
Our television critic has been zapping the news channels.
A still from the IDF drone clip. Black dots suddenly spring seemingly out of nowhere, from a hole in the ground.
Credit: Courtesy IDF Spokesman
After having been running for three weeks – figuratively and by proxy – in the World Cup, Wimbledon Lawn Tennis and the Tour de France – I've come to the conclusion that I can't hide anymore, so I hooked myself up to the infusion of TV news channels, ready to be carried away by the tsunami of unfolding events.
Being aware that the screen on my wall is actually a sort of distorting mirror – with me as the spectator looking into the interrogation room of reality from the other side – I decided to surf among the various news networks: the Israeli broadcast channels 1, 2 and 10, which suspended normal programming so as to offer open-ended continuous news coverage; CNN, the doyen of 24-hour live news; BBC World, Sky News, MSNBC, Bloomberg, France 24 and Al Jazeera. Looking at the world through a multifaceted prism does not make the picture clearer, but it does provide some variety in this virtual game of portraying and presenting life and death.
One very minor point struck me immediately, and since I have not seen it made elsewhere yet, as a reporter on matters utterly irrelevant, I feel obliged to make it. The brilliant anti-missile system devised by Israelis with American pecuniary input is called, in Hebrew, Kippat Barzel. Its name on English-language newscasts, where it's a very minor player compared to the coverage it gets in the Israeli media, is Iron Dome. The 
translation is indeed accurate, and telling: there is a Dome of the Rock in Jerusalem, a holy Islamic site, and there is a small measure of poetic justice when the Iron Dome protects the Dome of the Rock as well.
However, in Hebrew, the noun kippa, which means dome, has another, much more familiar meaning, namely, yarmulke or skullcap. This should ring some bells with soldiers of the IDF brigade whose commander has rallied them to avenge alleged scorn for our version of the Almighty by the "infidels" of Hamas. So bear in mind that while they have the Dome of the Rock (and btw, the literal translation of Tsuk Eitan, the Hebrew nametag for the current Gaza operation, aka war, is Solid Cliff, or even Solid Rock, and not Protective Edge), we have an "Iron Yarmulke."
The other thing that caught my attention (a slippery customer at the best of times, which this is definitely not) was that while the Israeli newscasts are highlighting – understandably – the missiles launched from Gaza and our Iron Yarmulkes intercepting them, the tunnels being dug by Hamas under the carpet on their and our grounds, and our casualties, military and civilian, the few homes being hit by stray missiles, the sirens going on (but seldom off) and the troops ready to go in, the other networks present a different agenda.
Unlike the Israeli news-gathering organizations – TV, the web and print alike – the foreign news outlets have sources (i.e. reporters with cameras) in Gaza. And while they do report the facts about missiles being launched toward the Israeli home front from within densely populated neighborhoods, their visual material consists mainly of the devastation and destruction wrought on the Gazan innocent bystanders, and their casualties.
To the best of my knowledge, there was no footage of Hamas fighters in action on the foreign newscasts, nor a crew firing missiles aimed at Israeli towns. One can understand why this is so, but on the small screen human suffering looks much more convincing than thousands of words, and all things considered, "their" (the Gazans') suffering is much more harrowing than ours, terrible as it is. You cannot argue politics and justice (relative concepts at the best of times) on the rubble of a Palestinian house, with Palestinian bloodstains still visible on the ground. That skews the perspective of any viewer much more than any bias, real or perceived, of the TV coverage – theirs, ours, and purportedly neutral (if such a phenomenon exists at all).
Another interesting point about the coverage of this bloody skirmish (and let's not kid ourselves; in the grand scheme of things Protective Edge is just a skirmish, even if it does make one edgy) was made by Prof. Hava Yablonka in an op-ed piece in the Haaretz Hebrew edition on July 24. She drew our attention to footage provided by the Israeli Air Force, which was aired again and again on Israeli newscasts, and seldom – if ever – on the foreign ones.
It was shot from a drone hovering over Gaza, and it showed a gray background – the battleground of the Strip – on which black dots suddenly spring seemingly out of nowhere, from what one surmises is a hole in the ground. The camera draws a red circle around each dot and follows it, and shortly after that the viewer sees a small mushroom of smoke that covers the black dots within the red circles, and then they are there no more, and the gray color prevails.
All networks, Israeli and others, try hard not to offend viewers' sensibilities and try not to show reality in its goriest guise, even if the boundaries of what is "fit to view" are being constantly stretched. As gory footage goes, the above described "eagle's eye – or pilots' – view" is as sterile as they come: not a drop of blood in sight, and no human shape, maimed or killed, to be seen. Based on what we have been told, the black dots on the ground deserved their lot, as they constituted a clear and present danger to the lives of our innocent bystanders. And yet, as Prof. Yablonka points out, what we have been shown and watched with equanimity again and again, were "live targeted executions."
"There are societies" – Prof. Yablonka sums up – "Hamas being one of them, where people are executed publicly, in front of a cheering crowd, and we are shocked by the callousness of it. We are not like them, we say to ourselves. We are on a different level of humanity. And yet, it was a live broadcast of an execution presented as a TV game, on Israeli official [and commercial, one may add - M.H.] TV news channels, and nobody batted an eyelid."
Yes, indeed: one deadly clip is worth much more than the deluge of live words pouring from our distorting mirror of a TV screen.
ICYMI
Ken Burns' Brilliant 'The U.S. and the Holocaust' Has Only One Problem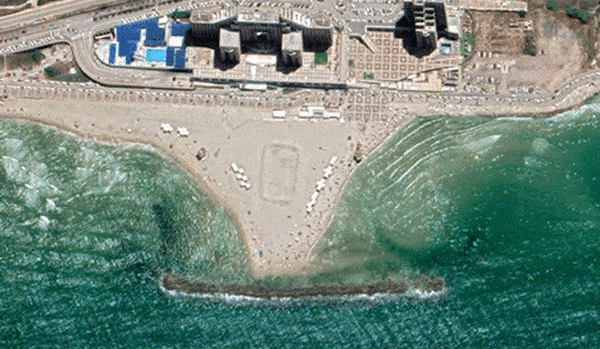 Facing Rapid Rise in Sea Levels, Israel Could Lose Large Parts of Its Coastline by 2050
As Israel Reins in Its Cyberarms Industry, an Ex-intel Officer Is Building a New Empire
How the Queen's Death Changes British Jewry's Most Distinctive Prayer
Chile Community Leaders 'Horrified' by Treatment of Israeli Envoy
Over 120 Countries, but Never Israel: Queen Elizabeth II's Unofficial Boycott