Penalties and Sudden Death: What the Rockets Did to This TV Critic
Even in these tense days there are two exceptions to his self-imposed 'no TV' rule.
In this Thursday, June 19, 2014 file photo, Palestinians watch a World Cup soccer game on a wide screen on the beach of Gaza City.
Credit: AP
There's a story about a very talented violin player who was also a yeshiva student. His fellow yeshiva bochers were his ardent fans, and they decided to ask their rabbi to take some time off from his Torah studies and listen to sounds which were – they assured him – "solace to the soul." So the violinist played some soulful Jewish tunes, and tears streamed down the rabbi's bearded cheeks. "Beautiful, isn't it?" – ventured one of the students in the silence that ensued. "Yes, indeed" – quoth the rabbi – "but not as beautiful as not listening to music."
This story popped up in my mind when I realized that for the past week I've been neglecting my duties as a TV viewer. I've held the remote in my hand a couple of times each day, but somehow could not bring myself to press the "on" button. The surfeit of grim reality in my – and our – everyday life made me shun the opportunities offered by the TV news channels to get to know what's going on out there.
That felt odd even to me, as I remembered that on former occasions when missiles were on their way toward me and mine – and forgive me if I see it as a personal, not a national, affront – my default action, after retreating to a designated "protected space" following a siren, was to turn the TV news channel on. This time I knew I could rely on "push notifications," courtesy of Haaretz, to my smartphone for the essential info on the "need to know" basis that seemed sufficient to me. I did not have any urge to know any more. Mainly because I had the distinct impression that the newscasters, reporters and commentators who talk themselves to death (oops, forgive the platitude) don't know any more. Not that it stops them from shooting off their mouths (oops, again, those 
weathered metaphors will be the death – oops, again – of me).
If you have been following my TV columns, you know that I usually behave as though I've been inoculated against the onslaught of reality on my psyche through my habit of sampling the channels in ascending and then descending order on both Yes and HOT in order to settle on yet another re-run of an old episode from a long defunct series. So why not keep behaving like an ostrich and bury my head in the escapist sand of entertainment TV, to get away from the daily and hourly news? Because I know myself: At times like this the civic conscience – and even I have one – intervenes, and I'd be drifting toward a newscast eventually, only to remain glued to it, like a mouse hypnotized by a snake's lethal stare.
But even in these tense days I've made an exception to my self-imposed "no TV" rule: I did turn the set on to watch the World Cup semi-final and final games. While watching them – Germany vanquishing the Brazilian hosts one day, and the Dutch and Argentinians boring themselves and the viewers to death (oops again) with a 120-minute draw – it dawned on me why I'm so wary of watching the Israeli-Palestinian duel, and so eager to follow the score, and the scorers, on the green pastures of the playing fields.
The very simple answer is that unlike a war (or an "operation," as the euphemistic news lingo has it) the games have a time limit and a very precise definition of the thing that settles the score, i.e. the score itself. The conflict lasts 90 minutes, and if it is not settled by then there is a 30-minute overtime play, by which time the German team usually wins. In the unforeseeable circumstances of the score still being tied by then, there is a penalty shootout, which most of the time decides who wins, and in the rare event when even that ends in a draw, the game goes into…
Here is where I have to admit that there is a TV program I've been watching even in these tense TV-less self-imposed embargo days: it is the "The Weakest Link," the BBC quiz show in which Anne Robinson grills nine hopefuls with trivia questions, and declares eight of them to be "weakest links" in quick succession. It is the ultimate feel-good program as the viewer (that is me) can pat himself on his pate whenever he knows the answer the contestants do not, and thus feels forever "a stronger link." The quiz program which, as of 2012, is no longer running, has a seemingly eternal re-run lease of life on BBC Entertainment (42 on HOT, and 69 on Yes), and has taught me an essential technical term usable in matters of quiz shows, sports and wars.
The term I'm referring to is what happens on "The Weakest Link" when the last two contestants remain standing: the program goes into a "penalty shootout" phase, with both contestants having to answer, taking turns, five questions each. If, after that, the score is a draw, the game goes – as Robinson gleefully announces – into a "Sudden Death" phase: the first contestant to get an answer wrong loses the game, and "goes home with nothing."
According to the OED, the meaning of that expression denoting "in general sporting use, designating an additional competition or period of extra time in which the first to concede a game or score is immediately eliminated" dates back to 1834, as quoted in Blackwood's Edinburgh Magazine, May 752/1: "'Which,' said he, 'is it to be—two out of three, as at Newmarket, or the first toss to decide?' 'Sudden death', said I, 'and there will soon be an end of it.'"
Which hits the last nail – in the coffin's lid – on the head. I prefer the World Cup games or any quiz show these days, as "sudden death" seems to be an eventuality for me and the likes of me, here or in Gaza, in the days where the score seems to be a bloody (note: an adjective, not a curse) draw, which draws on and on and on. I am the weakest link. Goodbye.
ICYMI
Ken Burns' Brilliant 'The U.S. and the Holocaust' Has Only One Problem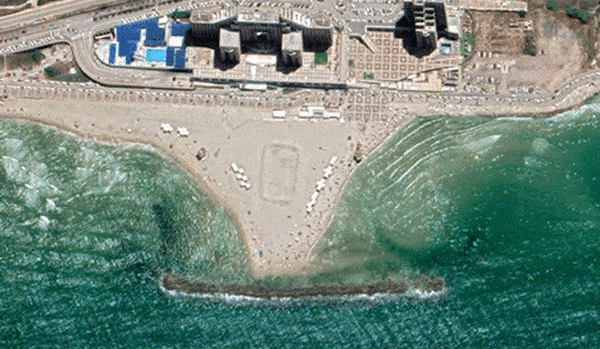 Facing Rapid Rise in Sea Levels, Israel Could Lose Large Parts of Its Coastline by 2050
As Israel Reins in Its Cyberarms Industry, an Ex-intel Officer Is Building a New Empire
How the Queen's Death Changes British Jewry's Most Distinctive Prayer
Chile Community Leaders 'Horrified' by Treatment of Israeli Envoy
Over 120 Countries, but Never Israel: Queen Elizabeth II's Unofficial Boycott