Joseph Cedar Talks 'Norman,' His Religious Upbringing and His Empathy for Corrupt Politicians
With the help of A-list actors, Israel's most successful director takes a jab at Israeli exploitation of U.S. Jewry. A wide-ranging interview with Joseph Cedar.
Joseph Cedar and Richard Gere during the filming of 'Norman.'
Credit: Niko Tavernise, courtesy of United King Films and Movie Plus
Joseph Cedar had nothing to wear for the 2011 Academy Awards ceremony when his film "Footnote" was nominated for Best Foreign Language Film. "Alber Elbaz, the fashion designer, decided to give me an expensive outfit for free," the acclaimed Israeli film director told me in a recent interview in his home in Tel Aviv, where he and his wife, journalist Vered Kellner, and their children have just returned from New York.
"It's an amazing feeling to wear something that I could never afford," he says, "and I was delighted. But then you go home and it sits in the closet. Afterward, I asked myself what one does with these things – specifically, with the ridiculously expensive shoes."
Cedar couldn't decide whether to keep the items or return them. Finally, he called the Moroccan-Israeli designer and said he wanted to give them back. "That very day they sent a messenger," he recalls. "I parted with the items with deep sadness and a feeling that I'd done something morally pure but perhaps not essential. Whenever I think about our politicians receiving gifts, I wonder why they don't have the ability to bid farewell to shoes."
It was that ambivalent encounter with shoes worth thousands of dollars that engendered Cedar's newest work, "Norman: The Moderate Rise and Tragic Fall of a New York Fixer," in which designer footwear leads to a beautiful friendship between a lonesome and somewhat pathetic American macher named Norman Oppenheimer (Richard Gere) and Micha Eshel (Lior Ashkenazi), an Israeli politician. While Norman is a mysterious elderly Jewish-American man, Eshel is a charismatic Israeli politician who aspires to become the country's prime minister. As the years go by, the complex relationship between the two – as well the different communities they represent - becomes more and more tangled and destructive.
The film, which just opened in Israel and will be released in the United States in April, is an English-speaking comic drama that cleverly blurs the line between truth and fiction, as it draws inspiration from corruption scandals involving leading Israeli politicians of past and present. The connection between Oppenheimer and Eshel, which develops in unexpected directions, is presented from the viewpoint of the former – a failed businessman whose character is based on the doomed protagonist of the Nazi propaganda film "The Jew Suess" and with the anti-Semitic "court Jew" stereotype in general.
At 48, Cedar is one of Israel's most successful and highly regarded directors, both at home and abroad. Two of his films, "Beaufort" (2007) and "Footnote," were nominated for the Best Foreign Language Oscar, the latter movie won the prize for best screenplay at Cannes, and he has been the recipient of numerous Ophir prizes, the Israeli equivalent of the Oscar. But despite box-office success and critical acclaim, he contends that the Israeli film industry has never fully accepted him as "one of its own," due to his religious upbringing and the fact that he studied cinema abroad (at New York University). Moreover, some of his five features have focused on characters who seek to be a part of social circles that scorn and exclude them.
Cedar has worked with leading actors in Israel and abroad – the cast of "Norman" includes Steve Buscemi, Charlotte Gainsbourg and many others, in addition to Gere and Ashkenazi – but to this day he is still irked that the Sam Spiegel Film and Television School in Jerusalem rejected him when he applied to study there following his army service, at age 21. . Other Israeli directors have had it easier, he believes, because they received their cinematic training locally and not abroad. He says he has tremendous respect for Haaretz, but engaged in a public dispute with its film critic, Uri Klein, during the PR campaign for "Footnote."
Since his earliest films, "Time of Favor" (2000) and "Campfire" (2004), Cedar has positioned himself as a fierce critic of the institutions, communities and ideologies that shaped his upbringing. He began by assailing the religious-Zionist movement, in which he was raised and educated. "Beaufort" was critical of the Israel Defense Forces and of the political leadership that sends soldiers to their death. "Footnote" deconstructed academia, and "Norman" lays bare what Cedar regards as Israel's dependent and exploitative relationship with American Jewry.
You grew up with the religious-Zionist story – that God gave the Land of Israel to the people of Israel – both in the Bnei Akiva youth movement and in a high-school yeshiva. How do you see the religious-Zionist movement today?
"Yes, for a long time now, I've been able to look at it from the outside. In my early thirties, when I had to do publicity for my first films – 'Time of Favor' and 'Campfire' – and I did not yet have children, or the children were very young, I spoke a great deal in interviews about the Bnei Akiva ideology. The whole trajectory of my life seemed to be a direct result of that ideology, which was very powerful and also a lot of fun. But today, when I am truly honest with myself, I understand that such ideologies were marginal to a great many other things that became far more meaningful in my life, both as a parent and in terms of a political stance."
Cedar contends that the Israeli film industry has never fully accepted him as 'one of its own' due to his religious upbringing and the fact that he studied cinema abroad.
Can you be more specific?
"I am the son of a scientist [Chaim Cedar, professor of molecular biology and Israel Prize laureate in the Life Sciences] and of a mother who practices a therapeutic profession [Zippora Cedar, a drama teacher and psychodrama therapist]. They each possess a particular personality structure and espouse values that are far more potent and meaningful than political goals that seem very limited now. For example, the centrality of the Temple or of the soil of the Land of Israel – values that others sought to inculcate in me – have no meaning for me today. In contrast, critical thinking, which my father has always exemplified, overcame all those ideologies and the influence of their institutions or even of friends. It is a tool that enables me to judge reality and to cope with what it throws at us."
What about external rituals and symbols, such as a kippa, that identify one with a certain ideology?
"I stopped wearing a kippa around 2012. I wore one on the red carpet at Cannes, because that was a ceremony, and a ceremonial occasion obliges the wearing of a uniform. Every kippa affiliates me with a very specific group. Alber Elbaz suggested that he design a special kippa for me for the Oscar awards ceremony – a very large kippa that looked to me more like a bathing cap. I felt that in any event, the kippa weighed very heavily on my head. In the end I chose the most 'solid' one I could find, one that says the least.
"For me, a kippa symbolizes many things that one should oppose; [being without one] means trying to communicate something extremely complex by means of absence. Most people don't think about the implications of 'absence of a kippa' – it's a pertinent notion only for someone who was identified with it and chose to stop wearing it. From my point of view, that statement has nothing to do with my religiously observant way of life, but with a desire to declare that I believe in equality between the sexes, that I don't think the Land of Israel is all that central and important, and many other things with which a kippa is identified."
The next stage is tattoos and piercing?
"I thought about that," he laughs. "But the moment you stop wearing a kippa in public, it very quickly becomes a non-issue, it's no longer a real issue and the question disappears. I only wear a kippa in synagogue or in other religious situations."
Goebbels and Suess
Cedar, who was born in New York in 1968 and moved to Israel with his parents when he was 6, currently divides his time between Israel and the United States. For the past few years, he lived in Manhattan with his wife and their three children, before their recent return to Tel Aviv ("Most of my things are in crates today," he says). Even though it's easy to identify him with the Wandering Jew, Cedar appears rooted and comfortable in the living room of his apartment, which contains a piano, a television and bookshelves featuring works on history, a set of the Talmud and a Hebrew-German dictionary.
The dictionary is a reminder of an abandoned project that eventuated in "Norman." A few years ago, Cedar found himself surprisingly engrossed in the life story of the German director Veit Harlan (1899-1964), whose "The Jew Suess," from 1940, was an extremely successful Nazi propaganda film. At the behest of Propaganda Minister Joseph Goebbels, Harlan made a virulently anti-Semitic cinematic biography of an 18th-century Jewish banker named Joseph Suess Oppenheimer, who was the financial adviser to the Duke of Wuerttemberg and was executed after the duke's death. The aim of the film, which depicts Suess as an evil and greedy merchant, was to warn Germans against assimilated Jews.
What drew a Jewish director who was a member of Bnei Akiva to a Nazi filmmaker who was eventually accused of crimes against humanity? According to Cedar, the more deeply he delved into Harlan's diaries, the easier it was for him to put himself in the German director's shoes, and to adopt a forgiving, even understanding attitude toward his actions.
Cedar: "When I heard Harlan's story, I felt that I understood completely the course of his life. He's a talented director but without star status and is ignored outside Germany. He has a domestic audience that enjoys his films but he is not sufficiently well known in the United States to be given an offer, so he can flee from Germany. According to the diaries, before 'The Jew Suess,' he made a movie that Goebbels instructed him to shelve, because it contained motifs that recalled Jesus' crucifixion and Goebbels thought it was religious nonsense.
"Goebbels then suggested that he direct 'The Jew Suess.' In effect, he told him, 'Your film is a flop. I will give you a budget for a movie that can be a success among your natural audience.' Goebbels knew this was the type of story Harlan could do, even though the director was not an active member of the Nazi party and had been married to a Jewish actress, Dora Gerson. [They were divorced in 1924; she was murdered in Auschwitz in 1943.] Harlan saw the new script as a career lifesaver and developed a strong affinity for the character of the Jew Suess: someone who wanted very much to be loved and to be close to power centers. Suess possessed a natural manipulative ability that landed him in that situation. That's a trait I can easily identify with – you see it in a great many film people. Their connection with the wealthy is essential for their ability to create."
And the rest, as they say, is history.
"Indeed. At the last minute, just before the film was completed, Harlan screened it for Goebbels and 200 SS officers. Goebbels was outraged to see that in the final scene Suess dies as a hero and recites the 'Shema Yisrael' prayer. He didn't like the idea of Suess dying as a martyr and demanded that Harlan change the scene so that, instead of accepting his fate, Suess would beg for his life. Goebbels' request is mentioned in Harlan's diary. Harlan tried in retrospect [during his various trials after the war] to fix the historical narrative so that he would be exonerated after the war.
"In the film, Suess dies like a rat, as Goebbels demanded, and the movie was a tremendous success. Harlan became the most important film director in Germany, working with the biggest budgets. He conferred validity on something terrible and was hugely successful, but in the next chapter of his life he was accused of war crimes."
It sounds like a classic description of a Cedar character: someone who is not bad but commits acts that are in a morally gray zone.
"There are two ways to consider that. First of all, only the gray zones are interesting dramatically; moral questions that have an unequivocal answer are not so interesting. The interesting questions are those that, if we put ourselves in the shoes of both sides, we don't know what we would have done in that situation. Harlan was on the wrong side of history. He should have seen that his maneuvering between Goebbels and artistic freedom was problematic and that Goebbels was the villain. But it's hard to think that I wouldn't have behaved as he did in real time."
'The court Jew has always been viewed as the anti-Semitic stereotype: as serving a private interest at the expense of a broader public interest. In 'Norman' the story is the opposite.'
Why did you drop that project?
"When you're working on a film there comes a stage in which you envisage things that generate either great excitement or awful embarrassment. I realized that to set a film in World War II, with Nazis saying 'Heil Hitler' and giving the Nazi salute would simply embarrass me extraordinarily."
The cliché says that one must not make such comparisons. But your description of the Goebbels-Harlan exchanges reminds me of the Israeli loyalty law and certain declarations by Culture Minister Miri Regev.
"The whole 'it's impossible to compare' taboo is convenient, but I don't accept it."
Then let's compare.
"I think that we need to consider our situation [in Israel], according to the idea that it's liable to deteriorate into appalling places, and that we don't know where it's headed. The relations between the Ministry of Culture and filmmakers in recent years is forcing the latter to take a very clear position. During the shooting of 'Norman,' someone told me about the episode of the director Suha Arraf and her film 'Villa Touma': She made the film with the support of the Israel Film Fund, but when it was screened in Venice, Arraf decided to classify her film as "Palestinian" rather than "Israeli," even though it had received some 2 million shekels (roughly $500,000) in funding from the Israeli government. In reaction, it was decided to require filmmakers [applying for assistance] to sign a 'declaration of loyalty' to the state. Once this idea was on the table, the artists who were able to do so should have opposed that unequivocally."
But you've been supported by government funds throughout your career.
"Of course, and I don't regret it for a second. The mandate of public funds that are earmarked for culture is to support creative artists and to be distributed according to professional criteria. The politicians don't own the money; we, the taxpayers, own it. There are things that [Environmental Protection Minister] Zeev Elkin or [Jerusalem mayor] Nir Barkat say that are like a red flag for us, but nevertheless I will allow myself to benefit from the public funds they distribute, because the money is not theirs – it's ours."
Regev and her supporters argue that if you take money from a government body, you are obliged to respect certain rules. If not, you are free to raise money from private investors.
"What I would emphasize here is that the political minister whose office is responsible for that budget is not the owner of the money. He has to say, 'I will fight for the budget, but then I'll take a step back and not intervene in the content.' All kinds of works of art are created in Israel that spring from life here, and they have to be allowed to explode on the screen, on the stage and on the easel without the influence of any governmental body. The moment that connection exists, something turns sour, even if it's ostensibly positive. For example, even if Miri Regev says, 'I like a certain film and I embrace the filmmaker,' it leaves a sour taste. There has to be a total disconnect."
Archetypical Norman
It's unlikely that Regev will award "Norman" her ministry's new prize for Zionist creative work, not least because the movie takes a jab at Israel's relationship with American Jewry. As he did in "Footnote," Cedar constructs the new movie around a fraught relationship between two men whose age difference reflects a generational and social disparity. The lonely and forelorn Norman courts the charismatic Micha – who becomes prime minister of Israel – and weaves an obsessive web of dreams and hopes around him.
While Eshel seeks a loyal individual to serve as intermediary between himself and the New York-based wealthy Jewish community, Oppenheimer sees the Israeli as a gateway to heaven: a friendship that will enable him, for the very first time, to become part of the very same community he pretends to represent. Even if his intentions are pure, in the end the web entangles quite a few other good Jews who wanted to promote their goals.
The movie almost inevitably brings to mind the cash-filled envelopes that marked the relationship between Prime Minister Ehud Olmert and the American real estate broker and fundraiser Morris Talansky. Cedar had a front-row seat to that affair, because Talansky was married for 40 years to Cedar's Aunt Marion. Cedar speaks of him fondly; their ties remained strong even after Talansky and Marion Krieger were divorced in 1996. (In 2015, the Jerusalem District Court convicted Olmert of fraud and breach of trust for illegally receiving money from Talansky, when Olmert served as mayor of Jerusalem and afterward as minister of industry and trade.)
So "Norman" is a kind of roman à clef – viewers will ask themselves who Micha Eshel and Norman Oppenheimer are.
"True, but it's not his story and it's not the same character. There's a kind of very distant inspiration here. Norman is an archetype; I know dozens of Normans, and so does every politician. Eshel is an Israeli politician who could have done very well in the civil or business sphere, and then he's drawn into politics because he has a window of opportunity through which he reaches the top. There's no specific Israeli politician to whom that happened, but there are some to whom it could happen, and some to whom it almost happened."
But we know only one Israeli politician, for example, whose career reached a crossroads at which a corruption case threatened his ability to advance a peace agreement.
'With Richard Gere, any flaw added to him would seem constrained and pasted on. We tried a lot of things so he wouldn't look his best.'
"True. The inspiration came from reality, but here, too, there's more than one politician who was at that crossroads. The story the film tells did not happen in reality. The stories we know ended differently. One ended with a prime minister who went to jail, another with a prime minister who had a stroke. Ezer Weizman, Shimon Peres, Ehud Barak, Bibi are all very close to the story I tell, whether it happened and we don't know about it, or whether it's something that could have happened. Their connections with people like Norman are part of their basic survival."
The film generates deep identification with Norman and not with Micha.
"That's very true, and that's the reason I made the picture. This character type has had numberless literary and cinematic representations, but never sympathetically. The court Jew has always been viewed as the anti-Semitic stereotype views him: as serving a private interest at the expense of a broader public interest. Whereas in 'Norman' the story is actually the opposite."
But with Norman you take the anti-Semitic stereotype you oppose to an extreme. For example, Norman is a pathological liar.
"That stereotype interests me very much, because I am not far from it, and there are many people around me who are just as close to it. I am constantly aware of his positive side but also his repellent side, so he's a character that engaged me deeply. Norman's methods of operation became clear to me only because I recognized him from my everyday life. His behavior follows a set of patterns. When he meets someone, he will do a number of automatic and natural things that are built into his personality. His goal is to connect and to create a network of connections. As soon as he's able to give something that the other person takes, a connection is created."
Ironically, the film – which explores the relationships between public servants and wealthy donors who bombard them with gifts – is reaching theaters just as a serving prime minister is being investigated for receiving gifts. What do you think about this coincidence?
"The timing is very interesting, but there's nothing new here. Everyone who's familiar with Israeli politicians and American Jewry knows that this is how it works and how it has always worked. There's a generation of leaders who took it a step too far. Yitzhak Shamir did not receive gifts like [Benjamin] Netanyahu or Olmert did. The last of the ascetic leaders died long ago. But I'm not sure that I prefer an ascetic leader to a hedonistic one. There's a reason that world leaders like expensive cigars, and it's not disconnected from their ability to win elections. It's not necessarily a bad thing. Thinking about the story from Olmert's point of view makes my blood boil. After all, there's nothing here that people didn't do before him or continued to do after him. By the same token, the cases involving Bibi shouldn't come as a surprise to anyone."
Talansky testified that he was very fond of Olmert and esteemed him, but under the law, his actions were considered bribery.
"Yes, and I won't argue with the law. I also want to reemphasize that there is no connection between Talansky and Norman Oppenheimer. Morris Talansky was exploited by an Israeli politician who was a mayor before becoming a cabinet minister and then prime minister. I believe wholeheartedly that what motivated him [Talansky] was to realize his religious yearnings by helping the leader of the Jewish people in the Land of Israel, and my feeling is that this was exploited. Talansky is a rabbi who devoted his whole life to connecting between American money and Israeli projects. He raised funds from wealthy Americans and with it built institutions in Israel that benefit many people. Until someone showed up who apparently intimated to him that he [too]was serving the broad interests of the Jewish people, but who in the end turned to be serving his own private interests.
"From Olmert's point of view, as I understand it, he felt that if he'd stayed a private lawyer he could have done many good and respectable things and also become part of society's upper crust. But instead of behaving like his social peers, he becomes a public servant and thus sacrifices his personal comfort and his status in the realm of business. As a representative of the state, there are a few things he's entitled to when he raises funds. So why shouldn't he have a hotel suite or fly first class? It's not coming at anyone's expense, and people before him did it, too."
But why risk everything – your career, family and status – for something dumb like pink champagne, a luxury pen or fancy cigars?
"My only answer is that it probably has something to do with the personality of people who want to lead a country from the outset. They're people who have certain blind spots, which is essential for their functioning and success. Bibi's blind spot is the suffering of countless people in his backyard."
Footnote to 'Footnote'
Aesthetically and stylistically, "Norman" is a direct continuation of "Footnote." Its humor recalls Woody Allen, it makes sophisticated use of architecture and sets to create a feeling of claustrophobia, tension and rootlessness, and its homage to the paralyzing cold of a New York winter recalls Cedar's homage to Jerusalem in the earlier film. And if the brilliant casting of Shlomo Bar'aba as a grouchy philologist in "Footnote" came as a surprise to many, the casting of Hollywood heartbreaker Richard Gere as a nagging Jewish fixer is even more surprising.
You said once in an interview that you "make use of the star system to reach a wide audience." Did you have Gere in mind when you wrote the script?
"I hadn't thought of Richard, and the script was significantly rewritten after he entered the picture. What primarily influenced the casting was the acquaintanceship of ["Norman" co-producer] Oren Moverman with Gere. Oren, who cast Richard as a homeless person in his 2014 film 'Time Out of Mind,' helped us a great deal during the development of 'Norman' and brought Gere into the project."
Noting that from his point of view, the casting of the 67-year-old Gere was a "very interesting challenge," Cedar elaborates: "There's a whole story concerning Ferdinand Marian, the actor who played the Jew Suess, because they couldn't decide whether to enlarge his nose. The Jew's physical flaw is not accidental; it's something that doesn't jibe with his body and is part of the reason that people recoil from him, and that he tries to cover up. But with Richard Gere, any flaw added to him would seem constrained and pasted on. We tried a lot of things so he wouldn't look his best. In the end, we came up with something very delicate and minor having to do with his ears. Richard told me that he didn't recognize himself in the mirror. That added a bit of a clownish aspect and slightly dented the winner image he usually plays, but without attracting too much attention.
"He has a whole career that has engendered a particular persona, and now he's in a period of life in which he's taking enormous risks, which I find tremendously admirable. It's very difficult for an actor to shed everything that's made him a success."
Norman is an enigma. He has almost no biography and we never see him in a domestic or familial setting. Were there scenes that explored his personal life in early drafts of the script?
"No, I deliberately did not write scenes of that kind. The Charlotte Gainsbourg character tells him: 'Everyone knows who you are, but no one knows anything about you.' That sums up my personal connection to many of the real-life Normans who were inspirations for the character. The reason we know nothing about them is that they are constantly lying, and my acquaintance with them prevents me from confronting them with their lies."
The tragic weakness of Norman and his ilk is that for them money acts as a substitute for intimacy; money is identified with power and influence. So instead of intimacy, he has Micha Eshel's private number.
'The connection between American Jewry, and also of some Christian organizations, and Israel is religious and even almost sexual.'
"I would agree – that's the tragic contradiction in which they live. Norman is alone, and there is nothing more terrible than loneliness. Every distress in life becomes a little easier and more tolerable if you experience it with another person. But a lonely person is in a deep pit, and his only way to connect is to offer something to people. His only way to connect is to lie, and people know that."
The film is critical of American Jews. They're presented as sub-tribes for which Israel is a way to extort cash.
"No, the opposite.
"The connection between American Jewry, and also of some Christian organizations, and Israel is religious and even almost sexual. They are effectively telling themselves, 'Through you I fulfill my religious longings. I will not immigrate to Israel or serve in the Israeli army, but I will support you so that you can realize that goal.' Israeli politicians exploit American Jewry's blind worship of the Zionist idea. The rich American Jews are not victims, but Norman and people like him are victims. For Norman to give a present to Micha Eshel – the salient representative of the State of Israel – is a privilege and a mitzvah. And when the other side exploits that to get a pair of expensive shoes, that's upsetting."
Sometimes it's nice to get a pair of designer shoes for free.
"I agree, but my relationship with rich people is very complex. My father told me once that there is something inherently immoral about profligate wealth. A serious person of principle cannot be a billionaire, and if by chance you become enormously wealthy, you have to distribute your money. But at the same time, I am always buttering up rich people, because I need them. Not only because that makes it possible to dream big or to make movies, but because there's something magical about people who live differently from what ordinary mortals are used to. Most people interact with others who are like them. New York is an exception, because it allows the indigent to come into contact with the very rich. But most of humanity doesn't live like that. Those who are familiar with both extremities have to cope with that contradiction."
Was film producer Arnon Milchan, who has ties with Netanyahu and his wife, involved in the making of "Norman"?
"If only," he laughs. "At one point, when we needed more money, I emailed him, but he never got back to me. He has a connection with Richard Gere, but not with me."
Almost all of Cedar's films ("Campfire" is the exception) are set in a very male world. Asked about the dominance of men in his films, Cedar replies, "I hope I am not limited in that respect. I don't know why I tell stories that have more men than women, but it's not something that makes me happy. I am looking for a female character that I can connect to and tell her story. I'd love to do a movie about Alex ['Norman's' lone female character, played by Gainsbourg]: someone who, in contrast to Norman, can speak only the truth, even if it hurts her."
The choice of a male world has certain implications. The libido comes from elements related to ambition and competitiveness, and the main relationships are between men. Instead of a heterosexual relationship, what we have is an elaborate courtship between Norman and Micha. How do you explain that?
"The original scripts for both 'Footnote' and 'Norman' contained scenes of greater intimacy between men and women that didn't make it into the final version. Norman's libido barely exists on the surface of the movie, but for Richard it was a huge part of working with the character. The moment he hears that Alex is a lesbian, something in him is liberated and therefore he also starts talking to her."
Since I know nothing about Norman, it's easy for me to suspect that he's a closet homosexual – he hides so much.
"I'd be very happy if that's part of how the character is perceived. I believe in the possibility that he's not attracted to women. But at his age and in his situation, that will never come out, and I think that's a very large part of the story."
Tragic weakness
Cedar obviously enjoys talking about his new film and about his cinematic influences. ("The Coen brothers are the most interesting filmmakers active in my lifetime," he says.) But that passion and his flowing speech quickly yield to nervous head-scratching and oppressive silences when he's asked about his much-publicized disputes with Haaretz film critic Uri Klein and with screenwriter and director Eran Kolirin ("The Band's Visit," "Beyond the Mountains and Hills"). Cedar's tragic weakness, if he has one, is the persistent conflict between his desire for recognition and love, and his need to "make it interesting" for his audience.
In order to be loved, it's necessary to "walk between the drops," as the Hebrew saying goes: to speak well of competitors, to promote peace and brotherhood and to do things that may not come naturally to someone who tends to view critically at the communities he grew up in, not to mention dissect them with a scalpel. And to be interesting, you have to give the media its pound of flesh: disputes with critics and colleagues, empathy for a Nazi director, criticism of a culture minister. At times, Cedar himself seems to be wondering what the most effective strategy is for selling his movie. Is it better to don the mask of the "vengeful and conflicted (with himself and others) filmmaker," or that of the "conciliatory director who just wants to make movies"? But when he gets the headlines he's seeking, he becomes touchy, even resentful.
Both the elder Shkolnik in "Footnote" and Norman try to gain entry to a world that doesn't necessarily accept them. But when they enter one door, they discover that there are more and more doors, an infinite labyrinth. Can the search for recognition and external affirmation bring redemption, or is it doomed to fail?
"One thing that came up in the conversations with Richard is that Norman constantly wants what he doesn't have, or he gets something and then immediately puts it at risk for the next thing. You could say that this is how an ambitious person operates and that's how he goes about achieving things; or you could see it judgmentally and with contempt and ask why he's not content with that he has. Richard is a Buddhist, and his whole essence runs counter to the concept of craving, as in: What I have is me, and I don't look at anything else on the outside. The ideas he talks about are fascinating, but they are very foreign to me as a Jew, as a filmmaker, as someone who constantly finds himself hungry for more than he can take in.
"That's not a good trait, but it's what drives me and also drives the world. It's people who are always craving another achievement and another success who move us forward, even if it's not elegant. You ask whether there is redemption in that, and I don't know the answer. The opposite, I think: Redemption is not to want anything that you don't have. And that's how Norman ends the story, from my point of view."
After all your nominations and awards, do you still feel a need for external recognition? Is there something that will constitute the ultimate seal of affirmation for you?
"That's a question that is biting due to the very fact of being asked, because it doesn't sound good."
It's a question that your films raise.
"Yes, but you asked about me. As a motivation [seeking recognition is] not a good thing, yet it also can't be denied. What motivates me is the desire to tell a story that works on every level, and is conceptually and aesthetically complex and succeeds in standing out in the cinematic landscape. Whenever I don't succeed, my hope is that next time, it will be perfect. You referred to a number of achievements that have made it possible for me to make the films that I make, but I haven't reached the type of picture that I would really like to do. 'Footnote' moved me close to that point, because it showed me that it's possible to do something that is very culture-specific and still reach a wide audience with it. That gave me the appetite to do something more in that direction and make something that approaches perfection. Maybe 'perfection' is not a good word, because there is no such thing, but something that encapsulates all the ideas that are embodied in the story."
Cedar has recently decided to explore Israeliness through a new television series that he's developing with HBO together with Hagai Levi (co-creator of "In Treatment" and "The Affair") and Noah Stollman (screenwriter of "The Human Resources Manager"). Of his decision to direct a television series for the first time, Cedar says, "What I'm discovering here is that a 10-hour framework is amazing and liberating. When you make a feature film, numberless plot lines crop up that are finally abandoned because of the time framework. In working with Hagai, I have the possibility of developing those parallel stories." Beyond that, he refuses to reveal anything about the project, which is still in the pre-production phase.
Would you like to work in Hollywood?
"American cinema is in a crisis. There's the occasional interesting movie, most of them not made within the system. The way budgets are scattered in the industry means that the kind of films that interest me have almost no money. There are a few interesting filmmakers in independent American cinema. In a year in which 'Hell or High Water' is nominated for the Best Picture Oscar, the standard is very low. I thought 'La La Land' had something virtuosic but also simplistic about it. It leaves you in the same place you started. I'd rather rewatch 'Singin' in the Rain.'
"The movie I liked best in 2016 and that gave me inspiration is the German film 'Toni Erdmann,' by Maren Ade," Cedar continues enthusiastically. "That's the kind of thing I would like to do and perhaps also can do. The way that very bizarre relationship between a father and his daughter touches on the essence of our life is astonishing and brilliant. More and more layers are added all the time, and in the end you arrive at something that's visually weird but also extremely effective. After that whole journey, everything connects."
When cinema really works, you look at things differently. It's almost a religious experience.
"True, but that's so rare. In certain senses, it's almost impossible, but that's what you have to strive for."
ICYMI
Ken Burns' Brilliant 'The U.S. and the Holocaust' Has Only One Problem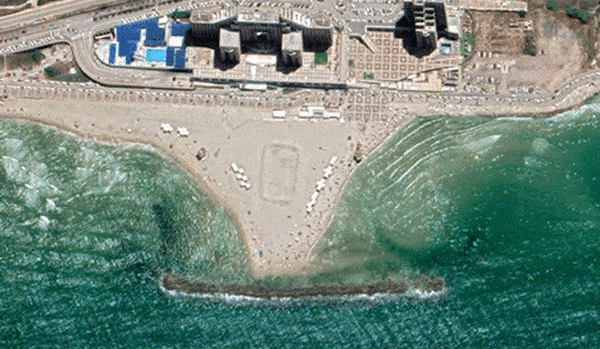 Facing Rapid Rise in Sea Levels, Israel Could Lose Large Parts of Its Coastline by 2050
Lapid to Haaretz: 'I Have Learned to Respect the Left'
The Mossad's Fateful 48 Hours Before the Yom Kippur War
As Israel Reins in Its Cyberarms Industry, an Ex-intel Officer Is Building a New Empire
How the Queen's Death Changes British Jewry's Most Distinctive Prayer