The Miserable Fates That Befell the Real Peter Pan and Christopher Robin
The kids who were sacrificed for our beloved children's books
British writer Alan Alexander Milne entertains his son, Christopher Robin Milne, in the nursery where Winnie the Pooh was born in his country home, Cotchford Farm, in Hartfield, East Sussex.
Credit: PA Images via Getty Images
There are some books in which a heart beats. An ardent, sweet, innocent heart. A heart that stirs the reader's to thump in rhythm with it. Sometimes, though, it's a heart that's torn from the chest of a real child, preserved for all time in pastoral formaldehyde, leaving the original owner hollow, void of shadow or substance.
To find that heart we need to descend. Downstream, into the rabbit hole, and right at the second star and straight on 'til morning. There, amid the wind in the willows, beyond the hundred-acre wood, numberless wonders reside. A wall encircles this arcadia, and not everyone can traverse it. "The most important principle of Wonderland," according to Ori Elhayani, a children's writer who is the protagonist of Shimon Adaf's novel "Sunburnt Face," "is this: Only children can pass through its gates. The fortified wall encircling its borders is the wall of age." Adults cease to see it or sense its existence.
It's the paradise from which we were expelled at sexual maturation, like Susan Pevensie, one of the four children who discover Narnia in C.S. Lewis' fantasy series. "She's interested in nothing nowadays except nylons and lipstick and invitations," we're told about Susan in Lewis' "The Last Battle." "She always was a jolly sight too keen on being grown-up." Similarly, in "Peter Pan," J.M. Barrie puts paid to our hopes for all time: "We can still hear the sound of the surf, though we shall land no more."
The mythological Arcadia was the domicile of the Greek god Pan, for whom Barrie's protagonist is named. The home of the god of the woods and nature was a place where "the wolf shall dwell with the lamb and the leopard shall lie down with the young goat and a little child shall lead them," in Isaiah's prophecy. But Pan was also a sexual god, vengeful and dark, god of the nightmare state that takes its name from him: panic. And, indeed, dangers lurk there, in literary arcadia, and those who find themselves in it are trapped in their childhood ghetto and must cope with the terror alone, while the adults patrol its borders, guarding and preserving them.
The foundations of the land of wonders were laid in the mid-19th century, as Humphrey Carpenter notes in his 2008 book "Secret Gardens: A Study of the Golden Age of Children's Literature." Its building blocks were the fire-and-brimstone, Christian-educational works of a century earlier, on the one hand, along with the fairy tales of the Brothers Grimm, Charles Perreault and Hans Christian Andersen. The plaster that held them together was provided by the Romantic movement, with its revulsion at the Sturm und Drang of the industrial city – the filth, the poverty, the corruption – and its overarching desire for all that was natural and clean, pure and innocent.
That desire, in the wake of Rousseau, Wordsworth and others, focused on one idyllic figure, who was at the center of a tremendous spiritual, social and economic awakening: the child. The reformers sought to rescue the child from enslavement, the preachers were out to show him the kingdom of God, and the educators wished to liberate his free and untamed spirit. While the merchants tried to sell his parents child-oriented products, and the painters, sculptors and photographers tried to capture and perpetuate him, the writers attempted to follow him into places only he knew, to insinuate themselves into the hidden realms of the imagination.
Effectively, the golden age of children's literature began with the publication in 1863 of "The Water Babies," by Charles Kingsley, distinguished Anglican priest, friend of Charles Darwin and in his twilight years personal confessor to Queen Victoria. But in those fantastical waters, into which his successors plunged joyfully, monsters also prowled. In the depths of Victorian and Edwardian children's literature, a turgid nether stream gurgled, which watered the trees of the wood created by Alan Alexander Milne at the inspiration of his toddler son's toys.
In the newly released film "Goodbye Christopher Robin," the director, biopic devotee Simon Curtis, explores the relationship between Milne and his son, and the genesis of one of the most beloved children's figures of all time – and highly profitable brand – Winnie the Pooh. Christopher Milne had a simple explanation for this success, which appears in "The Enchanted Places," the first of his three volumes of autobiography: "It seemed to me almost that my father had got to where he was by climbing upon my infant shoulders, that he had filched from me my good name and had left me with the empty fame of being his son."
As depicted by his son, A.A. Milne never loved children or understood them. "It is a gift. You either have it or you don't. My father didn't – not with children, that is," Christopher Milne writes. Alan Milne and his wife, Dorothy, had a miserable marriage, punctuated by mutual acts of adultery. The mother, who had wanted a daughter, insisted on dressing her son like a girl, in the nightshirts immortalized by E.H. Shepard in his illustrations for Milne's books, and most of the friends of his toy bear – named Pooh – were acquired for Christopher based on cold calculation. They were "presents from my parents, carefully chosen, not just for the delight they might give to their new owner, but also for their literary possibilities," Christopher Milne observes.
Both parents had little patience to spend time with their son; his education and mental wellbeing were entrusted to his beloved nanny. When, as was the custom, he was separated from her and sent to a boarding school, the bullies there made it clear to him exactly where he was – and it wasn't a hundred-acre wood. Christopher Milne never forgave his father for turning the stories he made up for him into public property, and sacrificing the smidgen of parental intimacy he'd managed to forge with him on the altar of success.
Despite the difficulties that characterized his family ties, including a 15-year rift with his mother that lasted through her death, Christopher Milne succeeded in creating a happy adulthood for himself, marrying, fathering a daughter and ensconcing himself snugly in the small bookstore in Devon that he opened jointly with his wife, where a very small shelf was set aside for his father's books.
Baby-talking 'Mouse'
Alastair Grahame fared less well. The characters in "The Wind in the Willows" also sprang from the bedtime stories that his father told his only son, the toddler nicknamed "Mouse." Kenneth Grahame was a 38-year-old virgin when he married, and liked to communicate in baby-talk with his future wife. It was not a happy marriage. Elspeth was a hypochondriac, given to fits of hysteria, who spent most of her time in bed, whereas Kenneth, who suffered from libidinal difficulties, stayed as far away from her and her bed as he could.
Alastair was a sickly baby who was born with a serious eye problem and whose development was delayed. The couple, who adored their son, persuaded themselves that the symptoms attested to the child's being a genius, spoiled him endlessly and could not bring themselves to impose discipline on him. Growing up wild, Alastair liked to play at lying on the road, pretending to be dead, and make cars stop, brakes screeching, when the drivers finally noticed him. He, too, found the boarding-school period intolerable – not least because the "genius" was found to have learning difficulties. He moved from one institution to another until, days before his 20th birthday, he went back to playing his favorite childhood game, this time with a train. He was found on the tracks the next day, head severed, the position of his body indicating that he had lain down on the tracks deliberately.
Suicide by train was also the way that "Peter Pan" chose to take his life. Peter Llewelyn Davies was the third of the five brothers with whom the writer and playwright James Matthew Barrie formed a close and unusual relationship, adopting them after their parents' death. Barrie, like Grahame, had problems forging intimate relations with women. His 15-year marriage to the actress Mary Ansell was not blessed by children, and "there is evidence that sexual contact between the two barely existed," as Gili Bar-Hillel writes in the afterword to an annotated Hebrew-language edition of the book.
When Mary fell in love with a younger man and demanded a divorce, it was claimed in court that she and Barrie had never had sexual intercourse. Nicholas, or Nico, the youngest brother in the Llewelyn Davies family, acknowledged that, "Of all the men I have ever known, Barrie was the wittiest, and the best company. He was also the least interested in sex." (Quoted in "Hide-and-Seek with Angels: The Life of J.M. Barrie," by Lisa Chaney.)
The age of innocence ended when George, the eldest son and the inspiration for the child who never grew up, did indeed remain forever young, having been killed in World War I. Michael, the fourth son, drowned seven years later in the company of another Oxford student, a death that sparked rumors of a suicide pact against the background of the love that dare not speak its name. Years later, his death awoke Peter's demons, and he set about putting the family documents in order. The memories of the past battered him and, together with the information that his wife and three children had an incurable disease, fed the severe depression that ended under the wheels of a train in London's Sloane Square Underground station.
Chaotic household
"The railway children" depicted in the 1905 book of that name by Edith Nesbit did not end their lives on the train tracks. On the contrary: For the protagonists, life by the train station became a source of heroism and amusement, and despite their harsh life circumstances they found value and beauty in the meager existence into which they were thrust. Nesbit, who slyly inserted slices from her own childhood life into the book, had three children of her own, but like Barrie, she too raised five, matching the number in "Five Children and It" and its sequels. This confusing detail derived from the fact that two of them were not her biological children, but the offspring of an affair her husband, Hubert Bland, conducted with her good friend Alice Hoatson.
When Alice became pregnant the first time, Nesbit didn't know that Hubert was the father, and she agreed to raise Alice's daughter as her child. Alice moved in with Nesbit and her husband as their housekeeper. Thirteen years later, when Hoatson became pregnant again, the truth could no longer be concealed. Hoatson and Bland continued to maintain a sexual relationship throughout. In fact, Bland was a serial adulterer who did not balk even at the girlfriends of his adolescent daughter Rosamund, who years later remarked acidly, "He endowed every affair with the romance of his own imagination." (Quoted in "A Woman of Passion: The Life of E. Nesbit," by Julia Briggs.)
Perhaps inspired by her parents' secret lives, which were concealed from everyone in the chaotic rural house they lived in, Rosamund herself tried to escape into a fantasy of her own in the company of the writer H.G. Wells, a friend of her parents. He was married and she was a young girl, prompting her father, in a dizzying fit of hypocrisy, to chase after the couple to a train station in London, where he "did what any gentleman would have done and thumped him [Wells], there being no horse whips to hand." (Quoted in www.telegraph.co.uk/books/what-to-read/five-children-and-a-philandering-husband-e-nesbits-private-life.) Bland then dragged the weeping Rosamund back to a home that bustled with the lovers of both parents. Many of them came from the Fabian Society – an offshoot of utopian socialism from which the British Labor Party would later spring and for which Edith and Hubert's home was an unofficial gathering place. While Alice Hoatson looked after her two children (who didn't know she was their mother) and also the children of her lover and his wife, Nesbit could conduct affairs with the likes of George Bernard Shaw and provided for the whole tribe.
But this bohemian existence carried a steep price of neglect. In 1900, Nesbit's (biological) son, Fabian, who was named for the movement that was so dear to his mother's heart, needed a tonsillectomy, a procedure that back then was done in the patient's home. The family forgot all about it, so no one made sure that the 15-year-old boy took no food before the operation. A few hours after the (successful) operation, his father found him dead in his room: He had choked on his own vomit.
To the list of these unfortunate children we can add Alice Liddell. The exact nature of the interest that Charles Dodgson, aka Lewis Carroll, took in his child muse remains hazy but disturbing. There is also Mary St. Leger Kingsley (who wrote under the pseudonym "Lucas Malet"), who lived with a young cousin who served her as a companion, lover and daughter-substitute, and whose books explored themes of gender identity and sadism, far indeed from her father's righteous sermons; and Camillus Travers Hone, the adopted son of Pamela Lyndon Travers, author of "Mary Poppins," who at the age of seven months was separated by Travers from his twin brother at the advice of her astrologer's tarot cards, and who sank into alcoholism later in life.
Of course, all these biographical anecdotes can be written off as no more than a series of unfortunate events, or at least as examples of the difficulties faced by the children of famous people everywhere. But a darker thread seems to run through their stories.
Later artists, such as Alan Moore, in the semi-pornographic graphic novel he created with Melinda Gebbie, "Lost Girls," were fascinated by the sexual element – or its lack – in the lives of the children (particularly the girls) who find themselves in wondrous lands. Similarly, literary scholars and biographers have tried to analyze the place of the libido in these works.
In the meantime, the lost children are left to wander alone, like babes in the woods in the ancient legend, the magical venom trickling into their veins and poisoning them. Their parents employed them like canaries in the mines of the imagination, reflecting pools for their narcissistic visions and fantastical fixations. The names they were given were wrenched from them and granted, along with their toys, memories and bedtime stories, to preferred children of fancy with whom the parents/writers spent more of their time – immortal children, forever young, eternally charming.
In an attempt to reconstruct their childhood, which was sometimes – certainly for Kenneth Grahame, Edith Nesbit and Pamela Lyndon Travers – wounded, harsh and lonely, these writers built magnificent kingdoms in which time stands still, doubles back on itself, regresses, freezes over. In these shrines of fantasy millions of children can be invited guests, visiting for a bit and leaving unscarred, whereas the writers' own children are forgotten, prisoners in a never-never land. Perhaps it was the nuclear energy that burst from the broken hearts of these children that fired their parents' prodigious creative energy, possibly it was the innocence that they tried to sustain at any price, even at the price of the life and sanity of the children.
Because all children grow up, and if their parents go on ignoring this or trying to stop the tide of time, this is how it will be forever, as long as the adults are gay and innocent and heartless.
ICYMI
Ken Burns' Brilliant 'The U.S. and the Holocaust' Has Only One Problem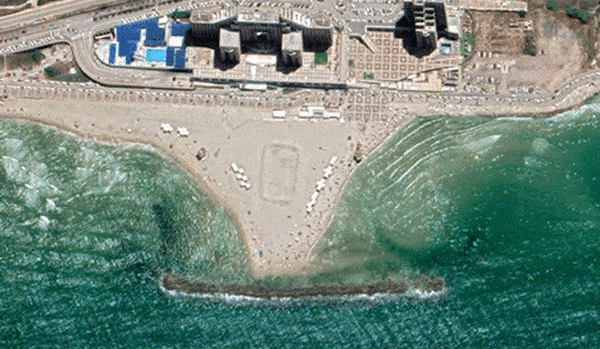 Facing Rapid Rise in Sea Levels, Israel Could Lose Large Parts of Its Coastline by 2050
As Israel Reins in Its Cyberarms Industry, an Ex-intel Officer Is Building a New Empire
How the Queen's Death Changes British Jewry's Most Distinctive Prayer
Chile Community Leaders 'Horrified' by Treatment of Israeli Envoy
Over 120 Countries, but Never Israel: Queen Elizabeth II's Unofficial Boycott