Book Review |
Israel's Moral Decline Pushed This Liberal Zionist to Embrace BDS
In his memoir, 'No Country for Jewish Liberals,' journalist and Haaretz editor Larry Derfner explains how he can live – and sleep at night – in a country whose racism and aggression he abhors
Israeli soldiers secure the main entrance of the Qalandia checkpoint on April 27, 2016.
Credit: Nasser Nasser/AP
"No Country for Jewish Liberals," by Larry Derfner, Just World Books, 261 pp., $26.95
Larry Derfner is an accomplished journalist who is perhaps best known for his worst moment: being fired from the Jerusalem Post in August 2011 for writing a post on his personal blog that appeared to justify Palestinian terror attacks. "No Country for Jewish Liberals," Derfner's memoir and first book, is an attempt to tell the story of how he got to that point, from his teenage years to the present, a story that is inseparably tied to his devotion to Israel. Despite its searing criticism of Israel, the objective reader will close the book with no doubts about the author's personal commitment to his adopted country.
A fair warning, though: If one opens Derfner's memoir with the expectation of discovering some sort of mea culpa, disappointment will arrive fairly early on. Derfner, now a contributor and copy editor at Haaretz, declares on page 13 that, "Palestinian terrorism, for all its hellishness, and its innocent victims, amounts to self-defense." It is a theme––Israeli aggression and Palestinian response, and his realization of this pattern––that he returns to often, polemics that would ordinarily have the effect of concealing a memoir's more interesting details. Derfner, however, largely succeeds in meshing the personal and political.
Derfner grew up on Rodeo Lane in Los Angeles, which he describes as a small white enclave within the diverse, mostly black area of the city. His father, Emanuel, who had grown up as a communist in Kfar Hasidim in Mandatory Palestine, where he was imprisoned and later deported by the British, owned two grocery stores in the predominantly black South L.A. It was there that Derfner worked and came of age, and where his socialist and anti-racist worldview began to materialize.
In some ways, Derfner was swept up in the leftist campus politics of the '60s and '70s: He had avoided being drafted and was active in anti-racist politics, but ultimately found the politics lacking in moral clarity. One example he recalls was attending a concert at UC Berkeley, where a moment of silence was held for Jonathan Jackson, who was killed in a police shootout after kidnapping a judge and an assistant district attorney in an attempt to free his brother from prison. Derfner found such displays, especially from well-off white students, to be cheap imitations of groups such as the Black Panthers, with their "brooding and acting sullen and venting their anger at whomever they pleased."
Derfner's opposition to the radical politics of self-satisfaction would follow him to Israel, where he quit his first steady job in journalism, at the leftist New Outlook, after it ran an article by Palestinian diplomat Afif Safieh demanding tougher Arab action against Israel, and advertised the writing of the PFLP's George Habash.
"In retrospect, I did the right thing given my political beliefs at the time," Derfner writes of the incident. "Today, though, I would have no problem working at a magazine that published Safieh's article, while the terms 'armed struggle' and 'terror' have become interchangeable for me."
So how did Derfner get to this point? Strangely, it seems to have resulted from his moving to Israel and adopting a mainstream Israeli perspective, including serving as an Israeli army reservist in Gaza during the first intifada.
"I didn't want to be a leftist, didn't want to always apologize, to always give in, to always be the guilty one, to always justify the other side's hatred and violence against me," he writes. "I wanted to be a little staunch for once, a little proud, and firm, too." The book's subsequent chapters—which blend pivotal political events in Israel with Derfner's journalistic career—describe his shift toward a position with an uncanny resemblance to the caricature of a leftist he sketches above.
"The greatest show of leadership"
The decision to make aliyah was not a particularly emotional one for Derfner. While he had reacted with pride to Israel's victory in the 1967 war, his main exposure to the country came from his father's anti-Israel views, which culminated in a solo protest in front of the Israeli consulate in Los Angeles in 1978, where Emanuel held a sign comparing Israel to Nazi Germany for its invasion of Southern Lebanon. By 1985, Derfner had gained a few years of experience working as a local journalist in L.A., a career he chose after realizing he wasn't going to make it as a stage actor. He saw moving to Israel as "a last chance to go off and have an adventure," which the Law of Return made easy, and seized it.
Derfner's story of political evolution is in no way a linear one. While always, broadly speaking, on the left, he was never immune to hawkishness and nationalism, feelings that would continue to characterize his views until recent years. Indeed, for much of his life in Israel, he has held decidedly mainstream views, which have placed him somewhere between Labor and Meretz—or as he calls it on his blog, "left-liberalism (within reason)." He supported the peace process and bitterly opposed the politics of Benjamin Netanyahu, and he deemed the opposition to the Oslo Accords as nothing short of fascist.
Following the collapse of the Camp David peace talks in 2000 and the outbreak of the second intifada, however, Derfner moved to the right; he ripped off the Peace Now bumper sticker from his car and disavowed negotiations as a pathway to peace. He was outraged by "the streak of savagery" with which some Palestinians celebrated attacks against Israeli civilians. He embraced Ariel Sharon's unilateral withdrawal from Gaza, which he calls "the greatest show of leadership I'd ever seen from a head of the state in which I was privileged to be living." After the disengagement, Derfner would share in the national resentment toward Palestinian rocket attacks from Gaza; after all, the occupation there had ended, right?
In 2006, Derfner initially supported the Second Lebanon War, which he maintains to this day was at heart a just war of self-defense; it was the length of the conflict and Israel's rejection of cease-fire offers that turned him into an opponent. However, it was in his defense of the war that his fateful views of terrorism first emerged. He quotes from a column he wrote in August 2006: "You can't deter Hezbollah. But what you can do, it would seem, is make life so miserable for Lebanese civilians, mainly the Shi'ites, that once the war is over, they will act as a constraint on Hezbollah from rocketing or raiding Israel again." Derfner admits in retrospect that he "was justifying Israeli terrorism in response to aggression."
Derfner's transformation from a moderate with some hawkish pro-Israel positions to a rather pugnacious defender of the Palestinian right to violently resist occupation was, at first, normative; it was only in late 2008 that he says he realized he had been wrong about the disengagement and Israel's intentions in Gaza.
A momentary lapse into Thatcherism
While Derfner is almost scornful of the liberal Zionist establishment, especially for its support for Israel's actions during the Gaza wars, it is the still the most accurate description of his perspective. He bluntly states that were it not for Israel, his Jewish identity would've been substantially diminished, and he would've likely never raised a Jewish family. This is not the admission of someone who hates Israel or a person who is ready to flee the country, though he has encouraged his children to consider relocation.
Throughout the book, Derfner expresses admiration for the compassion of everyday Israelis, including a customary roadside anecdote, even though he is clearly disappointed by their decisions in the voting booth. "They have good hearts, they're close with one another, they're ready to help people in trouble, they're smart, and, in the last generation, they've lost much of their hard edge and become pretty nice people," he writes.
This attitude, though, somehow gets lost in Derfner's opinions on poor Mizrahim, which are conservative and largely unsympathetic. At one point he declares that, "For the Mizrahi poor, the way out begins with something that is too often missing among them: self-reliance." Such a remark comes across as inexplicable, a momentary lapse into Thatcherism for someone writing of his journey leftward.
Curiously, it is Derfner's mildly supportive view of the Boycott, Divestment, and Sanctions (BDS) movement, and not the controversy over his blog post, which may limit the book's reach among American Jews. In a chapter entitled "Bibi's Israel and BDS," he expresses hope in the international boycott movement's ability to raise awareness about the occupation and force Israelis out of complacency.
However, Derfner is critical of the BDS movement's dogmatism and maintains that "a balance" must be reached between the Palestinian right of return and Israel's right to remain a Jewish state. It's a nuance one hopes will be noticed, but given the hysterical state of discourse around BDS in the United States, this is doubtful.
Still, for this reader, it is Derfner's continued use of the word "justified" to describe Palestinian terror attacks that is most hard to swallow. Surely our language and lived experiences give us ways to express empathy for (often young) Palestinian assailants that also take into account the pain of Israeli civilians. However, when set against the most readily available alternative for Israelis and Diaspora Jews—ignoring the Palestinian perspective altogether—it's difficult to condemn Derfner outright. He may have gone too far, for some, in his introspection, but it sure beats not soul-searching at all.
Abe Silberstein has previously contributed to Haaretz, The Jerusalem Post, and +972 Magazine.
Click the alert icon to follow topics:
ICYMI
Ken Burns' Brilliant 'The U.S. and the Holocaust' Has Only One Problem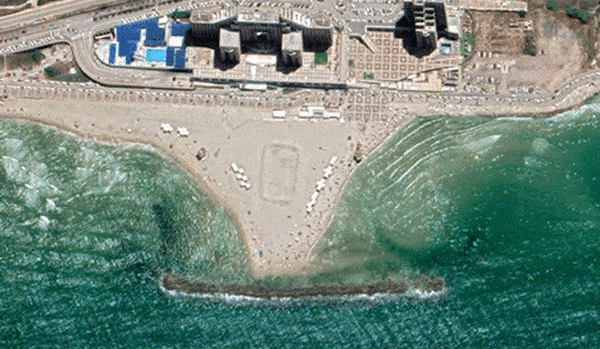 Facing Rapid Rise in Sea Levels, Israel Could Lose Large Parts of Its Coastline by 2050
Lapid to Haaretz: 'I Have Learned to Respect the Left'
The Mossad's Fateful 48 Hours Before the Yom Kippur War
As Israel Reins in Its Cyberarms Industry, an Ex-intel Officer Is Building a New Empire
How the Queen's Death Changes British Jewry's Most Distinctive Prayer