What Exactly Is anti-Semitism?
Starting with a 19th-century German rabble-rouser, Kenneth Marcus does an admirable job explaining the issues in his new book, but a conclusive definition remains elusive.
Francis Levy inspecting tombstones desecrated by vandals with Nazi swastikas in the Jewish Cemetery of Cronenbourg near Strasbourg, France, after an anti-Semitic attack in 2010.
Credit: Reuters
"The Definition of Anti-Semitism," by Kenneth L. Marcus, Oxford University Press, 278 pages, $29.95
An international battle over how to define anti-Semitism is raging in newspaper columns, on talk radio and on college campuses, and there is no end in sight.
On one side, there are those such as the University of California, which recently agonized over whether to include "anti-Zionism" in its list of unacceptable behavior, ultimately settling on the phrase "anti-Semitism, anti-Semitic forms of anti-Zionism, and other forms of discrimination."
On the other side, one finds pundits such as the far-left-wing Max Blumenthal trying to prove that reports of Hezbollah leaders making anti-Semitic remarks are fabrications; evidently he believes the taint of anti-Semitism would discredit Hezbollah in a way that firing rockets into kibbutzim does not.
Both camps have good reason to take the fight as seriously as they do, Kenneth L. Marcus, professor at Baruch College and head of the Brandeis Center for Human Rights Under the Law, shows in his important new study "The Definition of Anti-Semitism." How the term is understood has significant legal and policy implications. If, for example, anti-Semitism is defined as including anti-Zionism, then a college student who calls for dismantling the State of Israel could face penalties or even expulsion. If an Arab leader's rhetoric spills over from criticism of Israel into terminology that is considered anti-Semitic, it could impair his nation's relationship with the United States. If a Western politician's remarks are perceived as anti-Semitic, it could doom his career.
A late-19th-century German rabble-rouser, Wilhelm Marr, coined the term "anti-Semitism" as a way of distinguishing his secular, modern Jew-hatred from its predecessor, the religious variety. Medieval church-based anti-Semitism had focused on Judaism; conversion to Christianity was promoted as the solution to the Jewish problem. But in the modern era, Marr and his ilk perceived the Jewish threat differently: They feared Jewish influence in Germany's politics, culture and economy. The problem, they said, was not Judaism, but Jews, and their solutions ranged from stripping Jews of their civil rights to expelling them en masse from Germany.
The thorny adjective 'Semitic'
In the 20th century, of course, anti-Semitism took on deadly new forms. Under the Nazis, it reached its zenith via racial theories that posited mass murder as the answer to "the Jewish problem." Under the Soviets, anti-Semitism functioned behind a thin cover of combating "capitalist exploiters" and "counterrevolutionaries," resulting in the violent suppression of Jewish communal life and the forced assimilation of millions of Russian Jews.
With the advent of the Arab-Israeli conflict, anti-Semitism has become part of the conversation in unexpected ways. The claim by some Arabs that they cannot be anti-Semitic because both Arabs and Jews are "Semites" is "inconsistent with the history of the word 'anti-Semitism,'" Marcus points out. The term was always intended, and used, to refer specifically to Jews. "Semitic" refers to languages, not peoples; Nazi and pro-Nazi racial theorists were the only ones to claim that Arabs and Jews were part of some kind of "Semitic race." Even so, Nazi Germany's Foreign Ministry "took considerable pains" to explain to Hitler's Arab allies "that their enmity was directed specifically at the Jews," Marcus notes.
In recent decades, attacks on Israel and Zionism have becomefor somea new way to attack Jews without the taint of being called a bigot. Some of the recent outbursts by present or former British Labour Party figures certainly seem to fit into this category. Yet, "given that anti-Zionism is in some cases not anti-Semitic," Marcus writes, "the challenge has been to formulate a definition, or a set of standards, for determining which anti-Zionist actions or expressions are anti-Semitic and which are not."
The European Union sought to address this quandary, in 2005, by enlisting a team of scholars and political figures to craft what has become the most widely used definition of "anti-Semitism." It has been embraced by the U.S. State Department as well as various international authorities and governments. The EU definition focuses primarily on manifestations of anti-Semitism, rather than the attitudes behind them. In addition to listing the typical varieties of anti-Semitic acts or expressions, such as attacks on Jewish "places of worship and cemeteries" or "calling for the killing or harming of Jews," the definition also states that Holocaust denial and "comparisons of contemporary Israeli policy to that of the Nazis" are anti-Semitic.
BDS chimes in
"The Definition of Anti-Semitism" is erudite, interesting and well-written, but even as learned a scholar of the subject as Professor Marcus ultimately runs up against certain ambiguities and is hard-pressed to provide a one-size-fits-all explanation. Take, for example, the hot-button issue of the boycott, divestment and sanctions movement. Marcus contends that, "the modern BDS movement is anti-Semitic," yet in the same paragraph, he writes: "This does not imply that all BDS proponents are anti-Semites."
The BDS campaign is anti-Semitic, he argues, because "some" of its advocates are "consciously hostile" to Jews; some of them have "unconscious disdain" for Jews (likely true but how can it be proved?); and some of them "operate out of a climate of opinion that contains elements that are hostile to Jews," a formulation that is too vague to be convincing. Why, then, wouldn't we conclude that all BDS proponents are anti-Semites? Because, Marcus acknowledges, "All available empirical research confirms that some of Israel's strongest critics are not motivated by prejudice."
Where, then, does that leave the matter? With a degree of necessary uncertainty. We have no problem identifying the obvious anti-Semites, the ones who paint swastikas on synagogues or yell "Kike!" at Jewish passersby. There is a general recognition that those who use anti-Jewish imagery in their denunciations of Israel such as accusing the Israelis of seeking "their pound of flesh" are anti-Semitic. And Holocaust denial, with its implicit allegation of a world Jewish conspiracy to fabricate the genocide, is now recognized by Western governments as anti-Semitic. But as we edge into the arena of anti-Israel rhetoric, it becomes more and more difficult to determine motives and decide whether a red line has been crossed.
Marcus has done an admirable job of analyzing contemporary anti-Semitism and explaining the issues at stake in the debate over its definition. In the end, however, a conclusive, argument-ending definition remains elusive even if this book is an important step in that direction. Sometimes, there is nothing more one can do than to trust one's gut: If it sounds like anti-Semitism and offends like anti-Semitism, it probably is anti-Semitism.
Click the alert icon to follow topics:
ICYMI
Ken Burns' Brilliant 'The U.S. and the Holocaust' Has Only One Problem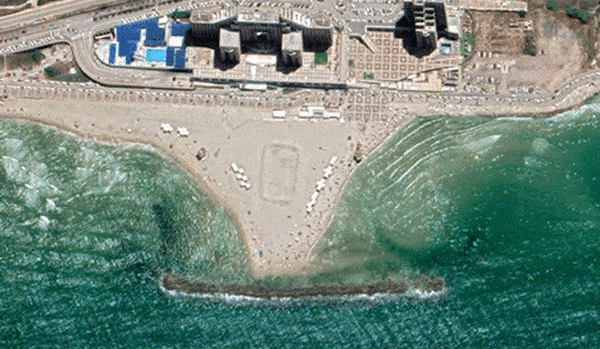 Facing Rapid Rise in Sea Levels, Israel Could Lose Large Parts of Its Coastline by 2050
As Israel Reins in Its Cyberarms Industry, an Ex-intel Officer Is Building a New Empire
How the Queen's Death Changes British Jewry's Most Distinctive Prayer
Chile Community Leaders 'Horrified' by Treatment of Israeli Envoy
Over 120 Countries, but Never Israel: Queen Elizabeth II's Unofficial Boycott