Ehud Barak's Story - as He Would Tell It
The latest Barak biography reads as if it was written 50 years ago, when Israel loved to love its army, and it was clear who the ruling elite was.
Barak, 2011. As defense minister in the Netanyahu government, he tried to drag Israel into attacking Iran's nuclear facilities. The central story in his life.
Credit: Daniel Tchetchik
"Barak. Milhamot Haiyai" ("Barak. Wars of My Life"), by Ilan Kfir and Danny Dor, Kinneret Zmora-Bitan Publishing House (Hebrew), 400 pps., 74 shekels
Four books bearing Ehud Barak's photograph on the cover crowd my bookshelves. Two are biographies, one coauthored by Ilan Kfir and Ben Caspit, and edited by Danny Dor. Kfir also co-wrote a book about Barak with Hanan Kristal, which was edited by Danny Dor and Yehuda Schiff. Now Kfir has written a third biography of Barak, together with Danny Dor. The whole thing brings to mind Menashe Kadishman's omnipresent sheep. Barak was one of Israel's dozen prime ministers, but for the first 150 pages of "Barak. Wars of My Life," he almost always is referred to as "Ehud." On page 151, he becomes "Barak." That happens in the wake of the Tze'elim army base disaster, when the admired James Bond is exposed as a dangerous Don Quixote. Ever loyal to him, the pair of biographers assure the reader of what's most important to clarify on behalf of their subject: He did not "flee" from Tze'elim base that day. Okay, so he didn't. [The reference is to a 1992 training exercise of the Israel Defense Forces elite Sayeret Matkal commando unit ahead of an operation reportedly intended to assassinate Iraqi leader Saddam Hussein. Five soldiers were killed in the exercise, at which Barak, then chief of staff, was present.]
The protagonist then goes back to being "Ehud" alternately. It suits him: He knows how to take apart locks and can play the piano and, as Kfir's new book mentions repeatedly, he studied at Stanford. He also knows how to be likable. But above all, he was and remains a kid from "Hasamba" – a secret organization of children who performed heroic deeds in defense of Israel, in a series of adventure novels – stuck in adolescence: a big show-off, a hunk but a little too short, who is addicted to pranks and adventures and mischief-making. He dictates his recollections of them to every chance biographer, each of whom attests to what a smart, sharp hero he is, able to get the better of everyone.
"One time he managed to hide the reserve jerrycan of gasoline from the jeep of Avraham Yoffe, the head of Northern Command," Kfir and Dor reveal. Reading that, I lost control of my jaw. The reserve jerrycan! Of Avraham Yoffe?! But that's Ehud – yes, yes, it's him: All the successes are his; all the failures belong to others.
He was born 1942 in Mishmar Hasharon, and like many kibbutz-bred Israelis, was brought up to believe that he came into the world with a destiny: to ensure that the ruling elite would not be replaced by a different group. Many young kibbutzniks were sent to the army to that end. Barak comes across as one of those IDF officers who saw the army not only as a destiny but as a response to an inner impulse, a psychological need. He would prowl the corridors of General Staff headquarters, offering the services of Sayeret Matkal – of which he was the commander in the early 1970s – and looking for jobs worthy of glory.
It's not always easy to distinguish between the operations he led that were essential and others in which he took his troops into action because he wanted to be top gun and tell the guys about his prowess. In this regard he seems more like Ariel Sharon than Moshe Dayan. The impression is that it was really fun for him to dress up as a woman and sneak into Beirut with his men, take a few PLO people by surprise in their homes – one of them a poet and the organization's spokesman – and kill them. Maybe he even thought it was great fun to risk his life and the lives of his men, but as in the incident at Tze'elim, it's not clear why it was necessary.
Barak was not alone in this, nor is it exclusively an Israeli phenomenon: The egos of generals have touched off many wars in history. We might have at least learned something about that phenomenon from Barak's story, if only it were told adequately.
"Wars of My Life" brings to mind an earlier, almost forgotten, period in Israel's history, before the IDF became a gendarmerie of occupation, when Israel loved to love its army. Fifty years ago, Eli Landau, Uri Dan and others wrote books like this. Barak's operations are described here for the most part on the basis of what he himself related to the authors, so it's difficult to assess them. Still more difficult is to penetrate his motives. We know he's like that, but why? What do danger and friendship (meaning camaraderi) and glory do to him, what does power do to him?
Easier to understand and also to assess is his political arrogance. This is a salient tale of presumption and failure and no little stupidity – one story of many in Israeli politics, and not the most interesting. Barak continues to define his identity in the terms of the Israeli elite and he has updated his life accordingly, by weaving in an American dream to live in a glitzy tower and realizing it in the Akirov project in Tel Aviv. That wasn't a smart move, because at that point he also wanted to lead the people, and the people, as we know, can be exceedingly begrudging.
Barak's era in politics comes across here as prolonged suffering, sometimes to the point of arousing pity. Instead of the buddies from the Sayeret and the tycoons on every continent who adopted him as a genius, he saw around him labor party hacks Nissim Zvili, Dalia Itzik, Rafi Elul and their ilk. At this point the book takes a highly tiresome turn: What do we actually care what MK "Shiry Weizman" – as Kfir and Dor consistently call Weizman Shiry – did to him?
In his arrogance, Barak tended to ignore the irritating dwarfs and just like that, along the way decided that he was going to make peace. What does he really think about the Middle East conflict? Apparently he doesn't need to think, because he already knows everything.
According to Barak, Benjamin Netanyahu, during his first tenure as prime minister, in 1996-1999, agreed to forgo the entire Golan Heights; apparently Barak assented to this, when he took over. But Syrian President Hafez Assad wanted to be able to dip his toes in Lake Kinneret, and Barak did not want to give up the eastern shore of the lake. Why not, actually? Here's a starting point for a fascinating symposium: What would have happened if Syria had received the Golan Heights before the civil war erupted there?
All that's left to do is to thank Barak for removing the IDF from Lebanon.
And he thought he could make peace with the Palestinians. He now boasts of the far-reaching concessions he offered Yasser Arafat, promises he made without having first examined whether he had a parliamentary majority for them. Among other claims, he says he agreed to divide municipal Jerusalem into four quarters: two for Israel and two for Palestine. That would have entailed legislation. How, what, who – it's not clear. Nor is it important, for that matter, because during the abortive summit meeting at Camp David in July 2000, he revoked the offer.
Even Kfir and Dor sound critical: "Obsessive about constantly moving forward in the diplomatic process, the prime minister did not notice the political warning lights that came on one after the other before his eyes. Or he did notice, but believed they would go out when the diplomatic breakthrough arrived."
It did not arrive, of course: "In the face of Barak's flexibility, Arafat repeated his approach like a broken record: Israeli withdrawal to the June 4, 1967, lines, including Jerusalem; the right of return for millions of refugees to the territory of the State of Israel; and additional demands in the best tradition of the oriental imagination." That sounds like something Barak himself dictated to the singers of his glory. Who knows whether he really offered what he claims he did or whether he meant what he offered. Maybe he made offers only because he knew Arafat would reject them.
Who knows what would have happened if Arafat had agreed. I imagine Barak fantasizing about putting on a dress, infiltrating Arafat's cabin at Camp David in a daring operation, and finally making order in history. But no, Barak doesn't even hint at anything like that. On the other hand, he allowed Ariel Sharon to visit the Temple Mount. His period of service in the government is drenched with blood, and we haven't yet said "Mavi Marmara."
Not many pages left now. Hurry, hurry. Almost in passing, another episode that makes one shudder has to be told, and another that's negligible but leaves something of a bad smell in its wake. As defense minister in the Netanyahu government, Barak tried to drag Israel into attacking Iran's nuclear facilities. Then-Chief of Staff Gabi Ashkenazi and then-Mossad director Meir Dagan succeeded in averting this. Like the Cuban missile crisis, this story is worthy of many books. Ashkenazi is portrayed as restraining his general's ego, but his considerations, too, remain murky.
Be that as it may, in Barak's life, this is really the central story. He comes out looking bad: He both proposed an operation whose details are still unknown, and also was forced to hold back the proposal, in part because of a negligible minister named Yuval Steinitz. I suppose that Barak thought about confronting Steinitz, too, in women's attire.
The end connects to the beginning: Ehud bickers with Gabi. Boys, you know. Both of them emerge badly, Barak more so, because he was defense minister and as such, he should be expected not to bicker with a chief of staff.
He'd have done better, then, to be content with the biographies written before that affair, but that's not the most serious mistake he made in his life and perhaps not the last one, either. Kfir and Dor think that if Barak is asked, he will agree to return to politics in order to be an Israeli de Gaulle. According to the authors, he doesn't admit to a single mistake and hasn't learned a thing. More likely, then, that if he returns, he will be Yigael Yadin.
Click the alert icon to follow topics:
ICYMI
Ken Burns' Brilliant 'The U.S. and the Holocaust' Has Only One Problem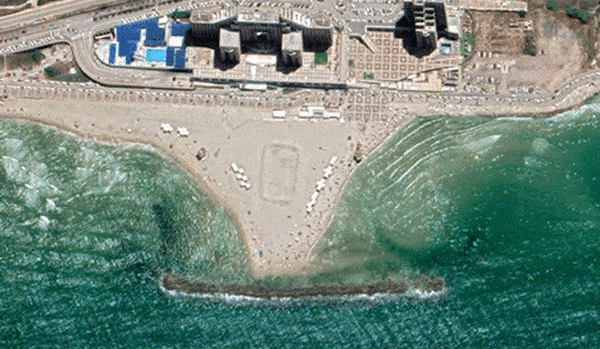 Facing Rapid Rise in Sea Levels, Israel Could Lose Large Parts of Its Coastline by 2050
As Israel Reins in Its Cyberarms Industry, an Ex-intel Officer Is Building a New Empire
How the Queen's Death Changes British Jewry's Most Distinctive Prayer
Chile Community Leaders 'Horrified' by Treatment of Israeli Envoy
Over 120 Countries, but Never Israel: Queen Elizabeth II's Unofficial Boycott