Michael Oren's 'Ally' – a Profoundly un-Zionist Book
The memoir by the former Israeli envoy to the United States presents an Israel seeking only to survive crises that – in his telling – it had no part in creating.
Oren. His book "Ally" posits an Israel that has little power over its own destiny.
Credit: Bloomberg
"Ally: My Journey Across the American-Israeli Divide," by Michael Oren, Random House, 432 pages, $30
As Israel's ambassador to the United States, Michael Oren was a conciliator. During his years in Washington – 2009 to 2013 – relations between Israel and the U.S. were as bad as they had been in years, lurching from crisis to crisis. Still, Oren shuttled from Capitol Hill office to cable studio to synagogue sanctuary, insisting that the friendship between the two nations was, for each, an inexorable first principle.
Which is why his new memoir of these years, "Ally: My Journey Across the American-Israeli Divide," is so startling. In it, as in the multiple articles he penned that preceded the book's publication, Oren argues that the "special relationship" between Israel and America that has thrived since Israel was established in 1948 has been undone by Barack Obama.
Immediately after taking office, Oren writes, President Obama set out to abrogate the formal and informal agreements that had guided U.S.-Israeli relations for a decade. First, he nullified George W. Bush's pledge that, in any future peace deal, "major settlement blocs" would remain within Israel's borders. Then he ignored the two "core principles" that defined the "special relationship" between the two countries. The first – "no daylight"– held that disagreements between Israel and the U.S. remain private; in public, a unified position would prevail. The second was "no surprises"; neither country would make an important move without first informing the other.
With these fundamental rules voided, U.S.-Israeli relations careered dangerously, to the detriment of both countries, and the world. Palestinians, cheered by the evaporation of American support for Israel, grew ever more intransigent. Iranians, emboldened by Obama's eagerness to placate Muslims, expanded their efforts to build nuclear bombs. The United Nations reverted to a Cossack field tribunal, multiplying charges against innocent Jews. A vicious cycle was established.
As President Obama withdrew support, Prime Minister Benjamin Netanyahu concluded that protecting Israel fell to him alone, leading him to bluster in ways that further alienated Obama and convinced him that the unruly Israelis had to be put in their place. These were the circumstances that led Netanyahu to address a joint session of Congress on March 3, to try to scuttle Obama's emerging agreement with Iran – a nadir in relations between an Israeli premier and U.S. president, but at the same time a symbol of the fine mess that Israeli-American relations have become.
Oren's account of the deterioration of U.S.-Israeli relations has left a lot of people livid, and some scrambling to repair damage they worry the book has done.
U.S. Ambassador to Israel Dan Shapiro pressed Netanyahu in mid-June to reject Oren's account of the Obama administration, and when Netanyahu refused, Shapiro told reporters that Oren offered an "imaginary account" of U.S.-Israel relations because he "wants to sell books." Shapiro's predecessor, Daniel Kurtzer, posted on Facebook that Oren's account contained factual errors and that he seemed to "form judgments and then jerry-rig the facts to fit his case." Abe Foxman, director of the Anti-Defamation League, called on Oren to retract his attacks on Obama, which, he said, "veer into the realm of conspiracy theories."
At home, Moshe Kahlon, the head of the Kulanu party, which Oren represents in the Knesset, publicly apologized for what Oren wrote. Anonymous "senior Israeli officials" told Haaretz's Barak Ravid that, as ambassador, Oren was often purposefully not told about certain developments in Israeli-American diplomacy and that, as a result, he literally did not know what he was writing about.
Now something's wrong?
Most of these ad hominem attacks on Oren – and what Jeffrey Goldberg of The Atlantic has called "a character-assassination campaign" carried out by Haaretz – miss their mark. After years of watching Oren calmly insist that all is well between Israel and America, it is hard to believe that he would suddenly take to hawking hysteria just to boost his royalties. He's not the type to knowingly freight his book with flim-flammery for the sake of making headlines. And it is hard to accept that the Israeli ambassador to the U.S., tasked with lobbying members of Congress, senators and the White House to advance his country's interests, was never told what these interest were, or that for four years he was only ever trundled out like a ceremonial monarch to smile and wave.
Some of the pique with Oren seems to stem from the fact that, after years of telling us that all is well between Washington and Jerusalem, now he tells us that something is dangerously wrong. But this criticism is unfair. As a diplomat, it was Oren's responsibility to put the best gloss on American-Israeli relations. As an ex-diplomat, it is Oren's responsibility to give us the straight dope, especially when the stakes are high. Oren, then, is not a scoundrel, a naf or an opportunist, as he has been accused. But what exactly is he?
One clue can be found, perhaps, in the most controversial passage of the book, in a chapter entitled "Obama 101," in which Oren hypothesizes that the U.S. president's "rejection by not one but two Muslim father figures informed his outreach to Islam." Oren admits that this speculation is no more than "armchair psychoanalyzing," and it occupies only a few short sentences in a long book, but still it seems to play an important part in Oren's interpretation of Barack Obama's attitudes and actions toward Israel. (The administration, for its part, has remained mum.)
There are many ways to find Oren's speculation insulting. For one thing, it meshes snugly with the racist fantasies of rabid right-wing bloggers and so-called birthers who see in Barack Obama's African father and Indonesian stepfather indications that he is not a real American, and that he is somehow in the service of foreign interests. It also suggests that President Obama, although famously cerebral, is unwittingly guided by psychic traumas suffered as a small boy. In so doing, it simplifies the grand complexities of world politics and diplomacy to the yearnings of a tot and the scars they left on him once he grew to be president of the U.S.
But it does something else, as well. It posits that the deterioration in Israeli-American relations owes to forces whose distant source has little or nothing to do with Israel itself. It locates the source of Obama's insistence, say, that Israel freeze building in the occupied territories, not in the realities of the West Bank or the effects of Israeli policies there, but instead in the experiences of a 10-year-old Obama living at the margins of Indonesian society.
This is part of Oren's broader tendency to efface the impact of Israeli actions and policies to such a great extent that, in his telling, Israel is an almost entirely passive victim: of Obama's forlorn search for approval, of a hypocritical and anti-Semitic international community, of duplicitous and feckless Palestinians, of self-hating Jewish journalists and J-Streeters, and so on.
Oren reports that on his first visit to the U.S. after Obama's election, Netanyahu "perhaps insensitively" presented the new American president with "a mint edition of Mark Twain's 'Innocents Abroad,' about nave Americans blundering across the Middle East." (Later, Netanyahu would give Obama a copy of "The Book of Esther," about murderous Persians bent on killing Jews. Subtle.)
Oren describes the announcement, during Vice President Joe Biden's visit to Israel in March 2010, that 1,600 housing units would be built on land that most of the world, including the United States, considers occupied, as a meaningless act by "some right-wing officials trying to spoil the vice president's visit, or some left-wing journalists trying to embarrass Netanyahu."
And while Oren admits that "mistakes were made" by overworked Israeli politicians and diplomats, he refuses to entertain the idea that such mistakes matter. What's worse, he never considers that Israeli policy itself – the steady building in the territories, for instance – may explain (in part, at the very least) why Washington has wearied of Jerusalem.
Israel as a well-armed shtetl
It is this oversight that makes "Ally" so frustrating and disappointing. Like many Israelis, I desperately wish to understand Netanyahu's long game. Although he will soon enter the history books as Israel's longest serving prime minister, he remains a cypher. It is a truism of Israeli politics that what motivates Netanyahu is Netanyahu; that his only true aim is staying in power. But that is a facile bit of folk cynicism, and I find it impossible to accept.
Cracking open "Ally," I hoped, finally, to understand the diplomatic strategy guiding Netanyahu as he tacks back and forth, blusters, lectures the president and Congress and the UN, and layers insult upon retraction upon insult. I hoped that Oren, a smart and decent man, tasked to represent and advance Israeli diplomacy, would illuminate what we have been trying to do these past years in Washington, and on the world stage. But instead Oren presents a nullity, an Israel seeking only to survive crises that – in his telling – it had no part in creating.
And this leads to what bothered me most about "Ally." The book – which Oren calls "a chronicle and a confession" – is in fact three things at once. It is a cri de cur, as I have described, a warning that Israelis cannot count on Obama to protect them, even as Iran prepares to produce nuclear bombs able to incinerate the Jewish state. "Ally" is also, at its most charming moments, a "through-the-looking-glass" phantasmagoria in which a wide-eyed Oren describes a bestiary of inside-the-beltway types: profanity-spewing politicos, dissimulating journalists, back-stabbing staffers, vain socialites, and more.
Finally, "Ally" is a Zionist coming-of-age story about a Jersey boy who "rarely made it off the school bus without being ambushed by Jew-baiting bullie,s" and who at age 15 met Yitzhak Rabin, then Israel's ambassador to America, and vowed that, one day, he would himself attain that same high position. As his tenure in D.C. ends, Oren meets a group of 15-year-old Zionists, and realizes that this meeting might, for them, change their lives, as his brush with Rabin had changed his. Oren is a generation of Zionism personified.
Despite all that, or perhaps because of it, "Ally" is, in the end, a dispiriting book. It posits an Israel that has little power over its own destiny, struggling unsuccessfully to maintain the status quo. It describes an Israel with leaders of little imagination, who are deeply suspicious of criticism from within or without. Oren's Israel too closely resembles a well-armed shtetl, at the mercy of a touchy and unpredictable potentate, surrounded by a threatening and inhospitable world.
Nothing about Oren's life would be the same without his Zionism; it is hardly an exaggeration to say that the life he has chosen to lead makes sense only in light of Zionism. Yet – if Zionism encompasses the proposition that Jews can and must revert to being political actors on the world stage – he has produced a profoundly un-Zionist book.
Michael Oren is today a leader of arguably the most influential party in the Knesset, the king-making centrist Kulanu party. Without them, Netanyahu's coalition collapses. Oren's job is no longer to simply to defend, hell-or-high-water, policies and actions devised by others. His job is no longer to persuade that everything Israel does is right. His job now is to change Israeli policy, to restore to Israelis, many of us on the edge of despair, reason to hope that our children may in time raise their own children in safety, peace and prosperity.
Oren's new job is to produce hope, by making change. About this, one may wish that he learned a thing or two in Washington from his once and hopefully future ally, Barack Obama.
Noah Efron is host of The Promised Podcast, on TLV1, the world's most popular podcast on Israeli politics. When not bloviating, he teaches history and philosophy of science and technology at Bar-Ilan University.
Click the alert icon to follow topics:
ICYMI
Ken Burns' Brilliant 'The U.S. and the Holocaust' Has Only One Problem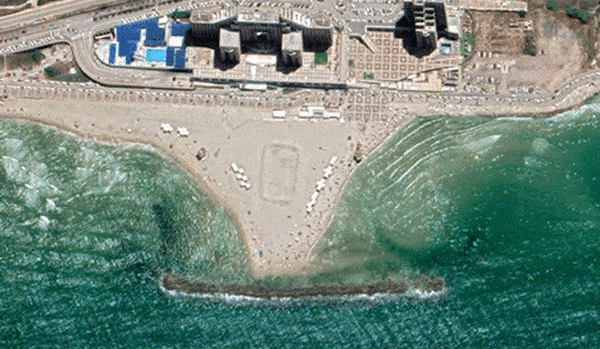 Facing Rapid Rise in Sea Levels, Israel Could Lose Large Parts of Its Coastline by 2050
As Israel Reins in Its Cyberarms Industry, an Ex-intel Officer Is Building a New Empire
How the Queen's Death Changes British Jewry's Most Distinctive Prayer
Chile Community Leaders 'Horrified' by Treatment of Israeli Envoy
Over 120 Countries, but Never Israel: Queen Elizabeth II's Unofficial Boycott