How the Israeli-Palestinian Conflict Divided U.S. Jews and Blacks
'A Shadow Over Palestine' by Keith P. Feldman probes how the conflict affected political thinking of American liberals, black radicals and Arab activists and how they then informed the contested terrain of race in the U.S.
In this March 21, 1965 file photo, Martin Luther King, Jr. and his civil rights marchers cross the Edmund Pettus Bridge in Selma, Ala., to protest voting laws.
Credit: AP
"A Shadow Over Palestine: The Imperial Life of Race in America," by Keith P. Feldman, University of Minnesota Press, 312 pages, $24.95
The annual American Israel Public Affairs Committee policy conference in March featured tributes to the famous 1965 march in Selma, Alabama to demand expanded voting rights for black Americans, including a particularly stirring speech from U.S. National Security Advisor Susan Rice.
"The Jewish community amplified the rightness and the urgency of the civil rights movement with its own unassailable moral compass — guided by the basic principle that people should be free in their own land," she told the crowd. "I stand before you knowing that I and many others would not be where we are today without all those who fought for equal rights — African Americans and white Americans, including so many Jewish Americans."
Rice is right: Liberal Jews did march in Selma alongside black civil rights activists. However, this narrative of two minorities working together for the betterment of America papers over real conflict that has existed over the years between blacks and Jews in the United States. Some of the friction between blacks and Jews, most of whom are considered white, stemmed from economic inequality, while some resulted from political differences.
In his new book, "A Shadow Over Palestine: The Imperial Life of Race in America," Keith P. Feldman, a professor in the ethnic studies department at the University of California, Berkeley, shows that black-Jewish differences, in part, also resulted from divergent perceptions of the Israeli-Palestinian conflict. Feldman's well-argued book digs into the cultural production of Jewish, black and Arab scholars, activists and artists from the 1960s to the '80s. Their pamphlets, poems and speeches reveal how the Israeli-Palestinian conflict helped shape race relations in the United States. To its credit, the book does not simply compare the black and Palestinian freedom struggles. Instead, it investigates how the conflict in Israel/Palestine affected the political thinking of American liberals, black radicals and Arab activists, and how their ideologies in turn informed the contested terrain of race in the United States.
Feldman's scholarship is part of a growing body of work that looks at transnational connections between U.S. foreign policy and race at home. Sohail Daulatzai's "Black Star, Crescent Moon: The Muslim International and Black Freedom Beyond America" and Alex Lubin's "Geographies of Liberation: The Making of an Afro-Arab Political Imaginary" are notable works in this burgeoning field. Feldman's book details a striking yet lesser-known example of these transnational connections: As Israel and the United States intensified their alliance after the 1967 war, when Israel began its occupation of Palestinian lands, Arab Americans were cast as potential terrorists and enemies of American democracy who needed to be spied on because of their suspected loyalties and support for Palestinian liberation. Arab Americans' "sense of belonging ... to Arab homelands often in the crosshairs of ascendant U.S. imperial interests" forced them to confront the limits of American liberal democracy, Feldman writes. Some Arab American activists responded to that reality by forging links with their black activist peers.
An anti-Semitic turn?
In the decades before 1967, black intellectuals such as W.E.B. Du Bois "confronted the white supremacist kernel of U.S. Empire" by using "the lexicon of Jewish Zionism," Feldman notes. Jewish self-determination appealed to these thinkers, who saw parallels in the black and Jewish experiences of oppression. But beginning in 1967, black radicals disavowed Israel with vehemence, labeling it an outpost of Western imperialism that subjugates the indigenous Palestinians. This disavowal coincided with the rise of black power, the militant movement that rejected the integrationist impulses of Martin Luther King, Jr. and advocated for black self-sufficiency.
Also in 1967, the civil rights group Student Non-Violent Coordinating Committee, which had expelled whites from its ranks as members became enamored with black power, issued a pamphlet denouncing Israel as a colonial power founded on ethnic cleansing. Black civil rights leaders and Jewish leaders who opposed the SNCC's stance criticized the group for the publication. The pamphlet, and the reactions it elicited, are often seen as a symbol of why the black-Jewish civil rights alliance broke down. The conventional narrative, produced by Jewish academics like Murray Friedman and endorsed by the mainstream Jewish establishment, is that black activists took a radical, at times anti-Semitic and anti-white, turn.
Even some left-wing Jews who saw Israel as anti-imperialist vehemently rejected the black power movement's identification with Palestinians. Itzhak Epstein, an organizer of the 1960s-era Socialist Zionist Jewish Liberation Project, wrote that the Black Panthers had aligned with "those who want to commit genocide against us."
Feldman, however, views the black power turn not as anti-Semitic, but rather as part of a global anti-colonial approach that black radicals spearheaded — though he concedes anti-Semitism did emerge from black radical ranks at times. Black power thinkers linked the Vietnam War, urban riots and support for Israel. They harshly critiqued Israel and saw parallels between Palestinian life and their own situation in ghettos besieged by a militarized police force. Black radicals like Stokeley Carmichael theorized that blacks in the United States were an "internal colony," exploited by a white American ruling class, and that Israel, too, was a colonial power, exploiting Palestinians.
At the same time, American Jews were euphoric about the 1967 victory and saw Israel as a safe haven, protecting against another Holocaust. Many American Jews also viewed Israel as the fulfillment of their own liberal values — a democracy with socialist roots, the rule of law and voting rights, despite the hostile surrounding neighborhood. The different experiences that informed blacks and Jews' opposing views, and the politics that came out of those experiences, caused the break, while black perceptions that Jews exploited them economically as landlords and business owners in minority neighborhoods added to the gulf between the two groups. In a famous 1967 essay, James Baldwin wrote, "it is bitter to watch the Jewish storekeeper locking up his store for the night, and going home. Going, with your money in his pocket ..."
#Palestine to #Ferguson #Resistance is not a crime. #FreePalestine pic.twitter.com/rPTRGLmoXF
The cloak of racial liberalism
Central to both black power and Feldman's book is a critique of racial liberalism, a "legal and discursive" commitment to the integration of blacks that was "seen to evidence U.S.-led liberal capitalism's capacity to dispense freedom," as Feldman writes. Purveyors of racial liberalism, which valorizes liberal democracy's promise of freedom but ignores structural inequality, perceived American and Israeli democracy as one and the same. In a sense, they were right.
In the post-civil rights era, U.S. and Israeli democracy shared much in common. In the mid-1960s, both Israel and the United States extended basic rights to the groups they leveled violence against: blacks in the United States, and Palestinian citizens of Israel, who until 1966 were ruled by martial law. And yet both Israel and the United States were, and remain, deeply stratified societies where those groups are often the most excluded.
In Israel's case, the inadequacy of its democracy is most evident beyond the Green Line, where millions of Palestinians are ruled by a foreign military power and have no rights to vote or to freely assemble. Within Israel, Palestinian citizens are discriminated against in the form of land expropriation, budget inequalities and a ban on most "family reunification" (bringing spouses in from the territories). Israel has justified this situation by invoking its need for security in a region riven by violent conflict.
Meanwhile, American defenders of the racial status quo justify the economic and political exclusion of blacks by fixating on the supposed faults of black culture — the corrosive effects of hip-hop and the absence of black fathers, for example. It's an argument that has, at times, been advanced by America's first black president, Barack Obama and his wife, Michelle. In 2013, she told black college graduates that a big problem with black youth is that "instead of dreaming of being a teacher or a lawyer or a business leader, they're fantasizing about being a baller or a rapper."
Feldman's dissection of how racial liberalism serves Israel and the United States is one of the strengths of the book. He falters, though, when he delves into academic theory that breaks up the flow of his argument. Feldman also might have wanted to investigate how Israel/Palestine played into the Chicano and Puerto Rican movements of the 1960s and '70s, movements that readily participated in the radical left's global vision of resistance. These are minor shortcomings, though.
'Ferguson is Palestine'
Feldman ends with a look at how different groups in the United States continue to link Palestine with domestic issues, an internationalist vision that owes much to the '60s and '70s-era movements he writes about. Academic groups like the American Studies Association, concerned with U.S. settler colonialism that eviscerated indigenous cultures in America from the 16th century onward, have endorsed the boycott, divestment and sanctions movement targeting Israel over human rights violations. Meanwhile, the U.S. establishment has looked to Israel as a source of inspiration. The New York Police Department's surveillance of Muslims was modeled on Israel's methods in the West Bank, while the neoconservative movement, empowered under the Bush administration, figured Israel as the front lines of the U.S. "war on terror."
The scope of Feldman's book predates the contemporary racial justice movement in the United States, but his analysis resonates when you listen to the cry of "Black Lives Matter." Members of that movement are making connections to Palestine and referencing the Black Panthers' links to Palestinian militancy. When protests erupted in Ferguson, Missouri, last summer over the police killing of black teen Michael Brown, Palestinians tweeted advice to residents about how to deal with tear gas manufactured by a company that supplies both Ferguson police and the Israeli army. In January 2015, groups involved in the Black Lives Matter movement sent a delegation to Palestine to learn about Israel's occupation. And, in a new twist, left-wing Jewish groups are simultaneously supporting the Black Lives Matter movement and the Palestinian struggle against Israel's occupation. Jewish establishment groups like the Anti-Defamation League, meanwhile, have said Ferguson and Palestine have little to do with each other.
#Justice is always on the side where the children throw rocks. #Palestine #Baltimore #Haiti #Ferguson pic.twitter.com/B5qIBPtmpp
The slogan "Ferguson is Palestine" shows we are living in a moment with roots in the not-so-distant past. Social-media users and activists using that motto may not be fully aware of the storied history linking black radicalism and Palestinian liberation. But Feldman's book resurrects moments like the Rev. Jesse Jackson's trip to Palestinian refugee camps in 1979, and poet June Jordan's line that she was "born a Black woman, and now I am become a Palestinian," written after the 1982 massacre of Palestinian refugees by Israeli-allied forces in Lebanon. That history continues to beckon as black-led protest movements rock American cities and the Palestinian struggle for freedom from Israel's occupation marches on.
Alex Kane, a former editor at Mondoweiss and AlterNet, is a New York-based freelance journalist. Follow him on Twitter @alexbkane.
Click the alert icon to follow topics:
ICYMI
Ken Burns' Brilliant 'The U.S. and the Holocaust' Has Only One Problem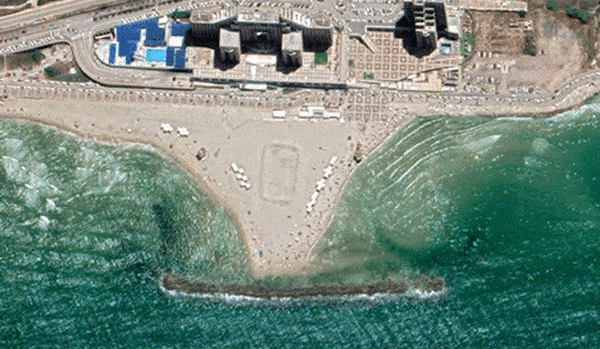 Facing Rapid Rise in Sea Levels, Israel Could Lose Large Parts of Its Coastline by 2050
As Israel Reins in Its Cyberarms Industry, an Ex-intel Officer Is Building a New Empire
How the Queen's Death Changes British Jewry's Most Distinctive Prayer
Chile Community Leaders 'Horrified' by Treatment of Israeli Envoy
Over 120 Countries, but Never Israel: Queen Elizabeth II's Unofficial Boycott