Tapestry of Conflict: When Jews and Arabs Shared an Identity
Historian Menachem Klein's new book 'Lives in Common: Arabs and Jews in Jerusalem, Jaffa and Hebron' adds greatly to our understanding of the Israeli-Palestinian conflict and its devastating human cost.
Arabs and Jews wait at a bus station in Jaffa, 1949.
Credit: Zoltan Kluger /GPO
"Lives in Common: Arabs and Jews in Jerusalem, Jaffa and Hebron," by Menachem Klein, Hurst Publishers, 240 pages, $30
Israel Defense Forces paratroopers stand by the Western Wall, battle-weary, victorious, almost incredulous, after capturing East Jerusalem in June 1967. That image, one of the most potent in modern Zionist iconography, is as telling for what it does not portray: the area around the wall, the ancient Mughrabi neighborhood of 135 homes, two mosques, one of which dated back to the 12th century, and a sheikh's tomb.
The Six-Day War ended on June 10, 1967. Mughrabi was levelled the next day to make way for an open plaza. The inhabitants, writes Menachem Klein in his important new book, "Lives in Common: Arabs and Jews in Jerusalem, Jaffa and Hebron," were forced out even as their houses were demolished around them. The expulsion was so rapid that they were not even given time to pack up their belongings before being relocated to empty apartments elsewhere in the newly conquered city.
The Israelis, writes Klein, carried out their task with "mystical fervor." "The members of the demolition crew believed themselves to be the emissaries of the Jewish people charged with 'purging' the site and demonstrating Israeli sovereignty." This process, and the accompanying fervor, continues to this day in Jerusalem, and not just in the Old City.
The destruction of the Mughrabi quarter was carried out by General Uzi Narkiss, commander of the IDF's central region, and Teddy Kollek, the mayor of Jerusalem. Neither Moshe Dayan, the defense minister, nor Levi Eshkol, the prime minister, approved it. When he heard the news, Eshkol was concerned and asked Narkiss to investigate the matter. By then it was too late.
The Jewish quarter was next to be purged: The buildings at least would survive, but the Arab inhabitants had to go. Indeed, military forces spread a rumor that it would be best for them to leave. The whispers flowed quickly and effectively throughout the narrow alleys and tiny courtyards. In a dark echo of the biblical Passover story, houses were marked with paint. Their tenants at least were given three days to pack.
The founding myths of 1948 and 1967, that there was no ethnic cleansing and the Palestinians willingly fled, have already been comprehensively demolished by the work of new historians such as Benny Morris, Tom Segev and Ari Shavit. Israel, like India, Pakistan and any number of post-colonial constructs, was born in war and sin. The Jewish state's historians seem to have a unique capacity for chronicling the agonies of its birth in such great detail, but most works of modern Israeli history recount the wars and diplomacy through the eyes of generals, politicians and diplomats. Much rarer, and more welcome, are works that focus on the human story of the lives of Jews and Arabs that have been shaped, ruined and sometimes ended by the conflict.
Klein is well positioned to do this. A teacher in the department of political science at Israel's Bar-Ilan University, he is a former member of the Geneva Initiative negotiations in 2003, and also advised the Israeli delegation during the 2000 peace talks with the Palestine Liberation Organization. But what Klein really is, as the pages of "Lives in Common" make clear, is a humanist. Drawing on diaries, memoirs and correspondence, he weaves a dazzling tapestry of complicated, sometimes fraught, but always intermingled connections between Jews, Muslims and Christians in Jerusalem, Jaffa and Hebron. Richly detailed and profoundly evocative, "Lives in Common" adds greatly to our understanding of the Israeli-Palestinian conflict and its human cost.
A shared native identity
Klein attempts to debunk the myth of Zionist Orthodoxy that the various groups were always destined for conflict. The accepted scholarly view, he writes, sees Jewish-Palestinian relations only in the light of the conflict between two national communities and movements. It focuses on institutions, parties and politics, and gives a top-down perspective. This is wrong, he argues: A native identity was shared by both communities, and was only finally destroyed by the 1948 War of Independence.
Nowadays, as Israel's right wing pushes harder and ever more successfully for national identity to be predicated on being Jewish, it seems hard to imagine a time when the borders between faiths and ethnic groups were fluid and interchangeable. Native-born Jews in Palestine spoke Arabic, often dressed in Arabic clothes, ate Arabic food and lived in houses built around a courtyard.
Arab-Jewish identity, writes Klein, did not only develop in Jerusalem, Jaffa and Hebron. "It was a fact of life throughout the Arab world. By the end of the 19th century it was a self-conscious identity in the major cities of the east, such as Cairo, Beirut and Baghdad. In these urban centers Jews took part in the Arab cultural renaissance and local national movements." As Ya'akov Yehoshua, the historian and writer and father of the novelist A.B. Yehoshua noted, "The residential courtyard of the Jews and Muslims were common. We were like one family, we were all friends."
Yet shared coffees and sweets are a shaky foundation for coexistence. In his eagerness to emphasize the human connection, Klein plays down the inherent, inevitable, political clash over who would actually rule the land. Najib Azouri, an Arab writer, was more realistic in his 1907 observation: "Two important phenomena, of the same nature but opposed, are emerging at this moment in Asiatic Turkey. They are the awakening of the Arab nation and the latest efforts of the Jews to reconstitute on a very large scale the ancient kingdom of Israel. These movements are destined to fight each other continually until one of them wins."
The biblical cities of Hebron and Jerusalem had long been home to Jews, Muslims and Christians. The modern conflict, of politics and ideology, was embodied in the clash and competition between Jaffa and Tel Aviv. Klein traces the birth of the latter and the political/cultural ideology that drove the first Jewish settlers to build a European-style city on the shores of the Levant. Before 1914, Tel Aviv, then just a few streets, had barely 2,000 inhabitants. By the 1930s, the first Hebrew city was home to 75,000 people, most of them immigrants.
Tel Aviv and Jaffa were neighbors, but were different worlds. Many Jewish immigrants passed through the former, but could not leave fast enough. They wanted to live in a city modelled after a cultured European suburb. "As far as the Jews were concerned, Jaffa was a city that progress had not yet reached – dirty, teeming and unhygienic," Klein writes. Its Arab inhabitants were seen as both wild and violent, and lazy and passive. This was a neat mirroring of the contradictory anti-Semitic prejudices that had driven the Jews to flee Europe, that they were both rapacious capitalists and dangerous communists.
In fact, Jaffa was the cultural and political capital of Palestine, with its own newspapers, radio stations, schools and cinemas. A port city long accustomed to new ideas as well as immigrants of varying backgrounds, Jaffa also adapted to modernity. New modern quarters were built: a downtown area to the east of the Old City, along Butros Street, with apartment blocks. To the south, Ajami and Jabaliya, were home to magnificent villas that overlooked the sea. But its identity remained firmly Arab.
Yet even then, in the midst of the looming nationalist conflict, the lines remained fluid. Jewish women worked in Jaffa's cafes and restaurants as waitresses, singers and dancers. Jaffa's young men flocked to Tel Aviv's cafes and beaches, wide-eyed at the sight of scantily dressed women, unimaginable in Jaffa itself, and the Hebrew city's atmosphere of sexual licentiousness. Older Arab men courted middle-aged Jewish women at the Casino Café, on the beach, which offered live music, weekly formal dance nights and a crèche.
During the 1940s, about 10,000 Jews continued to live in Jaffa, some in Manshiyya, a mixed Jewish-Arab neighborhood along the seafront. In 1937, the residents of Kalisher Street in Tel Aviv, complained to the mayor about Manshiyya's raucous nightlife, as Klein describes: "Arab cafes that are always full, day, evening and night. There are all sorts of dangerous elements: provocateurs, thieves, houses of ill-repute, prostitutes, radio with loudspeakers at nightgunshots and explosions in this deserted corner have become ordinary nightly events."
Kalisher Street remains, but Manshiyya, that edgy frontier quarter, has long vanished. Its narrow streets and alleys were the site of intense fighting during the 1948 war. Manshiyya was later flattened to make way for the brutalist hotels that now make up Tel Aviv's seafront and a park named for Sir Charles Clore, a British Jewish philanthropist. Yet even now, something of Manshiyya's spirit remains. Arab families picnic on the green on Friday afternoons, grilling kebabs, drinking coffee and smoking nargilehs.
"The past," writes Klein, "was not expunged from the consciousness of the defeated."
Adam LeBor is the author of "City of Oranges: Arabs and Jews in Jaffa." He is currently writing a series of thrillers set in the United Nations featuring a former Mossad agent named Yael Azoulay.
Click the alert icon to follow topics:
ICYMI
Ken Burns' Brilliant 'The U.S. and the Holocaust' Has Only One Problem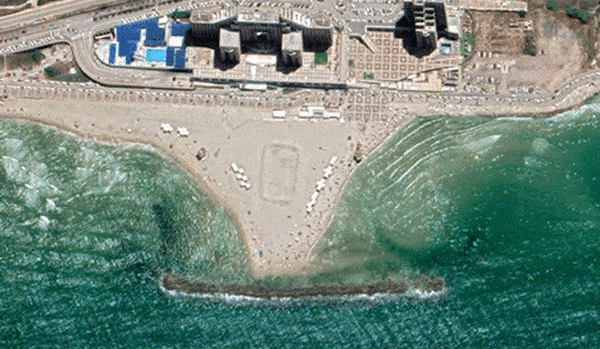 Facing Rapid Rise in Sea Levels, Israel Could Lose Large Parts of Its Coastline by 2050
As Israel Reins in Its Cyberarms Industry, an Ex-intel Officer Is Building a New Empire
How the Queen's Death Changes British Jewry's Most Distinctive Prayer
Chile Community Leaders 'Horrified' by Treatment of Israeli Envoy
Over 120 Countries, but Never Israel: Queen Elizabeth II's Unofficial Boycott