Before Turf and Holy Wars, Zionists and Arabs Were Cousins
In his new book, Jonathan Marc Gribetz offers surprising insight into how the two groups in early 20th-century Palestine saw each other through a religious, but not necessarily hostile, lens.
Israeli and Palestinian flags (illustrative).
Credit: © Tonygers | Dreamstime.com
"Defining Neighbors: Religion, Race, and the Early Zionist-Arab Encounter," by Jonathan Marc Gribetz, Princeton University Press, 312 pages, $35
Is the Israeli-Palestinian conflict turning into a holy war? The official peace process and its proposed two-state solution assume that the Israelis and Palestinians basically form two nations, and that if each has its own nation-state, peace will be possible.
Recent events have made a mockery of that premise. The photographs of bloody prayer books that circulated after the terrorist attack on a synagogue in Jerusalem in November, as well as escalating rhetoric over the Temple Mount, suggest rather that Jews and Arabs are fighting over religion.
Taking a longer view, Hamas and the Bayit Hayehudi party are gradually supplanting older, secular-rightist parties among Palestinians and Israelis respectively. These developments suggest that Jews and Arabs are caught in the grips of a religious and racial fever that no partition plan can cool.
In an article posted on The New Yorker's website in November, Bernard Avishai speculated about "the national conflict turning into religious war," while Israeli journalist Ben Caspit recently warned, in Maariv, that, "The real danger is that the wave of terror will turn into a true religious war."
But judging from Jonathan Marc Gribetz's new book, "Defining Neighbors: Religion, Race, and the Early Zionist-Arab Encounter," religion has long been central to the conflict, and apocalyptic narratives about a new holy war may be over-hasty. To be sure, the neighbors in question lived roughly a century ago, and the way Zionist and Arab intellectuals understood each other in late-Ottoman Palestine can only indirectly color how we understand current events. Further, Gribetz, a professor of Near Eastern studies at Princeton, places careful chronological limits on his argument that early Zionists and Arabs saw each other "not as perfect strangers, competing for territory," but as religious and racial cousins with "intertwined histories, cultures, beliefs, even blood."
The British Mandate, and the nation-based Wilsonian world system ascendant after World War I, replaced that Ottoman-era tangle of identities with a national framework – a process solidified in the 1947 United Nations Partition Plan. But Gribetz's understated book, though about a society long past, provokes us to rethink who Israelis and Palestinians are.
Gribetz works on the assumption that this is one question rather than two.
"For political and linguistic reasons," he suggests, scholars have written separate, parallel histories of Jews and Arabs in Palestine. "Defining Neighbors," by contrast, argues for their "interconnectedness." So, for instance, to understand the thinking of anti-Zionist Arab intellectual Muhammad Ruhi al-Khalidi (1864-1913), to whom Gribetz devotes a chapter of his book, you have to read both Moses Mendelssohn and the 1906 Jewish Encyclopedia.
Khalidi, born to a wealthy family in Jerusalem, studied Sunni Islam in schools across the Middle East, and secular subjects at both the Sorbonne and the Alliance Israélite Universelle, in Paris. When, in the years before his death, he wrote his 120-page manuscript on "Zionism or the Zionist Question," most of it followed the structure of Richard Gottheil's entry on "Zionism" in what was then the still-recently published Encyclopedia.
Jewish and Arab residents of Jaffa in 1949. Photo by Kluger Zoltan/GPO
Entangled and intimate
Khalidi did more than rely on Jewish sources in addressing the concept of Zionism. He also wrote a sympathetic and sophisticated, if decidedly odd, account of Jewish history. Though opposed to Zionism and mass Jewish immigration to Palestine, he affirms that Jews were historically tied to the land and traditionally wanted to return. But also, at least partially, he blames Jews for their own victimization. Anti-Semitism derives, in his account, from the Christians' "inability to keep up with the Jews in the field of commerce."
Thus, the picture of entangled, intimate Jewish-Arab relations that emerges from Gribetz's study of Khalidi is not always pretty. But Khalidi does accept the biblical account of the Israelite kingdom wholesale, admires "rhetorically superior" passages from Lamentations mourning Jerusalem, and traces "Zionist aspirations" in both the Talmud and classical Andalusian poetry.
Khalidi rejects only modern Zionism. In his history, Moses Mendelssohn, the German-born philosopher of the Jewish Enlightenment, "separated the Mosaic religion from Jewish nationalism" and encouraged the Jews to "forget the land of Palestine from which they left." Khalidi believes that Jews universally adopted Mendelssohn's dramatic reforms, and he cites as evidence both the facts of Jewish acculturation in Europe and the United States and the opposition to Zionism among some religious Jews. This history looks to Khalidi like ijmah – a basic Sunni term for a binding religious consensus. He mistakenly but imaginatively attributes the idea of ijmah to Judaism under the name asqamah reinterpreting an unrelated Jewish religious concept to fit his Muslim preconceptions.
If Jewish law follows this consensus, it follows that modern Zionism fundamentally violates Judaism's internal rules and values. This argument may appear strange today, because Khalidi perceives Judaism solely as a religion and does not consider the possibility of secular nationalism as a distinct phenomenon. He thus privileges Orthodox and Reform anti-Zionist voices over those of secular Zionists. Further, Khalidi translates familiarly between the religious languages of Islam and Judaism, which he thinks of as cousins, rather than strangers.
Making Judaism palatable to Arabs
Gribetz's structure also intertwines Zionist and Arab histories as if they were a single family history. Khalidi's manuscript finds a rough Jewish parallel in Shimon Moyal's "at-Talmud" ("The Talmud: Its Origin, Transmission, and Ethics") – the first volume of what was intended to be a complete Arabic translation of the Talmud that Moyal, a Middle Eastern Zionist, published in 1909 to combat anti-Talmud polemics circulating in Palestine.
Moyal renders Judaism palatable to Arab readers, emphasizing similarities between the faiths and smoothing over Talmudic particularism. Troubled by the apparently chauvinist line, "All Israel has a share in the world to come" (Sanhedrin 10:1), for instance, Moyal proves, using the New Testament, that "Israel" refers not to an ethnic group, but to "those who deserve the description 'Israelite'" – the virtuous. Moyal sees religion as central to Arabs' perceptions of Jews; he is convinced that a sympathetic Arabic translation of the Talmud will combat Arab hostility to Jews. But also, his proofs imply that Judaism and Christianity are close relatives, because you can use the holy texts of one to interpret the other.
To complement these individual case studies, Gribetz also canvases Zionist and Arab newspapers from the period, paying close attention to how they label and categorize each other. Zionists largely wrote about Palestinian Arabs not as a unified, national group, but as "Christian Arabs" or "Muslim Arabs." A recurrent plot theme in Zionist newspapers had the malicious, urban Christian Arabs in early 20th-century Palestine inciting their friendlier, more reasonable Muslim brethren against the Jews.
Part of the joy of this book is the way in which the identities and stereotypes it describes work counter-intuitively. Anti-Zionist Arab writers, for instance, often wanted to classify themselves racially with Jews as Semites. Jews' seeming economic and cultural success in Europe evidenced the high potential of the posited Semitic race. Though we are used to seeing race theory as divisive hierarchy, in Ottoman Palestine sometimes race paradoxically brought conflicting sides together.
"Defining Neighbors" contains many such paradoxes, and much that is challenging to contemporary perspectives. Gribetz writes restrained, academic prose, and he barely addresses our contemporary world. That may help explain why the book has blurbs from both hard-right Zionist Ruth Wisse, professor of Yiddish literature at Harvard, and Columbia's Rashid Khalidi, one of America's most prominent advocates of the Palestinian cause.
But fortuitously for readers, Gribetz's work does contextualize a present-day shift toward religious rhetoric, symbols and organizations in the conflict. He shows that religion was once central for Jews and Arabs seeking to understand each other, and that nationality is in fact a latecomer to that encounter. But more importantly, he shows that a religious encounter need not mean a holy war.
Though late-Ottoman Palestine was no utopia, it was home to a far less heated Zionist-Arab relationship. Israelis and Palestinians shared histories before they shared a homeland, exchanged fantasies of each other before they exchanged bullets. Religion and race, which we see today as divisive, are complex, multifaceted identities. Someday, they might even bring Israelis and Palestinians together.
Raphael Magarik is a graduate student in English and Jewish studies at the University of California, Berkeley.
Click the alert icon to follow topics:
ICYMI
Ken Burns' Brilliant 'The U.S. and the Holocaust' Has Only One Problem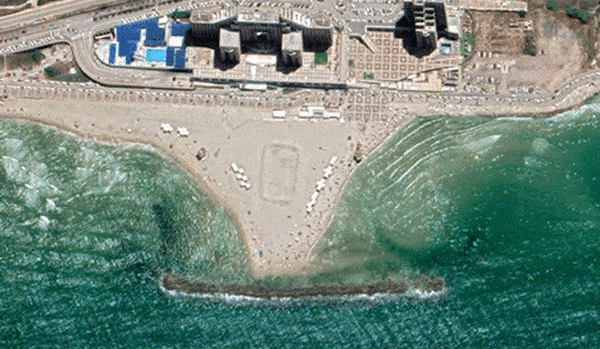 Facing Rapid Rise in Sea Levels, Israel Could Lose Large Parts of Its Coastline by 2050
Lapid to Haaretz: 'I Have Learned to Respect the Left'
The Mossad's Fateful 48 Hours Before the Yom Kippur War
As Israel Reins in Its Cyberarms Industry, an Ex-intel Officer Is Building a New Empire
How the Queen's Death Changes British Jewry's Most Distinctive Prayer