Feast Your Eyes: Jerusalem International Writers Festival About to Kick
Featuring both familiar and unfamiliar names, next week's festival provides a thoughtful and creative feast for serious readers.
International Book Fair in Jerusalem, 2009.
Credit: Tess Schefla
Would that it were possible to buy a pass allowing entry to every event in the Fourth Jerusalem International Writers Festival. The biennial festival, which opens to the public on Monday, May 19, and runs through Friday, will bring together more than 40 writers, from both Israel and abroad, in some 50 separate literary events – one-on-one and panel discussions, presentations of music, dance and cinema, and even walking tours inspired by Jerusalem homeboys S.Y Agnon and Yehuda Amichai.
Some of the participants are big stars, even celebrities – and if you're a fan of Nicole Krauss or Ayelet Waldman, the two most prominent examples of this, you don't need my recommendation to go see them. Chances are you bought your tickets as soon as the festival program was published, several weeks ago.
The program can be viewed at http://www.scribd.com/doc/223344925/Complete-Festival-Program. Most of us will find, however, that a perusal of it will give rise to a lot of question marks, as many of the participating writers, particularly those from abroad, are far from being household names, either in Israel or in the English-speaking world. Yet, the thoughtfulness and creativity of the programmers means that behind those unfamiliar names, almost every serious reader will find events that speak to his or her interests. I will try to touch on some of them here, since a global pass to all the events isn't an option.
For the record, though, Nicole Krauss, best-selling author of "The History of Love" and, more recently "Great House," will be appearing in one-on-one sessions with A.B. Yehoshua and David Grossman (Wednesday at 8 P.M. and Thursday at 9 P.M., respectively), and will also talk Gaga with Ohad Naharin, the creator of that "movement language," on Wednesday at 11 A.M. Considering that Krauss had a session with Amos Oz, the third member of Israel's literary holy trinity, at her first festival appearance six years ago, she probably couldn't ask for more regal treatment than this. (Oz, by the way, will make a lone appearance, talking about "Jews and Words," the 2012 book he wrote with his daughter, Fania Oz-Salzberger, in a conversation with columnist and novelist Emuna Elon, Thursday, 5 P.M.)
In contrast, Ayelet Waldman will be slumming it as she returns to her city of birth. Her latest novel, "Love & Treasure," published earlier this spring, deals with the repercussions of Nazi looting of the property of Hungarian Jews, and she has also written both essays and fiction about motherhood. She is scheduled for a joint session (Monday, 7 P.M.) called "Bad Mother – Good Mother," with Lihi Lapid, Israeli newspaper columnist and the author of "Woman of Valor," an unorthodox memoir that deals in part with the challenge of having a child with a severe disability (autism).
Waldman will also speak at a screening of the film "The Other Woman" (Thursday, 8 P.M.), which was based on her 2006 novel "Love and Other Impossible Pursuits."
What's more, Waldman will take part in a session at 6 P.M. on Tuesday, moderated by Dov Alfon and dedicated to discussing the writing of the future. Alfon, the former editor-in-chief of Haaretz, and before that of the book publisher Kinneret, Zmora-Bitan, has for the last year edited the Hebrew website alaxon.co.il, a nonprofit journal offering both original and translated articles about science, art, philosophy and more.
Someone who has been thinking about the potential of the Internet for about two decades, Alfon says his panel will be looking more at questions of content than of form. He explained that he asked Waldman to be on his festival panel because, although she is a "classical writer" in her books, she also has an outspoken presence on Twitter, where she responds with lightning speed, and sometimes devastation, to whatever has her attention at the moment. She will be joined by Israelis Alex Epstein, writer of short short stories, poet Eran Hadas and actress-choreographer Renana Raz: All of them, says Alfon, "work with new [digital] language that wouldn't have been available 20 years ago."
Writers as social critics
Two other timely panel discussions will examine the role of the fiction writer as political and social critic, and ask whether that role is or should be changing. On Wednesday evening at 8:30, lawyer, novelist and social activist Yuval Elbashan will talk with novelists Noa Yedlin, Yishai Sarid and Ayelet Gundar-Goshen.
Yadlin's novel "Ba'alat Habayit" ("House Arrest"), which won this year's Sapir literary prize, is a searing critique of what presumes to be Israel's liberal and enlightened Ashkenazi elite. Sarid's latest book, "Naomi's Nursery," deals with a Tel Aviv nursery school threatened with closure by a real estate shark who has bought the land it stands on. And Gundar-Goshen's recent novel, "Waking the Lions," portrays the uneasy relations that can develop between Israelis and the Africans who slip across the border in search of asylum. Their conversation with Elbashan – who believes that literature has an obligation to offer a social critique, and that here in Israel, it has not always lived up to that obligation – should be hot.
A more international perspective on a similar question should be evident in a discussion – "The Writer's Role and Responsibilities in the Era of Political Change" – to be led by the Adenauer Foundation's Israel director Michael Martes (Monday, 4:30 P.M., with free admission on advance registration). Martes, himself a lawyer and a literary translator, will speak with Palestinian-Israeli Odeh Bisharat, who among other things is a columnist for this paper; Jewish-Israeli novelist Gayil Hareven; Nam Le, a Vietnamese-born writer who arrived in Australia as a baby; and Jan-Philipp Sendker, a German journalist who has published two novels whose action alternates between the U.S. and Burma.
Speaking with Haaretz the week before the session, Martes said he had just had an email exchange with one of his panelists about the question of the writer's "responsibility." His correspondent, he says, proclaimed that "My answer will be that the writer's responsibility is to write good books, full stop. As far as political responsibility is concerned, it's no different for a lorry driver, or dentist, or any other citizen."
Three other thematic panels worthy of mention: A Monday session (6 P.M.), with panelists Matan Hermoni, Miron Izakson and Reuven Namdar, will take on the formidable subject of the changing Jewish identity in literature. Hermoni is the author of the acclaimed 2011 Hebrew novel "Hebrew Publishing Company," about the turbulent lives of Yiddish writers after their immigration to New York in the early 1900s. Izakson is a prolific Hebrew poet, novelist and teacher. Namdar, an Israeli living in New York, is the author of the recently published "The House that Was Destroyed" (in Hebrew), which chronicles a year – from one Yom Kippur to the next – in the life of a New York academic who seems to have everything going for him.
Leading that panel will be Tsila Hayun, the festival's programming director, who deserves much credit for assembling the diverse range of choices described in this article.
On Wednesday at 6 P.M., journalist Tal Bashan will host a conversation about the perpetually relevant topic of the place of the Holocaust in 21st-century literature. Joining her will be Israeli novelists Nava Semel and Esti G. Haim – both of whom have dealt in their work with the implications of the Shoah for succeeding generations; psychologist-philosopher (and Haaretz columnist) Carlo Strenger, and British writer Jake Wallis Simons, whose novel "The German English Girl" is about a Jewish girl saved by the Kindertransport from being murdered (he is profiled on page 10).
Later that evening, at 10, novelists Sarah Blau and Nir Baram will lead a conversation about science-fiction literature and writing about mysticism, accompanied by music, with Haim Be'er, Ofir Touché Gafla, Lea Aini and Eilam Gross.
One-on-one sessions
Among the visiting writers who will be paired in hour-long conversations with local colleagues are Marilynne Robinson, Jan-Philipp Sendker, Nam Le, David Foenkinos, Alex Capus and Laura Restrepo. Robinson, who will speak with Avirama Golan, is author of "Housekeeping," the Pulitzer Prize-winning "Gilead" and "Home." She is the kind of figure we don't often have the opportunity to encounter in these parts. Golan, who admits she hadn't read Robinson's work before being asked to host her on the festival stage (an example of Tsila Hayun's intuition at work), says that she's looking forward to the encounter, as "Marilynne Robinson is as far from me as one could imagine: Not only because she is American, but also because her literature is very Christian, and it's a different kind of Christianity than I have ever known. She's a Calvinist! She is deeply involved with religion and God and justice," in ways that Golan claims she herself is not. I am certain their conversation will be riveting.
Jan-Philipp Sendker has written two interconnected novels about two
generations of a Burmese family living in the United States, and their secrets and mysteries. He will be hosted by Haim Be'er. Nam Le, whose parents fled Vietnam when he was three months old and took refuge in Australia, left a job as a corporate lawyer in Melbourne, to study writing at the Iowa Writers Workshop, before publishing a much-acclaimed book of stories, "The Boat." He will speak with Assaf Gavron.
Foenkinos, who will be in conversation with Eshkol Nevo, is a prolific Parisian novelist (one of his books is the wonderfully titled "The Erotic Potential of My Wife"), whose 2009 "La Delicatesse" ("Delicacy") sold 800,000 copies in France and was made into a film starring Audrey Tatou, which the author wrote and directed with his brother Stephane. (On Wednesday at 8 P.M., David will speak at a screening of the film at the Cinematheque.)
Swiss writer Alex Capus, who will speak with Shimon Adaf, is the author of the newly published (in English) "Almost Like Spring," a novel that centers around the true story, from the 1930s, of Switzerland's most notorious pair of bank robbers. Laura Restrepo is a Colombian novelist whose work engages with history, politics and social issues – real and imagined. She will converse with Ronit Matalon and journalist Shiri Lev-Ari.
Additionally, a special session, on Monday evening at 8:30, will be devoted to a discussion of Jorge Luis Borges, in which Ruth Fine will speak with Maria Kodama and Leo Corry. Fine is a professor of Spanish literature at the Hebrew University, Corry a mathematician and professor of the history of science who has written extensively on Borges, while Kodama was the visionary writer's assistant and also, at the end of his life, his wife, before becoming the executor of his estate, and ruffliing feathers with the changes she made in the translation and publication of his works.
The preceding recommendations don't presume to be comprehensive: There are many other events set for the festival that are no less worthy than those described so concisely above. So, please look at the program.
Still, I would be remiss not to also mention the series of events planned to commemorate the 90th anniversary of the birth of Yehuda Amichai. Fourteen years after his death, he continues to be the Israeli poet who, both in the original Hebrew and in translation into so many languages, speaks to the hearts and minds of readers young and old, erudite and simple, Jewish and non-Jewish, worldwide.
Amichai, of course, lived in Yemin Moshe, the residential quarter adjacent to the festival venue, Mishkenot Sha'ananim, and his memory still hovers ethereally, but with constancy, over his neighborhood and city. To honor him, the festival is offering an Amichai walking tour; sessions about biblical themes and about love in his poetry, hosted by Bilha Ben-Eliyahu and Ronny Someck, respectively; and a big event, Tuesday at 9 P.M., including music and readings, with participants as diverse as Haim Gouri, Assaf Amdurski, Sheli Yacimovich, Reuven Rivlin, Dror Keren, and Amichai's three children, Ron, David and Emanuella.
Some of the participants are big stars, even celebrities – and if you're a fan of Nicole Krauss or Ayelet Waldman, the two most prominent examples, you don't need my recommendation to go see them.
ICYMI
Ken Burns' Brilliant 'The U.S. and the Holocaust' Has Only One Problem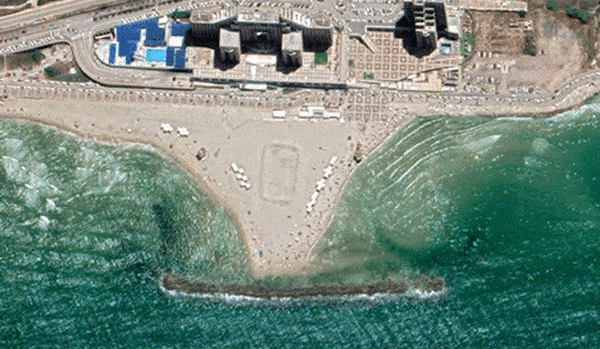 Facing Rapid Rise in Sea Levels, Israel Could Lose Large Parts of Its Coastline by 2050
As Israel Reins in Its Cyberarms Industry, an Ex-intel Officer Is Building a New Empire
How the Queen's Death Changes British Jewry's Most Distinctive Prayer
Chile Community Leaders 'Horrified' by Treatment of Israeli Envoy
Over 120 Countries, but Never Israel: Queen Elizabeth II's Unofficial Boycott