When Hollywood's Jewish Moguls Took Their Cues From Berlin
Though it sometimes overreaches, Ben Urwand's provocative book on the time the American movie industry tailored its scripts to the dictates of the Third Reich is both powerful and troubling.
"The Collaboration: Hollywood's Pact with Hitler," by Ben Urwand, Belnap Press / Harvard University Press, 336 pp., $26.95
Hitler was a big fan of Mickey Mouse. Garbo, too, was one of his favorites. And he enjoyed "King Kong," which debuted in 1933, the same year he did. In fact, he was a great movie buff. But more than that, he understood the power of this new medium to influence a mass audience. For Hitler, as Ben Urwand writes, the movies "contained a mysterious, almost magical power." But he was convinced that this power was in the hands of the Jews who controlled Hollywood. As the title of Urwand's revealing study "The Collaboration: Hollywood's Pact With Hitler" indicates, he needn't have worried.
The Third Reich came of age with the talkies. The '30's were the Golden Age of movies, but behind the scenes, in Urwand's telling, Auden's description of them as a low, dishonest decade was closer to the mark; a shameful era in which the industry's Jewish moguls, concerned with their income from the German market, proscribed any films that might offend Berlin or call attention to the plight of their co-religionists under Nazi rule.
If Hitler needed to feed his paranoia about Jewish power, the American movie industry was the place to go. The heads of the major studios were virtually all Jewish: Louis B. Mayer and Samuel Goldwyn at MGM; William Fox, who founded Fox, Adolph Zukor, who led Paramount, Harry Cohn, at Columbia, Carl Laemmle at Universal, and Jack and Harry Warner at Warner Brothers. But, as it turned out, with the exception of Universal and Warner Brothers, which were persona non grata in Berlin by 1934, the others continued doing business with Germany through the Nuremberg Laws, Anschluss, Kristallnacht, Munich and the start of World War II. MGM, 20th Century-Fox and Paramount held out until the summer of 1940, after the fall of France.
In a way, they instituted their own appeasement policy. Shortly after Hitler's takeover, the studios acceded to the gradual Aryanization of their Jewish work force in Germany, then to Nazi censorship of their films when they screened in the Third Reich. This involved banning movies by directors such as Ernst Lubitsch, films starring Marlene Dietrich, and excising credits of actors or directors who were Jewish or considered politically objectionable, as well as cutting scenes that Nazi censors found offensive.
Hardly more than a year after taking power, the Nazis passed a law that banned films that "endangered the vital interests of the state" or "harmed National Socialist...ethical or artistic sensibilities."
Some of this material has been addressed in Thomas Doherty's fluidly written "Hollywood and Hitler," published earlier this year by Columbia University Press. Doherty, a film historian at Brandeis, in his well-rounded and wide-ranging approach, is particularly good on the role of the newsreels. For those interested, both these books should be seen as complementary works on the subject. Urwand, a junior fellow of the Society of Fellows at Harvard, occasionally strains too hard in making a point, indulges in some extraneous throat-clearing and scene setting, and might at times have served his cause better with a less-strident tone. But once we get beyond some unnecessary digressions and Urwand cuts to the chase, he offers a riveting play-by-play in how scripts were altered.
'All Quiet on the Western Front'
The book's provocative subtitle, "Hollywood's Pact With Hitler," may overstate the case on two counts: first, because the Jewish movie moguls, although abetting the Nazis with their pusillanimous behavior - shameful enough - did not actively collaborate with them; second, because their first concession to German sensibilities took place not with the Reich but its predecessor, the Weimar Republic. The movie that sparked this agreement was Lewis Milestone's anti-war epic, "All Quiet on the Western Front," which appeared in 1930, more than two years before Hitler came to power. The pacifist message of the film, based on Erich Maria Remarque's World War I novel, enraged Nazi thugs, who disrupted its Berlin opening leading a compliant Weimar government to ban the movie.
In order to rescind the ban, Universal's Carl Laemmle agreed to cuts demanded by the German censors. But Weimar then went a step further, insisting that it would not permit a movie detrimental to the nation's image to be shown in Germany, unless the film was similarly edited abroad, as well. Universal was only too glad to comply and, in short order, the rest of the Hollywood studios followed suit.
Having acquiesced to Berlin's predilections in the Fatherland, the studios proceeded to do the same on native grounds, in the United States itself. The Hays Office, established in 1934 with the cooperation of the movie industry, is best remembered for its Production Code, which monitored suggestive language and racy scenes that might offend the public. Without Hays Office approval, distributing a movie was box-office suicide. But, in a lesser-known mandate, the Production Code also required that "the history, institutions, prominent people and citizenry of all nations shall be represented fairly" in the movies.
The Third Reich was quick to exploit this measure to make sure its image was not slighted. It did so through its consul in Los Angeles, Georg Gyssling, an ardent Nazi, who, in Urwand's description, acted throughout the '30s as Berlin's censor in Hollywood, previewing, screening, editing and, ultimately, stifling movies considered to be detrimental to the interests of Hitler's regime. Since an earlier Supreme Court decision had ruled that movies were entertainment, they were not covered by the First Amendment freedom of speech safeguard, not that the studios were rushing to invoke it in any case. The result was that both Nazis and Jews vanished from the American screen.
The irony couldn't be more striking. In an industry run by Jewish executives, many of whose actors and artists were Jewish, and with a considerable activist community, whose members participated prominently in anti-Nazi protests, little from Hollywood actually appeared in movie theaters that would trouble propaganda minister Joseph Goebbels.
The few efforts made at addressing the Nazi menace and the Jewish plight foundered on the effective resistance of Gyssling, the surveillance of the Hays Office and the abject complicity of the studios. An early triumph for the German consul, cited by Urwand, came in 1934 when Gyssling successfully convinced the studios to squelch "The Mad Dog of Europe," a film about Nazi persecution of the Jews. Urwand goes on to cite an atmosphere of intimidation and acquiescence, some of it often ludicrous. Warner Brothers, in its 1937 biopic "The Life of Emile Zola," managed to make a movie about the Dreyfus affair without mentioning the word "Jew." Although Urwand reports a phone conversation between Gyssling and the studio, and cites subsequent cuts of Jewish references by Jack Warner, it would have helped if he explained why the studio, which had already been expelled from Germany, acceded to this.
It was left to other media to call attention to Jewish travail. American newspapers, as the historian Deborah Lipstadt shows in "Beyond Belief," her important 1993 corrective to popular assumptions, covered the Nazi depredations extensively through the '30s. While some people doubted the news or denied it in a climate of isolationism and anti-Semitism, it was available throughout the country for those who cared to know. Equally important was another new technology of mass communication: radio. The three principal networks, owned by Jews, gave Americans a first-hand account of the Fascist threat.
'March of Time'
Newsreels were seen by millions of Americans in movie theaters every week. Most, such as Fox Movietone News, offered little more than light features on sports, entertainment, fashion and the like, occasionally interspersed with "news" that was often sanitized by the regimes being covered. This changed with Henry Luce's "March of Time." The newsreel, initiated in 1937, began aggressively reporting world events and eventually forced its competitors to do the same.
Urwand cites a serious film effort in 1938 to call attention to the Nazi menace - "Personal History," based on a reporter's award-winning European coverage. It was to be produced by Walter Wanger and star Henry Fonda and would explicitly address Nazi persecution of the Jews. After consultation with a reticent Hays Office, Wanger dropped the project. Two years later, the film was eventually produced as "Foreign Correspondent," a spy thriller directed by Alfred Hitchcock, with all references to Jews and Nazis removed.
Even a movie daring to take on home-grown fascism went nowhere. Sinclair Lewis's 1935 novel "It Can't Happen Here," about the specter of American fascism, was shelved by MGM, leading Lewis to conclude: "I wrote 'It Can't Happen Here' but I begin to think it certainly can." Yet, although Urwand devotes a considerable amount of space to this movie, his facts suggest that MGM's cancellation was impelled by factors other than Gyssling's influence - among them the death of the demagogue Huey Long and his down-home populist fascism, as well as concerns raised by an official of the Central Conference of American Rabbis that the film might generate an anti-Semitic backlash. Urwand admits that "[W]hether Gyssling was involved in the cancellation of 'It Can't Happen Here' will probably never be known," insisting simply that "whether or not Gyssling took any action...he certainly benefited from the outcome." A further attempt to make the film in 1939 was also abortive; and, while Urwand writes that MGM cancelled the project shortly after the German consul called his MGM contact, "whover that was," he also acknowledges that "by this time he had all but lost credibility in Hollywood." The Jewish moguls have much to account for but Urwand sometimes stretches the point in making his case and does not always connect the dots.
Probably the only significant anti-Nazi movie to emerge from this era was MGM's "The Mortal Storm" (1940 ), directed by the Oscar-winning Frank Borzage, with a stellar cast featuring James Stewart and Margaret Sullavan, as well as Frank Morgan in a memorable role as a beloved professor who dies in a concentration camp. Urwand points out that all references to Jews or to the professor being Jewish or his persecutors being German were removed and suggests that the film had little impact regarding Jewish persecution. He bases this on a survey of 300 people taken prior to the movie's release, not the firmest footing on which to make such a judgment. In fact, it was by then clear to audiences who the persecutors and persecuted were, whether or not Jews or Germans were specifically mentioned or dramatically evoked.
Once war came to America after Pearl Harbor, the movies hopped on the bandwagon. Popular memory evokes such images as "Hollywood Goes to War," "The Stage Door Canteen" and USO. tours headlining screen stars. The movie industry was mobilized in the fight against the Axis, as were all American industries. Urwand cites a study that reports that during this period, hundreds of films dealt with World War II, of which many referred explicitly to the Nazis. But Jews still were virtually absent. Why? In Urwand's view: "After a decade of training themselves to avoid any mention of Jews in their films, the studio heads were simply not ready to engage in what they understood as special pleading." He writes that they wanted to be seen as Americans, rather than Jews, and in this he comes closer to what motivated the moguls. Essentially parvenus, they were insecure about their fragile status in America and vulnerable to the danger of any risk, domestic or foreign, that could threaten not only their profits but their pe-eminence. They didn't seek to shape public opinion but to reflect it. They saw themselves not as a conscience, but rather as a mirror of what American audiences wanted to see in themselves. It was an America that, even through the war, remained anti-Semitic while it fought Hitler. Hollywood responded accordingly.
It is in this context that we may better understand the motives of the Jewish moguls who, like the characters in some of their movies, were driven by venality, self-interest and fear in a drama that, in this case, had tragic consequences for their brethren. While occasionally overreaching, Urwand has nevertheless performed a valuable service in unearthing some disturbing material that documents the compromised behavior of expedient men in a sordid time.
Jack Schwartz formerly supervised the book pages of Newsday and was an editor in the culture section of Tthe New York Times.
Click the alert icon to follow topics:
ICYMI
Ken Burns' Brilliant 'The U.S. and the Holocaust' Has Only One Problem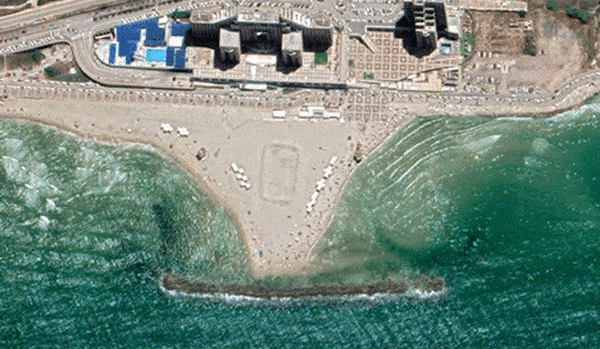 Facing Rapid Rise in Sea Levels, Israel Could Lose Large Parts of Its Coastline by 2050
As Israel Reins in Its Cyberarms Industry, an Ex-intel Officer Is Building a New Empire
How the Queen's Death Changes British Jewry's Most Distinctive Prayer
Chile Community Leaders 'Horrified' by Treatment of Israeli Envoy
Over 120 Countries, but Never Israel: Queen Elizabeth II's Unofficial Boycott