For Historian Howard Zinn, Political Struggle Trumped All Private Concerns
At age 86, this radical historian and political activist set alight all documents relating to his personal life, in the ultimate expression of his lifelong tendency to remain emotionally distant.
Howard Zinn: A Life on the Left
by Martin Duberman. The New Press,
400 pages, $26.95
At age 86, Howard Zinn destroyed history. In the months following the death of his wife, Roz, in 2008, Zinn, the radical historian and political activist, combed through his archives, removing and disposing of any documents related to his personal, as opposed to political, life. The evidence of his existence as a husband, father, lover and friend, all essential for understanding the personality of one of 20th-century America's most engaged intellectuals, disappeared into the fire. Why would a historian of Zinn's caliber, who spent his career teaching, writing and living American history, so brutally censor his own life?
In an author's note that opens his new biography, "Howard Zinn: A Life on the Left," Martin Duberman records his regret at Zinn's decision, and apologizes for his inability to present a rounded portrait of his subject. While Duberman does an excellent job of piecing together what personal information he can from interviews with Zinn's friends and family, and letters in others' archives, his book remains within the bounds of political biography. "A Life on the Left" traces Zinn's development from his first engagement in radical politics in New York City in the late 1930s, through his activism in the civil rights struggle in the American South and his opposition to the Vietnam War, to his radical rewriting of American history from the vantage of the oppressed in his 1980 "A People's History of the United States." And yet, the destroyed archive hangs like a shadow over the biography. Though Duberman never explicitly questions his subject's motivations, from his portrayal of Zinn's character and the arc of his life, the destructive act takes on archetypical significance, telling not only of how Zinn wished to be remembered, but also of what he thought history to be.
Howard Zinn was born to Jewish immigrants - his mother, Jennie, from Russia, and his father, Eddie, from Ukraine - in Brooklyn in 1922. The family, according to his own account, was poor, irreligious, unintellectual and apolitical, but from a young age, Zinn developed a love for reading, and he was the only one of four brothers to graduate from high school. His pursuit of higher education waited until after his service as a bombardier in Europe in World War II. After returning home, Zinn enrolled at New York University, where, working odd jobs on the side, it took him six years to complete his B.A. He went on to earn his M.A. and Ph.D. in history at Columbia University.
Zinn's first teaching position, which he took up in 1956, was at Spelman College, a historically black women's school in Atlanta, Georgia. Zinn was deeply engaged in the life of the college and, in addition, became active in the growing civil rights movement. He helped organize, and participated in, some of the landmark actions against segregation and inequality in the South, including sit-ins at white-only restaurants, Freedom Rides to protest segregated transportation, and registration of black voters. Activists were met with intimidation, threats and violence; Zinn himself was arrested several times.
At Spelman, where Zinn was hired to chair the history department, his relations with the college administration quickly deteriorated. As a vocal advocate for students who felt stifled by the college's strict finishing-school atmosphere - at the height of the civil rights struggle, in which many students were active participants, the college launched an initiative "to improve student table manners" - Zinn repeatedly butted heads with the college president, until he was finally forced out in 1963. Zinn was one of a group of white, Northern professors who, as part of their commitment to ending segregation, taught at Spelman in this period; according to Duberman's account, it was his confrontations with the college president, rather than his race or religion, that led to his dismissal.
Zinn quickly found a new appointment at Boston University, where his political work - and clashes with university administrators, especially the arch-conservative president John Silber, who took over in 1971 - continued. Though he remained active in the black struggle in the South, over time Zinn's focus shifted to opposition to the escalating Vietnam War. Through his speaking and writing, as well as his organizing and activism, Zinn worked hard to convince the American public of the injustice of the war; his 1967 "Vietnam: The Logic of Withdrawal" was one of the first books to advocate America's full disengagement from the conflict.
Complicity in injustice
Reading this sketch of Zinn's life in politics - which could be extended to include his work with prisoners in the 1970s, his opposition to American intervention in Latin America in the 1980s, and other issues - it is difficult not to be impressed by his heroism and dedication. In providing the reader with the historical context of Zinn's struggles, especially the complicity of the police, journalists, intellectuals and elected officials in stifling equal rights for African-Americans, promoting the war in Vietnam, and other acts of injustice, Duberman emphasizes his subject's willingness to stand up to the powers that be.
And yet, in Duberman's portrayal, Zinn's seems a lopsided life of passionate public commitments but little emotional depth. This impression is not only, so to speak, a sampling error arising from the fact that he destroyed his personal records. The details Duberman did uncover paint Zinn as an absent father and unfaithful husband, traveling constantly, absorbed in politics, and a man "uncomfortable with 'messy' feelings," in the words of his grandson Will. He was incurious about his own inner life and others' - including that of his wife, Roz, who suffered from depression - and preferred, as he wrote in a surviving letter to a friend, "everybody to forget unpleasant things."
Zinn would not be the first person to plunge himself into activity in order to "forget" his emotional life, nor would his family be the first to suffer for it. What is interesting in Zinn's case is that the same lack of depth - at least as Duberman portrays him - also permeates his writing. Beginning with Zinn's doctoral dissertation on the congressional career of the progressive New York congressman Fiorello LaGuardia and up to his 1994 memoir, critics have noted the dearth of complexity in his presentation of characters and their motives; all personality is reduced to politics, and all politics to the struggle between the saintly oppressed and their evil oppressors. Duberman emphasizes that Zinn saw himself as mandated - not only as an activist but also as a historian - to tell the story of the longstanding injustice and mistreatment of the powerless in America, a story that exposes as mere rhetoric the country's vaunted commitment to democracy and freedom. But, as opposed to this "relevant" history, as Zinn called it in a 1969 article on radicalizing the university, he devalues irrelevant "trivial or esoteric inquiry" unconnected to immediate political concerns.
This is especially true in "A People's History of the United States." The book aims to be an account of American history from the underdog's perspective, chronicling the classist and racist interests that have ruled the country throughout its history, and the popular resistance against them. While Zinn does indeed give prominence to people, movements and popular uprisings elided from standard histories, his narrative is often an unnuanced account of a binary struggle between good and evil. To cite just one example: Zinn maligns the Constitution as being more geared toward preserving property rights than human rights, and sees the document as a cynical compromise between wealthy Southern slaveholders and wealthy Northern capitalists. While other historians have similarly argued that economic interests were central to the Founders' concerns, they also say the Founders' expressions of support for liberty and the common good were not, as Zinn claims, simply hypocritical. Zinn, as Duberman points out, seems unable to accept that leaders like Thomas Jefferson and James Madison had multiple, conflicting interests and that their priorities may have changed over time. The portrayal of the Native Americans, slaves, laborers and socialists who are the heroes of "A People's History" is just as flat: They are, to a fault, noble, selfless and good.
In "A Life on the Left," Howard Zinn comes across as the same kind of fighter for the oppressed as those represented in "A People's History": one for whom the political struggle trumps all private concerns. His destruction of his personal papers seems less a calculated attempt to improve his standing in the eyes of history than the expression of a desire to remove what was, in his eyes, historically irrelevant.
The problem with Duberman's book is that it succumbs to this desire. Whether because the author shares, as he acknowledges, his subject's progressive politics, or for some other reason, Duberman portrays Zinn's life with the same shallow nobility in which the historian himself casts his proletarian heroes. Lauding his politics, claiming that critics have overemphasized his weaknesses and bending over backwards to explain away his personal failings, Duberman hardly touches on the larger issues that are central to understanding Zinn's life. He never questions Zinn's motivations, never asks with any depth why Zinn was so committed to politics, or how Zinn, in rewriting its history, changed how America sees itself. As it stands, "A Life on the Left" is open to the same criticism that others have leveled against Zinn's own work: In presenting its subject as a hero, it gives hardly a glimmer of the flaws, fractures and contradictions of a human life.
Samuel Thrope is a Golda Meir post-doctoral fellow at the Hebrew University. He has written for the Jerusalem Report, Tablet, Zeek, ZYYZYVA and other publications.
Click the alert icon to follow topics:
ICYMI
Ken Burns' Brilliant 'The U.S. and the Holocaust' Has Only One Problem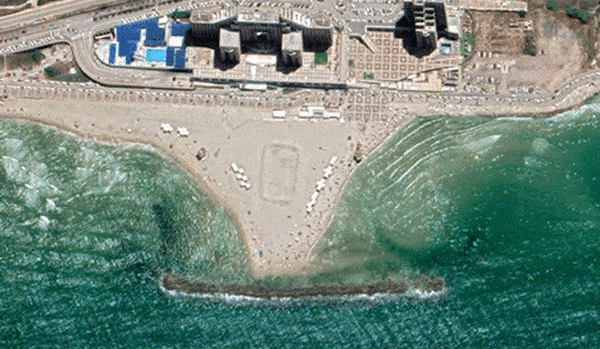 Facing Rapid Rise in Sea Levels, Israel Could Lose Large Parts of Its Coastline by 2050
Lapid to Haaretz: 'I Have Learned to Respect the Left'
The Mossad's Fateful 48 Hours Before the Yom Kippur War
As Israel Reins in Its Cyberarms Industry, an Ex-intel Officer Is Building a New Empire
How the Queen's Death Changes British Jewry's Most Distinctive Prayer