A Jew Is but a Jew
"Hahafuga" ("La Tregua" translated into English as "The Reawakening") by Primo Levi, Hebrew translation: Miriam Shusterman-Padovano, Am Oved, 190 pages, NIS 64.
"Hahafuga" ("La Tregua" translated into English as "The Reawakening") by Primo Levi, Hebrew translation: Miriam Shusterman-Padovano, Am Oved, 190 pages, NIS 64
Primo Levi's books have long transcended the realm of Holocaust testimony and become an uncontested part of modern literature. From his first book, "If This is a Man," it was already clear that Levi was not just a man on the witness stand, but a man trying to explore and make sense of his testimony. This approach is even more evident in his subsequent books, "The Reawakening" and "The Drowned and the Saved."
Primo Levi was a Renaissance man in the full sense of the word: a scientist seeking to present the facts as accurately as possible, a humanist steeped in European and Italian philosophy and literature, and a man who spent two years in the inferno. His work is a sweeping account of suffering, humiliation and shame, but also of incredulity at the idea that it was European culture which gave birth to Auschwitz. Freud's contention that civilization is only a thin veneer beneath which dark demons hide is borne out by the abominations committed by the Germans against other human beings.
Culture and the darkness that lurks beneath is one of the central motifs in Levi's work. In Auschwitz, European culture disappeared, leaving the human-demon. Even the victims, in order to survive, had something of the demon clinging to them.
Primo Levi could not scrutinize the camp commanders under a microscope: They were remote and largely unseen. So he observes the victims and their junior torturers, the kapos, in whose hands the fate of these unfortunate people lay. To survive, the kapos had to be as barbaric as the butchers themselves. The victims had no choice. Hunger, weakness and torture made them selfish, insensitive and often cruel toward their fellow sufferers.
Primo Levi seeks to understand, but he does not judge. He knows that any judgment would be unfair. Beaten, starved and degraded, a human being has only one option: to give in to death or do what he must to survive. Survival is a battle for life, and in this battle, others are trampled, whether one knows it or not.
Levi tries to preserve his sanity and humanity in various ways. One of them is observation. Through it, he raises himself above the degradation and wrests a few moments of freedom to think and imagine. Observation is a way to elevate yourself, to rebel against the dictates of the butchers, to connect to the world you came from and preserve something of yourself.
Levi is not a man of abstractions. He paints people and situations in painstaking detail. Carefully, delicately, he probes the seam-line between life and death, proving himself a master of insight. In a place like this, you lose your humanity. Hunger and pain are the forces that propel what remains of you. Creatures unlike any you have ever seen sprout here. Like Hurbinek: "Hurbinek was a nobody, a child of death, a child of Auschwitz. He looked about three years old, no one knew anything of him, he could not speak and he had no name; that curious name, Hurbinek, had been given to him by us, perhaps by one of the women who had interpreted with those syllables one of the inarticulate sounds that the baby let out now and again. He was paralyzed from the waist down, with atrophied legs, as thin as sticks; but his eyes, lost in the triangular and wasted face, flashed terribly alive, full of demand, assertion, of the will to break loose, to shatter the tomb of his dumbness. The speech he lacked, which no one had bothered to teach him, the need of speech charged his stare with explosive urgency: it was a stare both savage and human, even mature, a judgment, which none of us could support, so heavy was it with force and anguish."
And then there is Henek-Konig, another product of the camps: "Henek-Konig, alone of our microcosm of affliction, was neither ill nor convalescent; in fact he enjoyed splendid physical and spiritual health. He was of small stature and mild aspect, but he had the muscles of an athlete; he was affectionate and obliging toward Hurbinek and us, yet harbored sedate, sanguinary instincts. The Lager, a mortal trap, a `bone-crusher' for the others, had been a good school for him; in a few months it had made of him a young carnivore, alert, shrewd, ferocious and prudent."
New concepts of mind and matter emerge. Man is forever surprising. "The Reawakening" is a sequel to "If This is a Man," describing Levi's return to his hometown, Turin. Like the first book in the trilogy, it is chiefly descriptive, but with a growing tendency toward reflection. Vivid prose and keen insights transform Levi's writing from history into literature.
`Decent fellows'
When the war was over, the Holocaust was immediately perceived by many as a disaster in a category all its own, detached from anything that ever happened or ever will happen. It was shrouded in mystique. It belonged to "another planet." If one accepts this, then talking about the Holocaust in psychological, social, historical or cultural terms is virtually impossible. At the same time, old concepts like anti-Semitism, aggressors and victims, competition and envy, are also outmoded and inadequate, much too feeble to convey the horror.
The Nazis developed their own deceptive rhetoric, semi-religious in character, to soothe their guilty consciences. In his book "Reflections of Nazism: An Essay on Kitsch and Death," Saul Friedlander quotes passages from Heinrich Himmler's speech to the SS officers at Poznan. In 1943, when the extermination of the Jews was at a peak, Himmler said: "Most of you know what it means when 100 corpses are lying side by side, or 500, or 1,000. To have stuck it out and at the same time - apart from exceptions caused by human weakness, to have remained decent fellows, that is what has made us hard. This is a page of glory in our history which has never been written and is never to be written."
He goes on to talk about the Nazi looting of Jewish property: "We have taken from them what wealth they had ... We have taken none of it for ourselves. Individual men who have lapsed will be punished in accordance with an order I issued ... We had the moral right, we had the duty to our people, to destroy this people which wanted to destroy us." Strange. Bestial and bloodthirsty, but looking for some way to relieve those pangs of conscience.
So what language to use when discussing the Holocaust? Stick to dry facts, figures and chronologies, and you veer uncomfortably close to the cynicism of the Nazis, who regarded the Jew as a number. Wallow in emotion, and you turn the Holocaust into sentimental fluff. Primo Levi chooses the existentialist approach: Human beings in subhuman situations. What this does to the soul. The subhuman creatures that evolve. Primo Levi takes a close look at the human monsters among the victims - those whose will to survive stifles every spark of humanity in them, leaving only bestiality and perversion.
"Can this be man?" asks Primo Levi, ripping away every disguise, offering no metaphysical comfort, no belief in progress. True, here and there some glimmers of humanity shone in the dark, but they were few and far between. The darkness of the murderers engulfed the victims, too.
Primo Levi refuses to accept the labeling of the historians: The Holocaust was not a one-time calamity, Jewish at the core. The Holocaust exposed the darkness of man - with the accent on man. Levi does not lump murderer and victim together, but neither is the victim let off scot-free.
In his day, says Levi, 95 percent of those deported to Auschwitz were Jews. But this fact does not get him moaning about the fate of the Jews. On the contrary, in all his books, he conveys the sense that Auschwitz was an international torture chamber. The prisoners were Greek, Italian, Czech and Hungarian. They spoke in their own languages, and occasionally helped one another. Everyone knew that most of these Greeks, Italians and Czechs were Jews, some of them assimilated. Everyone knew that they were deported to Auschwitz not because they were Greek or Italian, but because they had Jewish blood coursing through their veins. Primo Levi knew it, too. No one knew it better. And yet he insisted on seeing these speakers of different languages as representing not the Jewish world but the entire world.
Primo Levi came from an assimilated Jewish home. He was trained as a scientist and grew up on the Italian and European classics. It was hard for him, even after Auschwitz, to accept the fact that Europe was united in its hatred of the Jews. It was hard for him to view the fate of the Jews as separate from the fate of man. He did not see the Holocaust as Germany against the Jews, Europe against the Jews, or the church against the Jews. Nor did he take it personally, as a representative of generations of Jews or an embodiment of the modern Jew, despised by the world.
Cain and Abel
Levi's main concern is not the Jews, but man. When he goes back to the ancient sources in search of insights on the Holocaust, he does not quote Jewish texts but Dante's "Divine Comedy," based largely on Christian mythology.
Let no one misconstrue this as criticism. Primo Levi was a humanist in every inch of his being. His testimony, his evaluations, his hypotheses - all are carefully considered and amazingly honest. He does not put himself on a pedestal or attribute to himself any emotional strengths that set him apart from others. His vision is razor-sharp and uncompromising. But what can you do? People are a product of the world in which they are born and bred. In Primo Levi's world of Renaissance humanism, man is the hub. A Jew is but a man.
This outlook was deeply entrenched in the Jewish intellectual world. In Western Europe, and also in Eastern Europe to a considerable extent, Jewish intellectuals no longer saw themselves as part of a tribe. They wanted to be plugged into the world, into the great social movements, into the arts. Judaism, or what remained of it, was perceived as an unwanted burden, something they were eager to be rid of. As if out of spite, just when the Jew was less Jewish than ever before, when Jews were on the way to blending in and becoming part of society - that is when the Jewish world was faced with the greatest eruption of hatred it has ever known.
In this respect, Primo Levi and his fellow survivor Jean Amery were very much alike. Both came from assimilated homes and both lived through Auschwitz. In his essays, Amery explores the dilemma of the assimilated Jew after Auschwitz: the necessity and impossibility of being a Jew: "I can only speak in my own name, and yet, with caution, I also speak in the name of my generation, millions of people, whose Judaism descended upon them in one fell swoop, like a tremendous force of nature, and they had to confront it, without God, without history, without national-messianic faith."
"The Reawakening," the story of Levi's journey home, is full of wise and perceptive commentary on human beings and their foibles. But anyone expecting an account of the Jewish experience is in for disappointment. Levi's trek is more like the emigration of peoples, a population exchange, a great liberation in which the Jews also took part. How does a survivor cope with his fear of the future? What was it about European culture that produced demons like Hitler and Eichmann? Does the survivor have any responsibility toward his people, toward those who have perished? These questions never come up.
Primo Levi was a proud Jew and with broad knowledge of Jewish history, but even after the Holocaust, he remained a universalist at heart. He objected to ethnic separatism and also to Zionism. This was not blindness. It was his belief that in the end, humanity would be saved not by nationalism but by recognition of the principles of universalism.
If Zionism spoke of destruction followed by renewal, and saw the State of Israel as the necessary outcome of the Holocaust, Primo Levi saw the Holocaust as the struggle of Cain and Abel, man pitted against man.
The Holocaust brought quite a few Jewish intellectuals back home, to the Jewish collective and the ancient texts. But for many, going home was impossible. In the world of universalism there is no room for tribalism, for old historical accounts, for religious sentiments, even for nationalism of the most variegated kind. Primo Levi was one of the most loyal and sincere supporters of this approach.
Aharon Appelfeld's novel "Layla Ve'od Layla" was published by Keter.
ICYMI
Ken Burns' Brilliant 'The U.S. and the Holocaust' Has Only One Problem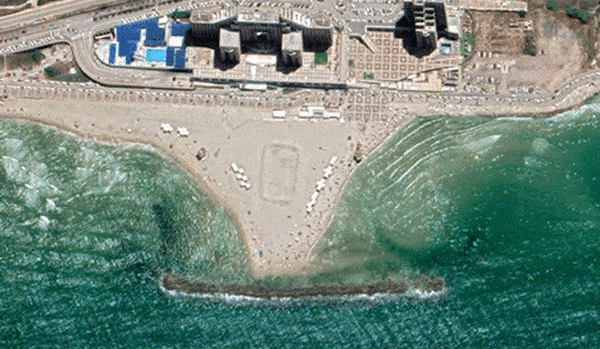 Facing Rapid Rise in Sea Levels, Israel Could Lose Large Parts of Its Coastline by 2050
As Israel Reins in Its Cyberarms Industry, an Ex-intel Officer Is Building a New Empire
How the Queen's Death Changes British Jewry's Most Distinctive Prayer
Chile Community Leaders 'Horrified' by Treatment of Israeli Envoy
Over 120 Countries, but Never Israel: Queen Elizabeth II's Unofficial Boycott