Ibn Gabirol Finds a Friend
"Selected Poems of Solomon Ibn Gabirol," translated by Peter Cole, Princeton University Press, 326 pages, $14.95.
"Selected Poems of Solomon Ibn Gabirol," translated by Peter Cole, Princeton University Press, 326 pages, $14.95
Solomon Ibn Gabirol became fully human for me when I read the long poem translated into English by Peter Cole as "On Leaving Saragossa" (pages 57-60). The situation is of a young, not very attractive man leaving his hometown, where he feels under-appreciated as a poet, to seek fame and fortune elsewhere. More than anything, he needs a friend:
Who could I turn to for help,
who could I tell my plight?
If only someone would offer me comfort,
someone have mercy, take hold of my hand,
I'd pour out my heart before him
and manage to reach but the edge of my grief -
though maybe in putting my sorrow to words
my heart's rushing would find release.
Peter Cole is that friend - though he has come along nearly a thousand years too late to have done the poet much good in his lifetime. As Cole tells us in the introduction to this volume, Solomon Ibn Gabirol was born in 1021 or 1022 in Malaga, and moved as a child with his family to Saragossa. Upon the death of his father, he was taken up by a Jewish notable at the Saragossan court, who also died while Ibn Gabirol was still in his teens and struggling to establish himself as a poet. After his mother's death in 1045, he left Saragossa, probably for Granada and the patronage of the great Shmuel HaNagid, a politician, general and poet. (We haven't had a leader with that configuration for quite some time.)
In Granada, where he wrote both secular and liturgical poetry, Ibn Gabirol eventually quarreled with his patron, and there is little documentary biographical evidence about his life there and his subsequent move to Valencia. Apparently, he was ill-liked, even posthumously. Cole informs us: "Ibn Ezra [a major poet who was born in Granada at about the time Ibn Gavirol died - V.E.] tells us that after Ibn Gabirol's death - scholars have established the correct date as 1054, 1058, or 1070, with the middle figure being the most probable - or deaths, his reputation came under assault and his work was criticized `by pedants' for assorted flaws" (page 9).
Though some of his liturgical poetry entered prayer books in many parts of the Jewish world, after Ibn Gabirol died, his secular poetry was largely forgotten. Fragments circulated in a kind of early samizdat, but the work was pretty much lost until the opening of the Cairo Geniza in 1896 by Solomon Schecter (a fabulous story in itself). There, among many other treasures, was the first mention of a complete diwan (Arabic for collection of poems) of Ibn Gabirol, but it remained difficult to construct a complete text.
Snatched from the fire
The next episode in the paleography, or ancient paper chase, is the stuff of movies. It is recounted in a 1931 letter to David Yellin, the pioneering Zionist-Hebrew educator and scholar in Ottoman Palestine, from David Tzemah, an Iraqi Jewish writer.
In Tzemah's family, there had been a legend about a manuscript of medieval poetry that had belonged to one of his ancestors, but had been lost toward the middle of the 19th century. David Tzemah made it his mission to find this manuscript, wrote to all his Iraqi relatives, traveled around the country but found nothing. He set himself up as an antiquarian bookseller and informed every possible source that he would buy old manuscripts, but to no avail. One day, as he was walking to a bar mitzvah, an old woman called out to him saying she had some old books. Later that day, he returned to the woman's house and was led up to an attic, where he found only some dusty religious books.
"`I came down from the attic,' he wrote, `when I saw the kitchen open before me. A big pot of water was set out for the laundry and beside it was a basket of papers, all of them looked to be old scraps, to feed the fire and heat the pot. I asked her: What is that? And she said: Tomorrow is our day for the laundry and we'll get up early to prepare the fire. I said to her: When will you people be done with this awful practice? Perhaps there are sacred writings among them. She said: We have already checked them. They don't contain any print. Anyway, what can I do? I want to rent the attic and I need the space. The books are for sale; the papers for the fire'" (page 10).
Tzemah took a close look at the papers and, lo and behold, what he found was a 17th-century manuscript containing more than 4,000 poems by major and minor medieval Hebrew poets from Spain, Provence and the Middle East, among them Ibn Gabirol. The manuscript also noted its lineage: Copied in Egypt, it had been taken to Iraq, Bombay and then back to Iraq - a veritable treasure trove snatched from the fire.
Ever the honest merchant, Tzemah wrote in his letter to Yellin about the fortunate and fortuitous discovery in the woman's home: "`I could have taken the manuscript for nothing, but in my delight, I gave her the proper reward'" (page 11).
Another peculiar episode in the history of Ibn Gabirol's texts is like something out of a story by Umberto Eco. In the middle of the 19th century, a French scholar named Solomon Munk noticed resemblances between some fragments at the Bibliotheque Nationale in Paris of a philosophical work by Ibn Gabirol that had been translated from Arabic into Hebrew by a 13th century Jewish writer, and a well-known Latin text, "Fons Vitae" ("The Fountain of Life") by a "philosopher known variously as Avicebrol, Avincebrol. Avicebron, and Albenzubron - believed to have been a Muslim or a Christian" (page 14).
Munk discovered that Avicebron, whose work had been translated from Arabic into Latin in Toledo in the 13th century and had become a keystone of Catholic philosophy, had been none other than Solomon Ibn Gavirol, whose name had undergone the mauling of Latinization.
Cole explains why this text was ignored by the Jewish community: "With the exception of its title, which is drawn from Psalms 36:10, `For with Thee is the fountain [source] of life ("meqor hayyim"); In Thy light do we see light,' the book contains not a single reference to Hebrew scripture or tradition, and Plato is the only philosopher mentioned there by name. Perhaps the key mediating force in Fons Vitae, the Divine Will, was too close for Jewish comfort to the Christian Logos. Scholars have suggested that this, in combination with its total independence from Jewish dogma, prompted the Jewish neglect over time" (page 15).
Cole then offers a "miniature anthology from `The Fountain of Life'" that "might serve as an aperitif to the whole of Ibn Gabirol's philosophical system." Here is a taste of it, which might also illuminate the examples in this review:
"Student: What is the proof that the motion of matter and the other substances is desire and love?
Master: Because it is apparent that desire and love are nothing but an effort to join the beloved and be united with it, and matter makes an effort to join form; it follows that its movement comes from love and desire for form."
And:
"The creation of all things by the Creator, that is, the emanation of form from the first source, which is to say, the will, and its overflowing across matter resembles the upwelling of water flowing from a fountain and descending, except that this flow is unceasing and entirely outside of motion and time. And the imprinting of form in matter, when it reaches it from the will, is like the return of the form of one who is gazing into a mirror" (pages 15-16).
Also in the introduction, and well worth reading before embarking on the poems, are discussions of such matters as ornamentation in art, misconceptions about the nature of the Jewish courtier's life, and the conventions of the times as impediments to reading this poetry.
Under the heading "Lost and Found in Translation," Cole notes that the best of the Hebrew poetry of the Middle Ages is itself "the product of an age of translation. But translation, particularly in an age of translation, is not only what hired or inspired workers have rendered into another language; it is also what writers who read in multiple languages translate in thought alone - the force of which is brought to bear on the written language they use."
It seems to me that this is also very true of contemporary Hebrew poetry, as it was of English poetry from, say, Chaucer to the end of the 19th century; less so, Pound and Eliot aside, of the 20th century. It will be interesting to see what happens in our new century, as during the past few years, a growing cadre of poet-translators has developed, among them Seamus Heaney ("Beowulf"), the late Ted Hughes (Aeschylus, Euripides, Ovid, Racine), Robert Pinsky (Inferno) and W.S. Merwin (Purgatorio) in something of a Dante bonanza, as well as Peter Cole himself, who in addition to his MLA Translation Prize-winning "Selected Poems of Shmuel HaNagid" (Princeton, 1996), has to his credit a number of volumes of his own poetry.
Calligraphed garden
Among the texts Cole has selected for translation are both "personal poems and poems of court" and "poems of devotion," though, as he notes in the introduction (and emphasizes throughout the copious end-notes), in all of the poetry, "There is of course the raw material of the verse itself - scriptural Hebrew" as well as "a medieval Semitic culture whose every occurrence, even whose science, is understood in a wholly religious framework: the `empty' abstraction offends the aesthete, and a patriarchal monotheism and a chauvinistic Judaism put off not only the politically correct. Belief and disbelief alike, therefore, must be suspended" (pages 31-32).
It is here that Cole's translations constitute a tour de force. They navigate the scriptural references and the complex games of meter and rhyme taken from Arabic forms and the modes of ornamentation, the belief-systems and the cosmologies that are largely unfamiliar to most modern readers - to produce poetry that is clear, direct and a pleasure to read in English.
Take, for example, the short poem, just right for this time of year in our (and Ibn Gabirol's) part of the world, which Cole has translated as "Winter with its Ink":
Winter with its ink of showers and rain,
with its pen of lightning and palm of clouds
wrote a letter of purple and blue
over the beds of the garden.
No artist in his cunning could measure
his work beside it - and so,
when earth longed for the sky
it embroidered the spread of its furrows like
stars.
Although elsewhere (as in the example from "Kingdom's Crown" later on in this review), he does make judicious use of rhyme and alliteration in English, here Cole has made no attempt to reproduce what is in terms of the conventions of the time the virtuoso texture of the sound of the Hebrew. The first line, for example, sounds like this: Ktav stav bedyo metarav uverevavav. And the subsequent line, as well as lines 4 and 6 of the six original lines in the Hebrew, also end with the three-letter combination bet-yod-vav producing the rhyme vav; av (spelled variously) also appears several times at the ends of words inside the lines. To have attempted to reproduce this sound pattern in English would have resulted, at best, in a kind of ridiculous pastiche of Gerard Manley Hopkins (adventurous amateurs are invited to try).
Instead, Cole has given the innocent or casual reader (toward whom he is invariably courteous) a poem that flows in English and makes the tropes perfectly clear and fresh - freshness being as valuable in contemporary English as cleverness of "ornamentation" was in medieval Hebrew.
And in about a page and a half of end-notes, he provides the more importunate or ambitious reader with all the additional information he or she needs, including the references in the Hebrew texts to various verses of scripture, various ways of glossing the word "hamda" - translated here in the last line as "longed" - a discussion of various scholars' interpretations of the poem, a pointer toward "more on the image of the primal calligrapher and the calligraphed manuscript-garden comparison in poetry," and his own take on the poem: "... the larger harmony exists in the mind, or the art, of the poet, who likens the flowers to stars and seeks an explanation for the correspondence he senses. The power from above is, then, a divine artificer, and the creative force below is fashioned and fashions in its image" (page 221-222).
Elsewhere in the book he also brings a number of Ibn Gabirol's other garden poems, each with its own notes, which taken together constitute a fascinating aesthetic and spiritual adventure.
What more could a reader want? I'll tell you: A reader could want a sight of the Hebrew text in a bilingual edition - ideally surrounded like a page of canonical Hebrew text with Cole's translation and the commentaries. This will almost certainly never happen, because of the expense and editorial hassle. However, what could easily happen in a subsequent edition - and I hope there will be one - is a discreet reference at the bottom or side of the English translations to the page numbers of the end-notes, along with a ribbon bookmark that would make consultation of the notes far easier.
Intellect's ardor
In the secular poems like the two examples above, Cole demonstrates his abilities to make contemporary poetry of very old materials in a rather strange language; in the devotional poetry, he brings the entire arsenal of his poetic tact and ear to making spiritual experience real - even to the least "religious" reader.
The longest poem in the book is "Kingdom's Crown," which Cole defines as "essentially a poem of petition, or baqashah." While it was most likely intended for personal use - as a private meditation - and not for the synagogue, its powerful religious emphases and great popularity have led to its incorporation into the rite for the Day of Atonement, on which it is uttered quietly by individual worshipers. Each canto of the poem closes with a biblical quotation, often with a twist that shifts the meaning of the phrase or alters its polarity.
Here is Cole's rendering of Canto 29:
Who could grasp your intensity
in forming the radiance of your purity
from the glow of your glory,
from a rock the Rock has hewn
from the hollow of a clearness withdrawn?
You sent the spirit of wisdom along it
and gave it the name of the soul,
and formed it out of the fire
of intellect's ardor
whose spirit burned on inside it;
and you sent it out through the body
to serve it and guard it -
and you watch as it acts like a flame within it,
though the body isn't consumed
which was formed from the spark of soul
and was brought into being from nothing
when the Lord came across it in fire.
Get a friend to read this translation into English aloud to you. Listen. Doesn't a shiver run down your spine? Doesn't it make you think, even if you happened to miss the references to Ezekiel, Isaiah, Numbers, Psalms, Genesis and Exodus? And aren't you glad that Cole nevertheless draws our attention to these in his notes on pages 305 and 306? Of course, the experience of reading this poem in translation is not identical to nor can it be identical to the experience of reading it in Hebrew. And reading it in Hebrew today cannot be the same as reading it a thousand or so years ago might have been - but don't you want to read it again?
Here, then, is a possibly heretical thought: Even readers of Hebrew might enjoy reading these translations into English. The translator is fully aware of all the original "codes" of the poetry, and elucidates these for the reader in the introduction and the notes. However, the translations are free of most of the surface elements that make Hebrew poetry of the Middle Ages so perplexing for many Israelis, unless they happen to have been blessed with a particularly inspiring and inspired high-school literature teacher. Reading the translations in English offers a way back into the medieval Hebrew.
Indeed, this would be an unusual use of translation - but why not? Having absorbed the impact of the movement of the thought and imagery through the translations, it is possible to go back to the originals and supplement the reading with Cole's notes and the notes in any of the scholarly editions in Hebrew. This process is akin to the "revelation" experienced by many poets upon reading translations of their own works into another language, especially if they have participated in the translation themselves. All of a sudden, because of the distancing effect of the translation, they see surprising new things in the work, of which they had not previously been aware. I have witnessed this time and again.
Thanks to this volume of translations into English, I have become entranced by this poetry. I hope that Peter Cole, with his "intellect's ardor," will turn his translations of medieval Hebrew poetry into a long-term project and give us more.
Vivian Eden's translation into English of "Arabesques: A Novel," by Anton Shammas, was re-issued this year by the University of California Press.
ICYMI
Ken Burns' Brilliant 'The U.S. and the Holocaust' Has Only One Problem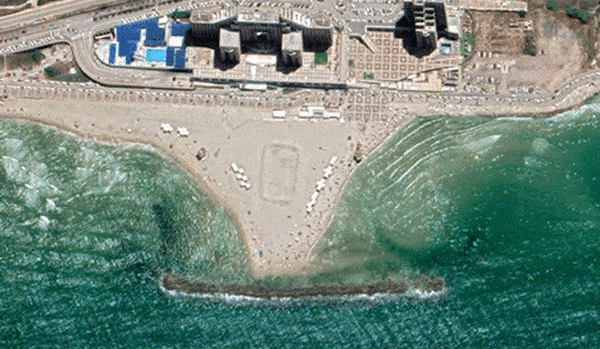 Facing Rapid Rise in Sea Levels, Israel Could Lose Large Parts of Its Coastline by 2050
As Israel Reins in Its Cyberarms Industry, an Ex-intel Officer Is Building a New Empire
How the Queen's Death Changes British Jewry's Most Distinctive Prayer
Chile Community Leaders 'Horrified' by Treatment of Israeli Envoy
Over 120 Countries, but Never Israel: Queen Elizabeth II's Unofficial Boycott