Elizabeth Diller Changed the Face of Moscow: 'Regimes Come and Go, Architecture Remains'
Elizabeth Diller, one of the world's top architects and a Wolf Prize laureate, talks about her childhood as a Jewish immigrant in New York, why she agreed to a major project in Moscow, and how the global economic crisis affects her work
Elizabeth Diller. She recently won the $100,000 Wolf Prize which she shared with Japanese architects Momoyo Kaijima and Yoshiharu Chukamoto.
Credit: David Salam / Zug productions
Like many other top international architects, Elizabeth Diller and her partner, Ricardo Scofidio, spent a long time not building anything at all for a long period of time. Instead, they taught, conducted research, and designed exhibitions and art installations. Similar to Zaha Hadid or Rem Koolhaas, who designed their famous buildings only in their fifth and sixth decades of life, Diller and Scofidio started designing buildings at a later age, during the first decade of the 21st century.
In fact, Diller wanted to become an artist. While studying at Cooper Union, a private college in New York, she was drawn to a class in architecture and dropped art as a result. One of her teachers was Scofidio, who is almost 20 years older than her. The two began collaborating, eventually becoming a couple, and they opened their shared office in 1981.
"When Ric and I started working together, we imagined an alternative practice; not an architecture practice, but a practice where we could teach, write and make installations," Diller is quoted as saying in "The Women Who Changed Architecture," a recent book by Princeton Architectural Press. "We wanted to create agendas that followed our curiosity, independent of the profession which we felt was intellectually bankrupt at the time. We had little interest in making buildings."
After a while, she and Scofidio realized that an architect could work on issues relating to "everyday spaces" without a client and with no budget, and even without a potential site.
The transition to building design occurred close to when the pair added their third partner to the firm, Charles Renfro. As a result, its name was changed to DS+R. Today, the firm is known as the leading designer of cultural buildings and museums in the U.S. Among their well-known designs are the Institute of Contemporary Art in Boston, the open public spaces at Lincoln Center, the expansion of the Museum of Modern Art in Manhattan, the Broad Museum in Los Angeles, and The Shed arts center in the revitalized Hudson Yards complex in southern Manhattan. The last two projects were part of a private initiative.
But the project that probably gives the partners the most satisfaction is the High Line, an elevated linear park that stretches for more than two kilometers on the old railroad tracks in Manhattan and took two decades to build.
In recent years, DS+R has also operated in Europe, with projects such as The Tide in London, a privately funded elevated riverside linear park that attracted quite a bit of criticism.
"There have been many cynical attempts to emulate the High Line since it was found that proximity to an elevated green space can significantly raise property prices, but The Tide, a new walkway on the peninsula, is perhaps the most brazen of them all," wrote Oliver Wainwright, the Guardian's architecture and design critic, when the project was inaugurated. Another notable project of theirs is Zaryadye Park, a landscaped urban park near Red Square in Moscow.
Diller, born in 1954, who appeared on the Time 100 list in 2018, recently won the $100,000 Wolf Prize which she shared with Japanese architects Momoyo Kaijima and Yoshiharu Chukamoto. The award, which has been awarded since 1978 by the Wolf Foundation, a private Israeli nonprofit organization, to living scientists and artists for "achievements in the interest of mankind," and has often signaled the nominations for future winners of the Nobel and Pritzker prizes (the most prestigious architecture prize).
Diller is the second woman out of 17 architects who have been granted the award. The committee of the award stated that Diller "excels in defying norms with the aim of advancing the field of architecture and its wider influence. She combines research, pedagogy, and action to advance the field of architecture. As a central part of her contribution, she reveals the extent to which art, science and social commitment require values that can be investigated and challenged by a growing awareness of the wider consequences of architecture".
An Olympic warehouse
One of their current projects is the design of the warehouse at the Victoria and Albert Museum London. This is an unusual project for Diller and her partners, since it is not the ordinary type of museum they have worked on before, but actually a warehouse that will be open to the public.
The building will be located in the London 2012 Olympic Park, and is expected to open in 2024, as part of a long-term construction plan for the area. It will be the home for about 250,000 items – including metalworks, ceramics, glass works, sculptures, paintings, and product design – some 350,000 books, and 1,000 archives from the museum's fashion, textile, furniture, theater, and performance collections. Visitors will be invited on a journey behind the scenes that will reveal and demonstrate how and why objects are collected, how they are handled, preserved, and studied, and how they help us to understand the past, present, and future.
"We've worked with many institutions – from the Broad Foundation to MoMA—on bringing their art collection out of private storage and into public view," Diller says in a Zoom interview from New York. "The V&A is going to be one of the first major museums in the world to open their storage collection to the public. It will unite the stored works from V&A's dispersed storage facilities into one place. In our design, visitors entering the Storehouse will step into an immersive, three dimensional "cabinet of curiosities."
The highlight of the warehouse/museum is the office of Edgar Kaufmann, who was the patron of the renowned architect Frank Lloyd Wright. The original elements of his old office, which include unique and intact plywood, carpets, furniture and more, are preserved. As part of the museum's architecture collection, a piece of the wall from the Robin Hood Gardens social housing project, demolished a few years ago in London, will also be displayed. Also, the 15th-century ceiling from the ruins of the Altamira Palace near Toledo, Spain, will be resurrected as an architectural element that will hover above a public space that will be dedicated for exhibitions and events.
What are the challenges in planning such a building?
"This is a complex project from a conservation point of view, because exposing the objects to the general public is in direct opposition to trying to preserve their original condition. Meanwhile, curators would prefer to have as much of the collection on display as possible. Our design creates a balance between exposed places and more protected areas. The Storehouse fosters a new dynamic between conservation and curation to reflect the more contemporary museums values of expanded accessibility."
The office planned museums in three important cities in the United States (Boston, New York, Los Angeles). How much can a building change a neighborhood or a city?
"Buildings can and should have an urban impact. In the case of The Broad museum, the building was situated next to Gehry's Walt Disney Concert Hall on Grand Avenue, the main corridor of Downtown Los Angeles. It was a great challenge to be there, but I never quite believed — as our client, the philanthropist Eli Broad, did — in the urbanization of downtown L.A. I felt L.A.'s car culture would win in the end. But as I did the project, with a bit of an ironic beginning to it in terms of the urbanization, I became much more earnest. Eli's vision was much bigger than just a building. I became more of a believer. We were able to create a new urban experience – an area intended for cars now has a small public square with food trucks and street musicians and a restaurant with hours that extend activity into the evening. The place is becoming more human. While it will never be New York or Boston or Tel Aviv, the museum was still able to contribute to the street life."
The Broad museum opened in 2015 and consists of two main elements, an inner space and an outer one. In the space between them are the galleries. The inner space is a kind of sealed monolith containing a meeting space, passageways, and escalators and where all the functions of the employees are located. The outer area resembles a honeycomb. The outer section of the building seems to rise at the four corners of the building, and in the section facing Grand Avenue there are two entrances shaped like the opening of a tent.
Diller says the average age of visitors to the museum is 33, compared to 45 at the National Gallery of Art in Washington. There are also a lot more locals compared to major museums in big cities. Entry is free, and its design emphasizes free movement. There are no information centers at the front, no ticket stand, and no signs directing visitors where to go.
The office is very New York. And many of your projects are in N.Y. How is it to work in other cities and outside the United States?
"I've been really lucky to build in my own backyard. For many different reasons, not every city is able to execute buildings like New York, but we seek out projects abroad with values that match our own. Based on the success of the High Line, we were invited to an international open competition for the large 35-acre Zaryadye Park in Moscow [...] Most colleagues thought as Americans, probing into a project right in front of the Kremlin and the Red Square, we didn't have a chance. A lot of Russians thought the same. We had ethical considerations too. But ultimately, we felt it was a project intended for the residents and the city, not for the government. Regimes come and go, while architecture remains for hundreds and sometimes thousands of years. If we have the opportunity to do something significant for the city, why not try? [...] We put forward a scheme that we thought would be really good and interesting for the site and we were really quite stunned that we won."
In 2017, Zaryadye Park became the first park to open in the Russian capital in many years, covering an area of 78,000 square meters. It combines urban nature and architecture and has sections designed and inspired by different climate zones. It contains several concert halls and passages, an ice cave, and a media center. Its construction cost more than $480 million.
Diller says that during the first month of opening, a million people visited the park. "The architectural brief we got discouraged large open spaces, presumably out of concern for public assemblies and social unrest," she says. "Our response was to make open meadows and plazas whose uses could be open-ended. Instead of the manicured gardens and restricted inventories of official plantings, like rose bushes, we introduced native plants, sourced from the four major regional landscapes of Russia. This was our stealthy move. It was embraced as an expression of national pride.
"In contrast to typical parks in Moscow, where you're only permitted to walk on pathways, fenced off from vegetation, this park is unscripted and encouraged immersion in the landscape," Diller adds. "There was a fabulous city architect, Sergey Kuznetsov, who is there today and is bringing Moscow into being a kind of cosmopolitan city. He was a great defender of the project, and I think, together, we did something very good for the residents of the city."
In November of 2020, Diller referred to her controversial work in Russia in a TEDWomen lecture. She referenced young people being as evidence that the park had a liberating influence. Diller also noted that Russian officials accused the architects of corrupting Russian youth, but for her firm it was a success, as they created a democratic public space at the heart of an oppressive regime. In the park, Diller and her associates have created what she defines as "wild urbanism," which allows deviation from the accepted paths. According to her, Putin politicized the park, but she believes that as the design of the park is subversive and empowers the public.
Immigrants in New York
Diller was born in Lodz, Poland, to Holocaust survivor parents. She grew up without an extended family, no uncles and aunts or grandparents, and only was five years old when she left Poland. "I was five years old when we left Poland, I remember very little," she says. "When I came to the States, I was put in slow-learning classes, which was typical for kids who immigrated to the U.S. at that time. Until I was about eight or nine, I didn't speak the language well and didn't have a full sense of what was going on."
How did your childhood affect you?
"I am aware of the loss. My parents lost their family and sacrificed a lot to come to New York. My mother worked as a cleaner and my father in a grocery store. From a relatively comfortable life they moved to the complex life as immigrants in New York. We lived a very modest life. But we were close and my mother always wanted me to study, so I could support myself. She wanted me to either be a dentist or an architect. I thought for years that these were similar professions and I didn't want to be an architect, I wanted to be an artist. [...] Eventually I discovered architecture and only told my parents that I made the switch after graduation".
What is the role of architects in a time like ours, with global warming and economic inequality?
"Global warming is a crisis that every architect must address. Buildings are a big part of the issue, because of the way they consume energy. We need to design buildings that are more efficient, smarter, and of course there are standards for that. We need a government that acknowledges it and a client that understands it. Sometimes producing a green and efficient building costs more, but we as architects need to consider the actual value proposition, and not just check the boxes of LEED [green building] certification. We need to take the discipline a few steps forward. As we've witnessed with COVID-19, architecture is never an autonomous profession. It will always be a profession that responds to the economy and politics."
Architecture is a profession that reacts slowly. During the pandemic, we saw how much quick solutions were necessary.
"It's a very, very slow profession. You could even say it's stuck. And we're in a complex economic period. We're suffering from inflation. Construction costs more. Shipping costs more. We have to think differently and still do good projects. Architects have to produce much more flexible projects that adapt to constant change. COVID-19 renewed the way societies value public space. Now, creating a building without a good open, green public space is criminal. Every building must have access to oxygen, air, and landscape."
Diller researched along with her students how architecture can be designed in an era that requires flexibility. "I asked them to design a building that could operate as a hospital, a residence and maybe after a shopping center," she says. "They had to think about the flexibility of planning. It was a pedagogical exercise to get them out of thinking about a fixed plan for a specific building. [...] Achieving the level of flexibility the students proposed is rare in reality, but we still need to think about designing buildings that are flexible, without being characterless like a giant hangar."
On the betting list
For at least 10 years, Diller has appeared on the betting list for the Pritzker Architecture Prize, the most important award for architects. It was first awarded in 1979, and in recent years the tendency is to award it not to stars like Zaha Hadid, Norman Foster or Frank Gehry, but to slightly less-known architects, those who deal with public construction and affordable architecture, such as the last winner, Diébédo Francis Kéré, who works with local materials in Africa. Diller is diplomatic when asked of her thoughts about the decisions of the Pritzker committee in recent years.
"It used to be a very individual prize for some very extraordinary genius starchitects," she says. "But now the prize has started to recognize collectives. We see more couples, even one trio. More women are also receiving the prize. I think it's a step forward to recognize more social awareness rather than iconicity alone in architecture, so long as the prize continues to encourage the highest level of practice and progressive architecture. [...] Anyway, it's not the most important thing to win the prizes. We don't work because of the prizes. But it's good for the architect who gets the prize money."
Because it's a profession where you don't earn a lot of money?
Diller laughs. "It's a demanding profession with a lot of working hours."
Speaking of money, there are countries, like in Scandinavia for example, that spend huge budgets on public buildings. And this is compared to Portugal, where the budgets are limited but the buildings are of very high quality. To what extent do the budgets affect the quality of the planning?
"Whenever I'm asked this question, I say that it is good to have a budget. Not to plan a wasteful building, but to have freedom of planning. We always examine the budget in relation to the concept. When there is a lower budget, we have to explore ways to adapt our concept while ensuring we still have a good project. A limited budget can still produce very good projects. That was the case for the arts center we designed at Brown University. Despite having a limited budget, I consider it one of our best projects. The limited budget for the storehouse we're working on with the V&A called for a more industrial vernacular which suits the project. These projects forced us to design space with no fat, only muscle.
And apart from planning, what else makes a project successful?
"Of course you need a good client. And a good team of builders and supervisors on site is very important. A good team makes the project work on schedule. Without it, we're left with poor execution that requires us to ask for repairs.
Click the alert icon to follow topics:
ICYMI
Ken Burns' Brilliant 'The U.S. and the Holocaust' Has Only One Problem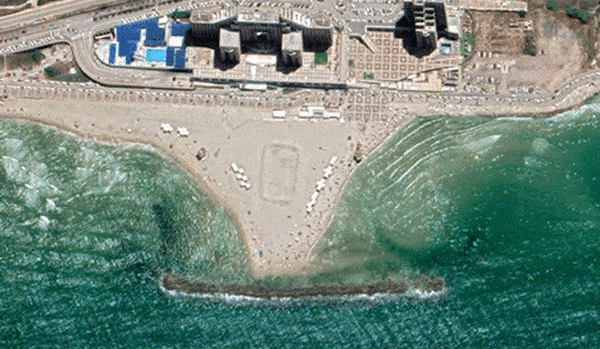 Facing Rapid Rise in Sea Levels, Israel Could Lose Large Parts of Its Coastline by 2050
As Israel Reins in Its Cyberarms Industry, an Ex-intel Officer Is Building a New Empire
How the Queen's Death Changes British Jewry's Most Distinctive Prayer
Chile Community Leaders 'Horrified' by Treatment of Israeli Envoy
Over 120 Countries, but Never Israel: Queen Elizabeth II's Unofficial Boycott