Darren Went From Carrot Peeler for Royal Horses to Queen Elizabeth's Personal Chef
Darren McGrady worked 11 years in the royal kitchen. Now the former personal chef to Queen Elizabeth II spills the beans about what she liked to eat
Britain's Queen Elizabeth II is served food by Nichola Beeston, pupil at Keswick School, during a visit to Cumbria in 1998.
Credit: PA Images via Reuters Connect
You should listen to your mother the next time she begs you to overnight with her on the street to catch a glimpse of the newly married royal couple. It could be a really good career move.
"I was 19, a chef at the Savoy Hotel in London," says Darren McGrady, recalling the ballyhoo of late July 1981. Speaking from his home in Texas, McGrady remembers how he, his mother and thousands of other royal watchers spent the night on the lawns near Buckingham Palace.
The next day came the traditional reception at the palace for the newlyweds, this time Prince Charles and Princess Diana. Like any nice English boy, McGrady did what his mother told him.
He describes his mum as a "passionate admirer of the royal family," but during his many hours waiting, the young man wasn't jut thinking about Chuck and Di; he had a lot of time to ponder his future.
"I remember thinking it might be nice to work one day as the royal chef," he says. In fact, when he got back home in London, he wrote a letter to Queen Elizabeth II.
"I don't remember the exact words, but I think it went something like this: 'Hello Your Majesty. My name is Darren McGrady. I work as a chef at the Savoy Hotel in London, and I would love one day to become the royal chef, to work in Her Majesty's kitchen and cook for her.'"
McGrady didn't think much of his letter, but a few months later he was called for an interview at Buckingham Palace. Sure enough, he would snag a job in the royal kitchen.
Not that McGrady's coup was entirely astounding: He was the 20th chef in the kitchen, the very bottom of the roster. "My first role was to wash and peel the carrots that the queen would take to feed her horse at Balmoral Castle in Scotland," McGrady says.
And at Balmoral, he actually got a chance to meet the queen. One evening he went for a stroll on the banks of the River Dee and noticed Her Majesty walking toward him. She was surrounded by corgis, of course. Only 12 of them.
"I was totally stressed and reminded myself not to strike up a conversation, and always to address her as Her Majesty," he says. The dogs spared him some awkwardness as they broke the ice by barreling toward him and barking vociferously.
"I ran away totally scared," he says. In this way, the queen missed her chance to exchange a few words with the guy who peeled the carrots for her horse.
When he took the job, the protocol was spelled out deliberately. "It was made clear to us that we were the servants of the royal household and we absolutely must not approach a member of the royal family as if we were equals," McGrady says. "If the queen or the prince addresses you, you address them accordingly as Her Majesty or His Highness, and then as Ma'am or Sir."
Not that there were many chances for a chat with royalty. "I think during my 11 years at Buckingham Palace the queen visited the kitchen twice, only to briefly compliment us on dinner, nothing more," McGrady says. "You have to understand that the kitchen is far from the queen's residence, so we would hardly see her."
At Sandringham House on England's east coast, which the royal family visited mainly at Christmas and New Year's time, the queen was much closer to the staff, but she never said anything more to McGrady than "thank you for the wonderful food you prepared over the weekend," or something similar. Small talk about your family or the weather was never on the agenda with the queen or anyone close to her.
Eventually, McGrady moved on up. "The goal is for you to learn all the stations in the kitchen, starting from the vegetable station to the sauces and the pastry until you become the head chef, who's responsible for the entire meal," he says.
"In my case, even after I had become a senior chef, I chose to downgrade my position to that of a junior chef because I wanted to master the pastry station. Once you've mastered all the positions, you have a much higher chance of joining the queen's travels around the world."
McGrady now compares working in the royal kitchen to serving in the army. As a member of the kitchen staff, he was officially subordinate to the army and would get home leave accordingly.
At Balmoral he would normally serve the queen for three weeks straight and then go home for a six-day leave. At Sandringham House, which is closer to London, it was normally two weeks followed by a four-day leave.
Trips abroad were also conducted like a military campaign. "If, say, I joined the queen's visit to Australia, the night before the flight I had to leave my suitcase outside my room in the chefs' quarters," McGrady says. "Then it was picked up and sent off" – and he wouldn't see it until Sydney.
Just as strict was Queen Elizabeth's afternoon tea break, which she wouldn't forgo no matter how great the jet lag or long the road trip.
"We could fly to Australia, arrive exhausted, worn out from fatigue, and then when everyone wanted to rest for a while, at 5 o'clock the queen was in no way willing to give up her regular tea, no matter what time it was in London," he says.
The queen's favorite meals? "Two types of sandwiches, each time with something different. It could have been the traditional strawberry jam sandwich that she would eat once a week for 50 years, or a cream cheese and green cucumber sandwich, a roast beef sandwich, a ham sandwich with mustard, or any other sandwich. Along with the sandwiches, there were always several types of pastries and one large cake and one small cake." Chocolate cakes and lemon cakes were the favorites.
And how did one petite queen finish all this abundance during a tea break?
"The selection I just described was a fixed one. We had to serve the queen a selection of sandwiches, pastries and cakes. She would cut a piece or two from each cake and each pastry, and what remained was later served to the staff and employees. She knew that nothing was thrown away."
McGrady adds that if there was one thing the queen especially liked it was dark chocolate – truly a queen of simple tastes. So for 11 years McGrady would bake for her birthday the same round chocolate cake with a diameter of 16 centimeters (6.3 inches).
Queen Elizabeth celebrated her birthday twice, once on her actual birthday, April 21, and once on the second Saturday in June, just in case the original date was rainy.
The round chocolate cake was served at royal birthdays since Queen Victoria's time. "It was a tradition she looked forward to twice a year and wasn't willing to give up in any way. She loved anything that had dark chocolate in it."
McGrady eventually worked his way up to become the head chef; his main tasks were lunch, tea and dinner – for the queen and the entire royal household. And breakfast?
"We didn't prepare breakfast for Her Majesty because during all these years she ate the same meal that was served to her in her quarters: a bowl of cereal with a glass of milk and a cup of tea," he says.
To know what to prepare for the other two meals each day, a database was created containing hundreds of different dishes.
"If we wanted to add a new dish, we would have to submit the recipe for the queen's approval. ... In general, she was very traditional and didn't like to try new menus."
How did you know what she felt like on any given day?
"Once every three days we had the so-called Royal Menu that we would present to the queen, and she would go through it and cross off the dishes she didn't want for the next three days. If she knew she wouldn't be in the palace for one of the meals, she would cross off the entire page. If she had a guest, she would write the number two next to the desired dish for that day."
The menu included beef, pork chops, pudding, mashed potatoes, chicken, salmon, salads, starters from the fruits and vegetables grown in the palace gardens, strawberry jam sandwiches and dark chocolate desserts. Elizabeth had only one odd habit when it came to food.
"The queen always had the first slice of the beef," McGrady says. "She liked her beef well done, and it drove the chefs crazy. But she was old school and would always have that first slice on the front laid out for her to take, the tastiest part."
Click the alert icon to follow topics:
ICYMI
Ken Burns' Brilliant 'The U.S. and the Holocaust' Has Only One Problem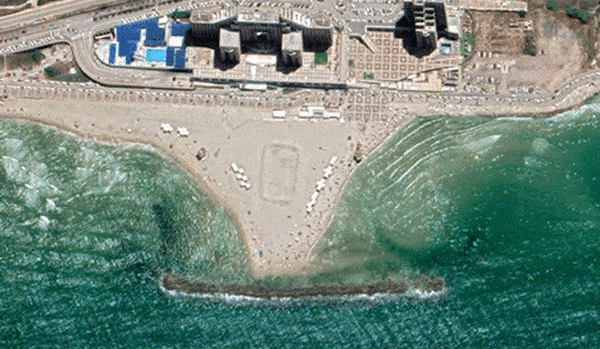 Facing Rapid Rise in Sea Levels, Israel Could Lose Large Parts of Its Coastline by 2050
As Israel Reins in Its Cyberarms Industry, an Ex-intel Officer Is Building a New Empire
How the Queen's Death Changes British Jewry's Most Distinctive Prayer
Chile Community Leaders 'Horrified' by Treatment of Israeli Envoy
Over 120 Countries, but Never Israel: Queen Elizabeth II's Unofficial Boycott