Why This Retired Israeli Officer Went to Study at an Islamic College
Avi Shalev swapped the Israeli army for classes conducted in classical Arabic, surrounded mainly by young Bedouin women who educated him on another side of life in Israel
Avi Shalev at Al-Qasimi College in the Israeli-Arab city of Baka al-Garbiyeh.
Credit: Rami Shllush
While reading Avi Shalev's Hebrew-language account of his time as a graduate student in the Israeli-Arab city of Baka al-Garbiyeh, I often wondered if the book would be translated into Arabic.
On the surface, a book about the experience of studying for a license to be able to teach in the country's Arab public schools may not sound especially riveting – but riveting is exactly what "Al-Qasimi Diary" is.
That's because it's a personal and frank account about the encounters of a Westernized Israeli Jew with representatives of a society that shares his native land but that, to his surprise, was largely unknown to him.
When Shalev registered for studies at Al-Qasimi College – the first Jew ever to have matriculated there, although it is a fully recognized Israeli institution – he was proficient in both written and spoken Arabic, having recently retired after more than two decades as an officer in the Israel Defense Forces' Civil Administration in both Gaza and the West Bank.
And yet, not only did he find himself painfully challenged by the nuances of classical Arabic; he also was surprised daily in his encounters with his fellow students, most of whom were young Bedouin women. It turned out they were even less familiar with Jewish society than he was with theirs.
Nearly all were traditional Muslims who wore the hijab (which covers everything but the face) or even more concealing garb. But once they got used to the presence of this middle-aged, Arabic-speaking Jewish man, many of them were happy to answer his questions about their lives, customs and beliefs.
Often, what he heard was a resigned acceptance of the conditions under which they were living, summed up repeatedly with the same phrase: "Ya Avi, what can you do? That's the way it is with us."
If I had to guess, "Al-Qasimi Diary" won't be getting an Arabic translation anytime soon. Not necessarily because of Shalev's candid criticism of many aspects of Arab society – in fact, many of his fellow students offer far harsher and pessimistic opinions about the backwardness, as they see it, of their native culture.
The reason is far more basic: As Shalev learns in his classes, there is evidence that Arabs don't read that many books. According to a study conducted about a decade ago by the Israeli-Arab scholar of Arabic children's literature Dr. Roseland Daeem, who today teaches at the Arab Academic College for Education in Haifa, less than 20 percent of Israel's 1.9 million Arabs had read one or more books during the preceding decade.
Not that they have a wide variety of titles to choose from. Shalev writes about a class presentation in which a fellow student cited a UN study claiming that, in 2003, "the Arab world (which comprises more than 280 million people) translated some 330 books into Arabic – one-fifth the number translated into Greek, which has a little under 12 million speakers."
That depressing figure has been much cited in the West, gloatingly it sometimes seems, and is often accompanied by the no-less devastating claim that, as Shalev writes, "since the Caliph Al-Mamun began the splendid translation project [of rendering Greek texts into Arabic] in the ninth century, the Arabs have translated some 10,000 books – a number similar to the number of books translated each year in contemporary Spain."
In his description of the situation, Shalev does not gloat. He recounts many conversations with classmates, and lectures by teachers, in which they themselves express a desire to see greater openness, curiosity and intellectual pluralism in their culture. What shocks him is the student who, in the class discussion about reading habits, blames the problem on technology, which diverts people's attention from more serious topics. Her solution, writes Shalev, is "to recognize the urgent need to return to the splendid Arab and Islamic values and to encourage cultural insularity that will guarantee a higher number of readers."
Avi Shalev has taken a risk in "Al-Qasimi Diary": At a time when offering judgments about a culture other than one's own can lead to being "canceled," Shalev shares with great candor his ruminations on the attitudes he meets at Al-Qasimi.
Although readers who are determined to see bad faith in the book will surely find reason to dismiss Shalev's findings, anyone who brings a mind as open as the author's will observe that he never stops questioning himself and his own motives.
He also brings a vast amount of knowledge to the table, which he augmented with many hours of research in the Al-Qasimi library, which he notes is the largest Arabic-language library in Israel.
Finally, Shalev evinces a great deal of respect and empathy for his subject: As a Jew and a Zionist, he believes that Israel's future depends on Jews and Arabs spending more time together and getting to understand each other better.
Asked about the reactions he's gotten to his book among Arabs, Shalev says he doesn't think many have read the nearly 400-page Hebrew book. However, a TV news story by Kan Broadcasting's Eran Singer, who interviewed Shalev at Al-Qasimi, has been viewed some half-million times on the Arabic-language site of Kan Broadcasting, which certainly reflects great interest in his work. "I was surprised," notes Shalev, who says he's received a lot of criticism – but of the constructive variety.
When he took off his officer's uniform and registered for studies at Al-Qasimi, he did so as a run-of-the-mill student, subject to the regular requirements of his program with no special accommodations for him as an outsider. When he was an Israeli official in Nablus or Jenin, he writes, he had been part of the ruling class, armed "with a weapon and in the company of other soldiers." Now, he continues, "everything is different. I'm alone. Armed with a notebook and a sandwich, far from any kind of help." Of course, it quickly became clear to Shalev that he was not in need of any such "help."
'Simple intellectual curiosity'
What makes someone become the first Israeli Jew to study in Arabic at an academic college, or to join the less than 1 percent of Israeli Jews (according to a study by the Van Leer Jerusalem Institute) who are able to read a book in Arabic?
Shalev is unable to pinpoint any single experience as the source for his particular passion. "My interest in Arabs and Arabic is the result of simple intellectual curiosity," he writes.
He sees it as "a natural attraction to a culture that was once the center of the enlightened world, an economy that was dynamic and fervid, and a language that was the lingua franca of the world, and that today interests mainly historians and research institutes that focus on terror."
What he does recall is that his interest began when he was still a child – with his choice to visit Egypt as his bar mitzvah present. During his teen years, Shalev moved with his family to South Africa, where his father owned a business. It was there, in Johannesburg, that he joined some Indian-Muslim neighbors in an informal Arabic class. However, he says he didn't study the language seriously until, on his return to Israel in 1993, he was drafted into the IDF's intelligence branch.
After six years in the research division of Military Intelligence, Shalev opted to work in the Civil Administration (the Israeli governing body that operates in the occupied territories).
In a video interview with Haaretz, he says the army move was not an obvious one. "For a lot of people, that seemed like a weird and nutty decision. I could have been in the center of things, at MI [headquarters]. That was the most prestigious. But to be in the West Bank and Gaza, to get to know things from close-up, to speak the language, to meet Palestinians – that was much more appealing to me," he recounts.
After his retirement from the career army in 2017 at age 46, Shalev earned a master's degree at the Free University of Berlin, in a program for international students called "Intellectual Encounters of the Islamicate World." On returning to Israel, he wanted to pursue his studies even further, but decided what he wanted to do was "study in Arabic, with Arabs."
Situated in the city of Baka al-Garbiyeh, in the so-called "Triangle" of Arab communities southeast of Haifa, Al-Qasimi was founded in 1989 as the country's only college licensed to train teachers in the Islamic religion. To this day, though it has expanded to teaching education and engineering, it is affiliated with the Khalwati school of Sufi Islam – although aside from a required course on this form of Islamic mysticism, Shalev didn't find the influence of Sufism to be palpable at Al-Qasimi.
During his three semesters there, he took courses in such subjects as classical Arabic, modern Arabic poetry and children's literature, developmental psychology and methods of instruction. Because most of his classmates already held bachelor's degrees in one field or another, usually from a college in the West Bank, and held full-time jobs during the week, Al-Qasimi accommodated them by concentrating all of their classes into two intense days of study on the weekend.
Shalev was raised in a secular family but his wife was raised Orthodox, and he says they and their four children live in one of those homes "that is not classically Orthodox, but where the Sabbath is central." The family "took it hard," he writes, when he announced he would be AWOL on Fridays and Saturdays over the next year and a half. But he insisted it was an opportunity for which he had been "waiting for years," and he was determined to exploit it. Hence, twice each weekend, he would make the round trip from his home in central Israel to Baka al-Garbiyeh.
His friends – many of whom didn't even know that Baka is in Israel proper, and would not venture to enter any Arab town – were convinced he was endangering his life by traveling there. But they certainly wanted to hear about it, and would "make a pilgrimage" to his home on weekend evenings for an update on his experiences among the Arabs.
"After several weeks," explains Shalev, "I came to the conclusion that it really interested people," and so he began keeping a journal of his experiences, which he sent around weekly to a circle of friends and relations. They responded with a great deal of feedback and requests for more.
He realized that the writing was also a way of clarifying his thoughts. Each week, he says, he would return from his studies filled "with lots of ideas, and impressions, and surprises. And when you begin to put it down on paper, you say, 'Wait a minute, is this really what happened? ... [And] why is it this way, and how is that it's that way, and why did she say that, and why did she not tell me that? And why don't we talk about that in class?'"
Writing the journal became part of his learning experience, but it was only late in the process that he decided it might be worth publishing. He cleaned it up and began shopping it among publishers.
"Some of them turned it down quickly, and some hesitated and said, 'It's not a familiar genre. We don't know how we'd market it, what shelf to put it on.' All kinds of considerations that didn't interest me." After five or six rejections, he resolved to self-publish the diary. He calculated he would need 40,000 shekels (about $13,000) to pay for a professional editor and to make the book available both digitally and in print, and initiated a crowdfunding campaign on the Headstart website to raise most of that sum. Now he's thinking of doing the same in order to fund an English translation.
'The Little Lantern'
As in a more conventional diary, Shalev does undertake a fair amount of self-examination in the book. While he's checking himself and his own reactions, he is also sharing his observations about his classmates and about Arab society in general. He is struck, for example, how in the class discussion that follows the reading of the story "The Little Lantern," in his class on children's literature, neither the lecturer nor the students raise the fact that it's generally understood to be a political allegory, or that its author, Ghassan Kanafani, was a senior Popular Front for the Liberation of Palestine official whom Israel assassinated in Beirut in 1972.
Shalev wonders to himself if there is a tacit understanding between teacher and students to avoid charged political topics in his presence. However, in a conversation with a fellow student, whom Shalev calls Lubana, he is told that Al-Qasimi College deliberately avoids political controversy and wallows in intellectual mediocrity. "The lecturers wouldn't send their own children to study here," declares Lubana, whom Avi turns to frequently for reality checks, though she is not overly generous in her judgment of Arab society.
When Shalev has to prepare a term paper, to be written in the very demanding classical Arabic, a classmate suggests that he save himself the trouble and buy the paper from one of the professional scholars who write assignments to order – even doctoral theses, she insists – online. It's a phenomenon that exists at academic institutions the world over and is hardly exclusive to Arab society, but considering that Al-Qasimi is educating the next generation of teachers, Shalev is amazed that no class time is devoted to talking about either that problem or to the prevalence of cheating during exams.
More generally, writes a perplexed Shalev, "We haven't had a single lecture from a teacher, either from outside or within, that dealt with values education." He compares this with his time as an officer in the army, where he says he lost count of the "conferences with rabbis, academics, Holocaust survivors, educators and societal leaders that dealt systematically with values.
"A society that doesn't 'dig' is also one that has difficulty correcting itself," he concludes.
It's important to stress that Shalev is never smug, nor is his book an argument for the superiority of Israeli Jewish society over Arab. At the same time, though, he doesn't refrain from drawing conclusions or passing judgment, even if these are bound to offend some.
Yet while "Al-Qasimi Diary" is shot through with implicit political issues, Shalev carefully avoids the big questions. He is troubled by the material gaps that separate Jews and Arabs, many of which are built into the Israeli system, and he certainly is concerned on many levels by the occupation that he loyally served for so many years. But his book does not propose any explicit political changes within Israel, nor does he address the question of an "ultimate" solution to the Israeli-Palestinian conflict.
And that's fortunate. If he had dealt with these issues directly, it would have distracted attention from the thoughtful lessons he has drawn from his unique experience. At the least, it would have served as an excuse for those who disagree with his politics to dismiss his observations out of hand.
Men who rub
One day, while attending a large lecture in the college auditorium, Shalev and the classmate sitting next to him, Dalia, are bored and get up to leave early. Avi makes his way out of the row they're seated in, past other students, but he notices how Dalia is held up as she looks for empty chairs to climb over.
When Avi asks her what she's doing, she says it's "the men … they rub." It takes him a moment to understand that if she pushes past male students, they will exploit the opportunity to fondle her in some way.
"That's the way it us with us," Dalia explains with resignation. "There's nothing to be done. It happens because there's no respect."
This gets Shalev thinking about the issue of sexual harassment in Arab society, which he decides he wants to take on as the subject of a term paper in his educational leadership class. Although his professor is initially resistant to the idea, eventually she agrees to his undertaking a comparative survey of the way the problem is handled – in two Arab and two Jewish schools. He explores that subject further in the book.
At Al-Qasimi, Shalev is taught that Arabic is holy and divinely created: One of his professors tells the class it is the language that was spoken in the Garden of Eden. Thus, the classical language has remained unchanged since the eighth century. It is the language employed in books, newspapers and government offices. At the same time, colloquial versions of Arabic have developed everywhere Arabs live. But instead of the two languages being reconciled or merged, they grow further apart each year.
This is an ideological struggle. As Egyptian President Gamal Abdel Nasser declared in 1960: "We believe in one Arab people. Since time immemorial, the Arab people has had a unity in language, and unity in language means unity in thought."
Shalev learns about Reem Makhoul, a Palestinian from Nazareth who lives in the United States with her family and who, in an attempt to keep the language alive for her children and other young people living in the Arab diaspora, has translated children's books from classical Arabic into two spoken dialects: Egyptian and Syro-Palestinian. He observes that in the Western media, including in Haaretz, Makhoul's effort was covered with enthusiasm, whereas in the Arabic press it was greeted with hostility.
Outward flow of students
Shalev received his teacher's certificate from Al-Qasimi in 2019. For the next two years, he taught Hebrew in a private school in East Jerusalem's Beit Hanina neighborhood. Earlier this year he began a new job as the head of international outreach at Baka College (Mikhlelet Baka), a new institution established by Al-Qasimi that offers academic programs – in Hebrew – in management, communications and biotechnology.
He says that one of the school's raisons d'être is to stem the steady flow of Arab students out of Israel – some 15,000 of them, which amounts to perhaps a quarter of those in academic studies at any given time (half of them to universities in the West Bank and the rest to other countries) – by operating a local institution that will allow them to study in an Arab environment, but in Hebrew, thus better preparing them to work in Israel afterward.
"It will model itself to the needs of the Israeli economy," explains Shalev, whose job is both to establish links to foreign universities but also to draw Jewish students to Baka al-Garbiyeh.
Yes, you read that right. Says Shalev: "The vision of the college is for it to be open to all. And the hope is that Jewish students will come to study there. That it will be an open place, a place where people come to meet and study together. It's important not just for Arabs to come to Tel Aviv to learn, but also [for Jews] to come to Baka to learn." (For the meantime, Baka College is in a dispute with the Council for Higher Education, which means it is waiting for certification by the state.)
Only time will tell whether Al-Qasimi's first Jewish graduate will succeed in making the presence of Jewish students in Baka al-Garbiyeh an entirely unremarkable phenomenon. Considering how much – constructive – criticism Shalev has for his alma mater in "Al-Qasimi Diary," it seems like a very good sign that they have nonetheless hired him.
"Al-Qasimi Diary: The Journey of an Israeli Jew in an Arab-Islamic College in Baka al-Garbiyeh," by Avi Shalev, is out now in Hebrew and available at the Mendele online bookstore.
Twitter: @davidbeegreen
Click the alert icon to follow topics:
ICYMI
Ken Burns' Brilliant 'The U.S. and the Holocaust' Has Only One Problem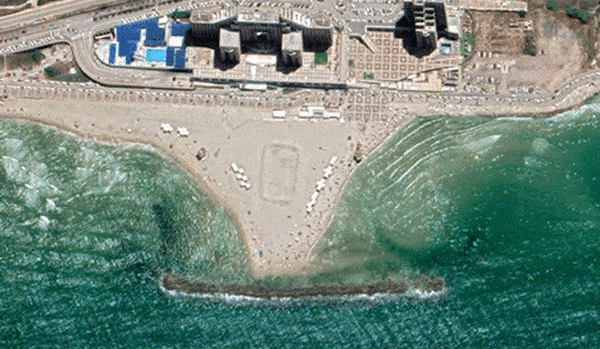 Facing Rapid Rise in Sea Levels, Israel Could Lose Large Parts of Its Coastline by 2050
As Israel Reins in Its Cyberarms Industry, an Ex-intel Officer Is Building a New Empire
How the Queen's Death Changes British Jewry's Most Distinctive Prayer
Chile Community Leaders 'Horrified' by Treatment of Israeli Envoy
Over 120 Countries, but Never Israel: Queen Elizabeth II's Unofficial Boycott