How Feminists in Knesset Let Down Israel's Transgender Community
Linor Abergel, the first transgender person to advise lawmakers, has a beef with feminist parliamentarians who set out to criminalize consumers of prostitution without securing rehab for prostitutes
Activist carry transgender flags in a demonstration for LGBTQ rights in Tel Aviv last year.
Credit: Meged Gozani
In August 2020, Linor Abergel became the first transgender woman to work in the Knesset, when she was named adviser for transgender community affairs in the office of MK Idan Roll of the Yesh Atid party.
Abergel began her political road with a goal of amending the law criminalizing consumers of prostitution, so it would contain pragmatic solutions and rehabilitation options for members of the transgender community in prostitution. The struggle to amend the law led to the establishment of the Transiyot Israel association for transgender women engaged in prostitution and in the sex industry, of which Abergel is the CEO. She also runs a successful store for wigs and hairpieces in Dizengoff Center in Tel Aviv.
Abergel, like many of her girlfriends, started out working in prostitution. Only few, like her, manage to leave it behind, which is why she fights for her community, and aspires to enter the Knesset not only as an adviser, but as a regular Knesset member.
"It's no secret that many trans women are in prostitution. That's their livelihood," she says. A national survey on prostitution in Israel in April 2016 found that about 95 percent of the 12,000 people in prostitution were women, and that at least 500 of them were transgender women. About a third of the women involved in street prostitution are transgender women, who tend to embark on that road at a younger age, sometimes as teenagers. Trans women also tend to remain in sex work for longer: 12 years on average.
"Many of the trans women lack family support and the social stigma usually prevents them from having normative partnerships. In addition, in order to become integrated into society and to "pass" as women, they have to undergo expensive plastic surgery. They often resort to prostitution because of their low social status, absence of employment opportunities and because they need the money, she says.
The same national survey found that 83 percent of the transgender women in prostitution are native-born Israeli. "Most of the trans women in prostitution are Mizrahi women (of Middle Eastern or North African descent). They come from places where the family and society find it difficult to accept them, so they remain isolated," Abergel says. "The situation of transgender Arab women is similar – the family doesn't accept them." That said, things may be starting to change: more parents are accepting their transgender children than before, she adds.
The needs of cisgender women and those of trans women involved in prostitution aren't the same, Abergel explains, which is why Transiyot Israel was established. "At first we belonged to 'Argaman,' an independent organization of women in prostitution," she says. "But we wanted to distinguish ourselves, because our path to leaving prostitution behind is a different one, and has to include housing, employment and social acceptance. Transgender women need something that can provide for their needs. Now we're working on establishing the 'trans house,' a center that will help trans women leave prostitution by way of specific rehabilitation, realizing their rights, employment and psychosocial work."
The fact that a nonprofit organization has to take care of transgender people engaged in prostitution, after a law was passed in the Knesset that includes a rehabilitation program for women in prostitution, is infuriating. The Law for Prohibition of the Consumption of Prostitution Services, which passed in 2018, does benefit women engaged in prostitution; it doesn't incriminate them, it incriminates the clients. The rehab program in the law, with a total budget of 90 million shekels ($27 million), is implemented by the Labor, Social Affairs and Social Services Ministry; or to be more precise, is not implemented by the ministry.
Of the 30 million shekels allocated to the program in 2019, only 9 million shekels were used. The rest was returned to the Finance Ministry. Few programs were instituted, and most of them dealt with teenagers or drug addiction. The activity by Abergel and her friends even resulted in a plan to establish a hostel, an emergency shelter, for transgender women. Though, she adds, transgender women aren't generally homeless.
"There are still no genuine rehabilitation program for trans women," Abergel says. "The welfare system isn't providing a solution. I myself tried to go through the welfare system's rehab program and it didn't help me." This program is like aspirin for cancer, she says – "I did everything by myself."
After the coronavirus pandemic broke out, the situation of women in prostitution in general, and trans women in particular, got even worse. They have little work, leaving them hungry and in need of shelter.
"If we hadn't been getting money from philanthropic foundations we wouldn't have survived," says Abergel. "I went to get boxes of food from the Home Front Command at the Dan Hotel in Jerusalem, to get their leftovers and distribute them to the girls. To give out food vouchers from all sorts of places. The government really doesn't care."
Falling on deaf ears
What organizations in the field such as Argaman, Transiyot Israel and My Sister wanted of the MKs who passed the law was to lend an ear to the needs of transgender women, to factor them in, and to provide solutions in the context of the law. That's why they asked to postpone its enforcement. But in late 2020, at the order of the High Court of Justice, Justice Minister Amir Ohana was forced to instruct that the law come into force even though the rehabilitation programs were not ready.
"Ohana met with us and said he didn't want to sign the order because it didn't have solutions," says Abergel. "In the rehabilitation system, nobody consulted with us. They didn't meet with the trans community organizations. MK Michal Shir was attentive but unfortunately, aside from Amir Ohana and his ministry, who were really on our side, most MKs from the community weren't there. Itzik Shmuli set up an interministerial team for the trans community but without a system for rehabilitation. Nobody asks us what trans women really need in order to get out of prostitution."
It's not that they didn't try to attract attention. When the law was being voted on for its second and third readings in late December 2018, the trans women demonstrated in front of the Knesset. Nobody came out to talk with them.
Their demands were that solutions be provided for their unique needs in the realm of housing, employment and rehabilitation; they also wanted their criminal records expunged of any reference to prostitution-related violations, like exposing oneself in public, disturbing public order and the like. "We asked for pardons on files liked this opened against the women and the president agreed to pardon them," says Abergel.
"We went to the first hearing on the law in the Constitution, Law and Justice Committee, on November 19, 2018," she adds. "We wanted the floor but it wasn't given to us. We met with MK Aida Touma-Sliman, who was head of [the Knesset Committee on] the Status of Women, and with MK Orly Levy, but it didn't go anywhere. At the Constitution committee we asked again for the right to speak and MK Karine Elharar asked that we wait for the next hearing. We were furious. At the Committee on the Status of Women, we were silenced by MK Merav Michaeli. The female MKs stigmatized us. They think we're supported by pimps. They didn't consider us a group of women representing themselves. They claimed someone had sent us."
But as Zehava Galon said in July 2017 when sponsoring the law, "Prostitution isn't women making a living, it's an industry within the world of crime."
Merav Michaeli's office commented that that she "view the women representing the trans women and sex workers as a very important voice to be heard, and she had a meeting with them this week in which they spoke about the needs and required solutions. Already during the first part of the discussion held at the time on the law, [Michaeli] presented the representatives of the transgender women participating in the debate and demanded that the welfare representative list the steps taken to provide concrete solutions they so badly need."
Karine Elharar's office stated: "As chairwoman of the State Control Committee she did a lot to bring the voice of the transgender community in all its varieties and to assist it." Aida Touma-Sliman stated, "Indeed, some tried to persuade me not to support the law criminalizing consumers of prostitution, and I told them my clear position: that I support the law and help for people leaving prostitution. It went nowhere because of disagreements."
"Sometimes," says Abergel, "feminist women find it hard to bring trans women into the feminist discourse. Women even fear that trans women are invading their safe space. It makes me angry that we get left out of the debate. The gender battle should be egalitarian. You can't say that trans women don't belong in the feminist struggle. Are we outside the fence?"
Moreover, this decision was "white, elitist, very condescending," she says: "We know what's good for you; we'll decide for you. We are taking a moral step here. And in the end, they are harming a very large population of women they aspire to help. The Knesset is really white and arrogant elitism, versus the working women who can easily be hurt."
Status plays a key role in the power balance between MKs and the transgender community, she feels. "Whenever I would introduce myself, everyone would start showing me how supportive they are of the gay community. 'I'm in favor of surrogacy, I support same-gender marriage.' That has nothing to do with me. What does have to do with me is the battle to survive. We are a socially segregated community and you're talking about surrogacy and marriage. I'm in a place where I want social acceptance, acceptance at workplaces, I want to walk safely in the street. Ultimately we did not find anybody listening."
After the law passed, Roll offered Abergel the job of advising the ministry on the transgender community, and she accepted. She hoped to bring about a more significant change for the transgender community, but it didn't work. "I didn't do anything that would save the transgender community," she admits. "But I managed to get people to take our nonprofit and my activism seriously."
Click the alert icon to follow topics:
ICYMI
Ken Burns' Brilliant 'The U.S. and the Holocaust' Has Only One Problem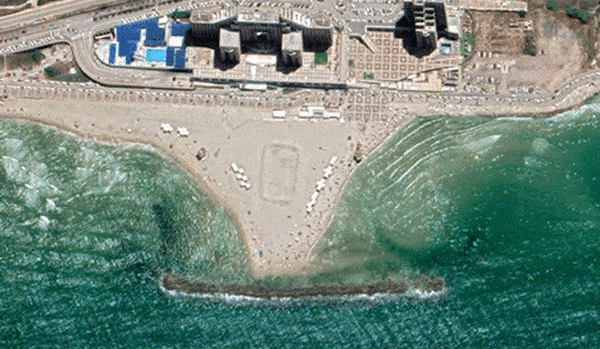 Facing Rapid Rise in Sea Levels, Israel Could Lose Large Parts of Its Coastline by 2050
As Israel Reins in Its Cyberarms Industry, an Ex-intel Officer Is Building a New Empire
How the Queen's Death Changes British Jewry's Most Distinctive Prayer
Chile Community Leaders 'Horrified' by Treatment of Israeli Envoy
Over 120 Countries, but Never Israel: Queen Elizabeth II's Unofficial Boycott