Top Israeli TV Shows and Films to Binge-watch During the Coronavirus Lockdown
From classics like 'Fauda' and 'Shtisel' to little-known gems like 'Off White Lies' and 'Dancing in Jaffa,' here are over 20 Israeli works to keep you entertained
Clockwise from left: "Shtisel," "A Tale of Love and Darkness," "Fauda," "Srugim," "Dancing in Jaffa" and "The Baker and the Beauty."
Credit: Ran Mendelson, Yes, Ronen Ackerman, Keshet International
Maybe you planned a visit to Israel that looks like it's not going to happen because of the coronavirus. Perhaps you want to check out the original version of the many Israeli series that have been, or are set to be, remade for wider audiences in English. Or you could just be an aficionado of Israeli fare who has been too busy – until now, at least – to catch up on the numerous television shows and movies coming out of Israel. Or maybe you are looking for something new and different to binge-watch.
Whatever the reason, here is a complete guide to the best Israeli TV shows and films currently available to subscribers of Netflix, Hulu or Amazon Prime. Content availability varies from country to country: Everything listed below is currently available in the United States.
TV SERIES
Action
'Fauda' (Netflix)
Unless you've been living under a cultural rock, you'll probably know that this global hit follows the adventures of an undercover army unit where Israelis disguise themselves as Arabs and infiltrate the West Bank in order to catch terrorists. What sets it apart from standard "white hats versus black hats" thrillers is the way in which each side of the Israeli-Palestinian conflict is shown as both human and yet deeply flawed. The first two seasons of the show (whose title means "Chaos" in Arabic) are available to watch now, with a third – set in the Gaza Strip – due soon.
'False Flag' (Hulu)
What if you woke up one morning and discovered you had been publicly identified as being part of a major international incident – the kidnapping of an Iranian official – and placed on Interpol's "Most Wanted" list? Loosely based on real events, when the identities of real Israelis were used by (allegedly) Mossad agents for a 2010 assassination hit in Dubai, "False Flag" ("Kfulim," or "Doubles," in Hebrew) takes this group of random strangers on a suspenseful and dangerous journey. The Israeli show ran for two seasons, and Apple TV is currently working on a remake starring Uma Thurman.
'When Heroes Fly' (Netflix)
It's hard to resist watching a group of dashing young men embark on a mission to rescue a beautiful young woman in distress. The show's star lineup portrays a group of Israeli comrades from the Second Lebanon War, each traumatized in his own different way by the conflict, who fly out to Colombia to track down the sister – long presumed dead – of one of the group members and an ex-girlfriend of two of the others. The group's quest will take it deep into the jungle and even deeper into strained relations.
'Hostages' (Netflix)
Before he created "When Heroes Fly," Omri Givon gave us two seasons of the high-concept thriller "Hostages." The show begins the night before Yael (Ayelet Zurer), a brilliant surgeon, is set to operate on Israel's prime minister. Suddenly, four men invade her home, taking her family hostage. Their demand: Make sure the prime minister dies on the operating table, or else the next family gathering is going to be a lot less crowded... Ignore the inferior U.S. remake with Toni Collette and Dylan McDermott, and watch the original instead.
'Mossad 101' (Netflix)
Remember "Fame," where the teens had to "start paying – in sweat" to become stars of stage and screen? Well, instead of a New York City high school of performing arts, this group of diverse characters from all layers of Israeli society are training to be agents at the famous/infamous Israeli intelligence agency. Their misadventures mix drama with elements of comedy, playing with genre clichés about spies and spy agencies.
Drama
'Shtisel' (Netflix)
The drama series that got the world obsessed with the inner lives of the ultra-Orthodox, the show follows an artistic misfit, Akiva Shtisel (Michael Aloni, who also stars in "When Heroes Fly" – you will become familiar with a small group of Israeli actors as you watch these shows), his rocky relationship with his prickly father and his quest for love within the strict boundaries of his unforgiving society in Jerusalem's Haredi Geula neighborhood. Two seasons of the show are available, with a third possibly in the offing.
'A Touch Away' (Amazon Prime)
Secular Russian immigrant boy meets ultra-Orthodox girl in a show that is much less subtle and far more melodramatic than "Shtisel." This take on "Romeo and Juliet" – set in the predominantly Haredi city of Bnei Brak – is, nonetheless, highly watchable.
'Prisoners of War' (Hulu)
This is the show that inspired "Homeland." However, "Prisoners of War" ("Hatufim" in Hebrew, or "Abductees"), which tells the complex story of two Israelis brought back from captivity in Lebanon after 17 years, is a very different beast. It's worth the watch even for "Homeland" fans, as the character-driven, complex story bears little resemblance to the adventures of Carrie Mathison and Saul Berenson. Also unlike "Homeland," which is only concluding now after eight seasons, "Prisoners of War" ran for a far more economical two seasons.
'Srugim' (Amazon Prime)
While "Shtisel" offers a window into the ultra-Orthodox world, "Srugim" offers a glimpse into the lives of Israel's modern Orthodox community – or, at least, a slice of it. Over three seasons, this well-made dramedy (the title refers to the knitted kippot worn by modern Orthodox men) follows a group of single friends in Jerusalem as they try to balance their ambitions and love lives, and the need to meet the expectations of their religious community.
'Mekimi' (Amazon Prime)
"Mekimi" is a fictional drama based on a book by Noa Yaron-Dayan – a former TV and radio personality who joined the Breslov ultra-Orthodox sect. It parallels Yaron-Dayan's real-life transformation: Together with her husband, Rabbi Yuval Dayan, the couple became the "It couple" of young Israelis who had turned to religion, conducting classes and workshops in Tel Aviv. Given that the couple has split since the show first aired in 2013, a sequel must surely be in the works.
Comedy
'The Baker and the Beauty' (Amazon Prime)
A surprise hit in Israel, this romantic comedy is a gender-bending "Cinderella" story. Over two seasons we follow the adventures of a pita baker from a warm and earthy Yemenite family who falls for an international (and very Ashkenazi) supermodel – a character based on Bar Refaeli. The latter was originally supposed to star in the series, penned by her friend Assi Azar, but backed out at the last minute. Her replacement, Rotem Sela, proved a more than capable and glamorous replacement. A U.S. remake is due to premiere April 13 on ABC, relocating the action to Miami and giving the working-class family Cuban roots.
'Hashoter Hatov' (Netflix)
Because the series was remade into a (vastly inferior) English version – "The Good Cop," with Tony Danza – Netflix decided to keep the title of the original show a transliteration of the Hebrew. This goofy, fast-moving cop comedy stars the brilliant Israeli comedian Yuval Semo. His character, Danny Konfino, is a police officer in suburban Israel whose complicated home situation (his wife has just left him for another woman) has done nothing for his anger management issues. The tone is set in the very first scene, when the police chief briefs his officers on their station's toilet paper situation.
MOVIES
'The Matchmaker' (Amazon Prime)
In Avi Nesher's evocative drama set in 1968 Haifa, a teenage boy goes to work for an eccentric Holocaust survivor who has become a matchmaker urging his clients to look for "what they need, not what they want." The 2010 movie explores Israel's difficult relationship to the survivors who found refuge in the Jewish state after World War II, through a group of colorful, compelling and tragic characters.
'Jellyfish' (Amazon Prime)
Co-directed by acclaimed author Etgar Keret and his wife Shira Geffen, "Jellyfish" is a portrait of modern Israel through the eyes of three diverse women whose lives are intertwined: a waitress, an Asian caregiver and a young newlywed. The dreamy, melancholy and magical film won the Caméra d'Or award for best first feature at the Cannes Film Festival in 2007.
'Jaffa' (Amazon Prime)
The story of a family, a neighborhood and the conflict between Israel's Arabs and Jews, "Jaffa" (2009) is set in a garage – no prizes for guessing the location – where the owner's daughter and an Arab mechanic have secretly been in love for years. Their plan to marry ignites the already complicated dynamics between her mother, father and wayward brother.
'One Week and a Day' (Amazon Prime)
An unexpectedly humorous twist on grief and mourning as an older couple who lost their son must figure out how to move forward after sitting shivah. The husband does so with the help of a goofy young neighbor played by Tomer Kapon (aka Capon), who you can also see in many of the Israeli shows listed above – including "When Heroes Fly," "Hostages" and "Fauda." He won an Ophir (the Israeli equivalent of the Oscars) in 2016 for this performance.
'Off White Lies' (Amazon Prime)
An introverted 13-year-old girl from California, Libby moves to Israel to join her loser dad who lost touch with her long ago, and the two try to reconnect under trying circumstances: during the Second Lebanon War. Luckily, Libby learns the art of the hustle from her father as they pose as war refugees, fleeing the north and heading to Jerusalem to get a roof over their heads.
'The Human Resources Manager' (Amazon Prime)
In an unusual odyssey, the human resources manager of an Israeli bakery must travel to Romania, transporting the body of an immigrant from the former Soviet Union who worked at his company back to her family – learning all about her life along the way. Eran Riklis' film is based on a novel by A.B. Yehoshua and won five awards at Israel's Ophirs in 2010, including best film.
'The Cakemaker' (Netflix)
This 2017 film features another grand odyssey, but this time in reverse: from Europe to Israel. Writer-director Ofir Raul Graizer's touching drama sees Thomas, a talented young baker in Berlin, begin an affair with a visiting Israeli businessman, Oren. When he later learns that Oren has died in car accident, Thomas travels to Jerusalem to learn more his about lover's life, becoming hopelessly entangled in Oren's family's life.
'A Tale of Love and Darkness' (Netflix)
This movie may have been filmed in Jerusalem, in Hebrew, and may be based on the memoir of the country's most prominent novelist, the late Amos Oz – but the Hollywood glitter on it is undeniable. This 2015 drama is the directorial debut of Natalie Portman, who also stars as the tragic figure of Fania (based on Oz's own mother). The movie is both personal and epic, as Oz was born in 1939 and his childhood unfolded during the British Mandate era and then Israel's War of Independence in 1948-49.
DOCUMENTARIES
'Disturbing the Peace' (Netflix)
This critically acclaimed documentary from 2016 follows the journey of members of Combatants for Peace, the group formed in 2006 that brings together former enemies: Palestinian fighters, some of whom served time in prison, and Israelis who served in combat and other elite units. The film looks at their individual choices to move from confrontation to reconciliation through peace activism, in transformations the New York Times described as being "less like lightning bolts and more like dawning epiphanies."
'Dancing in Jaffa' (Hulu)
In this inspirational real-life story, ballroom-dancing world champion Pierre Dulaine decides to teach Palestinian and Jewish children from his old neighborhood in Jaffa how to dance together – in a 10-week program called Dancing Classrooms. The experiment stumbles at first and Dulaine gets frustrated along the way, but slowly the children begin to learn the steps of friendship and coexistence in this moving 2013 film.
Click the alert icon to follow topics:
ICYMI
Ken Burns' Brilliant 'The U.S. and the Holocaust' Has Only One Problem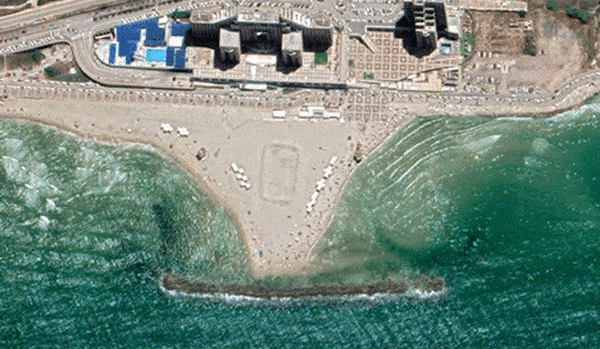 Facing Rapid Rise in Sea Levels, Israel Could Lose Large Parts of Its Coastline by 2050
As Israel Reins in Its Cyberarms Industry, an Ex-intel Officer Is Building a New Empire
How the Queen's Death Changes British Jewry's Most Distinctive Prayer
Chile Community Leaders 'Horrified' by Treatment of Israeli Envoy
Over 120 Countries, but Never Israel: Queen Elizabeth II's Unofficial Boycott