The 400-year-old Secrets of Italy's Jewish Feminists
Jerusalem exhibit shows how Jewish Italian women from the 16th century onward turned everyday clothing into sacred objects, transforming their communities along the way
Curator Anastazja Buttitta standing in front of an artifact in the "Warp & Weft" exhibition at the Umberto Nahon Museum of Italian Jewish Art, Jerusalem.
Credit: Emil Salman
In 1620, one Rachel Olivetti – the daughter of an aristocratic Italian Jewish family – was set to marry her fiancé Judah Leone, of the renowned Montefiore lineage. Before the pair wed, Olivetti decided to craft a present for her betrothed's family: an elaborate, hand-embroidered parochet (Torah ark curtain) made from rich fabrics in hues of dark red and gold.
But Olivetti's gesture didn't end there. In a feminist act that was almost unthinkable for the time, she stitched a poem that ran proudly down the length of the parochet extolling the marriage as "an important day for the Montefiores," because she, Rachel of the Olivetti clan, was entering their family.
Five centuries on, the bold and somewhat self-congratulatory statement – inscribed some 425 years before women in Italy were allowed to vote – can still be made out on the distinguished artifact Olivetti crafted.
Almost fully intact, the Olivetti-Montefiore parochet hangs inside a dimly lit room in the heart of Jerusalem. It is one of several rare and ancient centerpieces currently on display in "Warp & Weft: Women as Custodians of Jewish Heritage in Italy," at the Umberto Nahon Museum of Italian Jewish Art. (The exhibition takes its name from a basic weaving technique.)
The exhibition chronicles the forgotten stories of Olivetti and countless other Italian Jewish women like her who turned to the intricate art of embroidery and textile work to emancipate themselves.
Feminist mystery
Olivetti was apparently not the only woman who dared sign her name on ceremonial textiles used for religious purposes. Museum curator Anastazja Buttitta tells Haaretz that the oldest-known in Italy date back to the late 16th century – and every single one of them was signed by a woman.
Buttitta, who conducted extensive research on the subject, says signed textiles were produced mainly in Italian Jewish communities. "It remains a mystery why they did it, and why in Italy of all places," she says. "I think maybe they did it because they knew how important their role was in the ritual."
A walk throughout the exhibition's four rooms, which feature a range of textile artifacts designed and produced by Italian Jewish women over the centuries, indicates that their contributions to their communities' religious life was indeed significant.
Oftentimes, Buttitta explains, the women took everyday clothing items they had no use for anymore and turned them into practical religious objects – such as parochot and meilim (Torah mantles) – that they then donated to their local synagogues.
"This is something that was common in all of Europe – in the Christian world as well," Buttitta says. "Since textiles were extremely expensive, they were never thrown away unless they were completely worn out. So what was often done was that dresses or other items of clothing were reused and moved to the sacred place."
In Judaism, this practice has a special term: ha'ala bakodesh ("Rising to sanctity"). The curator clarifies that it means "the elevation into sanctity of a profane and mundane object. This elevation is incredible because it was actually passing through women's hands," she notes.
Sustaining the economy
Italian Jewish women were not just providing useful items to their own synagogues, Buttitta says. They also had a crucial role in shaping the economy of their families, and sometimes their entire communities. "Italian Jews were only allowed a few professions [around the 16th and 17th centuries], and one of them was to be textile merchants," she says. "These women had easy access to textiles coming from all over Europe, and they were crucial to the economy of their communities. Later on, during the 18th and 19th centuries, through embroidery and lace production they were really sustaining their families' economy and the communities' economy."
Buttitta, herself a Sicilian Jew, came to Israel in order to connect to her Jewish roots and pursue her doctorate at Ben-Gurion University of the Negev, Be'er Sheva. In 2018 she wrote her dissertation on Renaissance jewelry in Venice, interpreting it from both an artistic and social point of view.
When she got the invitation to curate the Nahon Museum, she knew she wanted to put together an exhibition that would present "a clear and focused perspective on the role of Italian Jewish women. I didn't want to talk about Jewish Italian society in general; I knew I had to focus on one specific subject. I knew that Italian Jewish women had a specific role, and that it was different from the Ashkenazi and Sephardi world."
Asked why Italian women seemed to have been more professionally and financially independent than their Jewish contemporaries elsewhere in Europe, Buttitta suggests it was a result of the "humanistic society they lived in."
But not everyone appreciated these women's independence, the curator says: "It's known there was a lot of conflict within the Italian Jewish communities because of the female emancipation."
Some women's resourcefulness reached beyond the confines of their communities. One example Buttitta cites, which she discovered through research conducted by Luisa Levi D'Ancona (a research fellow at the European Forum in the Hebrew University), is the story of 19th-century philanthropists Virginia Nathan and Alice Franchetti: They founded two professional textile workshops for poor, Christian housewives in Tuscany.
Women's influence differed in every Italian city, Buttitta says. "Every Italian Jewish community is different from the others, because every Italian city was different in terms of the society, the traditions, the style and the art. We know that in Venice women had a very important role, for example, and this influenced the Jewish Italian women in Venice."
Handle with care
The exhibition also aims to provide a comprehensive look at women's rituals and responsibilities by telling the stories of their marriages, child-rearing and professional work in the textile industry.
Every artifact represents a personal story. For example, a small Torah mantle from Venice was signed in 1776 by a woman named Rivka Chefetz. "It's made from French textile that was trendy during the 1730s and 1740s. The meil is very useful for us to understand a lot of things," Buttitta says. "Thanks to it, we know that this textile was reused about 30 years after it was created. It was probably not fashionable anymore, so [Chefetz] gave it to the synagogue and through ha'ala bakodesh, it became a meil."
Exhibits like this mantle are too delicate to be on display for long periods of time. Shoshana Mandel, the conservation expert who worked with the Nahon Museum to refurbish some of the items, says that with textiles, "the main damaging elements are exposure to light and moisture, as well as the wrong temperature."
The purpose of her work is to "prevent the deterioration of ancient items, to give them a longer shelf life and to maintain their original characteristics." She does it "carefully through sewing," which Mandel says "requires the use of similar or identical materials."
The unique items on show were all salvaged from Italian Jewish communities after the Holocaust and transferred to Israel by Umberto Nahon – an Italian Zionist, born in 1905, who had immigrated to Mandatory Palestine in 1939.
Prof. Sergio Della Pergola, the head of the Association of Italian Jews in Israel, tells Haaretz that Nahon had made it his mission to collect the Italian Jewish community's eroding signs of life. Della Pergola explains that the Italian Jewish community was at its peak before World War II. "Italian Jewry is probably the most ancient Jewish community continuously existing in the West," he asserts. "There were Jews in Rome during the second century B.C.E. There have been Jews there and in many other parts of the country for the past 22 centuries."
Prior to the war, some 47,000 Italian Jews lived in Italy. Today, their number is estimated at around 25,000.
"In 1939, the fascist regime introduced laws that led to the expulsion of the Jews from universities, from the army, from commerce, from all the professions. Many had to find a solution," Della Pergola explains. "Several hundred came to British [Mandatory] Palestine between 1939 and 1940, and among them were some very prominent figures. One of them was Umberto Nahon. He was very active in the Jewish Agency, very close to [first Israeli Prime Minister] David Ben-Gurion and [second Israeli Prime Minister] Moshe Sharett."
Eventually, Nahon established his collection – from textiles and Jewish manuscripts to ketubahs (Jewish marriage contracts) "that were also signed by women, which is not at all a common tradition in the Ashkenazi and Sephardi communities," curator Buttitta stresses.
A living museum
The most precious item in the entire collection is a synagogue interior from the 17th century, which Nahon had found abandoned in a town 40 kilometers (25 miles) north of Venice and shipped to Israel in parts.
In 1983, a nondescript piazza in the center of Jerusalem was officially declared the grounds of a functioning synagogue for the Italian Jewish community, which has rights over the Nahon collection and has made several contributions to it over the years. This fact proves contentious for the museum some 26 years later, when it mostly operates as a fully functioning museum on weekdays and opens its doors as a synagogue on weekends and holidays.
"Nearly all of the items in the collection can theoretically be used for daily functions," Della Pergola says. "We have an agreement, a detailed contract, between the community and the museum by which the community has the right to use the items – provided they are usable and not too fragile. So it's a living museum because the items are not just for display, they are being used by the public and then put again in the reservoir, which is well-guarded. It shows that Judaism lives."
According to Della Pergola, the local community in Jerusalem – which numbers about 1,000 members, many of whom are modern Orthodox – is proud of the museum. He thinks the "Warp & Weft" exhibition accurately represents "that the role of women has been important within the historical limitations of a country which is rather masculine-dominated."
In contemporary life in Italy and Israel, Italian Jewish women are "present on the public scene and in civil life," he continues. "We recently had an elderly Holocaust survivor, Liliana Segre, get appointed senator for life. It's a very prestigious appointment."
Yonit Kolb Reznitzki, the Israeli director of the Nahon Museum, believes the museum reflects this spirit. "This is a feminist museum. Most of the current employees are women, and I think it's not a coincidence. Our generation – myself, Anastazja and others – is a generation of go-getters. We don't wait for people to do things for us, we go out and get them. I think that's something women in Italy already understood many years ago."
Buttitta concurs. "I think that what is incredible is that we haven't used, not even once, the words 'artists' or 'artifacts' in our labels and texts. But all the people who leave the exhibition say, 'Wow, these women were real artists.' I think this is the most important thing about this exhibition: That it allows us to perceive these women as artists, as professionals, at a time when women didn't have many rights."
"Warp & Weft" is at the Umberto Nahon Museum of Italian Jewish Art, Jerusalem, through January 20.
Click the alert icon to follow topics:
ICYMI
Ken Burns' Brilliant 'The U.S. and the Holocaust' Has Only One Problem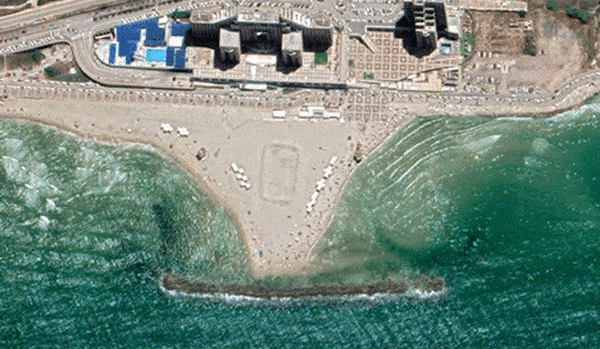 Facing Rapid Rise in Sea Levels, Israel Could Lose Large Parts of Its Coastline by 2050
As Israel Reins in Its Cyberarms Industry, an Ex-intel Officer Is Building a New Empire
How the Queen's Death Changes British Jewry's Most Distinctive Prayer
Chile Community Leaders 'Horrified' by Treatment of Israeli Envoy
Over 120 Countries, but Never Israel: Queen Elizabeth II's Unofficial Boycott