Young Israeli Menswear Designers to Know Now
Two young autodidacts are taking fashion design into all-new directions: Or Yair Bitton, a soccer-loving 'fashion-show freak,' and synthetic-fabric fan Tommy Ben Simone
A model is wearing a creation by BENSIMÔNE.
Credit: Guy Nechmad Stern
The back of designer Or Yair Bitton's hand sports a week-old tattoo: "Love of My Life 1970-2019." The tattoo is in memory of his mother, an employee at a health maintenance organization who raised him until her premature death from cancer less than three months ago, following a four-and-a-half-year battle with the disease. He took the text of the tattoo from the song by Queen, which she adored.
Bitton, 27, grew up as the only son of a poor family, in a distressed neighborhood. "My mother kept me sane," he says. "When she was ill, I slept at the hospital every night and ran to work in the morning. It was shattering. This tattoo is for her. I'm happy it's over, because she suffered greatly; it was primarily a big burden for her.
"My father, who came from a difficult home and was busy with a lot of nonsense, hasn't been in the picture for many years, and apparently never will be. I have no idea how they even got together. The luck of my life is that I had her. I could have either ended up in crime ... but she always made sure to nurture my dreams."
Until not too long ago, Bitton's big dream was to be a professional soccer player. "I was always ahead of my time in my clothes. I went for skinny jeans before everyone else, for instance. But I entered the world of fashion by chance – in kind of a fit of madness. I was a soccer player from age 6, with Hapoel Petah Tikva and Hapoel Ramat Gan. That was my dream. At age 21, I reached the national league with the adult team, and then I quit. I felt out of place.
"My grandfather, with whom I was very close, passed away at about that time. At the shivah, I began drawing for the first time. Before that, I was only interested in the ball and the field and girls. Suddenly, I sat down and sketched clothes. I have no idea where it came from. I got into it, and it woke something up in me.
"I wanted to make a change, clean house. I was looking for a way to develop myself. I thought of doing a degree at Shenkar, until I discovered how much it cost," he continues, referring to Shenkar College of Engineering, Design and Art. "There was no money at home. But I didn't give up. I kept my eye on the prize. I looked for ways to learn, to try out sewing, illustrating and so on."
Through mutual acquaintances, made contact with Maoz Dahan, a local designer who creates men's clothing under the brand Nouveauriche Dog. Dahan took him on as an apprentice and Bitton worked under him for three years, initially as his rather shaky right-hand man.
"I came to him with my sketches and he saw potential in them, even though in retrospect, they were garbage. I told him I was willing to wash his floors in order to learn. That reminded him of himself. We had a strong connection," he recalls. "At first, I did scut work. On the day I arrived, he had me cut out a suit. The scissors fell out of my hand four times. He threw me in at the deep end. Today, I know how to attach or cut anything. That was my school."
In 2015, Bitton decided to go it alone: "I had been a significant cog there, but after a show in Berlin, which I worked very hard on, the penny dropped – after I saw Maoz go on stage and receive the credit – and I realized I could do that, too."
In 2017, after spending some time in Milan, Bitton returned to Israel and created his first collection under an experimental brand. "It was an avant-garde collection for both sexes, very wild. I wanted to let my creativity out and I didn't think things through," he says now. "I left no stone unturned and applied to showrooms overseas. I exhibited at one in Paris and learned a lot from it, even though it wasn't such a good experience."
Last year, he took a course in tailoring and artistic direction at Central Saint Martins, a well-regarded art and design school in London. Today, working out of a studio in Petah Tikva, he is presenting his second collection under a new brand name, Highlight.
His maiden collection was inspired by his grandfather, while the current one – a pre-fall 2020 collection called Homecoming – draws on the work of Israeli artist Chaim Meroz, a relative of Bitton's. Meroz has been painting for the past 60 years on Kibbutzim Mishmar Hasharon, which Bitton used as a location for shooting his beautiful new catalog. His collection contains 40 items for men, some of which nod intentionally at women.
"This is the best thing I've ever done," he says. "I tried to bring something modern, but also to give a nostalgic feel. There's interplay here between old and new, feminine and masculine, casual and tailored. An encounter between worlds."
Parts of the collection, which was manufactured at factories in Netanya and Tel Aviv, suffer from problematic finishing, including a wealth of tailored fashioned out of various fabrics, including checks, with the wide silhouettes that Bitton loves. There are also cotton shirts printed with Meroz's artworks.
Some of the collection's standout items include pants comprised of blue denim shorts sewn onto thin black wool legs; a short button-down plaid shirt; and two T-shirts – one bearing the word "Groups" in quotation marks, and another with an image of an egg carton filled with hay, a cow and an orange.
It's hard to ignore the clear influence of international brands like Off-White, Balenciaga, Vatama and Louis Vuitton.
"I'm a fashion-show freak," Bitton said. "I can stay on the Vogue website for days on end. I also study historical channels; my weakness is the Renaissance period. I'll kill for symmetry, and I have severe OCD. When you see multiple influences, it all connects in your subconscious."
He pointed out some nice cotton pants with a cloth belt that allows them to be tightened around the waist.
"I created that thinking of the kibbutz, where everything is collective, belonging to everyone," he said. "Out of a desire to reach customers, I've been thinking of the days when I didn't have money and I would swap clothes with my friends. Therefore, I created one-size pants that can fit at least four sizes, so that friends or even a couple could buy them together and take turns wearing them. In Asia, that's very normal."
Prices range from 170 to 1,100 shekels ($48 to $313). The collection can be seen online at highlightstudio.co.il or by prior arrangement at the studio, 052-510-0057.
'Through the back door'
Tommy Ben Simone says he never had the patience to study when he was younger.
"I was always a terrible student. For high school, I bounced around among three schools – Rene Cassin, the arts school and then some night school where I finished 12th grade," says the 26-year-old designer, who was born in Jerusalem's French Hill neighborhood. "I didn't get drafted. I was looking for more materialistic excitement in those days. I started working at bars, which is what I do to this day to support myself.
"At age 21, I started to get seriously interested for the first time in fashion. That is, I always had a thing for the aesthetics of clothing. I paid attention to details, to what people wore. I always dressed more extravagantly and pompously than everyone else, and I always loved film and design, and I painted. But somewhere along the way, I veered into clothing, because somehow, all my fields of interest directed me there."
Ben Simone's mother, Anat, is head of the National Institute for Testing and Evaluation, and his father is former Haaretz journalist and former MK Daniel Ben Simon. The younger Ben Simone, who four months ago moved to premises in south Tel Aviv that serve as a studio and home, is currently launching a new brand of men's clothing.
"I did two paintings when I was 18," he recalls, describing his first foray in the field, "and a friend showed them to someone who had a mass-market T-shirt store in Jerusalem. Everything was horribly ugly; he made kind of ironic shirts. He bought the paintings from me for 100 shekels and printed about 100 shirts, which became hits. I realized I should have charged more. That was my first lesson in fashion. That's how I got into this."
Despite his record at school and suffering from attention deficit disorder, Ben Simon was determined to study independently. "The first year, I simply started to research the matter. I watched fashion shows; I read about designers; I subscribed to BoF, which is The New York Times of fashion," he says, referring to The Business of Fashion website.
"It was a kind of private schooling, at home. I never had the persistence or the mind for studying in an organized way. I drag this bubble of ADD around, so it's hard for me to be in an educational framework under certain conditions. It sounds self-indulgent, but it's very hard. I can sit and read about fashion for eight hours, but if I sit in a course that doesn't interest me – I simply won't be able to focus. So I tried to force myself to learn on my own."
At 23, he began taking private lessons from an outstanding graduate of Shenkar, Golan Taub, who has himself designed a line of women's evening wear under the brand name Mother of All. The lessons continued for two years, after which Ben Simone sought an apprenticeship with a local designer. He eventually met Tal Kushnir, another autodidact – and the only person who offered him a salary. The two worked together for six months on her most recent collection.
"I learned everything though the back door, always," Ben Simone says. "Nothing clicks for me; it all comes indirectly. Working together with Tali was like the explosion of a kind of supernova."
Ben Simone's debut collection, all of which was produced in a factory in East Jerusalem, is called New World Series and features just 10 items. The designer says he drew inspiration from Virgil Abloh and Yohji Yamamoto; he also cites the COS brand as a model for emulation.
"I didn't want to go too far, so I created a clean collection, toeing the line, a kind of functional capsule. I'll save the synthetic-print fur coats for later. I took timeless items and updated them for our era. I work a lot with synthetic fabrics, which is very unusual here. I love the way they can be manipulated, and the feel," he explains.
The collection's standout items, on display at the studio, include a black polyester-and-Lycra suit with tube pants and a nylon acetate lining; a pair of black jeans-style pants; and a blue jacket that is Ben Simone's own version of the classic French work jacket. Another item on show is a shirt with concealed buttons, made of gray nylon that gives it a sporty look. There is also a kimono-style wool coat with sloping shoulders and a crudely frayed hem, which is made to order. The collection is rounded out by a T-shirt printed with Ben Simone's logo and the name of his collection, and a practical-looking Lycra turtleneck.
Hanging on the rack are also two prototypes of women's items: One is a tailored pencil skirt; the other is a white button-down blouse that has been deconstructed into a sort of corset. They are suggestive of Ben Simone's plans to expand into the realm of women's fashion in the near future.
"I was very afraid of not understanding the business side of things, so I've also been doing a lot of research into the economics of fashion and the upheavals the industry is going through," Ben Simone says. "I'm interested in sustainable fashion and in the political statements made by clothing, for instance. You have to find your place in the world."
His business plan "rests first of all on creating a trend and buzz, and exclusivity – trying to implement in a small brand everything we see in the universal trends of the large brands. I don't want to open a store in Florentine and play nice music and wait for people to show up," he continues, referring to the trendy south Tel Aviv neighborhood.
"I want to create something more multidisciplinary. I want to do parties, joint ventures with filmmakers and musicians. To attract an audience through the things I love. I see this elsewhere in the world – this one is a deejay and also a director and also an artistic director – and I say, 'Fuck it, why not? It sounds wonderful.' So I taught myself graphic design, instead of paying an outside designer. I want to have a finger in everything."
Still, says Ben Simone, "I wish I had an agent, or at least a business partner. It's very isolating to work alone. I think about money all the time and I'm uneasy, even when I'm doing yoga."
Prices range from 100 shekels to 1,000 shekels. The collection can be viewed by appointment at the studio, 054-567-7788.
Click the alert icon to follow topics:
ICYMI
Ken Burns' Brilliant 'The U.S. and the Holocaust' Has Only One Problem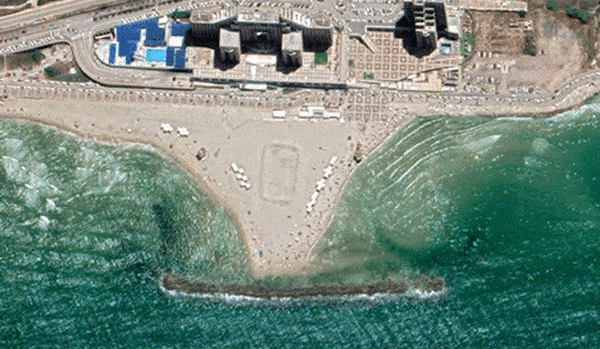 Facing Rapid Rise in Sea Levels, Israel Could Lose Large Parts of Its Coastline by 2050
As Israel Reins in Its Cyberarms Industry, an Ex-intel Officer Is Building a New Empire
How the Queen's Death Changes British Jewry's Most Distinctive Prayer
Chile Community Leaders 'Horrified' by Treatment of Israeli Envoy
Over 120 Countries, but Never Israel: Queen Elizabeth II's Unofficial Boycott