Margaret Atwood to Haaretz: Trump Is Creating a Catastrophe for Women in America
The Canadian author's fans believe she has prophetic powers, although she famously only draws on historical facts for her work. With her 1985 novel 'The Handmaid's Tale' now an acclaimed television series, she talks totalitarianism and women's rights
A scene from the Hulu adaptation of 'The Handmaid's Tale.'
Credit: George Kraychyk / Take Five / Hulu
This interview was originally published in May 2017 and updated after "The Handsmaid Tale" won Best Drama at the 2017 Emmy Awards.
Sharp-eyed viewers can spot author Margaret Atwood's sparkling blue eyes and silvery curls in the first episode of the TV adaptation of her 1985 novel "The Handmaid's Tale."
'If you really want to enlist an army of forced childbearing women, you have to feed, clothe and shelter them, and the taxpayer should pay for it, plus medical care.'
Atwood plays one of the "aunts" – the women charged with the reeducation of the "handmaids" in a theocratic state that has replaced the United States of America – as she beats the series' main character, Offred (Elisabeth Moss). She is not seen in the series again, but her vision, prophetic abilities (a term that appalls her) and the realistic, gradual manner in which she captures the formation of a totalitarian state are an indisputable part of the show, which presents a chilling world to its viewers.
This is the world of a modern America in which something has gone terribly awry. The point made by this dystopian vision – frightening for being so plausible – has not dulled over the 32 years since it was published. In fact, current events increasingly conform to Atwood's groundbreaking story. That's why it was no surprise when this ambitious production by U.S. streaming subscription service Hulu became the year's most discussed TV event.
In a phone interview with Atwood, 77, she says the rights to produce a TV series were sold to MGM in the 1980s, along with the movie rights. (The film, starring the late Natasha Richardson, was a box office flop in 1990.) In that sense, she admits she had no control over the TV adaptation, the casting or any other creative decisions. However, to her delight, she was offered the role of creative adviser, "which meant we held several noncommittal conversations about different ideas."
The end result pleases her, she says, relieved. Indeed, "The Handmaid's Tale" currently has a 100 percent positive score on the reviews-aggregation website Rotten Tomatoes. At the same time, it has triggered a lively debate between the Democratic and Republican camps in the United States, as well as causing another spike in book sales.
However, anyone who has read the book will note that while the first two episodes are mostly faithful to events in the novel, in subsequent episodes characters and ideas are more freely developed. This particularly applies to the secondary character of Moira, the protagonist's lesbian friend from university days, played by Samira Wiley (Poussey in "Orange is the New Black"), as well as the comely commander (Joseph Fiennes) and his young wife Serena Joy (Yvonne Strahovski), depicted in the book as a middle-aged couple.
Atwood is genuinely interested in other people's impressions of the show, but hems and haws when asked about the changes caused by the younger casting. She says it was a conscious decision by the screenwriters, who were interested in developing storylines and creating drama, but not trying to add sex appeal to a series that deals with sexual slavery.
Did you like the final product?
"Yes, because I am well aware of how awful it potentially could have been. You are always afraid of that. So I think it is a brilliant show. She [Offred, the protagonist] is a person navigating a world in which she's always under suspicion. In this world, much is expected of Offred – and if she doesn't produce [babies], she's out. The tension in the household where Offred lives is extreme, because there's a pyramid of power."
What would you want viewers to take from the series?
"I hope the audience will understand why it is so important to speak your mind while you can, and to vote – also while you can."
Tour of Afghanistan
It should come as no surprise that Atwood wrote her chilling tale in the mid-1980s. In 1978, she toured the Middle East with her husband and baby daughter. They visited Iran and Afghanistan, which were open to the West, with the latter ruled by a secular government. They left just before the historic changes that still reverberate to this day. Six weeks after they visited Afghanistan, its president, Mohammed Daoud Khan, was assassinated and a theocratic Islamic state was established. And eight months after they left Iran, the Shah was expelled and the Islamic republic headed by Ayatollah Ruhollah Khomeini was founded.
Not long afterward, Atwood was exposed to the secular version of totalitarianism. This was in the early '80s when she moved to West Berlin – the open and vibrant part of a city riven by a wall that left its eastern side behind the Iron Curtain, choking under the Soviet boot.
"Every Sunday, the East Germans would fly supersonic planes that made booms, just to remind us they were there," she recalls. "As a Canadian, I could go into East Berlin, which I did. I also went into Czechoslovakia and Poland, both of them still Iron Curtain countries [at the time]. At that moment, 1984, nobody thought the wall was going to come down anytime soon. But five years later, down it came."
Did the visits to the Middle East lead to "The Handmaid's Tale"?
"Sure, but so did visiting East Germany, Poland and Czechoslovakia when the Iron Curtain was still up. So did reading Victorian novels in which women had minimal rights. And so did studying the 17th century period and civilization in New England – a low point for women. It is very easy to point at other countries and say, 'Look how bad they are.' But you don't have to go very far, even in Western democracies, to find the same kinds of things, including clothing practices."
You've given many interviews over the years, and "The Handmaid's Tale" is always mentioned. And everytime, the person interviewing you says it is more relevant than ever. How do you explain that?
"Well, because when I wrote it in 1984-85, people were already in the United States talking about the changes they would like to make if they got power. And now they have power. It is one of those things that, when such an idea is first mentioned, people say, 'Oh no, we will never do that.' But if they've said they would do that, and they get power, they will probably do it. So I never believed it can't happen here, and I always believed human rights are made by humans. And that means humans rights can be taken away by humans. And we have seen those cycles repeat themselves many times, most notably in the lead-up to World War II. And when people who say they want to do such things get power, they also make changes very quickly."
Atwood's principle is never to write about something that had not already happened before, never to invent any horror.
What's amazing is that every time a totalitarian – or even just a conservative – regime gains power, almost the first thing they are interested in is women's bodies and women's rights over their bodies, family planning and abortion.
"That's true. It goes way back in history and it goes back to something very primal. Unless we develop bottled babies that are made in machines, the next generation is made by women. What women do and the degree of freedom they have concerns regimes that seek total domination."
After a short silence, Atwood offers many examples: from Napoleon to modern China and its restrictions on childbearing; Nicolae Ceausescu's Romania, which prescribed four children for every woman; and Nazi Germany, which determined who could marry and who could bear children, as well as establishing the Lebensborn program for the mass production of Aryan children through the mating of appropriate women and SS soldiers. Atwood notes all these examples, showing how each period dealt with the issue. A thread seems to connect biblical conquests, the elimination of men and boys after the fall of Troy, and the abortion policies promoted by President Donald Trump.
This last issue is particularly dear to Atwood's heart. She took part in the Women's March in Toronto, a day after Trump's inauguration in January.
While our conversation is relaxed, including moments of sarcasm and humor, that changes when Trump's name comes up. "He is creating a sort of potential catastrophe, because if you force women to have children they can't afford, and you are not going to help them with their prenatal nourishment, and you are not going to help them with their health care during childbirth, and if you are not going to help them with their postnatal care, what will be the result? The result will be a lot more dead women and malnourished children, and orphans and children that are given up because their mother cannot afford to raise them," she says.
Are you more pessimistic about the future?
"I am more optimistic about the future in that people in the United States are organizing quite a lot right now, and there has been a huge amount of support for Planned Parenthood, despite the attempt to shut it down. But what do these people, what sort of world do they want? Do they want a world in which all of these women are going to be living in a really horrible way inside their American democracy? It is not what they want. It is supposed to be the land of the individual. But what right do they have to own, appropriate other people's bodies?
"The state does appropriate bodies when it comes to the military draft. So if you have a draft – and I know it is true in Israel – you have to do a time in the army. But when you do, they feed you, they clothe you and they shelter you. So if you really want to enlist an army of forced childbearing women, you [have] to feed, clothe and shelter them, and the taxpayer should pay for it, plus medical care. If it is so concerned about babies, the state should ensure they grow up heathy and become healthy adults."
It's all there
'What women do and the degree of freedom they have concerns regimes that seek total domination.'
Atwood was born in Ottawa in 1939, growing up in Ontario and Quebec. She's written some 40 books, including 16 novels, short stories, children's books, a graphic novel and various screenplays. She has become one of the world's most renowned, successful and prolific writers. Among her best-known novels are "Cat's Eye" (1988), "The Blind Assassin" (2000), the "MaddAddam" trilogy and others. She has won many prizes, including the prestigious Booker Prize and the Arthur C. Clarke Award. She also won the Dan David Prize in 2010, which brought her to Israel for the first time.
In "The Handmaid's Tale," Atwood demonstrated almost prophetic abilities, dealing with human rights and what awaits society in the near future. She even described some biotechnological developments, such as growing synthetic meat in a dish, man-made epidemics and genetic engineering that link species and characteristics. All this is intertwined with an impressive ability to describe emotional worlds, penetrating deep inside relationships and friendships, demonstrating both grace and cruelty.
Her prophetic tendencies have been discussed in endless forums and interviews, in addition to her rejection of that very definition. She explains why she rejects these characterizations. She set herself a principle of never writing about something that had not already happened before, never inventing any horror by herself. For example, slaves were prohibited from reading in the United States; clothes have always been a political issue; and opponents of regimes have been hanged as a deterrent. Women, the persecuted gender in "The Handmaid's Tale," have been persecuted before, perceived as enemies of good order and burned at the stake.
Atwood says she wrote the book because she thought it was a way of depicting a way of human action, something people do when they are under pressure. The persecution and burning of witches was one of the seminal events in American history, she says, a meeting point of religious beliefs and political considerations – an act born of hysteria and belief in an unknown world. She is referring to the Salem witch trials between February 1692 and May 1693, adding that these were the true foundations of American society. For her, Trump's America is living proof.
"All you have to do is look at the kind of words being applied to Hillary Clinton during the election," she says. "There were 'witch' and 'demon' words. And some of them were by people who were not using those words as a metaphor. They really believed it."
You talk about cycles, one step forward and three steps back.
"Maybe only two steps," she laughs. "Everything keeps turning around. It's like a historic event that repeats itself when societies are under pressure. People look around, searching for someone to blame – a scapegoat on whom they can vent their fury – in order to fix everything. Things have gone wrong so it's the communists' fault, or the liberals', or someone else."
You describe how basic values such as liberty and freedom of thought are things people are willing to give up collectively.
"And very quickly. People will surrender their liberty under extreme duress, or when they are afraid, if a leader comes along and tells them he'll fix it, that he'll see to it that life returns to normal and the trains run on time. All governments have to do is broadcast the message that it is not only the ruler, but the source of all that is good, the right religion, the only true moral stance. If you oppose this you're not just a political rival, you're the embodiment of evil.
"People are not always rational, and people have their foundational myths. And every country has them, and they have structures that survive changes in names. For instance, Russia had the Russian Revolution. Before that there was the czar – an absolutist czar with secret police. Once you got the Russian Revolution, in quite a short space of time [you had] an absolutist leader with a secret police, only a much more effective secret police. So, similarly, in Iran you had a Shah with a secret police. And what replaced it was an ayatollah with a secret police.
"You see where I am going. Things may change in name, but the way they run often reverts to the default setting where it started. What you are seeing in Turkey now – you had the Ottoman Empire, then you had Ataturk, and now we are getting another absolutist ruler."
Yes, Erdogan makes me think of Israel's prime minister. He's a huge inspiration for Benjamin Netanyahu, I think.
"Really? You mean silencing everybody and seizing all power? The thing about power is that it really does corrupt and those who want it, and those who have it, never let go of it willingly. I think we go through circles, but sooner or later absolutists overstep the mark, they go too far. Either they go too far, or they run out of money and then people throw them out."
Click the alert icon to follow topics:
ICYMI
Ken Burns' Brilliant 'The U.S. and the Holocaust' Has Only One Problem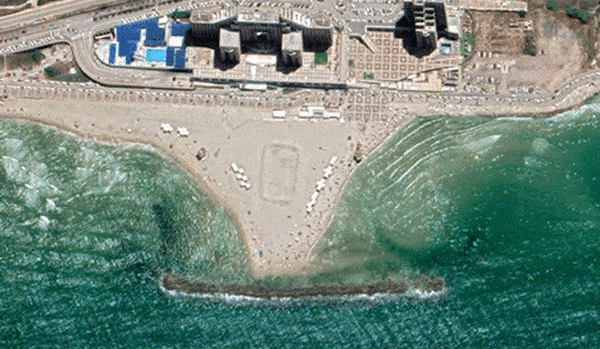 Facing Rapid Rise in Sea Levels, Israel Could Lose Large Parts of Its Coastline by 2050
As Israel Reins in Its Cyberarms Industry, an Ex-intel Officer Is Building a New Empire
How the Queen's Death Changes British Jewry's Most Distinctive Prayer
Chile Community Leaders 'Horrified' by Treatment of Israeli Envoy
Over 120 Countries, but Never Israel: Queen Elizabeth II's Unofficial Boycott