Torah Portion of the Week: Does God Change His Mind?
Parashat Ki Tissa.
'The Golden Calf' by James Tissot.
Credit: Wikimedia Commons
Does God sometimes regret his own decisions? In the Book of Samuel, that possibility is denied: The Prophet Samuel notifies King Saul that he will be deposed, adding, "Moreover, the Glory of Israel does not deceive or change his mind, for He is not human that He should change His mind" (I Samuel 15:29). Since God is not human and never changes his mind, Saul's pleas will be to no avail. However, Samuel's statement has an ironic dimension: God sent him to Saul because he is sorry he appointed him monarch: "The word of the Lord then came to Samuel: 'I regret that I made Saul king, for he has turned away from Me and has not carried out My commands" (I Samuel 15:10-11).
In other Bible stories as well, God is described not as omnipotent or omniscient, but as a being who makes mistakes and is willing to change his decisions. The same is true with the story of the Golden Calf, which appears in this week's reading, Ki Tissa (Exodus 30:11-34:35). Itis the continuation of the narrative of the Ten Commandments and the Book of the Covenant, whose final segment described Moses' ascent of Mount Sinai for 40 days and 40 nights.
The oral transmission of the Ten Commandments to all the Children of Israel is intended to consolidate Moses' status as God's emissary, "in order that the people may hear when I speak with you and so trust you ever after" (Exodus 19:9). Unfortunately, this goal is attained far beyond expectations: Israel considers Moses not just God's emissary but God's incarnation and, in light of his prolonged stay on the mountain, Israel demands from Aaron, "Come, make us a god who shall go before us, for that man Moses, who brought us from the land of Egypt – we do not know what has happened to him" (Exod. 32:1).
Hence, the Golden Calf, which Aaron fashions for the people, is a substitute not for God but Moses; it is not another god but another representation of God. The problem is that the representation of Israel's God through a golden statue violates the laws Israel solemnly accepted only a few weeks ago: The Ten Commandments state, "You shall not make for yourself a sculptured image" (Exod. 20:4), and the first law God transmits to Moses is, "With me, therefore, you shall not make any gods of silver, nor shall you make for yourselves any gods of gold" (Exod. 20:20).
God responds to the calf by informing Moses, who is still on the mount, that he intends to destroy Israel. Moses objects, presenting convincing arguments: God's reputation will be damaged if the Egyptians hear he destroyed Israel, and God promised the Patriarchs that he would bring their descendants to Canaan. Moses persuades God, who changes his mind: "And the Lord renounced the punishment He had planned to bring upon His people" (Exod. 32:14).
However, when Moses later prepares to reascend the mountain, he informs Israel: "You have been guilty of a great sin. Yet I will now go up to the Lord; perhaps I may win forgiveness for your sin" (Exod. 32:30). This ascent is surprising: Why must Moses seek atonement? Did he not attain that goal before he returned from the mountain after having appeased God and prevented him from annihilating Israel?
The second God-Moses dialogue is short and concise. Moses confesses on Israel's behalf, "Alas, this people is guilty of a great sin in making for themselves a god of gold," and requests, "Now, if You will forgive [literally, 'bear' or 'remove'] their sin [well and good]; but if not, erase me from the record which You have written!" (Exod. 32:31-32). God replies: "He who has sinned against Me, him only will I erase from My record. Go now, lead the people where I told you. See, My angel shall go before you. But when I make an accounting, I will hold them accountable for their sins" (Exod. 32:33-34).
Between the two dialogues, the focus of the story has shifted. The story's first part concerns quelling God's anger in the wake of the sin of the Golden Calf, and here Moses is successful: God agrees not to destroy Israel. This is insufficient, however. In much of the Bible, sinis regarded as a heavy burden: In the absence of punishment, it will continue to weigh on Israel's shoulders and threaten its future well-being.
Moses begs God to remove the sin without subjecting the people to a punishment, which is what is meant by the obtaining of atonement: "I will now go up to the Lord; perhaps I may win atonement for your sin." Moses uses his special status and presents him with an ultimatum: If God refuses to forgive Israel, Moses asks him to "'erase me from the record which You have written!'" Whereas God wanted only Moses to survive, Moses threatens that God will have to continue without him.
In response, God clarifies: "He who has sinned against Me, him only will I erase from My record." Moses did not sin and therefore will not be erased; his offer of self-sacrifice is rejected. God adds: "But when I make an accounting, I will hold them accountable for their sins."He will not erase the sin without punishment. Perhaps he cannot do so. Sin has an independent existence that must be dealt with; the account with Israel will be settled in the future and punishment will be meted out.
God initiates the first dialogue; Moses the second. The first dialogue achieves its purpose; the second fails to do so. Classical rabbinical authorities posit that God deliberately offers the first proposal so that Moses will prevent him from implementing it. The assertion "Now, let Me be, that My anger may blaze forth against them and that I may destroy them" (Exod. 32:10) seemingly invites Moses to intervene. After all, if God wants to destroy Israel, he does not need Moses' authorization.
In the second dialogue, God politely rejects Moses' intervention. Moses prevents God's wrath from immediately bursting forth and the account will be settled in a calmer, less emotional fashion, but not immediately. However, it will be settled someday. We read, "Then the Lord sent a plague upon the people, for what they did with the calf" (Exod. 32:35), but we are not told when or how that event occurred. Now that the sin no longer weighs down on Israel's shoulders, the journey to Canaan can continue.
All biblical quotations are taken from the JPS Tanakh: The Holy Scriptures, published 1985.
Click the alert icon to follow topics:
ICYMI
Ken Burns' Brilliant 'The U.S. and the Holocaust' Has Only One Problem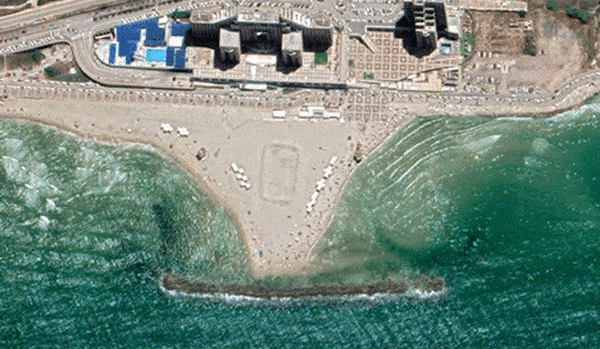 Facing Rapid Rise in Sea Levels, Israel Could Lose Large Parts of Its Coastline by 2050
Lapid to Haaretz: 'I Have Learned to Respect the Left'
The Mossad's Fateful 48 Hours Before the Yom Kippur War
As Israel Reins in Its Cyberarms Industry, an Ex-intel Officer Is Building a New Empire
How the Queen's Death Changes British Jewry's Most Distinctive Prayer