The Swedish-Iranian Muslim Trying to Combat anti-Semitism
Horrified by the racism suffered by a childhood Jewish friend, Siavosh Derakhti is determined to improve relations between the Jewish and Muslim communities in Malmo – a city noted for its anti-Israel sentiment
Siavosh Derakhti visiting Auschwitz, which was in Nazi-occupied Poland. He has taken groups of young Swedes on tours of several death camps, including Auschwitz and Sachsenhausen.
Credit: Private photo
He has received death threats, been slammed by friends and accused of working for the Mossad. But none of this has lessened Swedish Muslim Siavosh Derakhti's determination to fight anti-Semitism.
In fact, this charismatic Swedish-Muslim son of Iranian immigrants can barely contain his enthusiasm for the subject. At 19, he founded Young Muslims Against Anti-Semitism (now called Young People Against Anti-Semitism and Xenophobia), taking young Swedes on educational visits to concentration camps such as Auschwitz and Sachsenhausen. Eight years on, his organization now also visits synagogues, mosques and churches, and invites rabbis and imams for debates. Derakhti is a frequent lecturer and panelist, addressing schools and forums on his passion project.
Derakhti, 27, has received dozens of awards for his work, including Sweden's inaugural Raoul Wallenberg prize in 2013. Its selection committee wrote that through his actions and determination, he showed "that one person can make a difference."
His parents, part of the Azerbaijani minority in the Islamic Republic, immigrated to Sweden at the end of the 1980s following the Iran-Iraq War. They were highly educated and moved to Malmo, southern Sweden, with hopes of a better future.
"My parents came to Sweden and wanted to be a part of this country. But what happened? They couldn't find a job and they were neglected by society," recounts Derakhti. "As a child, I felt it was unfair and that everyone in this country was racist and that I had no chance of succeeding here. I started to feel like a victim, and I pitied myself and my parents and my family."
Derakhti says the discrimination his parents experienced at the time had a strong effect on him. As a teenager, he fell behind in school and started blaming all his problems on others. It was during this time he experienced what he calls his "identity crisis."
"Was I Azerbaijani? Was I Iranian? Was I Swedish? I didn't know who I was or where I came from. I felt like I didn't fit in," he tells Haaretz.
His two best friends shared his identity crisis, and together they comprised an unlikely trio growing up in Malmo: "We were a Jew, a Roma and a Muslim, and we were 'The Three Musketeers.' We were lucky to grow up together," smiles Derakhti.
They felt alienated due to the cultural and religious differences between them and mainstream Swedish-Christian society, Derakhti explains. But that alienation also cemented their friendship. "We could relate so much to each other in terms of culture, religion and tradition. We felt more connection to each other than to anyone else," he says.
Derakhti strongly rejects the notion that the Muslim and Jewish faiths will always be enemies: "We, the Muslims and the Jews, have so many positive things in common – we are cousins. But we also have many negative things in common. We are both vulnerable groups in Europe."
He recalls how his Jewish friend, whom Derakhti asks not to be named, was a frequent target of anti-Semitism, and remembers personally witnessing his friend being racially abused due to his faith. He cites one specific incident in the aughts when a group of young men from elsewhere in Malmo came to their youth center to fight, specifically because they had heard "there was a Jew there."
"Many people found out he was Jewish and came up to him and aggressively confronted him about his heritage," says Derakhti. "In some cases, people asked me how I could be friends with a Jew, and I felt the need to protect him – both verbally and physically. He lived under a constant threat."
Derakhti says his friend made him realize how the local Jewish population was being targeted in Malmo and how severe their situation was. "If I hadn't grown up with my Jewish friend, I'm not sure I would have committed to this issue the way I have," he says. "Since I had the honor to grow up with him, it became a part of my life when I read that Jews in Malmo were oppressed."
Hotbed of anti-Semitism
The third biggest city in Sweden, Malmo has developed a reputation for being a hotbed of anti-Semitism. At least half of the city's population is said to have at least one parent who was born overseas, with a sizeable percentage of immigrants from the Middle East.
A recent incident, in December 2017 – following U.S. President Donald Trump's recognition of Jerusalem as the capital of Israel – saw hundreds of protesters take to the city's streets shouting, "We're going to shoot the Jews!"
But for Derakhti, another anti-Semitic incident in his youth was the catalyst for his efforts. "The demonstrations around the Davis Cup tennis match between Sweden and Israel in March 2009 had a profound effect on me. It was complete chaos," he recounts. "The rioters outside the stadium shot firebombs against the Jews and shouted that they will kill them. It became very clear to me how widespread and dangerous anti-Semitism in Malmo was."
A massive demonstration in the city about the match – which took place two months after Israel's Operation Cast Lead in the Gaza Strip – quickly turned violent. Some protesters even marched under the Hamas banner shouting "Khaybar, khaybar ya Yahud," a common Muslim battle cry in the Middle East.
"Traditionally, anti-Semitism came from Christian Europe," says Derakhti. "But if we look at modern anti-Semitism – and this is especially true in Malmo – a big part of it comes from people with roots in the Middle East," citing what he sees as the strong connection between anti-Zionism and anti-Semitism.
Derakhti estimates that about half of all anti-Semitism in Sweden today is related to Israel, with many Swedes openly identifying as anti-Zionist but not anti-Semitic. He believes this strong anti-Zionist sentiment also exists in the country's political circles. One such example came in 2010, he says, when Malmo's then-Mayor Ilmar Reepalu said, "We accept neither Zionism nor anti-Semitism. They are extremes who put themselves above other groups, seeing others as something lesser."
The mayor continued: "I wish the Jewish community would distance itself from Israel's violations of the rights of the civilian population in Gaza."
Part of the problem, Derakhti says, is that Swedish Jews are commonly expected to take responsibility for Israel's actions. "Of course, many people say that all Jews are responsible for Israel. But that's like saying that I, as a Muslim, would be responsible for the actions of every Muslim country."
Although he says much of today's anti-Semitism can be traced back to anti-Israel sentiment, he believes things haven't really changed over the years. "What has happened is that the word 'Jew' has been replaced by the word 'Zionist,'" he says. "Back in the day, people said the Jews were responsible for all the evil in the world; today, the blame is on Israel." It's just a new twist on an old conspiracy theory, he notes.
"Anti-Semitism has existed for thousands of years, and it's neither a new problem nor something that will disappear anytime soon," he says. "After World War II we said this can never happen again – but look at what's happening today."
Threats, threats, threats
Derakhti concedes that trying to combat anti-Semitism is "all about blood, sweat and tears." And while he has received much praise over the years, he has also suffered numerous threats, most of them on social media.
"Many people did not like the fact that I dedicated myself to this issue," he admits. "I've lost friends. I've been hated and harassed. And people have even threatened to kill me. It's easy to be a gangster behind a computer screen."
One thing that has greatly increased the number of threats against him is his biannual visits to Israel.
In 2016, Forbes Magazine listed him as one of its 30 most influential young people in the world, and he has been attending its annual events in Israel ever since. He has also become involved with the Charles and Lynn Schusterman Family Foundation, which focuses its philanthropic work on Jewish matters and Israel.
"Because of my visits to Israel, the threats against me skyrocketed on social media – and it has not only been strangers responsible for this," says Derakhti. "Old classmates, friends and even old girlfriends hated me for going to Israel. I've been accused of being an agent working for Mossad, and that I am in cahoots with Israel and the United States, and all kinds of nonsense. Imagine working against half of your own hometown. It's a heavy burden to carry."
Despite the threats, Derakhti shows no sign of easing up. "I want to focus all of my strength and energy into educating people and making them more aware," he says. "Not just about racism but all kinds of social problems. I want to participate in building up a more positive world."
He pauses for a second. "But anti-Semitism will always be my most important topic."
Click the alert icon to follow topics:
ICYMI
Ken Burns' Brilliant 'The U.S. and the Holocaust' Has Only One Problem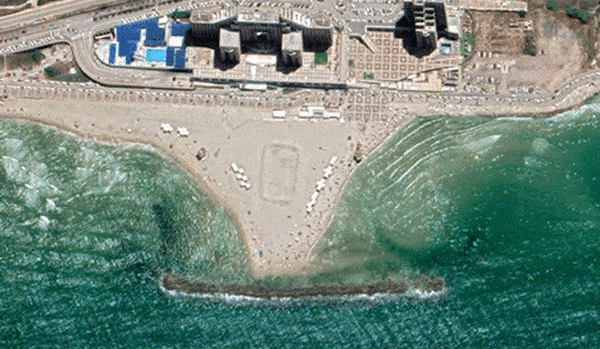 Facing Rapid Rise in Sea Levels, Israel Could Lose Large Parts of Its Coastline by 2050
As Israel Reins in Its Cyberarms Industry, an Ex-intel Officer Is Building a New Empire
How the Queen's Death Changes British Jewry's Most Distinctive Prayer
Chile Community Leaders 'Horrified' by Treatment of Israeli Envoy
Over 120 Countries, but Never Israel: Queen Elizabeth II's Unofficial Boycott