Madame Le Rabbin |
France's Star Female Rabbi Fights a Lonely Two-front Battle Against anti-Semitism and Islamophobia
Disgusted by increasing anti-Semitism and Islamophobia, distraught over Israel's policies and shunned by mainstream Jews, Rabbi Delphine Horvilleur tries to remain a voice of reason in a rising tide of hate
Rabbi Delphine Horvilleur. "If the State of Israel isn't able to respect the different voices in all ways, and to respect the Jewish and the non-Jewish other, then Zionism will fail."
Credit: Hatnoua
Rabbi Delphine Horvilleur is all about building bridges – but she isn't afraid to burn them when she spots something deeply disturbing on the other side.
She is a Reform rabbi in a mainly Orthodox community; a progressive in a largely conservative and increasingly insular Jewish community; a supporter of interfaith dialogue as the Jewish community takes hard-line positions in response to growing anti-Semitism; and a critic of Israeli policies as the community increasingly lines up with the government in Jerusalem.
"I am often the lightning rod for criticism," she says, acknowledging that she regularly receives hate mail and threats on social media. "But I am marginalized much more as a woman than anything else. As a Reform rabbi and a leftist, I am considered irrelevant. But as a woman rabbi and activist, I pose a threat to the conservativism of our community."
Horvilleur, 44, is one of only three female rabbis in France. Two years ago, she was awarded the French Order of Merit, which recognizes work or talent and accords the title of knight. She is formally known as Madame le Rabbin (with the male form for rabbi, since French has no word for the feminine). She has become a prominent media personality and is often called upon to represent the Jewish community – even though her stands are frequently at odds with those of mainstream Jews.
"This has been a hard time for Jews and for France," she says, referring to recent events in Israel, growing anti-Semitism at home and tensions within the Jewish community.
"I am a Zionist and I believe that Israel has the right to defend itself, but I cannot condone the killings in Gaza. I believe that Jerusalem is the capital of Israel, but I wonder if this was the time or the way to open the U.S. Embassy there. But the local organized Jewish community, with the support of the Israeli government, demand that Jews support Israel blindly. So what are they telling me – that I am so far out of the mainstream that I am not a 'real' Zionist? Or that I am not a 'good' Jew? That is unacceptable."
Turning to the situation at home, she recalls the murder in late March of Mireille Knoll, an 85-year-old Holocaust survivor who was stabbed 11 times and her apartment set alight by a Muslim neighbor and a homeless man. There was also the murder last year of 65-year-old Sarah Halimi, an Orthodox Jew who was murdered by a Muslim as he shouted extremist Islamist slogans.
"There has always been anti-Semitism in France, but this is different," Horvilleur says. "I love and believe in France, but today France is the only country in Europe where Jews are being killed as Jews."
Diminutive and soft-spoken, yet forceful and captivating, Horvilleur heads the Liberal Jewish Movement of France, a progressive congregation in Paris with some 1,500 members. She is also editor-in-chief of Tenou'a, a Jewish quarterly magazine. She studied in Israel and New York, and has published books and articles on feminism and modesty in the Bible.
Haaretz interviews Horvilleur in a coffee shop in the historically Jewish Le Marais neighborhood of Paris, where she lives. As a rabbi, she is asked "more questions about the situation in France than about anti-Semitism," she says. "When Jews are attacked, it is a sign that all of our systems are imploding and we are worried as French citizens."
The end of 'laïcité'?
French republicanism has been based on the principle that citizens are citizens, not members of individual ethnic or religious groups. This leaves little, if any, room for identity politics, interest groups or intersectionality.
"We refer to this as laïcité," she explains, speaking in Hebrew with smatterings of French and English. "Almost impossible to translate, it means that, since the revolution, France has promised each and every one of its citizens that he or she can always speak in the first-person singular and will never experience any pressure" from their birth group or cultural background.
France, Horvilleur notes, was the first European country to allow Jews to become citizens. "But the price was that religion and any other kind of 'we' would be excluded from public recognition. Anyone who talks about 'us' as a monolithic group is seen as threatening French democracy."
Muslim immigration, however, has challenged the foundations of laïcité. France has the largest Muslim population in Europe, mostly from North Africa, and the community maintains a structure that brings its religious beliefs into public life – for example, the expectation that women will wear a hijab in public. "Almost no Jews ever wear a kippa in public," Horvilleur notes. "French republicanism doesn't know how to deal with this communalism. And it certainly doesn't know what to do with religiously motivated violence."
This situation has been particularly difficult for the left – and especially for the many Jews who fought for the rights of underprivileged populations and saw them as a group despite the French tradition. And now that group has turned against France and the Jews.
In response, Horvilleur has become especially involved in Jewish-Muslim dialogue, which, she believes, can help to find solutions to the hatred both in France and in the Israel-Palestinian conflict. In early June, she and a colleague – an imam from a mosque in Paris – are organizing "Shabbadan," to observe both Shabbat and Ramadan. But she acknowledges that these activities have not gained much traction on the left or within the Jewish or Muslim communities.
'Uncomfortable' with the left
Horvilleur believes the left has been torn apart. "There is no unified left in France anymore," she says. "Some of the left has allied itself with French President Emmanuel Macron's centrist policies in support of laïcité. Others find themselves supporting stands that were opposite to the historical positions of the left, such as the veiling of women. Even the feminist world has split between universalists and those who are now supporting political collective identities. And some in the left refuse to explore the links between anti-Semitism and anti-Zionism.
"All this has created a rift in what used to be one political family," she says. "I am not comfortable with the left anymore. This is not the healthy, respectful disagreement – l'shem shamayim – that the Talmud speaks of. It is destructive and dangerous."
The anti-Semitism has also created a backlash among the Jewish community. Formally, the Jewish community is represented by two organizations: the Consistoire, which was set up by Napoleon in 1808 to administer Jewish worship; and Crif, an umbrella group of Jewish organizations that was established during World War II.
Both of these organizations have taken right-wing positions regarding Israel, largely supporting the current Israeli government's policies. On its website, for example, Crif praises the transfer of the U.S. Embassy from Tel Aviv to Jerusalem, giving no expression to opinions like Horvilleur's.
"Unfortunately, within the Jewish community, a minority has become so-anti-Muslim that it considers creating alliances with French right-wing parties, including those that are classically anti-Semitic," she observes. "And some extreme-right politicians have become strong supporters of Israeli policies not because they love Israel, but because they see Israel as a mirror to their anti-Arab feelings."
She is also at odds with the organized Jewish community because it does not support Jewish denominational pluralism. "The problem with the organized French community is that there is no dialogue between its various movements, and the liberal line is pushed to the margins of the community. I head one of the largest Parisian progressive congregations, and progressive synagogues are full, yet I am still marginalized as a rabbi within the community."
Leaving is not a solution
Does she agree with those Israeli leaders who contend that it is time for Jews, including liberals, to leave France?
"Absolutely not," Horvilleur responds. "I have trouble with the political speech of the Israeli government that says aliyah [immigration] is the ultimate solution, or a way to repair my 'Jewish brokenness.' True Jewish identity has always been a bit broken and complicated.
"When I hear the self-assurance and certainty of some in the Israeli government, I ask myself, 'Where is the Judaism that questions itself?'" she says. "Jewish identity is never complete – not in the Diaspora; not in Israel, either.
"Yes, there is a shadow hanging over our future here, but we must respond by creating new ways of being Jewish," she continues. "It will be difficult and there will be moments of despair, but simply living in Israel is not a solution to questions of Jewish identity."
Rather than calling for aliyah, she believes Israel should be setting an example for pluralism in the Jewish Diaspora. "If liberal Judaism were legitimate in Israel, it would become legitimate in France, too," she says.
We conclude by discussing a Knesset bill that would give the Orthodox authorities complete control over conversions in Israel. "It is a disaster to suggest that Judaism can speak with one voice. If the State of Israel isn't able to respect the different voices in all ways, and to respect the Jewish and the non-Jewish other, then Zionism will fail. At least, the Zionism many of us believe in will fail, because this will not be the state of our dreams," she says.
Click the alert icon to follow topics:
ICYMI
Ken Burns' Brilliant 'The U.S. and the Holocaust' Has Only One Problem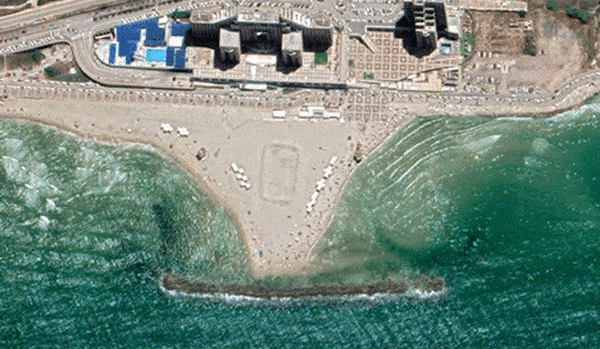 Facing Rapid Rise in Sea Levels, Israel Could Lose Large Parts of Its Coastline by 2050
Lapid to Haaretz: 'I Have Learned to Respect the Left'
The Mossad's Fateful 48 Hours Before the Yom Kippur War
As Israel Reins in Its Cyberarms Industry, an Ex-intel Officer Is Building a New Empire
How the Queen's Death Changes British Jewry's Most Distinctive Prayer