Why the Leader of the Reform Movement Is Optimistic About the Bennett-Lapid Government
The leader of U.S. Jewry's largest organization, Rabbi Rick Jacobs, is optimistic about Israel's likely new government, but cautions that ideological differences will still distance Americans and Israelis.
Rabbi Rick Jacobs and IRAC executive director Anat Hoffman at the Jerusalem Pride Parade in June 2021.
Credit: The Union for Reform Judaism
Rabbi Rick Jacobs knows that the person poised to become Israel's next prime minister is far from an ideological soulmate of leftist American Jews like himself.
Still, when he speaks of the prospect of Yamina lawmaker Naftali Bennett replacing Prime Minister Benjamin Netanyahu, the Reform Movement leader strikes a hopeful note.
"Bennett is hardly the savior of liberal Jews or liberal democracy. But it feels like a reboot that may, in fact, be something transformational for Israel, and potentially for us," said Jacobs, who has served as the president of the Union of Reform Judaism for the past nine years.
One thing is for certain: It would be difficult for the relationship between the leader of U.S. Jewry's largest organization and the leader of the Jewish state to sink lower than it has over that time.
The past four years have been particularly icy. Ever since 2017, when threats from the ultra-Orthodox parties led Netanyahu to abandon a carefully-negotiated plan to allow egalitarian prayer at the Western Wall, there has been no direct contact between Israel's prime minister and the leader of the movement representing some 1.5 million Diaspora Jews who belong to hundreds of Reform synagogues across North America.
Asked why Netanyahu had taken such a move, Jacobs said that the "writing off" of overwhelmingly liberal Reform American Jews was a "political calculation." Netanyahu, he surmised, concluded that not only were they anathema to his ultra-Orthodox coalition partners - they were unnecessary when it came to guaranteeing U.S. political support. And the Israeli prime minister surely didn't enjoy Jacob's relentless outspoken criticism of the occupation.
Netanyahu's former U.S. ambassador Ron Dermer, Jacobs said, laid that calculation out clearly in recent remarks - exchanging the support of left-leaning American Jewish Democrats for that of Republican Christian evangelicals.
"Bibi and Dermer said, 'Let's go with the evangelicals. They are much more reliable, they won't criticize Israel, it's a better relationship.' And so we were the casualties of that," says Jacobs.
Jacobs was speaking during a six-day visit to Israel last week, his first time in the country since February 2020 - and, he notes, his first time boarding a plane since the COVID-19 pandemic struck. He joked that the last time he spent such a long period of time away from the Jewish state "was probably when I was in the womb."
He was among the first non-Israeli citizens permitted into Israel in the post-coronavirus era as the country slowly opened its borders to a select few.
Even the normally relentlessly upbeat Jacobs seemed somewhat sobered by the events of the past year. He noted that the 2020 election "ripped us to shreds," and the January 6, 2021 storming of the U.S. Capitol combined with the reactions to George Floyd's death turned American Jews' focus inward. The Gaza conflict sharply refocused their attention and awakened fears of anti-Semitism.
The announcement that Bennett was joining Yesh Atid lawmaker Yair Lapid to form a unity government came Wednesday, the day Jacobs happened to be scheduled to visit the Knesset. "I was grateful that all of the party leaders kept their appointments with me, although many of them seemed quite distracted by their intense last-minute negotiations," he said, adding that it was a thrilling moment when, during his visit, he was asked to hang the mezuzah on the new Knesset office of Gilad Kariv, the first Reform rabbi to serve in Israel's parliament.
Cautious optimism
His cautious optimism regarding Bennett rides on his experiences with the latter as Diaspora affairs minister, where he did "a lot of good" - including taking the initiative on the Western Wall controversy. Also, because of his background - Bennett's parents are American immigrants to Israel - he "understands the ethos of North American Jewry."
While "on issues of settlements and annexation, you know, there really isn't common ground, but on issues of religion and state - on trying to repair some of the torn relationships with North American Jews in particular - I actually think he's going to be potentially effective," Jacobs said. Without any ultra-Orthodox parties in the new coalition, he said, the Western Wall compromise could be revived, and he believes there may be progress on the ongoing controversy in Israel over whether to recognize non-Orthodox conversions.
On a broader political scale, when it comes to the relationship between Israel and the United States, particularly within the Democratic Party, the combination of a Biden White House and "new faces, voices and a new tone" in the Israeli government "could really make a big difference and get us back into some kind of bipartisan normalcy and some kind of respectful relationship," he added.
It may also be helpful, he suggested, that while outgoing Israeli president Reuven Rivlin was a Diaspora-friendly Israeli president, he believes his successor Isaac Herzog "has the potential to take things to another level ... all of these realignments taken together do point to something different, important, and maybe, healing."
'The scales tilted'
While the political upheaval during his visit was coincidental, the timing was designed to show solidarity after the 11-day Gaza conflict "because you show up when your family's going through something like that."
Israeli perception of a lack of support from American Jews during that conflict became a recurring theme over the course of Jacob's visit. During a visit to Israeli kibbutzim on the Gaza border, he sat and sipped coffee as residents told him harrowing stories of sitting fearfully in bomb shelters and shared frustration and bewilderment regarding the reaction from abroad.
While visiting teenagers participating in the Reform movement's semester-in-Israel high school program, he was told that Israel had been so vilified among their peers during the conflict, that they were attacked - including by Jewish friends - merely because their Instagram feeds showed that they were in Israel.
"Something happened on social media over these last few weeks that was unprecedented," Jacobs said. "The scales tilted" against Israel.
New government or not, he doesn't see that changing.
"For our young people, I don't think [a new government coalition] is going to make that big a difference. I think the narrative of the Palestinian injustice, not just the Gaza war, but the occupation, is something that this generation is really wrestling with. They ask what it means to be committed to justice, and how they can understand Israel in that context."
While the Israeli conflict is "not a morality play and there's a good measure of justice on the Israeli side," increasingly, in social justice circles on the American left, the conflict is framed simply as "the good versus the bad. And we're the bad guys."
Growing partisan divides in both countries acted as a catalyst for this dynamic, he said.
"Zionism has been co-opted by Likud. And that in turn was fed by the connection between Donald Trump and Bibi. For our young people, Donald Trump signaled everything, you know, broken morally [in] the United States. And this idea that they and their parents and grandparents were supposed to only love the kind of pro-Israel positions that the Trump Republicans took - they basically reacted by saying, 'Keep it, you know, this is not who we are, that's not who we're ever going to be.'
"If Israelis could have elected an American president it would have been Donald Trump, no question about it, and if American Jews could have elected an Israeli Prime Minister, it would not have been Bibi, or Naftali Bennett or Gideon Sa'ar - it would have been Yair Lapid or Merav Michaeli. How in the midst of that kind of sailing in opposite directions, can we forge some commonality, some sense of, you know, we are part of some shared larger narrative of Jewish people? That's our challenge."
Meeting actual Israelis
The key to meeting it, Jacobs believes, is greater exposure to a wide range of Israeli voices.
One encounter during his visit to the south left a particular impression.
"An older woman came up to me, and there was an urgency in her voice. She said, 'I need to tell you something about my experience. I'm a great grandmother. And I spent much of the last three weeks in a bomb shelter here with my kids, and some of my grandkids, and my heart was broken.'
"So immediately I figured she was going to give me a lecture about her own fear and uncertainty and danger. But instead she said, 'All I could think about, were the mothers and grandmothers and great grandmothers in Gaza that didn't have a bomb shelter to go to.'"
He immediately wished, he said, "that the 20- and 30- somethings I speak to in America - who don't have any direct contact with Israelis - could hear her. That this woman, while she was going through that, was thinking about Palestinian families and children, that her heart was open, is something that they need to know exists."
While building a connection may be complicated, Jacobs said, it's something that the Reform Movement will continue to pursue despite the challenges. That is why, he said, the movement pushed hard as COVID-19 restrictions loosened to bring the high school students to Israel, to prepare for almost 1,000 more students to come to Israel this summer, and bring hundreds of young Israelis to work as counselors in Reform summer camps.
That kind of direct person-to-person contact, Jacobs believes, is the way that "in the midst of that kind of sailing in opposite directions politically, we can still forge some commonality, some sense of a shared larger narrative of Jewish people."
Traditional pro-Israel "hasbara" simply doesn't work anymore, he said.
"We're not walking away from Israel, we still have that commitment, we're continuing to plant those seeds [of connection] within young people. But young people also, you know, have minds and experiences of their own. And telling them that the occupation isn't really so bad and that Sheikh Jarrah is just a real estate dispute? That's not gonna fly."
'Peoplehood'
Israel-related issues have been just a small part of Jacob's challenges following this difficult year, as the Trump era and COVID-19 have taken their toll within the U.S. Jewish community.
Jacobs feels that the "alarming trends" highlighted in the latest Pew survey have received far less attention than they deserve, particularly the damage to the ties linking different communities within Judaism, in an era when anti-Semitism makes unity more important than ever.
"Pew asked Orthodox Jews how much they care about Reform Jews; the answers were pretty minimal. They asked Reform Jew how much they care about Orthodox Jews. Again, pretty minimal. Those questions are pretty accurate measures of peoplehood. We need to look at what degree we believe we're in a common world where we care about one another."
At the same time, he must oversee the rebuilding of Reform synagogues and institutions after intercommunal connections suffered serious damage by COVID-19, and financial pillars of the movement like summer camps were shuttered.
"There have been lots of financial challenges, and it's been a time of isolation and lack of connection. But our synagogues have been incredibly creative. And we were able to reach people who showed up for worship virtually who had never been to a service.
"I think COVID also awakened a spiritual yearning in people. We're not simply going back to the way things were, we're going to try and use what we've learned to do our work more powerfully and keep expanding our reach. We've been forced to rethink ,reimagine and ask: What is really at the heart of our communities? What is it that people most yearn for?
"I think we're excited that the journey ahead is not going to look like it did before. We're going to be different in the future - I hope we're gonna be better."
Click the alert icon to follow topics:
ICYMI
Ken Burns' Brilliant 'The U.S. and the Holocaust' Has Only One Problem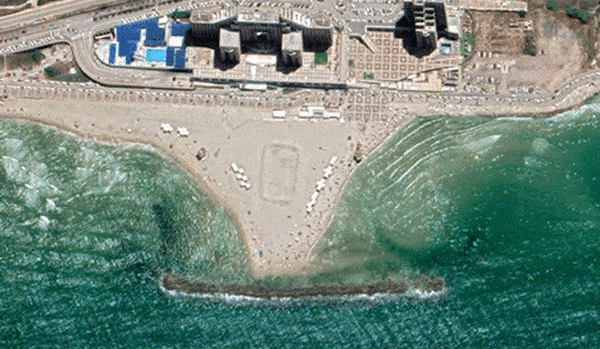 Facing Rapid Rise in Sea Levels, Israel Could Lose Large Parts of Its Coastline by 2050
As Israel Reins in Its Cyberarms Industry, an Ex-intel Officer Is Building a New Empire
How the Queen's Death Changes British Jewry's Most Distinctive Prayer
Chile Community Leaders 'Horrified' by Treatment of Israeli Envoy
Over 120 Countries, but Never Israel: Queen Elizabeth II's Unofficial Boycott