New Messianic Jews' Advocacy Group Lobbies for One-state Solution
The Alliance for Israel Advocacy, which aims to be a counterpart of Christians United for Israel, says it was encouraged by government officials in Jerusalem.
Detail of Marc Chagall's 'Exodus,' in which Jesus leads the Jews from slavery.
Credit: Artists Rights Society, New York / ADAGP, Paris.
NEW YORK – A new player is joining the increasingly crowded pro-Israel lobbying field in Washington, aiming to promote a one-state solution in which the Land of Israel is an entirely Jewish state.
The group, the Alliance for Israel Advocacy, has been established by the Messianic Jewish Alliance of America, whose members consider themselves Jews while still believing Jesus is the messiah.
Also on the agenda is fighting the boycott, divestment and sanctions movement, and persuading people that the Bible is the deed to the Land of Israel that God gave the Jewish people. Alliance for Israel Advocacy is against a two-state solution even though Prime Minister Benjamin Netanyahu officially backs one.
"A two-state solution is contrary to the Bible," said the new group's executive director, Paul Liberman. Palestinians "are sojourners – permanent residents" in Israel, he told Haaretz. "They are fully functional, just can't vote in national elections."
The organization has four staff members to start, said Joel Chernoff, CEO of the Messianic Jewish Alliance of America. The parent is raising an annual budget for the group of between $250,000 and $500,000, and has among its congressional supporters Rep. Lee Zeldin of New York, the only Jewish Republican in the House of Representatives.
On May 10, Alliance for Israel Advocacy will hold a Capitol Hill briefing on BDS and terrorism, Liberman said.
The new group endeavors to be the messianic Jewish equivalent of Christians United for Israel, a 2.9-million-member organization established by evangelical minister John Hagee. Christians United for Israel has its own lobbying arm in Washington, the CUFI Action Fund, which was established last year, said Christian United's spokesman, Ari Morgenstern.
Both strive to be the Christian counterparts of the American Israel Public Affairs Committee. AIPAC has 100,000 members, but its spokesman said it did not know how many were Christian. He declined to comment on the new group.
Christians United for Israel's agenda closely mirrors AIPAC's, and the organization has recently focused on the Iran nuclear deal, support for anti-BDS legislation and American foreign aid to Israel, Morgenstern said.
With its focus on a one-state solution, Alliance for Israel Advocacy seems to be taking a different approach.
"The Holy Scriptures are the title deed to the land, and we want to assert that. We want to draw on that wealth of proof that this is a Jewish nation promised to the Jewish people," Liberman said.
"AIPAC does a fine job of advocating on the basis of secular values like the U.S. being a military strategic ally. But they use defensive arguments," he added.
"The biggest club in the bag is the Scriptures because they speak of a very lengthy history of Jewish presence in the land that all archaeology confirms. And AIPAC is very oriented toward a Democratic liberal constituency of 5 million Jews. We represent up to 80 million evangelicals."
Diverse evangelicals
The Israeli government has a multifaceted relationship with evangelicals. They represent a far bigger pool of visitors and political allies – current and potential — than do American Jews, so Israeli tourism and embassy officials interact with them often.
At the same time, a priority of evangelicals is converting people to Christianity; some parts of the diverse evangelical community also believe that Israel plays a key role in the return of their messiah.
Ilan Sztulman, head of public diplomacy at the Israeli Embassy in Washington, deals with Christian communities. "We do a lot of outreach and activities with evangelicals, and they're very helpful," he said.
"But we only deal with evangelicals who do not see converting Jews as their goal. People who do have in their objective the conversion of Jews to Christianity we don't deal with."
Of the new group and the Messianic Jewish Alliance of America, he said "we don't have any contact with them." Their belief in a one-state solution to the Israeli-Palestinian conflict "is against what we believe. The official position of the Israeli government still is that the prime minister supports a two-state solution."
Liberman is an ordained messianic rabbi who has founded two congregations. He became an Israeli citizen but returned to the United States, and is a former president of the Messianic Jewish Alliance of America. He's also the publisher of the messianic community's main newspaper, The Messianic Times.
The idea for a Washington advocacy office came when Chernoff was showing Israeli government officials around the Joseph Project warehouse last spring. The Joseph Project gathers excess goods donated by businesses, from toys to furniture, and distributes them to Israeli nonprofit organizations. Liberman says it's the largest humanitarian aid group in Israel, having donated over $100 million in goods over the past 15 years.
"We were told that 'you guys, if you were to open a Washington office we'll work with you. You are a natural bridge to evangelical Christianity, which is potentially a great ally of Israel. But you speak a language to evangelical Christians that we don't. You have inherent credibility,'" Liberman said.
Chernoff was in Israel at the time "to establish relationships," he said. "We spoke with members of Knesset, cabinet ministers and some members of the Ministry of Foreign Affairs," Chernoff said. The Messianic Jewish Alliance also has "relationships with the Ministry of Defense."
"We were talking with representatives and it was an unexpected turn of events," he said. "We realized we've had a nice informal effort but we need to step it up because this is a major challenge. I feel like this was a prompting of the spirit."
Chernoff declined to specify with whom he met "because it would be controversial." The only person "who said 'we will partner with you' was one person not in the government anymore."
New take on Passover matza
As Liberman put it, "I really don't want to name names because from a political point of view we're radioactive, and they might not appreciate having their name in print next to ours. When we receive a warm welcome we don't want people to regret having spoken to us."
The evangelical Christian publication WND quoted Liberman in an article, writing: "He said the epiphany for the new effort came about one year ago when 'one of our people from the Messianic Jewish Alliance of America had a meeting with Benjamin Netanyahu's chief of staff, who said "If you'll open a D.C. office we'll work with you." So that really got us thinking, and then later, in August last year, the deputy foreign minister of Israel said 'why don't you open an office in D.C. because you are a natural bridge, you speak a language we can't speak.'"
But Chernoff told Haaretz that WND got the story wrong. A couple dozen mayors and members of the national government were touring the Joseph Project warehouse in Beit Shemesh. Chernoff, participating via Skype, mentioned that they were thinking of creating this Israel advocacy branch in Washington, and talked about the growing threat of BDS.
In a conversation afterward, one member of the government on that tour expressed interest in the Messianic Jewish Alliance of America plans to fight it, Chernoff told Haaretz.
Ari Harow, at the time Netanyahu's chief of staff, told Haaretz by email that he was completely unfamiliar with the Messianic Jewish Alliance of America and would not have knowingly met with messianic Jews.
Foreign Ministry spokesman Emmanuel Nahshon declined to comment.
The messianic Jewish movement – people who hold to central tenets of Christianity but maintain they retain their Jewishness despite their belief in Jesus as the messiah – is small. They number between 175,000 and 200,000 people in the United States, and roughly 20,000 in Israel.
Akin in many ways to evangelical Christians, they interpret the Bible literally, and in the United States tend to be conservative and vote Republican. In their congregations they loosely follow the Jewish biblical calendar, but infuse Jewish observance with Christian meaning. Three pieces of matza used in the Passover seder, for instance, represent not the Jewish categories of Cohen, Levi and Yisrael, but Jesus, God and the holy spirit.
Liberman says that at his congregation, Ohav Shalom Messianic Ministry in Palm Springs, California, he wears a kippa and a prayer shawl, and "there are props around the room – an Israeli flag, a lamp stand, things to give people a sense of cultural comfort that they really have not betrayed their people." Scripture readings are from both the Hebrew and Christian bibles.
"There is a steamroller of history moving. We want to do what we can to help that to occur," Liberman said. "And it gives us a sense of meaningful purpose to think we're doing something important, and Israel is key to world history."
Click the alert icon to follow topics:
ICYMI
Ken Burns' Brilliant 'The U.S. and the Holocaust' Has Only One Problem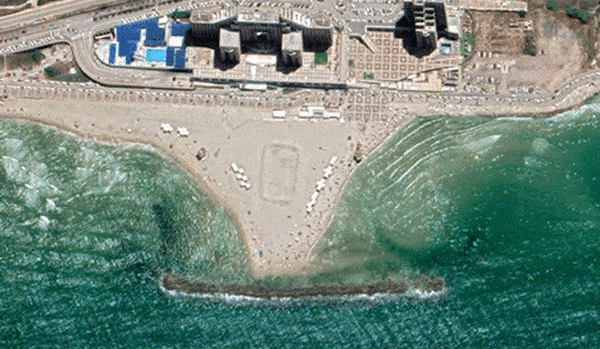 Facing Rapid Rise in Sea Levels, Israel Could Lose Large Parts of Its Coastline by 2050
As Israel Reins in Its Cyberarms Industry, an Ex-intel Officer Is Building a New Empire
How the Queen's Death Changes British Jewry's Most Distinctive Prayer
Chile Community Leaders 'Horrified' by Treatment of Israeli Envoy
Over 120 Countries, but Never Israel: Queen Elizabeth II's Unofficial Boycott