Bar and Bat Mitzvah: Coming of Age as a Jew
One of the oldest Jewish jokes is about the 13-year-old boy who takes the podium at the front of his synagogue to recite his bar mitzvah speech. 'Today I am a fountain pen,' he says.*
Bar Mitzvah ritual at the Western Wall, on September 22, 2008 in Jerusalem. A boy who has become a Bar Mitzvah is morally and ethically responsible for his decisions and actions.
Judaism is a religion of commandments 613, to be exact, which every adult is commanded to observe. Which leaves a big open question: At what age is a person considered an adult?
The Talmud tells us that it is when they are physically mature enough to procreate. In the tractate Kiddushin (page 16b), we are told that boys reach the "age of responsibility" at 13, and girls at 12. Biologically speaking, that is somewhat arbitrary - children reach puberty at different ages. In fact, some rabbis will say that a younger child who shows signs of puberty can already be considered a bar or bat mitzvah.
The original wording for someone who has reached the age of responsibility for him- or herself was bar onshin (literally, "criminally liable"), someone who is punishable for offenses committed. The parent is no longer held accountable. Over the years, this negative term was replaced by the affirmative bar mitzvah – literally, "son of the commandment." And as girls began to have their own coming-of-age ceremonies less than a century ago, the term bat mitzvah was coined (bar is Aramaic for son, bat for daughter.)
For hundreds of years, the bar mitzvah "ceremony" was exceedingly low key. The boy was called up to the Torah on the first possible day after his 13th birthday, and would recite the blessings before and after the reading aloud of a few verses. His father would then make a formal statement of the handover of responsibility: "Blessed is the One who has released me from punishment because of him." End of story.
The boy became a full-fledged member of the tribe, with the rights and obligations accruing from that status. Over time, some rabbis ruled that it wasn't sufficient to recite a couple of blessings, that the bar mitzvah should also read aloud his section of the Torah, or alternatively, give a Dvar Torah (a lesson on the weekly portion that he would have painstakingly prepared), demonstrating that he had studied the laws and had an adult grasp of their meaning.
From blessings to bashes
Little of this rings true to anyone who has seen the sort of bar or bat mitzvah parties that are now thrown in honor of adolescents. When did these over-the-top affairs become de rigueur? (Who can forget Elizabeth Brooks' $10 million bat mitzvah back in 2005, which featured appearances by Aerosmith, 50 Cent and the Eagles. Her dad was later convicted of defrauding his company's investors, who unwittingly underwrote the obscene party.)
The man who is perhaps most to blame for the trend, which in some circles can send parents to their bank to for a second mortgage, is a 16th-century rabbi from Lublin, Poland, named Solomon Luria – better known by his acronym, Maharshal. He ruled that a festive meal should be held to mark the occasion of a boy reaching the age at which the commandments become compulsory.
Women, meanwhile, would have to wait until the early 20th century to get Jewish education, civil rights, suffrage -- and their own fountain pens. One would have thought that the liberal Reform Judaism movement would have been at the forefront of the trend, but its founding fathers believed that a child of 12 or 13 was too immature to be considered an adult. For more than a century, the movement sought to replace the one-off bar mitzvah ritual at 12 or 13 with an extended period of study that culminated in "Confirmation" at 15 or 16.
By the 1970s Reform realized it was missing out on the big new trend, and reintroduced the idea of bar and bat mitzvahs. By then, all of the non-Orthodox movements were on the same page, with full equality for boys and girls.
The first recorded bat mitzvah was that of Judith Kaplan, daughter of the founder of Reconstructionist Judaism, in 1922. Unlike Reform, Mordechai Kaplan's movement was more anchored in the tradition. Like Reform, it was strongly egalitarian. And so it was that Judith read the Torah portion verses from a printed Pentateuch that Saturday morning – albeit after the men had already read the same portion from the Torah scroll. Still, it was a start.
Before long, the Conservative Judaism movement became the strongest mainstream proponent of bat mitzvahs. At the start, bat mitzvahs were celebrated at Friday night services. The girl would often read the Haftarah portion from the Bible; meanwhile, the bar mitzvah boys were inducted into the adult world at the Sabbath day services, where they read the Torah portion. Not exactly egalitarian.
Women-only parties
And whither Orthodoxy? One would guess that the hidebound movement would take centuries or even millennia to adapt to changes in modern society. Not so. Modern Orthodox Jewish girls, whose mothers never would have had a bat mitzvah only one generation ago, are now marking their coming of age by reading the Torah at synagogue in women-only services (admittedly, this is still the exception and not the rule) or by giving a Dvar Torah based on their portion.
In Haredi (ultra-Orthodox) circles, the current practice is to gather for a women-only party at which the bat mitzvah gives a Dvar Torah. This new (and still-evolving) trend is perhaps an outgrowth not of any need to keep pace with the other movements of Judaism, but of the early 20th century advent of the Bais Yaakov school system, in which Haredi girls were for the first time encouraged to gain Jewish literacy and empowerment.
There are also ethnic differences within Judaism toward bat mitzvahs. Ashkenazi Rabbi Moshe Feinstein was the leading authority in American Orthodox Judaism until his death in 1986. He was staunchly opposed to any recognition of the bat mitzvah in a formal setting, arguing that the synagogue is "no place for optional, non-mitzvah matters."
Conversely, the late Chief Rabbi of Israel Ovadia Yosef – the most respected Sephardi rabbi of the past 50 years – argued that girls had as much a right as boys to have a party in honor of their having attained adulthood, and that fathers ought to recite the same formulaic "Blessed is the One who has released me from punishment because of her" as they would for a son.
Entering adulthood in Israel
Many Israelis do not identify as religious Jews, and do not belong to a synagogue. Sometimes they have their child's bar or bat mitzvah at the grandfather's synagogue, particularly on a weekday, when there is much less attention focused on them and their child.
Many schools and community centers around the country offer bar and bat mitzvah classes that culminate in group ceremonies. Or the parents may charter a bus and bring family and friends to Jerusalem for the day, beginning with the young man being led to the Western Wall in a procession that looks like a wedding for one. There he will be called up to the Torah. Of course, all of these options are a pallid prelude to the party held at a banquet hall, complete with four-course meal, hundreds of invited guests, video and still cameramen and deejay.
To many community leaders and parents, the notion of throwing an over-the-top bash for a 12- or 13-year-old child who hasn't exactly discovered a cure for cancer sends all the wrong messages. What's more, it can be said that in many cases, the bar or bat mitzvah in fact marks the child's exit from organized Judaism rather than his or her entry. Can this coming-of-age transition be made relevant?
In the past few years, there has been a growing trend of bar and bat mitzvahs donating a portion of the gifts they receive to charity or volunteering their time. The genuine act of selflessness demonstrates they are indeed ready to join the community.
Another solution devised by some families is holding the event in Israel to cultivate Jewish identity and immersion in the modern Jewish and Israeli experience. And if the guest list is limited to grandparents, parents, siblings and a few aunts, uncles and cousins, then the cost can be well under $10 million.
* The joke refers, of course, to a line that would presumably begin the boy's speech: "Today I am a man." The joke on the joke is that the punch line now has to be explained to anyone below age 60, since fountain pens long ago ceased to be the bar mitzvah gift of choice.
Click the alert icon to follow topics:
ICYMI
Ken Burns' Brilliant 'The U.S. and the Holocaust' Has Only One Problem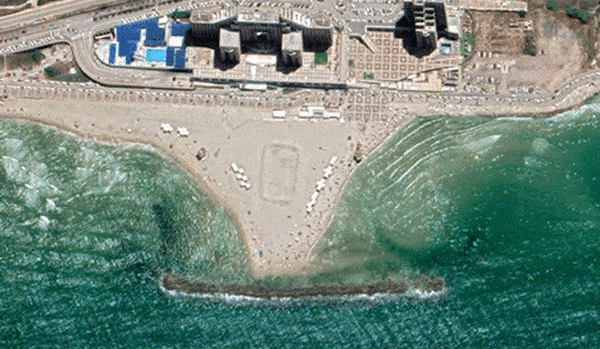 Facing Rapid Rise in Sea Levels, Israel Could Lose Large Parts of Its Coastline by 2050
Lapid to Haaretz: 'I Have Learned to Respect the Left'
The Mossad's Fateful 48 Hours Before the Yom Kippur War
As Israel Reins in Its Cyberarms Industry, an Ex-intel Officer Is Building a New Empire
How the Queen's Death Changes British Jewry's Most Distinctive Prayer