Victory Day Over the Nazis Is Still Alive and Personal for NY's Russian Jews
Our American friends don't understand that we grew up in the shadow of War, the only War that ever was.
Khonya Epstein, 87, in his Bensonhurst apartment. Epstein was a young teenager when he joined the Chekist Partisan brigade in Belarus, where he became a sniper.
Credit: Avital Chizhik-Goldschmidt
This week, the streets of South Brooklyn are full of red bouquets, people smiling and wishing each other a happy holiday, a gut yontif.
And in the elderly day care centers, in the cafes, and on the street benches, they sit and chuckle still about their brigades.
On the week of Victory Day, the community is bustling - old and young alike. While the rest of New York enjoys the overdue summer weather, Russian-Jewish New York (numbering over 200,000, according to the UJA's last census) plunges into war songs, stories, parades, ceremonies and family gatherings. Liberation may have been seventy years ago, but for this community, the product of state-enforced memory, it's quite alive and quite personal -- even as the numbers of living veterans dwindle.
"It's more than a birthday," my grandmother would often say - the daughter of a veteran of both world wars, and shipped off to evacuate to the east as an infant. "Without this day, we would not have lived." All our elders would repeat this -- this is more than any birthday, child, you must understand! We are alive only because of this!
As long as my great-grandfather Izrail Lazarovich Goldvassar was alive and well, the family would gather around our patriarch in a small Bay Ridge apartment, and no one would really discuss the war but a few toasts: Sorrow was forbidden, only celebration, only children's laughter, and as years went by, more English than Russian.
This week I find myself on the familiar streets of south Brooklyn again -- where I had lived for two years after college.
South Brooklyn makes me sad because it reminds me too much of Russia, which makes me sadder. Apartments covered with doilies, tables with pryaniki cookies and porcelain tea pots, old photographs, lace curtains, televisions blaring Moscow's NTV where long-legged Russian girls shoot questions at businessmen-turned-politicians. Lots and lots of nostalgia, so much that there's nowhere to put it and it teems into the streets, into the very tea that the Kazakh waiter brings you when you sit down in a cafe.
As I walk by the fruit stalls and the hawking piroshki seller, I realize why I am there at all. This Den' Pobeda, Victory Day, and I am trying to figure out how to celebrate it without my great-grandfather. I am writing this, searching this, because it is too late already for Dyedushka. I knew that this hourglass would run out of sand -- I knew, with every visit to that Bay Ridge apartment and then Menorah nursing home room, that time was running out and soon I would find myself doing what I am doing now -- speaking to other veteran dyedushkas, in hope of hearing my own.
Khonya Epstein and his family
Khonya Borisovich Epshtein is waiting for me at the end of a long dim hallway in Bensonhurst, standing with his apartment door open. "Vot syuda!" He waves to me. He invites me in; his papers are already out, his memoirs typed, newspaper clippings, photographs.
When the last Jews of Mogilev, Belarus, were gathered into a large house in the ghetto, the Nazis shot them all -- except for Khonya, whose mother had pushed him under the floorboards into the cellar. "The Fascists kept looking for me, they knew one Jew had disappeared," he says, trying to hide his proud smile. "I spent five days under the floorboards, in that cellar -- it was just enough for a child to fit in, but not enough for a German to climb in. They kept shooting down to the floor but I missed the bullets every time." One night, Khonya climbed out and ran to the next village. Barefoot, malnourished, he arrived at the cabin of an old peasant couple who fed him and gave him to sleep. The next morning a neighbor came by and told the old couple that all the Zhids were killed except for one, one Jewish child had disappeared: "It's a riddle, no one knows where he went."
And so Khonya fled to the forest, where he found the Russian partisans and where he was quickly adopted as the younger brother to the Chekist Partisan brigade, No. 31. Khonya, at the age of 13, would soon become known as the best sniper of his brigade. "First they took me as a lookout, to watch out for oncoming trains to blow up. But then they started sending me on missions to shoot and blow up railroads."
Talk to these veterans, and you'll hear their voices hit a high desperate pitch, crackled with age, when they say: "They said we didn't fight..." It's the remnant of decades of Soviet accusations that the Jews sat the war out, hiding in the East. "They called us traitors, imagine!"
"Jewish heroism was not always valued by the Soviet regime," Boris Feldman, 95, says. "Jewish names could not be afforded heroism unless it was absolutely necessary." Boris, a well-dressed gentleman with piercing blue eyes, was born in Ukraine, into a family "who served", as he says. "We did not stay back." He makes a passing remark that he liberated Ukraine, Romania, Hungary and Austria, and was wounded twice -- but "that's not important, what is important is that I always dreamed of living in Eretz Yisrael. My life did not allow me to, but it is my dream -- in the War, I was fighting for Israel, too. For Israel to one day exist."
Asma Yakovlevna Gindina -- a bespectacled woman in a jacket entirely covered in medals -- was 16 when her parents and seven siblings were shot by the Nazis, in their home in a Ukrainian village. She had hidden as she heard the shots -- and then ran to Korosten, where she found the Red Army and joined as a medic.
It was in the burning ruins of Stalingrad, as the Red Army scoured the area for wounded, where Asya's friend pointed out a burnt corpse. She took the man's arm, shook her head and said, "This man still has a pulse." She carried the Russian soldier out, took him to the army hospital, nursed him till he reached a stable condition. She then followed the Red Army as a battlefield medic, liberated Kiev in 1944, Ukraine, Belarus, and reached as far as Berlin. It was two years later that the man whom she saved found her -- and asked her to marry him. She bore him nine children. "Twice twins," she says proudly.
Asya is turning 90 this year, and now writes poetry in her small Starett City apartment. She stands up and reads to the crowd, her voice thundering: "The earth shook as if alive, the fire fell on us.../This wound will always be on us/There are not many of us today..." Later she proudly shows me a congratulatory letter signed by President Vladimir Putin himself, folded and kept in a plastic cover. "Putin himself," she says, sighing.
"May 9th or the Victory Day has a major significance to the Russian-speaking Jews because of our unique personal connection to WWII," Roman Shmulenson tells me at a Russian Jewish cocktail party on the Upper East Side. "Most families have parents or grandparents who fought against the Nazis as well as family members who were impacted by the Holocaust."
Indeed, the unique thing about Russian Jews is that we have a dual sort of war memory: We were both victims as Jews and fighters as Soviets. Our families were on the front lines as both civilians and soldiers in uniform, with 1.5 million Jews gunned down in ravines and forests, and over 200,000 more killed on the front, fighting for the Soviet Union. Survivors will either tell you about their front lines experiences, or the evacuation to the East. Many of us have grown up with parents and grandparents who did not know their own fathers. "They were just one and two years old when their fathers kissed their families goodbye, put them on trains headed east, and marched into the conscription office to volunteer to go to the war front," Vitebsk-born Rabbi Michael Farbman reflected about his parents in an essay this week.
Shmulenson, the young smiling director of COJECO, an organization which serves as a hub for the Russian-Jewish community of New York, has been rushing around New York all week, organizing Russian Victory Day events alongside the UJA-Federation of New York. Friday's ceremony at the UJA and Saturday's annual parade down the Brighton Beach boardwalk honor those surviving veterans -- average age 90 -- and the 160,000 Jews who received Red Army honors, including over 150 who were awarded the country's highest honor, Hero of the Soviet Union.
"Our dear veterans, permit us to congratulate you today," Shmulenson addressed the over 200 veterans who gathered, bedecked in their medals -- the last of New York's Red Army Jewish veterans. "We, the younger generations, bow deeply to you for your bravery."
The morning featured a concert of Russian military ballads, sung by a group of Russian cantors, "No words can describe our gratitude to you for all that you did for us," said cantor Natasha Hirschhorn. "And when there are no words, one must sing."
And so the concert begins, balalaika and all, as veterans nodded and clapped along.
"There will be grandchildren one day, and we will have to start again," Cantor Vladimir Lapin, who arrived in the United States at the age of 8, sings in perfect Russian. "...I love you, life, and I hope the love is mutual."
Something about these songs -- it's these songs which distinguish us, young and old, from the American-Jewish community at large, the very same community which reminds us incessantly how much they worked to bring us here yet with which there is something at odds. As much as we are integrated, working our way up in New York City, with our impeccable English, political activism, and improving real estate -- we still gather for these events, by the hundreds, on our own. Our American friends don't quite understand why our children's lullabies are military songs. They don't quite understand that we grew up in the shadow of War, the only War that ever was -- in the '70's, the 80's, the 90's, in Moscow and Kiev and Minsk and then in Brighton Beach and in Forest Hills, the War always remained. On May 9, a parade on Brighton Beach will draw out all generations: the few veterans who are still alive, but along with them, children and grandchildren of veterans who come with photographs of their deceased ancestors, bearing bouquets of red carnations. The passion for history and cultural preservation is almost shocking in intensity -- and central in understanding Russian Jews today.
"Today unites generations than any other holiday," Olga Golovanova of the Blavatnik Archive adds. "It brings these veterans back to when they were our age and going out to the front into the unknown. It allows them to connect with their grandchildren. This is what victory means: They fought to stay alive and create families. The victory of today is represented by the fact they have their kids, grandchildren and great-grandchildren around them."
"Dark night," Maria Dubinsky sings and the crowd hums along. "Only bullets whistle across the steppe, only the wind rings in the wires...In this dark night, you my beloved do not sleep, I know
At the cradle, you secretly wipe away a tear/How I love the depth of your soft eyes..."
In a culture and country where religion was forbidden -- these war melodies became our cantorial worship, our Sabbath zemirot. And they remain sacred. Our wordless, censored family histories are tied up in that music.
Izrail Goldvassar and his wife Lika
The accordion heaves, and with it, an image:
The last time I celebrated Victory Day with my great-grandfather, one of those rare moments in which he offered some memories without me asking. We sit by the ocean, other elderly Russian Jews walking by with their children and grandchildren, and he tells me about my great-grandmother -- the black-listed daughter of a 'repressed' Jewish family, their youthful romance, the War that came between them, starvation, a lost child, trains to the East, his officer's uniform, a crushed Reichstag, the hollow eyes of the Jewish camp prisoners whom he liberated in Germany and their shrieks in Yiddish when they heard his Jewish name.
He tells me about that moment in 1943, when my great-grandmother arrived in the Kavkaz to visit him at his military camp. Along with many of Kharkov's Jews, she had escaped the doom of Drobitsky Yar towards the East. Emaciated, barely walking, empty-handed, wearing a hat and a trench coat too large for her.
He had barely recognized the woman who had approached him. He was told a woman had come for him, and it wasn't until she had taken her hat off, letting her hair tumble out in the Caucasian sun, that he recognized his Lika's smile.
Seventy years later, and these moments still live in us.
Click the alert icon to follow topics:
ICYMI
Ken Burns' Brilliant 'The U.S. and the Holocaust' Has Only One Problem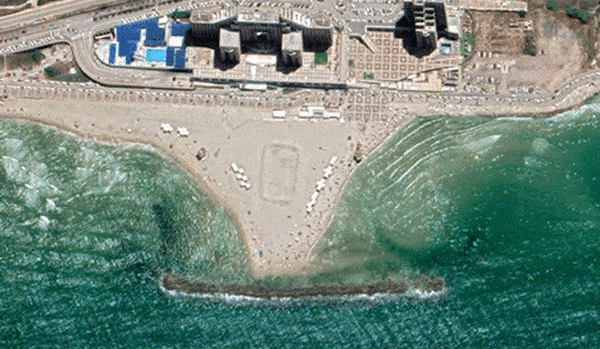 Facing Rapid Rise in Sea Levels, Israel Could Lose Large Parts of Its Coastline by 2050
As Israel Reins in Its Cyberarms Industry, an Ex-intel Officer Is Building a New Empire
How the Queen's Death Changes British Jewry's Most Distinctive Prayer
Chile Community Leaders 'Horrified' by Treatment of Israeli Envoy
Over 120 Countries, but Never Israel: Queen Elizabeth II's Unofficial Boycott