American Jews Learn to Talk With Other American Jews About Israel
Special dialogue programs aim to detoxify the conversation about the mother ship and the Palestinians.
Protesting the opera 'Death of Klinghoffer,' Oct 20, 2014, in New York
Credit: AP
NEW YORK — It was a rough start to the year for Jews at Princeton University. Over the fall semester at the elite university long known to be nonpolitical, Israel was a flash point for controversy and conflict.
A battle over Israel and divestment, including professors' divestment calls and what came to be seen as a misstep by Princeton's Hillel chapter, alienated some students from the Jewish community there. Others publicly disassociated themselves from the Hillel chapter, whose leaders had long striven to be inclusive.
The rapidity of the escalation stunned leaders of the Hillel chapter, known as the Center for Jewish Life. Suddenly it was impossible to talk about Israel, they told Haaretz.
"I've never seen a community that was that as fractured about any issue," said Marni Blitz, the CJL's associate director. "In the past when there had been any issues, it felt like we were facing it together. We've had challenges before. But this came as a shock to me."
Princeton, of course, is not alone. There is little conversation about Israel and the Palestinians in American Jewish communities anywhere, for fear it will devolve into screaming that will make people loath to broach the topic again.
It turns out that Jews have to learn to talk with other Jews about Israel. Structured dialogue programs, modeled on those used in interfaith work, are increasingly being employed to do just that.
"There are very few places that model an ability to hold on to two competing narratives and try to hold onto them both," said Rabbi Julie Roth, the Center for Jewish Life's executive director.
The rift at Princeton became so painful that she brought in the organization Resetting the Table to teach Jewish students how to do that narrative trick.
The conflict at Princeton began with Max Weiss, a Jewish professor who over the summer had endorsed an academic boycott of Israel. He accused the Center for Jewish Life of censoring him when he wasn't invited to speak on a panel discussion about the Gaza war for which he had been considered. He made his allegations about the CJL in the campus newspaper, The Daily Princetonian.
CJL leaders responded with an article of their own, saying that no group was obligated to invite anyone to speak at a particular event. A flurry of student-written responses appeared as well. Some students wrote about Hillel International's Israel guidelines, which require that Hillel chapters not host speakers who "support boycott of, divestment from, or sanctions against the State of Israel."
Then Weiss and four colleagues called on the university to divest from companies whose products or services contributed to the occupation. The Center for Jewish Life responded with an email to Jewish students, saying it was developing a "positive, strategic" plan to defeat the divestment effort.
On the same day, an ad signed by more than 300 students was published urging investment "in both Israeli and Palestinian society as the foundation for peace." Thirty-eight Jewish students then signed an open letter to the Center for Jewish Life, published in the campus paper. They said they "were troubled" that interest in defeating the divestment push was "a foregone conclusion" by the CJL "on behalf of the entire community."
It turns out that some Jewish students are supporting a slightly different divestment proposal, which is being voted on by the roughly 5,200 undergraduates in a referendum this week.
Demographic slices
Center for Jewish Life leaders also started an Israel Committee to bring together students with a wider range of views.
There are several different approaches and curricula for the intra-Jewish conversation about Israel, including the Shalom Hartman Institute's iEngage program, which has been used by about 400 North American congregations, said Yehuda Kurtzer, president of the Shalom Hartman Institute of North America.
Another is the New York Jewish Community Relations Council's Israel Talks, in which about 500 members of New York-area Jewish communities have taken part in small group settings. Programs have involved various demographic slices from Russian Jews, to rabbis Orthodox to Reconstructionist, to board members of national Jewish organizations, said Jonathan Cummings, the NY JCRC's director of intracommunal affairs.
When discussion about Israel is successful, "there's a sense of relief that this conversation is possible, that it doesn't have to be an argument, doesn't have to be disagreeable, that people can hear very different perspectives from each other without being convinced or persuaded that their views are deficient in some way," Cummings said.
There is burgeoning demand for Resetting the Table's training in dialogue facilitation. The group has recently had twice as many requests as it could meet, said Rabbi Melissa Weintraub, who heads the civility initiative of the Jewish Council on Public Affairs, of which Resetting the Table is a project. She runs it with her husband, Resetting the Table co-founder Eyal Rabinovitch.
"We're trying to detoxify the Israel conversation in the larger American Jewish community," Weintraub said. "For years now there have been patterns of antagonism or avoidance."
A 2013 survey by the Jewish Council on Public Affairs found that one-third of rabbis, regardless of their political orientation, were afraid to talk about Israel with their congregations.
When the Gaza war happened last summer, "something that was already there rose to the top. People could no longer pretend it wasn't there," Weintraub said. "Israel has become the political land mine. The reaction has been to steer clear of Israel."
Resetting the Table's approach is now being deployed across a range of Jewish communities — from the Jewish Federations of North America's General Assembly gathering, to rabbinical schools, synagogues and individual Hillel chapters.
Hillel International has contracted with the organization to train dialogue facilitators at six West Coast campuses from Los Angeles to Portland, Oregon. They hope to have the funding to expand the project next year, said Hillel International's vice president for social entrepreneurship, Sheila Katz.
When Princeton's CJL announced the first of two Resetting the Table dialogue gatherings, Maya Rosen was eager to take part. Rosen, a sophomore from Pittsburgh, attended Jewish day school and spent a gap year at the Orthodox seminary Midreshet Ein Hanatziv in northern Israel. She began visiting the West Bank.
"In the beginning of the year I was going to the West Bank to spend Shabbat with friends' families, and by the end I was going with activists," including Encounter and Breaking the Silence, Rosen said. "I saw profound inequality and people who didn't have access to resources," Rosen added.
"What was particularly troubling was that the inequality was so systemic. I was able to tell my family about it but I don't think there was space for it in the wider community, and I don't think people realized it was as bad as I saw it was."
Talkin' about the occupation
Rosen felt hungry for a place in the Jewish community where she could discuss her experiences and perspective.
"It was less that the conversation was hostile than that it wasn't happening," she said. "In the majority of Jewish spaces I've been in, there's been a profound lack of serious conversation about the occupation."
Rosen attended both dialogue sessions at the Center for Jewish Life. At the first, on February 19, attendance was capped at 35 students and no CJL staff members were present. Much of the discussion in her small breakout group was about the Jewish students' open letter to the center, which Rosen had coauthored.
At the second dialogue group, on April 8, about a dozen students participated, along with CJL staff. Much of the meeting focused on the upcoming Israel divestment referendum.
"There were people there with very different views than me," said Rosen, who this year cofounded a new student group, the Alliance of Jewish Progressives, which joins AIPAC-aligned Tigers for Israel, and J Street U, under Princeton Hillel's umbrella.
In her two years at Princeton, this "was the first time we could talk about Israel policy. It helps to create a culture in which difficult or complicated questions are ones we can discuss in the context of a CJL program," Rosen said. The dialogue experience "was very successful in fostering conversation in the community."
According to Weintraub of the Jewish Council on Public Affairs, "We can't train people fast enough" to meet the demand for dialogue facilitators. "This work is difficult. You can throw people into a room together and have them listen to a panel, but to get them to talk about things that matter most to them when they have a passionate disagreement takes a lot of structure and skill."
The kind of Israel conversation Resetting the Table allows Jews to have with each other is visibly absent at the national level.
That was clear in March when Eric Fingerhut, CEO of Hillel International, flip-flopped on a promise to speak to students at the J Street national conference. He backed out, citing "inflammatory" speakers. But the decision was widely viewed as following pressure from donors critical of the oft-vilified J Street — whose affiliated college students, ironically, are among the most active in working against campus divestment initiatives.
"There's nothing else out there like Resetting the Table," said Hillel International's Katz. "Most of what we see are programs with a particular agenda to convince students to believe a particular thing. That hasn't been helpful when it comes to being together in community. This is about building the relationships across difference."
The Jewish Council for Public Affairs brought Resetting the Table under its aegis because "increasingly we saw conversations that were going right to their maximal place, with diminished listening, diminished learning, and diminished problem solving," said Ethan Felson, the JCPA's vice president and general counsel.
"We also saw young people being turned away from the Israel conversation because it was so highly charged, so controlled, that they didn't feel an ownership stake in the conversation in their community."
Resetting the Table is currently doing the most intensive form of its work at Congregation B'nai Jeshurun, the Upper West Side synagogue where conflict around Israel-Palestine exploded onto The New York Times' front page in late 2012. That was when a letter from the synagogue's rabbis to their community was released prematurely. In that draft letter they called the Palestinians' bid to upgrade to nonmember observer status at the United Nations "a great moment for us as citizens of the world." Chaos ensued.
"We want to make peace with the Palestinians, but we can't even make peace amongst ourselves. It's quite pathetic," B'nai Jeshurun Rabbi J. Rolando Matalon said. The congregation has 1,750 member households, while 4,000 people attend multiple simultaneous High Holy Day services.
B'nai Jeshurun is deeply involved with Israel. It has become the model for three pluralistic congregations in Israel, and is the first to have a shlicha, or Jewish Agency emissary, Matalon said.
"We have realized that our community in some ways is a microcosm of a much larger Jewish community in this country," he said.
"There is an increasing lack of ability to speak about Israel in a way that is both open and truthful, where people can express their ideas openly without creating tremendous animosity, without getting into divisiveness. We have experienced some of this at BJ; in the Jewish community at large it's become much, much worse. The tone borders on the vicious."
To effect change at Bnai Jeshurun (and, Matalon hopes, create a model for other synagogues), Resetting the Table is doing the most intensive version of its work there over an 18-month period that started late last year.
Weintraub and Rabinovitch have conducted one-on-one interviews with several dozen members, run a congregation-wide survey on Israel issues and held multiple meetings with staff members. And they are training dialogue facilitators, running workshops and conducting dialogue groups. They expect the work to continue into next year.
Talking about Israel is so fraught that, despite Bnai Jeshurun's size and reach, a reporter was barred from witnessing any part of the work so far, even with assurances of anonymity and no direct quoting of dialogue participants.
When it comes to Israel, "we must insist on talking, understanding, trying to engage with each other," said Cummings of the New York Jewish Community Relations Council. As he put it, if avoidance continues to be a widespread approach, "an even greater danger" than anger "is disengagement."
Click the alert icon to follow topics:
ICYMI
Ken Burns' Brilliant 'The U.S. and the Holocaust' Has Only One Problem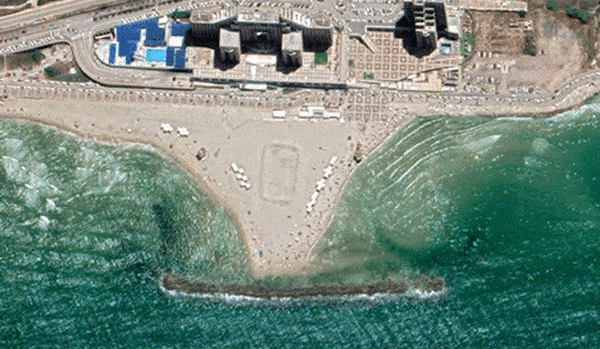 Facing Rapid Rise in Sea Levels, Israel Could Lose Large Parts of Its Coastline by 2050
As Israel Reins in Its Cyberarms Industry, an Ex-intel Officer Is Building a New Empire
How the Queen's Death Changes British Jewry's Most Distinctive Prayer
Chile Community Leaders 'Horrified' by Treatment of Israeli Envoy
Over 120 Countries, but Never Israel: Queen Elizabeth II's Unofficial Boycott