Bringing Holocaust History to Life: How I Discovered the Details of My Father's Legacy
The sheets of yellowing onionskin that I found revealed what it was like to survive the Holocaust, and to begin a new life out of nothing but memories of the homeland and the ashes of loved ones left behind.
A page from my grandmother's and my father's German passport.
Credit: Debra Nussbaum Cohen
Four years ago my dad died. His yahrzeit, the anniversary of his death, is the day after Passover and shortly before Holocaust Remembrance Day. I've learned far more about the experiences of my German-born dad's family during and after the Shoah since he passed from this world into to the next than I did when he was alive.
My Oma, his mother, like many Holocaust survivors, didn't like to revisit those difficult days. They were upsetting. And it was both in her nature and because of qualities of character forged by the need to look ahead, not back, that she, like my father, was not terribly reflective.
When he died, my dad left nothing of material value. Except for two heirlooms: One is a pair of passports, each bearing the Nazi eagle with a swastika clutched in its talons. One belonged to his father, Sally. The other to his mother, Bertel, and to my dad. Their pages are filled with stamps in Hungarian and Polish, Cyrillic, Chinese and Japanese, showing the route of their last-minute journey eastward in 1940, all the way around the world, through Poland and Russia, Manchurian China and Japan, before they were able to board a ship bound for Seattle.
My grandparents refused to leave Germany until Oma's mother obtained an exit visa. The United States would not accept her; she eventually obtained one to Trinidad. Oma's father had died in Buchenwald after being arrested on Kristallnacht (the Night of Broken Glass in November 1938, when synagogues were burned, Jewish businesses looted, and Jews arrested and killed) along with Oma's husband, my Opa or grandfather, and Uncle Ludwig – the husband of Oma's sister Lotte. After many weeks of their wives visiting the Nazi authorities to petition for their release, the two younger men were freed.
As soon as Oma's widowed mother obtained a visa, my grandparents prepared to depart. Their Nazi passports were issued May 7, 1940; the stamp indicating permission to enter America is dated May 15. They had ocean liner passage booked from Genoa, Italy, for June 20 and sent their belongings ahead. But on June 10, Italy declared war on Great Britain and France, making an Atlantic crossing impossible.
With the Final Solution closing in around them, Opa frantically sought visas to go East instead. He sold what little they still owned, and, via German camera manufacturer Leica, whose owners helped many German Jews find a way out of the war, got a visa allowing them to first travel to Poland. The train that had seats available for Dad and his parents departed on a Friday night. Deeply observant in the non-Hasidic way of German Jews, Opa asked their Orthodox rabbi what to do. The rabbi told him: "You go."
After three months of traveling with a single suitcase between them, my Oma, Opa and Dad, who had his fifth birthday on their journey, arrived in Seattle and soon after, made their way by train and then bus to the Washington Heights section of Manhattan, where Oma's sister and her husband, along with a few other relatives, had settled in the preceding few years. They lived with Lotte and Ludwig, and began a new, hardscrabble life. Oma worked as a maid, Opa painted apartments and later, after buying a car, sold housewares out of its trunk.
Details we never heard
The second part of my patrimony is three large manila envelopes. Inside, on sheets of yellowing onionskin, is evidence of my family's new beginning in the U.S., and of the earlier, increasingly frantic attempts of relatives already in American who tried to get them out of their homeland — where both Opa's and Oma's families had lived for countless generations, serving in the military and in every other possible way part of German life.
Looking through the papers inherited from my dad, I found details that we never heard about. Details about which there is no one left to ask. The details which bring to life what it was like to be a Holocaust survivor and to begin a new life out of nothing but memories of the homeland and the ashes of the loved ones they were forced to leave behind.
On November 18, 1938, eight days after the terrorism of Kristallnacht, Opa's brother wrote a letter in which he pleaded with the American consul in Stuttgart to grant my father's family visas to America. They would not come, however, for nearly two more years.
Those applying for U.S. visas needed proof they had family members to support them in the U.S., lest they become dependent on government welfare. Appended to an affidavit of support – explaining that he lived in a Harlem apartment with his wife and two children, and that he earned $50 a week as a paint salesman in Brooklyn – Opa's brother Berthold wrote: "I want to explain that I live in a comfortable five-room apartment. I shall be glad to have my brother and his family living with us in our apartment, and to take care of them in all their needs until they are self-supporting. My brother and his family are registered [had applied for visas] already, and I would very much appreciate it to have them here as soon as possible."
Anyone who has grown up with German-born Jews – Yekkes – understands that these were emotionally reserved people: In this affidavit of support Berthold was virtually begging the authorities to save his brother's life.
Later, from New York, my Opa (who would die of cancer years before I was born) wrote letters to the shipping company and its agents trying to locate the family's trunks, with all of their worldly possessions, which were left on a Genoa dock, and three suitcases from which they were separated during their train journey east.
There is also a letter, written later, from my Oma and her sister to the U.S. State Department, detailing property their mother was forced by the Nazi government to sell to non-Jewish Germans in August 1939 for a small fraction of its actual value. This was a preliminary step in their effort to receive restitution that ultimately supported my Oma through the decades after her husband died young and she went blind.
In April 1947, the sisters wrote: "Our father died, in November 1938, in the concentration camp of Buchenwald. Our mother was deported, in 1942 or '43, to the concentration camp of Terezin (Theresienstadt, in Czechoslovakia). She is missing since that time and therefore, we have no doubt, she is no longer alive."
They detailed properties – a house and a barn, a meadow and a plot of arable land, an orchard and vegetable garden, each sold to a different German buyer, and, as dictated by Nazi authorities, for well under what they had negotiated with the purchaser, a sum which in itself was far less than the real value. Their mother agreed to sell a Mr. Johannes Dietz their house, "with barn, stable, courtyard etc," for 4,500 Reichsmarks, though it was worth 10,000 Reichsmarks. But "the component authority of the Nazi government approved a price of only 2,000 Reichsmarks."
Renewed appreciation
Learning about the extent of the property owned by Oma's parents, where she and Aunt Lotte grew up, makes me appreciate anew what it was like to live out the rest of her days in a spare one-bedroom apartment in the heavily German-Jewish Washington Heights neighborhood at the northern end of Manhattan. Aunt Lotte and my Oma always lived simply, with so few possessions that it seemed as if they continually feared they might be forced to again uproot themselves. They never spoke about what they left behind.
Oma did, however, later receive the restitution which, in reality, could in no way ever make up for anything – or anyone – she lost, like the mother she had to leave when she was just 25 years-old and would never see again.
My dad grew up in Washington Heights and later worked his way into a comfortably middle-class existence, was introduced to my mom, married, and had me and my sister. The lives my sister and I both enjoy today – economically secure, rich in Jewish meaning and practice, each of us the mother of three children who are deeply rooted and engaged in Jewish life – leave me feeling extraordinarily fortunate when I read the papers documenting what my grandparents were forced to endure because they were Jews.
While broad statements about the Shoah like "never again" and visits to the death camps are valuable, it is in the details of what it meant to be a Jew in Germany, what their lives were like when they were able to escape, that flesh is put on the dry bones of the historical record. These documents' specificity brings to life even the spare family history received verbally from my Oma, who had a prodigious memory, even if she preferred not to plumb its depths.
These details are a legacy I will share with my children, and I hope they will eventually share with theirs. It is a legacy which reveals the courage of my grandparents and their siblings, and the enormity of what they faced and overcame.
It is an inheritance far more precious than any other material possession my father could have bequeathed. For this legacy, along with the fact of their survival, on this Holocaust Remembrance Day – I am grateful.
Click the alert icon to follow topics:
ICYMI
Ken Burns' Brilliant 'The U.S. and the Holocaust' Has Only One Problem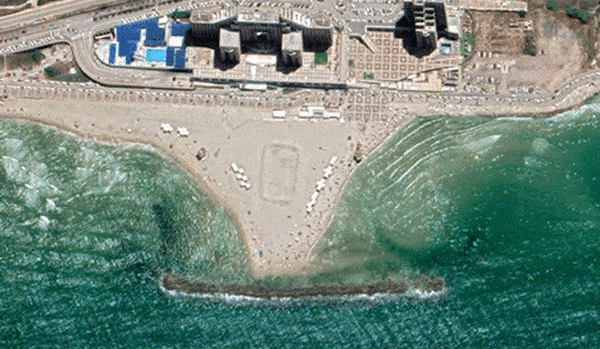 Facing Rapid Rise in Sea Levels, Israel Could Lose Large Parts of Its Coastline by 2050
As Israel Reins in Its Cyberarms Industry, an Ex-intel Officer Is Building a New Empire
How the Queen's Death Changes British Jewry's Most Distinctive Prayer
Chile Community Leaders 'Horrified' by Treatment of Israeli Envoy
Over 120 Countries, but Never Israel: Queen Elizabeth II's Unofficial Boycott