Netanyahu Election May Increase American Jewish Alienation From Israel, Leaders Here Warn
Reform movement head Rick Jacobs: 'This is going to be a challenging time.'
Netanyahu at Likud Headquarters in Tel Aviv on March 18, 2015.
Credit: Reuters
NEW YORK – Several national leaders of the American Jewish community this week were openly critical of Prime Minister Benjamin Netanyahu's successful 11th hour pitch to his conservative base, in which he decried Arab citizens of Israel voting, and his pledge not to allow a Palestinian state.
While Netanyahu qualified his statement significantly in a U.S. television interview with Andrea Mitchell two days after the election, saying that there can be no Palestinian state right now, but that such an outcome is not permanently off the table, many in the U.S. remained worried.
They are concerned about Israel's increasing isolation on the world stage and the Obama administration's apparent disenchantment with Netanyahu, who openly flaunted the American leader's wishes when he spoke directly to Congress just two weeks before Israel's March 17th election.
They are also worried about an ever-widening breach between most American Jews and their sense of connection to Israel.
"It would be hard to not be disheartened, distressed and frankly stunned by the video and the way in which it portrayed citizens of Israel doing what we pray all citizens do, which is voting," Rabbi Rick Jacobs, president of the Union for Reform Judaism, America's largest Jewish denomination, told Haaretz in an interview. "To rouse the base by saying 'they're coming in droves' is anti-democratic and such a sad commentary on how Arab citizens of Israel are viewed," he said.
"It's really easy to fall into despair about the results, but this is very clarifying," said Rabbi Jill Jacobs [no relation to Rick Jacobs], executive director of T'ruah: The Rabbinic Call for Human Rights, which devotes half its agenda to Israel issues and half to American domestic issues.
T'ruah held a closed webinar for 70 American rabbis and cantors on Thursday, helping them figure out how to talk about the election results from their pulpits this Shabbat.
"We understand exactly where the prime minister stands, in terms of his lack of commitment to a two-state solution and to Palestinian citizens of Israel," T'ruah's Jacobs told Haaretz. "This is a wakeup call for those of us still committed to seeking peace," she said. "It's a strong call to action."
New Israel Fund CEO Daniel Sokatch said, in a statement from Israel, "Our staff and allies here are somber but undeterred." The NIF raises money from the U.S. and elsewhere in the Diaspora to fund civil society projects in Israel and the West Bank.
"The challenges we face in moving Israel towards a more equal and just society are serious. The election campaign highlighted some of them: an increase in polarization, racism, and incitement is one," Sokatch wrote. "When the Prime Minister urged his base to come out and vote to counter 'Arabs coming in droves to the ballot box,' I knew, as you did, that this pandering to fear and prejudice could only exacerbate the divisions between Arab and Jewish citizens."
In his statement Sokatch also cited growing income inequality, housing costs and increasing poverty as reasons for concern about Israel's future.
Even those who ordinarily do not publicly criticize the Israeli government felt freed by Netanyahu's pre-election day comments to do so now.
The Conservative movement's Rabbinical Assembly said in a statement that Netanyahu's video message, "which indefensibly singled out the Arab citizens of Israel, is unacceptable and undermines the principles upon which the State of Israel was founded.
"Because we proudly and unreservedly continue our unflagging support for the State of Israel, its citizens and its values, we must condemn the Prime Minister's statement, singling out Arab citizens for exercising their legitimate right to vote," wrote Rabbi William Gershon and Rabbi Julie Schonfeld, the president and executive vice president, respectively, of the rabbinic group. "It is incumbent upon Jews around the world to denounce the Prime Minister's divisive and undemocratic statement and we do so here."
Some in the American Jewish community welcomed Likud's strong showing, and the likelihood that Netanyahu will again be prime minister.
The Zionist Organization of America's Mort Klein told Haaretz, "I'm proud that the Israelis chose reality and security over fantasy and a phony hope in change."
Klein blamed the Palestinian Authority for "forcing" Netanyahu to make his video promise not to allow a Palestinian state because "they've aligned themselves with Nazi-like Hamas. This is not a change in Netanyahu," he said in an interview.
The spokesman of the ultra-Orthodox Agudath Israel of America, Rabbi Avi Shafran, was nonplussed about Netanyahu's comments against Palestinian citizens of Israel. And he welcomed the expected reentry of United Torah Judaism and other Haredi parties to the coalition, despite the fact they had lost strength in the elections.
"I don't think that any great challenge will present itself because of Mr. Netanyahu's victory or the tactics he employed," he said. "Agudath Israel's constituency is generally concerned most strongly with Israel's security and with maintaining traditional religious standards in Israel. And so the likelihood of Israel's religious citizens being represented once again in whatever coalition emerges is certainly welcome in American Agudah circles."
Other leaders of American Jewish organizations said that they were not particularly concerned.
"We know that politicians in the heat of campaigns in the U.S. and in Israel say things" they may not mean to stick with in the long term, said Malcolm Hoenlein, executive vice chairman of the Conference of Presidents of Major American Jewish Organizations. "They pursue practical opportunities. He did not say that he gave up on the two-state solution," but rather, he said, that Palestinian Authority President Mahmoud Abbas "does not appear ready to negotiate."
"Israeli leaders are ultimately pragmatic and if they see there really is an opportunity [for a negotiated solution] they will see what's real. Clearly the leadership of the PA, with radicalization in the West Bank, with Gaza, you can't say that it's the attitude of Israel alone," Hoenlein told Haaretz. "It's not a unilateral issue."
"I hope he will reach out to the Arab community if he's prime minister or even if he's not," Rabbi Steve Gutow, CEO and president of the Jewish Council for Public Affairs, told Haaretz. "He said it; it's politics. It's just what happened. I believe there's still hope in the air."
Several analysts of American Jewish life said that the outcome of this election — particularly the tone set by Netanyahu in the video — is likely to increase alienation between American Jews and the State of Israel.
Most American Jews "overwhelmingly support liberal positions and see the idea of two states for two peoples as the only way to avoid a future in which Jews rule over a minority that lacks equal rights," said Sam Heilman, an American Jewish sociologist. "The results will only further the alienation of the majority of American Jewry from Israeli politics and values," he told Haaretz.
"As the Israeli polity increasingly acts as if it can go on its own, it will increasingly be forced to go on its own and be able to count less and less on a cheering section of American liberal Jewry," he said.
"Will there just be this disconnect when people long for Israel but the policies of the government may in fact be problematic?" the Reform movement's Jacobs asked. "That is the reality. How do you love a country whose government is not aligned with your core values?"
"It is hard to imagine how we will see any advancement in core areas of religious freedom with this government configuration. It's not clear that we will be able to even maintain the status quo in some areas of religious pluralism," Jacobs said.
In the decidedly progressive precincts of Brownstone Brooklyn, clergy and executive directors from seven synagogues and two area Jewish community centers met right after Israel's election, to plan a week's worth of events celebrating and observing Israel's Independence Day and its preceding memorial day, Yom Hazikaron.
There are four joint community-wide events planned, from a concert headlined by both Israeli hip hop group Hadag Nachash and American reggae singer Matisyahu, to a talk by Israeli law professor and human rights advocate Ruth Gavison.
At the planning meeting "we couldn't help but talk about the election. We couldn't believe that those last-ditch efforts were effective for Netanyahu. And after this past month there is some anxiety about the U.S.-Israel relationship. People were impassioned and pretty upset," said Shelley Klein, executive director of Congregation Beth Elohim, a Reform temple that will host two of the community-wide events. "People want America to be close to Israel and are upset about what is already a very complicated situation. But they were equally passionate about finding the best possible face about Israel we could show to the community. We realized afterward that, even with how conflicted the community is, it doesn't have any effect on our desire to celebrate Israel."
Still, some said, the long-term picture presented by Israel's political direction — both in terms of the occupation and domestic policy relating to non-Orthodox Jews — remains worrisome.
"It poses a strategic challenge to American Jews who are regularly disrespected by the policies and pronouncements of the Chief Rabbinate, which have the force of the government behind them," said the Reform movement's Jacobs. "We've been working against that monopoly for decades. There are things now that make it more challenging."
While the Reform movement will continue to try to bridge the gap, he said, "this is going to be a challenging time."
Click the alert icon to follow topics:
ICYMI
Ken Burns' Brilliant 'The U.S. and the Holocaust' Has Only One Problem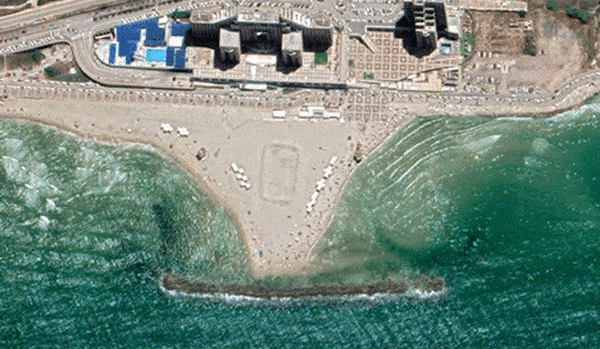 Facing Rapid Rise in Sea Levels, Israel Could Lose Large Parts of Its Coastline by 2050
Lapid to Haaretz: 'I Have Learned to Respect the Left'
The Mossad's Fateful 48 Hours Before the Yom Kippur War
As Israel Reins in Its Cyberarms Industry, an Ex-intel Officer Is Building a New Empire
How the Queen's Death Changes British Jewry's Most Distinctive Prayer