Is a French Jewish Exodus Underway? Not Really and Here's Why
The number of Jews moving from France to Israel is on the rise but not for the reasons you might think – and many French Jews still have no intention of packing their bags. The Cossacks Aren't Coming: A special series on the future of European Jews.
A French soldier guarding a synagogue outside Paris in 2015.
Credit: AP
PARIS – Europe is on the move. The European Union has failed in solving its financial crisis but succeeded in creating a continent without borders. In the countries where austerity is biting and employment opportunities are limited, which is nearly everywhere, just about every young person you speak to is about to leave or calculating when and where to go. In the big cities where the economy is still booming and there are jobs – such as in London or certain locales in Germany – you will rarely have a local serve you a meal, prepare your coffee and pour a beer. Everyone has an accent and is struggling to improve their English or German.
Emigration is effecting all social classes; even people with good jobs believe they can find better ones elsewhere. European Jews are no exception, but with Jews emigration is never simply an economic decision because nothing about your identity is simple. Loss of financial security is not the only motivation for leaving; you wonder whether another type of insecurity has crept into you consciousness and if you are not giving in to darker forces than the markets. And being Jewish adds another possible destination to the list of potential new homes. So, you wonder how about Israel and can you see yourself actually living there longer than a brief holiday?
Long before the anti-Semitic terror attacks in Paris in January, including the hostage-taking at the Hyper Cacher grocery where four Jews were killed, the numbers of people "making aliyah" (immigrating to Israel) from France were trending upward. In 2014, nearly 7,000 French Jews became Israeli citizens – more than one percent of the estimated half-a-million Jews living in the country already. This was double the number in 2013, but can it be directly connected to the surge in reported incidents of anti-Semitism, including the 2012 attack on a Jewish school in Toulouse where four were killed? Jewish Agency emigration experts say that the reasons for emigration are mainly financial, with the French economy struggling to revive itself and levels of taxation rising under President Francois Hollande.
In Paris, where most French Jews still reside, one doesn't get a strong impression of an impending exodus. At a center for Jewish students run by Chabad in the 5th District early last month, around 20 young men and women are hanging out and snacking, and trying to concentrate on their course work. This isn't a regular Chabad House. Despite the library of religious books, the large portrait of the Lubavitcher Rebbe and the earnest Hasidim on call for providing spiritual guidance – it still feels more like a students' club where a few of those present are wearing kippot at a jaunty angle. Most of them study at the Sorbonne and other nearby colleges, and come from neighborhoods far from the city center, with relatively large Muslim communities.
Read parts 1-6 of "The Cossacks aren't coming here":
Part 1, Krakow: The Jewish Community Center on the doorstep of Auschwitz
Part 2, Krakow, continued: An unexpected generation of Polish Jews is coming out of the closet
Part 3, Budapest: Fork in the road for young Jews in Budapest: Tradition or tikkun olam
Part 4, Denmark: A wake-up call for Danish Jewry, not a siren call to head for Israel
Part 5, Budapest: Hungarian Jews more worried about threat to democracy than anti-Semitism
Part 6, Paris: The New Jewish Children of the Republic: Jews reexamine their place in France
'It's not safe here'
The parents of Malkiel Yitzhaki, a 23 year-old pursuing a master's degree in English at the Sorbonne, live in Israel. He studied for a few years in London and says he feels "torn between Britain, France and Israel" but isn't planning to leave yet.
"Jews have to be prepared to leave if necessary but I don't think it's come to that," Yitzhaki says, adding that he feels there are wider issues at stake than anti-Semitism. "No one is optimistic in France but the question is will people value what we have. It's the political correctness in Europe which has got people questioning European values."
The feelings of those interviewed by Haaretz range from cautious optimism to borderline despair. "I don't when but I know I'll move to Israel," says Menashe Cohen, a dentistry student. "I don't see my kids growing up here, even though life in Israel is more difficult. But you're with your own people and you have a sense of security. It's not safe here anymore."
"I know that one day I will have to leave France," explains Warren Berrebi, who is studying to be a pharmacist. "I'm worried about the taxation here. Actually as Jews I think we do have a future here, but it may be short-term."
Berrebi doesn't think he will move to Israel, however: "Israel is frightening and you have to learn a new language and undergo lots of tests to get a [professional] license." Like other young French citizens, he is considering a move to Canada.
But Berrebi's friend Leon Tayeb, also an aspiring pharmacist, says, "[I am] confident that I will stay here; all my family lives here. We have a good life here and I feel that the government is on our side. Now that we've been touched by terror, the French people have been as well. Look how the military is protecting the Jewish schools and synagogues. Israel is more dangerous and I don't want to live with the mentality they have there."
"After the major shock of the attacks in January, things are calming down" says a senior official in a large international Jewish organization, who visited Paris last week. "There are so many factors at play there, anti-Semitism is only one and at the end of the day, they have options both in France and elsewhere. I think that the aliyah wave won't be as large as people are predicting."
Most of the students at the Chabad center near the Sorbonne are second- and third-generation French citizens. Their mainly traditional families came from North Africa, in the 1950s and '60s; nearly all have relatives in Israel.
The crowd at a Tu B'Shvat party (celebrating the Jewish Arbor Day) at the Moishe House in Paris, is slightly older – singles in their late twenties and thirties, successful secular professionals, and many of them come from families living in France for over a century. Most have friends and relatives who have left the country, but they are generally hostile to the idea of living in Israel.
Says Hugo Sebon, a 29-year-old film editor: "French Jews in Israel stick together and I think that it means they don't really feel at home there [in Israel]. I don't want to live like that. I've built up my career; leaving means starting from scratch and I'm optimistic that things will work out here."
Moishe House is an international organization which subsidizes houses in which young Jewish singles live, and organizes cultural and social events. The elegant apartment which houses the organization is packed for the Tu B'Shvat party. One of those arriving says: "We're living at a time when even Jews who don't usually hang out with other Jews feel the need to stick together."
As the celebration goes on, the discussion on the other side of the room about aliyah quickly becomes heated. Some are speaking disparagingly of Israeli manners.
Maya Ter-Minassian, a business consultant, says that, "Israel is more vibrant than France and Canada has a better economy, but I won't creep away because of anti-Semitism. You've got to hate this country and really want to live in Israel to move there. I thought of leaving, not because of anti-Semitism, but the economy here is gloomy. There is a place here for Jews. No one is being discriminated against, it's not the 1930s or the Dreyfus Affair" – a reference to the case of a Jewish army captain who was framed in 1894 for another man's crime.
Ter-Minassian's brother Gabriel, a computer programmer, says French Jews should act like Israelis during the second intifada, which started in 2000: "Israelis said: 'Fuck you! I'm going to take that bus again and go to that coffee shop.' We should be the same. There's a reason this is the biggest Jewish community in Europe. It's not an anti-Semitic country, but it has anti-Semitic people. If we leave it will get worse."
"We are France and we don't have to escape from our own country," says Donna Fuks, a personnel manager at the French Justice Ministry. "People are leaving but it's mainly because of jobs and taxes."
At least one person at the party says she's planning to leave because of anti-Semitism. Jennifer Karuby, a biochemical engineer, wants to return to San Diego where she worked for a year.
"There is something very stressful about being Jewish here," she explains. "My co-workers are always joke with me about money. It was funny at first but the constant repetition of these jokes isn't funny any more. When you're Jewish in America, everyone knows what you're about and treat you in a positive way. People here are both ignorant and judgmental. That's why I'll give anything to go back to San Diego."
Still scandalized
French Jews are still scandalized by the way Prime Minister Benjamin Netanyahu arrived in Paris in wake of the murders two month ago, calling upon them to come home to Israel.
After Netanyahu's visit, Ruth Zylberman, a documentary filmmaker in France, wrote an angry letter in response, which was sent to her mailing list; later she decided not to seek wider publicity.
Zylberman: "I was so offended by Netanyahu. He shouldn't have said that. My home is France, my home is Paris. I won't say that I won't go to Israel, maybe I'll change my home, but Israel won't be my natural home. It's demeaning of him to speak of the Diaspora like that; we are part of Zionism as well. Israel is part of my life and thinking and my heart, but I see myself as part of the critical and questioning Zionism of Buber and Scholem. Netanyahu is a man with no question marks."
It's hard to envision a French Jew who's more different than Zylberman, who orders a ham sandwich while we talk in a cafe. But Rabbi Yosef Pevzner, one of the leaders of the Chabad movement in Paris, felt insulted by Netanyahu in exactly the same way.
"Instead of encouraging the Jews, the prime minister of Israel came here and made them more afraid," he says, almost shouting in his office in the Jewish school his father founded.
"Who will escape? Those with the money, leaving behind the old and the poor. We always supported aliyah here and we've helped prepare thousands who decided to emigrate. We didn't wait for something bad to happen. We believe that Israel is the central place for Jews but aliyah must be a project – not escape. I wanted to tell Netanyahu he was being irresponsible but they didn't let me talk to him. I wanted to say to him: Would you have told Israeli Defense Forces soldiers to run away from the battlefield?"
Pevzner believes that the numbers relating to French emigrants are misleading.
"There is a lot of 'fiscal aliyah," he observes, "[including] people who have investments and savings in Israel that, with the OECD regulations, they would have to declare. So they move for tax reasons, but they continue to have businesses here. In many cases, the husband spends most of his time in France while the wife and children are in Israel. I don't have to tell you what can happen then and families have been destroyed. I tell people, if you want to make aliyah, then do it seriously, move everything there. But that's a big obstacle; a lot of people leave and then come back here, and especially the children feel terribly dislocated."
"So when I hear Israeli ministers talk of 50,000 Jews leaving France for Israel, I want to scream at them. Don't worry, there will be aliyah with or without your talk. Meanwhile, we should be focusing on how to strengthen the community here."
President Hollande visits a desecrated Jewish ceremony in France, in February 2015. Photo by AP
Rabbinical aliyah advisers
Local rabbis are often the first "port of call" for prospective immigrants to Israel. They sign the form confirming the future Israeli citizen is actually Jewish.
"Over the last couple of years I've signed so many Jewish Agency forms but most of those for whom I signed are still here," notes Rabbi Delphine Horvilleur, leader of a liberal community in Paris. "Most are afraid to leave, others just want Israeli citizenship so they can buy a tax-free apartment. But above all, people just want to have the option if things here get really bad.
"Many Jews speak to me at 8 A.M. and tell me they will never leave. At 8:30 they're about to book tickets, and by 9 they've decided they're staying," smiles Horvilleur. "We're not buying suitcases but subconsciously, we're becoming rootless cosmopolitans again."
At her synagogue last month, congregants also gathered for a Tu B'Shvat party. A lot of the talk there was about emigration. Indeed, for many the only way to see their grandchildren regularly is by following their children who have left not only for Israel, but for Britain, the United States or Canada as well. That means an upheaval, though.
"My family and my culture is here," Stephane Marzolf asserts. "You need a special kind of courage to leave. I would like to do so because of the economy and the difficulties here to keep a business afloat, but I will probably stay."
Another member of the congregation, Jean Pierre Touboul, believes that "leaving France is an escape. I don't want to escape this country. There are permanent values which exist for us in France that we won't have elsewhere."
"I can't imagine living in Israel," says Joelle Abitboul, who is the honorary president of the association of Friends of Haifa's Rambam Hospital. "But as hard as it for us to think of leaving, in our minds there is a click which, if we hear it, we will leave. For some that click will be if Muslims burn down a synagogue. For others it would be [far right-wing politician] Marine Le Pen being elected president. Things we believe will never happen, but in our minds there is that click, and then it's time to leave."
Click the alert icon to follow topics:
ICYMI
Ken Burns' Brilliant 'The U.S. and the Holocaust' Has Only One Problem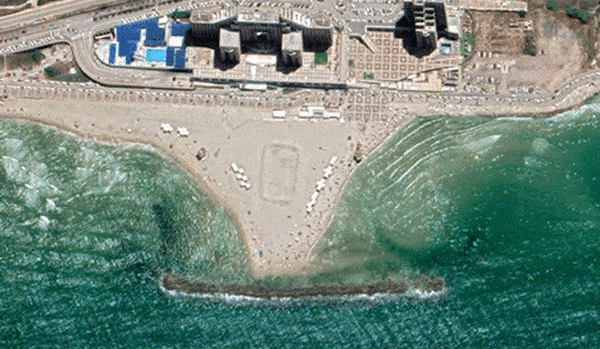 Facing Rapid Rise in Sea Levels, Israel Could Lose Large Parts of Its Coastline by 2050
As Israel Reins in Its Cyberarms Industry, an Ex-intel Officer Is Building a New Empire
How the Queen's Death Changes British Jewry's Most Distinctive Prayer
Chile Community Leaders 'Horrified' by Treatment of Israeli Envoy
Over 120 Countries, but Never Israel: Queen Elizabeth II's Unofficial Boycott