Moving on From Attacking Islam, Pamela Geller Sponsors N.Y.C. Bus Ads Against New Israel Fund Donors
'These leaders are 21st-century kapos, but worse,' writes the controversial New Yorker behind the American Freedom Defense Initiative.
Pamela Geller, speaking at a conference she organized entitled 'Stop Islamization of America.'
Credit: AP
NEW YORK — Pamela Geller, the controversial New Yorker who has attacked Islam in public transit system ads in cities across the United States and been barred from entering the United Kingdom, is now turning her attention to the New Israel Fund and some of its most prominent donors.
Geller and her organization, the American Freedom Defense Initiative, are launching a month-long campaign of ads on the sides of New York City buses. Naming individual New Israel Fund donors on each ad, they say, for example, "Alisa Doctoroff Funds New Israel Fund's (BDS) Boycott, Divestment and Sanctions. STOP THE JEWISH DESTRUCTION OF ISRAEL." At the bottom, under the logo of Geller's organization and in slightly smaller letters, is the hashtag #Jewicidal.
The American Freedom Defense Initiative is spending $100,000 on the campaign, Geller told Haaretz in an interview.
"We must shame these philanthropists who fund BDS groups — particularly the New Israel Fund," Geller writes on her website. "An intense public campaign has begun. We will continue to demand that any American Jew who supports the New Israel Fund withdraw such funding. The New Israel Fund must be ostracized by the Jewish community," Geller writes on her website. "These leaders are 21st-century kapos, but worse. These silver spoon dilettantes don't have a gun to their heads; it's voluntary, and they mean to take us all down. They'll talk about plurality and diversity of thought, but they don't welcome me or any other fiercely proud Jews. They are leftists aligned with the jihad force."
New Israel Fund spokeswoman Naomi Paiss said the organization opposes BDS and has survived multiple similar efforts to smear its reputation. "Not only do things like this not damage NIF, we just had our two best fundraising years ever," she said.
New Israel Fund supporters, in response, have been sending in new donations as an "NIF love bomb" counter-campaign "honoring" Geller and Ronn Torossian, a New York-based public relations professional who has been publishing anti-NIF opinion pieces in the New York Post, New York Observer and Jewish Press of late. This week the NIF also published a background piece on Geller and Torossian, in which it describes the pair's long history of allegations against the progressive organization.
The NIF, which funds a wide range of civil society groups in Israel, has become something of a political flash point. Last month Naftali Bennett, Israel's economy minister and the chairman of the Habayit Hayehudi party, was one of several right-wing politicians to withdraw from speaking at the Israel Democracy Conference, which was sponsored by Haaretz, over NIF's partial funding of the event.
NIF position on BDS
The New Israel Fund is the focus of Geller's newest campaign because, she said: "It's an anti-Israel organization. It works against the interest of Israel. They fund B'Tselem, which selectively edits videos of soldiers attacking [Palestinians], which creates a public relations nightmare for Israel. It's not just one video. Their mission is against Israel, and I don't think their donors know this."
NIF has had a policy in place for the past four years that precludes the organization from supporting any group that backs boycotting all Israeli goods and services, but distinguishes between blacklisting Israeli products in general and just those produced in the settlements — although the distinction is theoretical at this point, because none of the 100 organizations the NIF funds have formally called for boycotting settlement products, said Paiss.
But if one of them did, that would be okay with the New Israel Fund.
"We oppose the occupation and the settlements," said Paiss. "If an organization called for a formal boycott of goods and services from the settlements, they would still be eligible for our funding. Thousands of Israelis boycott settlement products and the EU is poised to join them."
That is enough of a link to BDS for Geller, though. "A settler is a Jew in the Jewish homeland," and so boycotting products from the territories is BDS, she said.
And in a recent Jewish Press article, Torossian wrote that agreeing to support organizations that advocate boycotting settlement-made goods "is called a boycott of Israel." Torossian owns the public relations firm 5WPR.
Since 2010, and roughly once a year, Geller and her organization have bought ad space in municipal transit spaces in cities including New York, Washington, Boston and Denver, equating Islam with radical Jihad. New York's Metropolitan Transportation Authority tried to bar her ads. Geller sued in 2012, and won on the basis that the ads are protected political speech. That year, she placed ads in subway stations reading: "In Any War between the Civilized Man and the Savage, Support the Civilized Man." Lower down, the ad says "Support Israel," bracketed by Stars of David, and "Defeat Jihad."
The ADL has criticized Geller and her group for "consistently vilifying the Islamic faith under the guise of fighting radical Islam." The Southern Poverty Law Center, an Alabama-based legal advocacy group that tracks the activities of hate groups, describes Geller as "an extremist" who "is the anti-Muslim movement's most visible and flamboyant figurehead."
'Don't demonize people for helping Israel'
Geller is now training her sights on Doctoroff because she is president of UJA-Federation of New York as well as a private donor to the NIF. Other NIF donors named in Geller's campaign include Karen Adler, Carole and Saul Zabar and the Bronfman Foundation.
Doctoroff prefers to focus on the communal implications, rather than the personal impact, of the anti-NIF campaign, she said in an interview. "The divisiveness is unhelpful," she said. "Don't demonize people for spending their time helping Israel. There is too much to be done to spend time and energy and money calling people out for things that are positives, and in a way that is really ugly and not accurate. If you look at what is said, it's hyperbole." Geller's campaign "is a bad idea in many ways," Doctoroff told Haaretz. "It uses time, resources and energy that could be used in positive ways."
Carole Zabar, the wife of a co-owner of the landmark Upper West Side gourmet food store Zabar's, said no matter what Geller claims, the New Israel Fund does not support BDS.
"Geller can say whatever she wants. But NIF does not support BDS. None of our organizations support BDS," said Zabar, who is on the NIF's board. "I don't support BDS." Zabar's, in fact, has been picketed by BDS advocates for carrying Israeli brands. As for those behind the campaign naming her on bus billboards, she said: "I consider these people to be pesky flies."
UJA-Federation and Doctoroff are also being attacked for allowing NIF and other politically progressive groups to march in the Celebrate Israel parade here on May 31. The parade is run by the Jewish Community Relations Council of New York, with funding from UJA-Federation.
In a New York Post column on Sunday, Torossian wrote that "the parade organizers — the New York Jewish Community Relations Council and the UJA-Federation — refuse to prevent a demonstrably anti-Israel group, the New Israel Fund, from marching. The New Israel Fund funds the Boycott, Divest and Sanction movement — which aims to treat Israel as an international moral leper like apartheid-era South Africa. NIF's ill works go far beyond BDS. It spends nearly $27 million a year on openly anti-Israel activities."
The effort to prohibit participation in the parade by NIF and other progressive organizations has gone on for several years, complete with demonstrations outside of UJA-Federation offices, to no avail.
'Global jihad and Islamic supremacism'
The American Freedom Defense Initiative makes clear its far-right views on its U.S. tax filing form, in the section for program service accomplishments. It writes: "ADFI acts against the treason being committed by national and local government officials, the mainstream media, and others in their capitulation to the global jihad and Islamic supremacism, the growing and ever-encroaching and unconstitutional power of the federal government, and the rapidly moving attempts to impose socialism and Marxism on the American people." The organization's 2013 tax form reports that Geller received over $210,000 in salary and benefits from organizational income totaling $960,000.
NIF reported income of $27.6 million and described its mission in its tax form from the same year as "to strengthen Israel's democracy and promote freedom, justice and equality for all Israel's citizen." Its 2014 income increased 16 percent over 2013, said Steve Rothman, NIF's vice president of development.
T'ruah: The Rabbinic Call for Human Rights issued a statement this week condemning the attacks on NIF donors "by a small number of individuals who resort to spreading lies, intimidating donors, and publicly defaming upstanding Jewish communal leaders, including some of our shared supporters, in order to advance a right-wing agenda."
"NIF is doing some of the most important work today to protect Israel's democracy and civil society," said T'ruah. "We applaud this work and thank NIF for their dedication to building a better future. We call on everyone committed to Israel and the Jewish people — across the spectrum of political opinion — to live up to our collective value of respectful disagreement, and to cease personal attacks, smears, and intimidation."
In response, Torossian sent T'ruah's executive director, Rabbi Jill Jacobs, a letter threatening legal action if she did not immediately retract and apologize for that statement. T'ruah, after consulting with its attorneys, did not. Torossian has thus far initiated no legal action, and did not respond to a Haaretz email asking if he still plans to do so.
"Other groups are being very supportive. We've now been through this so many times we go about doing our regular work," said NIF's Paiss. "Whoever is spending this money really should fund some hospitals or something and build a better Israel that way."
ICYMI
Ken Burns' Brilliant 'The U.S. and the Holocaust' Has Only One Problem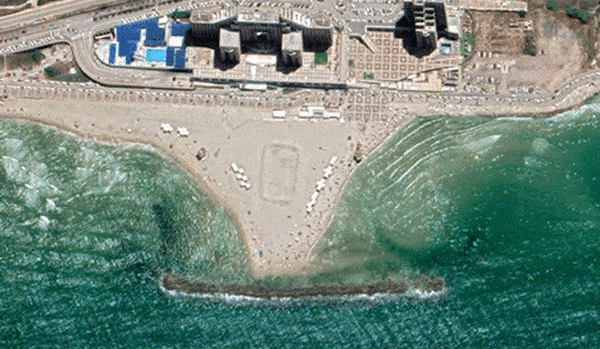 Facing Rapid Rise in Sea Levels, Israel Could Lose Large Parts of Its Coastline by 2050
As Israel Reins in Its Cyberarms Industry, an Ex-intel Officer Is Building a New Empire
How the Queen's Death Changes British Jewry's Most Distinctive Prayer
Chile Community Leaders 'Horrified' by Treatment of Israeli Envoy
Over 120 Countries, but Never Israel: Queen Elizabeth II's Unofficial Boycott