As Soldiers Guard Parisian Synagogues, Jews Question Their Place – and Their Safety – in France
In the wake of the terror attacks in Paris and Toulouse, the Jews of France are reassessing their place in a republic which is undergoing a rude reawakening of its own. The Cossacks Aren't Coming: A special series on the future of European Jews.
A mourner kneels near the fresh graves of Yohan Cohen, Yoav Hattab, Philippe Braham and Francois-Michel Saada, victims of Friday's attack on a Paris grocery, during their joint funeral in Jerusalem.
Credit: Reuters
PARIS – "Who knew we had so many synagogues?" has become a recurring joke among Parisian Jews in recent weeks.
Following the early January attack on the Hyper Cacher kosher grocery and the murder of four Jews, which followed the massacre at the offices of the Charlie Hebdo satirical magazine, groups of armed troops were stationed outside synagogues and Jewish schools throughout France.
In spots where those soldiers stood guard, people often were not even aware that a house of prayer was nearby.
On the first Friday after the murders, January 18, Rabbi Delphine Horvilleur – leader of a liberal community in Paris – left her home in the old Jewish quarter to buy meat for Shabbat.
"The usually bustling street was empty and the soldiers escorted me all the way to the butcher and back," she said. "I came home and burst into tears. It was such deja vu to the 1990s, when I was a student in Jerusalem and buses were exploding."
But all too quickly, Horvilleur, like many other Parisian Jews, got used to the soldiers' presence.
"Suddenly we don't feel alone, and it has brought home just how lonely we have been in recent years" she says.
"Right now, I can't imagine not having the soldiers here. It's a paradox. I don't want to need them, but I want to feel that I'm being looked after. I will have to get over it, but for now I like being a child of the republic."
Horvilleur says the feeling is infantile in a way, and that the French have a problem taking responsibility for the latest wave of violence.
"It's like the way the media are now talking about the terrorists' hard childhood, as if that explains anything," the rabbi says. "There is something preventing us from having that conversation, but we have to."
Feeling the contradiction
Many French Jews are now feeling that contradiction – between gratitude for the republic's protection, and aversion to being seen as special and in need of protection.
"The synagogues are guarded now because, above all, we are citizens and must be protected," says Aurelie Attia, 29, a software-marketing manager. "But it's not very dangerous to be a Jew in France. This was just a peak of violence."
But French Jews are torn by their desire for security and their feeling of insult as French citizens that they need such protection.
"I felt so ashamed for my mother to have to see this," says Ruth Zylberman, a documentary filmmaker who has lived in Montmartre all her life.
"She believed so much in what never existed, in the possibility of the new French Jew. Her dream has been ruined. We thought we could be French Jews for centuries, and now maybe it was only decades."
Zylberman, 43, was once a radical-left activist. Today, she feels "this the failure of our French generation. We were in SOS Racisme," a French nonprofit that fought racial discrimination, "and now the paradigms of that postwar period, with all its certainties and denials, with the belief in the nurturing republic, the social progress and the dialectic of collaboration, are all over."
Read parts 1-5 of The Cossacks Aren't Coming here:
Part 1, Krakow: The Jewish Community Center on the doorstep of Auschwitz
Part 2, Krakow, continued: An unexpected generation of Polish Jews is coming out of the closet
Part 3, Budapest: Fork in the road for young Jews in Budapest: Tradition or tikkun olam
Part 4, Denmark: A wake-up call for Danish Jewry, not a siren call to head for Israel
Part 5, Budapest: Hungarian Jews more worried about threat to democracy than anti-Semitism
Many are still trying to hold on to that strong French-Jewish identity – of the Jews who, as Michel Alexandre puts it, "having a father who was in the resistance and seeing the Jewish community as the biggest part of the intelligentsia and belonging to a culture that has to go forward."
Alexandre, a consultant optician and vice president of the liberal community, says this feeling is "completely subjective. I live in the 17th District, but if I lived further out, in places where Jews don't feel safe walking outside with a kippa, I would feel different."
Cautious optimism, and skepticism
And yet, like many French Jews, he is still cautiously optimistic. "My children went to public school and a majority there were not white. A lot of them were friends and no one cared so much 10 or 15 years ago.
"It's changed. You see more women in [the] veil, you feel more aggressiveness, and in schools teachers don't dare to speak about the Shoah. But our long-term goal is to have a dialogue.
"We have to respect that it takes time to integrate, and the majority will be integrated. So ... maybe 3,000 of them [are] still out there to attack, but the government is now admitting there's anti-Semitism in France. They wouldn't say it before, so that's an improvement."
Not everyone is so optimistic. "French Jews are well-integrated as long as they're not too Jewish," says Marc Weitzman, a journalist and author. "Now after Charlie Hebdo, all these issues are out in the open. But only when [Prime Minister] Manuel Valls said it clearly did the media begin to acknowledge the anti-Semitic nature of what happened."
The new atmosphere in France is making Jews reassess their identities within the French Republic and dividing the community at a grass-roots level.
A French army soldier patrols under the Eiffel Tower in Paris, Jan. 13, 2015.. Photo by AP
Hours after the Hyper Cacher murders, young Jews stood outside on the street arguing. Some accused the others of being cowards and began singing Israel's national anthem, "Hatikva." The majority responded with "La Marseillaise," and a few tried to chase them away, calling them "fascists." Still others said, "no, we need them, they are part of our community."
But is it up to the Jews to solve issues of identity and racism in France?
"I don't like it that people ask, 'What are the Jews going to do?'" says Rabbi Horvilleur. "We are not those responsible. But we do have to be present in all the conversations on education and the place of religion in society."
France, of course, does not lack for Jewish public intellectuals, but Horvilleur observes that, until now, none of them sought to engage these issues as Jews or take part in the discussions within the community. "The Jewish intellectuals have left the synagogues," she says.
Secularism misplaced?
But to have such conversations, among Jews and within the wider French society, this country still must redefine its attitude toward communities and religion, and most likely acknowledge that the French brand of secularism, Laicite, may not be the way to address today's challenges.
Horvilleur comes from a long line of French rabbis, but says that "as a child I never felt part of a French-Jewish community. My grandfather was both a rabbi and a professor of ancient Greek, in love with French culture. No one wore a kippa then on the street, and he was horrified when I went to live and study in Israel.
"I was angry when I went to a Jewish summer camp and heard other teenagers speak of non-Jews as 'the French.' But in recent years all the Jews seem to have made this transformation to a joint identity, and I feel that I have lost a part of my more complex identity."
Like most other French Jews, Horvilleur links this change to the growth of the Muslim minority in France. "Jews never demanded to celebrate their identity externally," she says. "Being discreet about your religion became a Jewish value. The Muslims, however, arrived with much stronger demands of the Republic and the Laicite doesn't fit in with that."
And yet, the Jews are still coming to terms with their status as members of community in a republic that has long abhorred the notion of communitarism.
When, in the wake of the Hyper Cacher attacks, Prime Minister Valls addressed the Jewish community in the National Assembly, promising that all of France would stand behind the Jews, "it was both reassuring and very weird," says Zylberman. "Talking in the National Assembly about a separate community within France is unprecedented."
Last month in a Hebrew class for senior citizens at a Paris community center, a student suddenly became agitated. "She saw a doodle that a child had left on the desk," says Hebrew teacher Revital Shloman. "He wrote 'Je Suis Juif' ['I am a Jew'], and she got all flustered, saying that it just wasn't done to make such an issue of being Jewish."
Problem extends beyond Jews
But whether French Jews like it or not, showing Jewishness on the streets of Paris is an issue today.
On YouTube, a video of an Israeli journalist walking around the city wearing a kippa and being harassed has been viewed nearly five million times, while Fox News has angered Paris Mayor Anne Hidalgo by reporting that the city has "no-go zones" where non-Muslims fear to tread.
"It's crap," says Guillaume Hanau, 39, a computer engineer. "Jews are in danger right now, but it's not only Jews. Anyway, most of us didn't wear kippot before anyway. My family lived for 20 generations in France and it's just not something we ever did."
But there are Jews today who would like to walk in Paris with their heads covered, and it's not necessarily connected with the fear of anti-Semitism.
"In the 1980s and '90s, no one wore a kippa, and today you have many doing so because of religious feeling," says Alain Granat, editor of the website JewPop, which specializes mainly in Jewish culture and music.
"People today misunderstand the idea of Laicite. For me, it's a way to show that the Republican feeling is more important than the religious one.
"But if we want to respect all religions, you have to deal with people who are Muslim and religious and don't want to do what the government expects. None of the governments here have dealt with that, and it's impossible to go back."
Whichever way you look at it, the community today is much more religious.
"They used to call us marginal and didn't want us to receive any support," says Rabbi Yosef Pevzner, one of the leaders of the Chabad movement in Paris.
"Today, though, we are members of CRIF [the representative body of French Jewish organizations] and it is clear we are an integral part of the community."
This is partly due to the more religious character of French Jews today – the majority are now more traditional Sephardim, previously from North Africa – and to the fact that many more children are now going to Jewish schools. Pevzner's Sinai network alone includes four schools with 2,500 students.
There are those trying to change French Jewry in other ways. Granat, 55, set up JewPop two years ago after never having been actively involved in community affairs.
"The concept was to talk about Jewish culture in a new way," he says. "And we throw into that a bit of pretty girls, hip-hop in Israel, articles about politics, social networks, anti-Semitism on Twitter. Mainly Jews check out JewPop, but there are a lot of emails from non-Jews. It's hard to define our politics, but you can say we're bohemian-left, 'bonheme.'"
Criticism, with humor
Granat, whose background is in music production, said he felt the need for such a website "because most Jewish media in France is extreme right."
He asks his 12 writers, who hail from France, Israel and Canada, to keep their output relatively lighthearted.
"We criticize every institution here, in a funny way," he says. "I think that humor is the best way to fight anti-Semitism. The community leadership here lacks a sense of humor and is always looking out for the sort of anti-Semitism which is of no importance. I want people to realize that you can laugh with Jews, just as long as you're not laughing against them."
His reaction to the Charlie Hebdo murders was to post an old cover of the magazine on JewPop, which criticized Israel's Gaza offensive. "I wanted to show that Charlie Hebdo wasn't focused only on Muslims," Granat says.
France's most prominent anti-Semite is the comedian Dieudonne, who invented the mock-Nazi "quenelle" salute.
"Because of Dieudonne, who is truly anti-Semitic, everyone is too sensitive," Granat says. "That doesn't mean we can't continue living here as French Jews and as part of this country."
Like many other French Jews I interviewed, Granat talks of "fighting for victory," defined as "educating young people so they understand that being Jewish in France doesn't make you part of the Israeli-Palestinian conflict and [means] working with as many people as possible to promote dialog and interaction between communities, so Jews can also see that not all young Muslims are anti-Semitic.
"We have to keep cool and remember that Jews have fought for centuries and always used humor against their enemies. My father is an Auschwitz survivor and he was the funniest guy I ever knew."
For Rabbi Horvilleur, victory will be "the Jews showing the French that religion need not be a threat to society. We Jews have to fight for the future of France, for the education and society, because losing means the Jews are alone again and France will have lost its character and the values that we were all brought up on."
Click the alert icon to follow topics:
ICYMI
Ken Burns' Brilliant 'The U.S. and the Holocaust' Has Only One Problem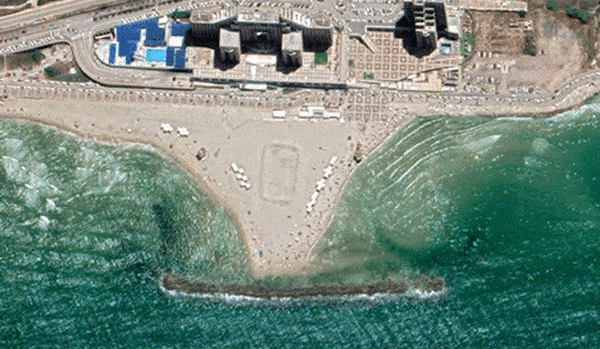 Facing Rapid Rise in Sea Levels, Israel Could Lose Large Parts of Its Coastline by 2050
As Israel Reins in Its Cyberarms Industry, an Ex-intel Officer Is Building a New Empire
How the Queen's Death Changes British Jewry's Most Distinctive Prayer
Chile Community Leaders 'Horrified' by Treatment of Israeli Envoy
Over 120 Countries, but Never Israel: Queen Elizabeth II's Unofficial Boycott