Angst or Reality: How Bad Is anti-Semitism in Italy?
Almost two-thirds of Italy's Jews feel that anti-Semitism is on the rise, according to a new poll. But local scholars say such 'excessive alarmism' is unjustified.
MILAN – When Marina Morpurgo, a local novelist and translator in her mid-fifties, recently happened to walk by Milan's main Jewish school, she was shocked to see how the atmosphere there had changed so dramatically since her childhood: "When I used to attend the Jewish elementary school, as a young pupil in the 1960s, there was no security at all. It was just a regular school which happened to house Jewish kids. No one would have remotely thought of an anti-Semitic attack. Nowadays there's so much security that the building looks like a bunker. Times have changed, and for the worst," she tells Haaretz.
Tough security measures at Jewish schools and synagogues in Italy were introduced in the mid-1980s, as a reaction to the 1982 attack at Rome's Great Synagogue, in which a toddler was killed and about 30 worshippers were injured. Despite this, Morpurgo believes the sense of insecurity among Italian Jews has deepened in the past few years.
"Since the beginning of [Italy's] economic crisis [in 2008]," she says, "I have seen more signs of anti-Jewish sentiments. Especially in online conversations, I increasingly hear people reviving old anti-Semitic conspiracy theories, such as blaming the euro-zone recession on some kind of plot by the Rothschild family [of well-known Jewish bankers]."
Sensing hostility toward Jews, Morpurgo says she has recently stopped wearing her Star of David necklace, and T-shirts bearing Hebrew language: "It's not like wearing Jewish symbols is dangerous – Italy is not France. But it could get you into an uncomfortable political discussion."
The writer recalls receiving weird looks, when she was wearing a shirt with Hebrew letters. "Ironically enough, it was a T-shirt supporting Israel Defense Forces refuseniks," she adds."Ironically enough, it was a T-shirt supporting Israel Defense Forces refuseniks," she adds.
Morpurgo is particularly concerned about the general indifference of non-Jews in Italy toward what she perceives as a growing problem of anti-Semitism. But she blames that situation partially on Jews themselves: "For decades we rejected as anti-Semitic any criticism of Israel, so now people are indifferent when actual anti-Semitism is back. Just like in the children's tale: We cried wolf and now that the wolf is here no one cares."
The Internet as a vehicle
Morpurgo's perception of growing anti-Semitism in Italy resonates with a recent survey conducted by the London-based Institute for Jewish Policy Research, based on a sample of 650 Italian Jews. According to the JPR study, entitled "From Old and New Directions: Perceptions and Experiences of Anti-Semitism among Jews in Italy," coauthored by Israeli demographer Prof. Sergio DellaPergola, 63 percent of the country's Jews believe anti-Semitism to be either a "very big" or "a fairly big" problem, while 68 percent say their personal feeling is that anti-Semitism has increased over the past years (42 percent say it has "increased a bit" and 26 percent say it has "increased a lot").
Most of those interviewed identified the Internet as the primary vehicle for anti-Semitism, and said people with left-wing political views are in general the main source of the phenomenon; right-wingers were ranked second, Islamic extremists third. According to the same survey, the perception of anti-Jewish sentiment in the country is slighter higher among poorly educated Jews and also more religious members of the community.
The JPR study, released earlier this month, has, however, been criticized – both for its definition of what constitutes anti-Semitism and for the fact its focus on Italian Jews' perception of anti-Semitism could be misunderstood as an accurate indicator of actual anti-Jewish sentiment in their country.
Regarding the definition of anti-Semitism, the JPR researchers relied on what the interviewees defined as such. About 50 percent of the latter consider as anti-Semitic any support of the global boycott of Israeli products, while 40 percent see Catholics who will not marry Jews – despite the fact that intermarriage is actually problematic in both Judaism and Catholicism – as an expression of anti-Semitism. (Catholics are allowed to marry outside the faith only in the unlikely event that their future spouse accepts to raise their children as practicing Catholics; Orthodox Jews are not permitted to intermarry at all).
The JPR study "doesn't really say much about the actual level of anti-Semitism in Italy, but it says something interesting about the climate inside [the country's] Jewish community," Italian historian Guri Schwarz, author of the "After Mussolini: Jewish Life and Jewish Memories in Post-Fascist Italy" (2012), tells Haaretz.
"What we see here is a siege mentality that bears few connections with actual anti-Semitism," he explains. "I see no correlation between such angst and reality. Where is the physical [anti-Semitic] threat in Italy? If we observe the overall cultural and political climate and compare the situation in Italy today with that of the 1970s or '80s – things appear to have improved considerably."
Until the mid 1990s, the then-very influential communist and socialist parties were openly anti-Israel, while sectors of the mainstream harbor Catholic-based anti-Jewish prejudices. Nowadays, the country's major right-wing party, Forza Italia, is openly pro-Israel while the major left-wing party, the Democrats, oscillates between neutrality and moderately pro-Israel views. Also, in the 1970s and '80s extreme leftist organizations drew a large following, especially among students: These groups tended to be virulently anti-Israel, although that hardly translated into actual anti-Jewish violence. Nowadays such organizations have a very small following.
According to the JPR survey, about 30 percent of Italian Jews avoid displaying religious symbols, such as skullcaps or Stars of David in public, out of concerns of being harassed.
"This is nothing new," Schwarz observes, "and I seriously doubt the proportion has increased in the past few decades. Keeping a low profile is part of the Jewish Italian tradition: I remember being told by my parents, as a kid, to take my kippah off as soon as I left the synagogue. What has changed perhaps is that now some people are growing uncomfortable with this low profile [attitude], and would like to be more open about their identity."
For his part, Schwarz partially blames the growing angst that many Italian Jews seem to feel about anti-Semitism on the politicization of Jewish institutions and on the growing power of the social media: "Until recently Jewish leaders used to keep a very low profile on political events in Italy, but everything changed about 10 years ago, when it become common for Jewish leaders to make public statements [to the mainstream press], especially when it comes down to Israel. Now they intervene every time someone says something against Israel. I wonder if this attitude has helped create this climate in which Jews feel under constant attack. I am pretty sure, however, that social media have played a role, as they have helped to recreate a virtual ghetto and the sense of 'us versus them.'"
'Italy is not France'
Emanuele Fiano, a Jewish member of parliament for the left-leaning Democratic Party, also shares the belief that while the actual threat of anti-Semitic attacks in Italy is low, but also believes there is "a strong presence of anti-Semitic sentiment, especially on the Internet."
According to the JPR survey, about 62 percent of Italy's Jews say online anti-Semitism has "increased a lot" in recent years, while 59 percent say that hostility toward Jews in public places has not risen at all. It should be noted that a 2014 study by the Union of Italy's Jewish Communities suggested that anti-Semitic attacks mounted during Gaza Protective Edge Operation, although most of the incidents – such as the dissemination of anti-Israel fliers – involved no physical violence per se.
"There are no data suggesting that physical acts of anti-Semitism are on the rise," asserts Fiano. "Also, Italy is not France. The violent attacks we witnessed in Paris and Toulouse [i.e., the terror attacks in January and, the 2012 attack on a Jewish school, respectively] were mostly carried by alienated second-generation immigrant youth, while here in Italy we have no banlieues. But on the other hand, you read a lot of anti-Semitic stuff on the Internet, especially of a neo-fascist nature. I have been personally threatened [for being Jewish]. And I know for a fact other Jewish public figures have received the same treatment."
Claudio Vercelli, a historian and a prominent member of Turin's Jewish community, also believes there is an "excessive alarmism" about anti-Semitism among Italian Jews. Nevertheless, he says such sentiment is an understandable "emotional reaction" to the wave of anti-Semitic attacks in other European countries.
"My impression is that the actual hardships that Jews are suffering in places like France, Hungary or Denmark are affecting the way [Jews] are perceiving the situation in Italy," Vercelli says, referring to the recent terror incidents involving Jews in Europe.
Moreover, he adds, "you can feel a growing sense of isolation among Italian Jews which is not entirely misplaced. Anti-Jewish prejudice exists in Italy, rooted in old-school Catholic, anti-Jewish prejudice. It's barely perceptible right now, but it could be the prelude to something bigger, a potential threat."
Indeed, according to a 2014 Pew study, some 24 percent of Italians have a negative opinion of Jews – a much higher proportion in comparison to other large Western European countries such as Spain and Germany, and the United Kingdom. Interestingly enough, in France, which has made the headlines recently due to violent anti-Semitic attacks, only 10 percent of the population holds a negative opinion of Jews, according to Pew researchers.
Fiano, the politician, blames the spread of anti-Jewish sentiment and also racism on immigration, a relatively new phenomenon in Italy, which has exposed the population to a flow of newcomers of different ethnic backgrounds: "The arrival of people from different cultures and ethnic backgrounds has spurred a wave of online racism. Some people, who for some reason believed that [ethnic] purity constitutes protection from insecurity, began feeling threatened so they started attacking minorities – including Jews."
Fiano also believes the political climate – and specifically the growing presence of far-right positions seeping into mainstream discourse – has made anti-Semites feel like they can be more outspoken.
"We've come to the point in which a party with a solid presence in the parliament is organizing events with an openly neo-fascist organization," he explains, referring to the cooperation between the Northern League, a nationalist party, and Casa Pound, an organization that is openly nostalgic for the era of Benito Mussolini. "In this context, I am not surprised that Holocaust deniers feel more free to be open about their ideas than they used to be."
Recently the Italian Senate has approved a new law sanctioning Holocaust denial. According to the law, denying the Holocaust will not be an offense per se, but will be considered an aggravating factor in hate-speech cases. Italy already had a law making what is called "incitement to racial hatred" an offense.
Fiano, along with other Jewish politicians, have praised the new legislation. But historians have criticized it.
"It will turn Holocaust deniers into victims and it will send the message that we are not capable of defeating them in a regular debate," argues Guri Schwarz.
"You cannot fight Holocaust denial only with a law. We live in the age of the Internet and of conspiracy theories," adds Vercelli. "If we think we can stop anti-Semitism with a new law, then we are just plain delusional."
Click the alert icon to follow topics:
ICYMI
Ken Burns' Brilliant 'The U.S. and the Holocaust' Has Only One Problem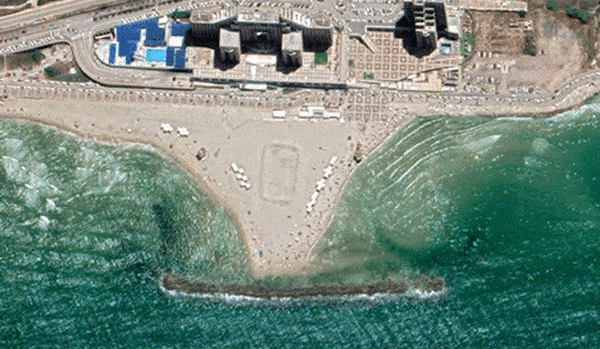 Facing Rapid Rise in Sea Levels, Israel Could Lose Large Parts of Its Coastline by 2050
Lapid to Haaretz: 'I Have Learned to Respect the Left'
The Mossad's Fateful 48 Hours Before the Yom Kippur War
As Israel Reins in Its Cyberarms Industry, an Ex-intel Officer Is Building a New Empire
How the Queen's Death Changes British Jewry's Most Distinctive Prayer